©Linden Wilkie, 22nd Oct 2021
On Wednesday The Fine Wine Experience hosted a vertical tasting of E. Guigal's single vineyard Côte-Rôtie 'La Turque'. I should say, right from the start that as a collection, this vertical (1989-2007) delivered on high expectations, reinforcing my feeling that the La Las offer the sort of consistency of quality that allow us to pick almost any vintage and experience something at least very good, and more often than not, something exceptional.
It would not be an over-statement to say that it is at least in part because of Guigal's La Las that the appellation Côte-Rôtie found its way into the international fine wine scene, earning a place at top tables around the world. The reputation of Hermitage is not just decades but centuries deep, with top Bordeaux châteaux strengthening weak vintages by adding Hermitage in the 19th century, apparently. Côte-Rôtie in contrast has been a land of small-holdings, polyculture, a sleepy leisure spot for the nearby Lyonnaise.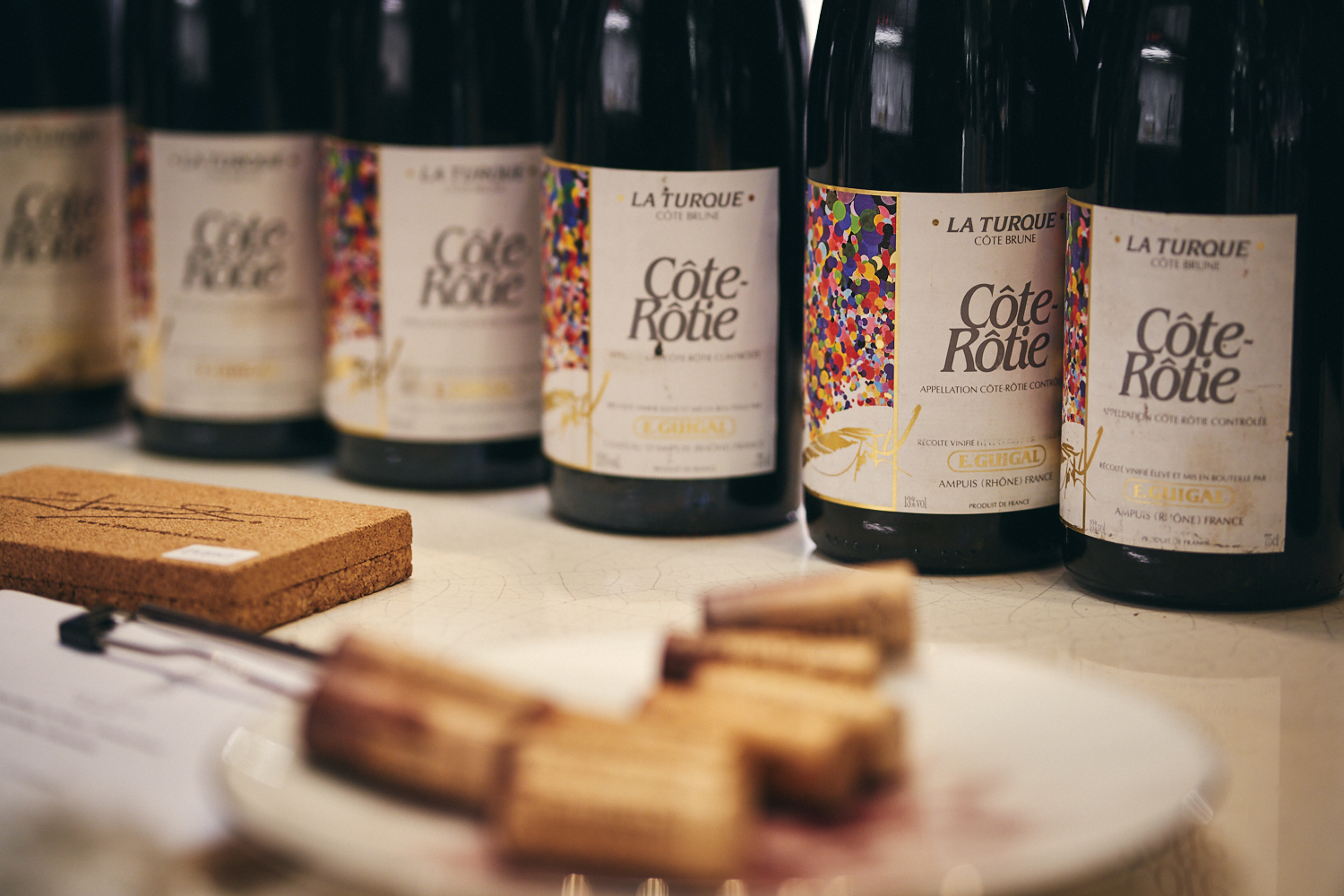 Success though came from the convergence of two forces. The first was Marcel Guigal's focus on absolute quality, creating at the top of his Côte-Rôtie domaine three single vineyard examples – 'La Mouline' (from 1966<), from the Côte Blonde, the more charming, soft and perfumed of the three (11% Viognier); 'La Landonne' (from 1978<) a pure Syrah from Côte Brune, with longevity and backbone; and 'La Turque' (from 1985<), also from Côte Brune, but with 7% Viognier, with something of the scent and thrill of La Mouline, but the mineral backbone of La Landonne. Collectively these "La Las", made in tiny quantities, set the bar for the appellation (even today just 224ha big – bigger than Vosne-Romanée–153ha, but smaller than Gevrey-Chambertin – 409ha). Made in a modern style (100% de-stemmed, co-fermented, and aged in 100% new French oak for 42 months), they caught the attention of the other great force of the day – Robert M. Parker Jr., who lauded these wines, giving numerous 100 point scores, and offering statements like 'there is no winemaker on Earth who has produced so many compelling wines irrespective of vintage conditions as Marcel Guigal.' (Robert M. Parker Jr., (1997) Wines of the Rhône Valley, Revised and Expanded Edition, p63.)
Marcel's father, Etienne, had worked for local négocient Vidal-Fleury, and founded E. Guigal in 1946. Marcel took the reins in 1961, and by 1984 they had bought Vidal-Fleury. In 1995 they bought and restored the Château d'Ampuis, centre-piece of the village of Ampuis, itself the focal point of the appellation. They absorbed other estates, such as de Vallouit in 2001, building up over the decades an enviable portfolio that covers many other Rhône appellations. In Côte-Rôtie they produce a dependable mainstream cuvée – 'Brune et Blonde'; a kind of reserve label level – 'Château d'Ampuis', and at the top the three La Las, with relatively tiny production volumes – 800 cases of La Landonne, 400 cases of La Mouline, 400 cases of La Turque.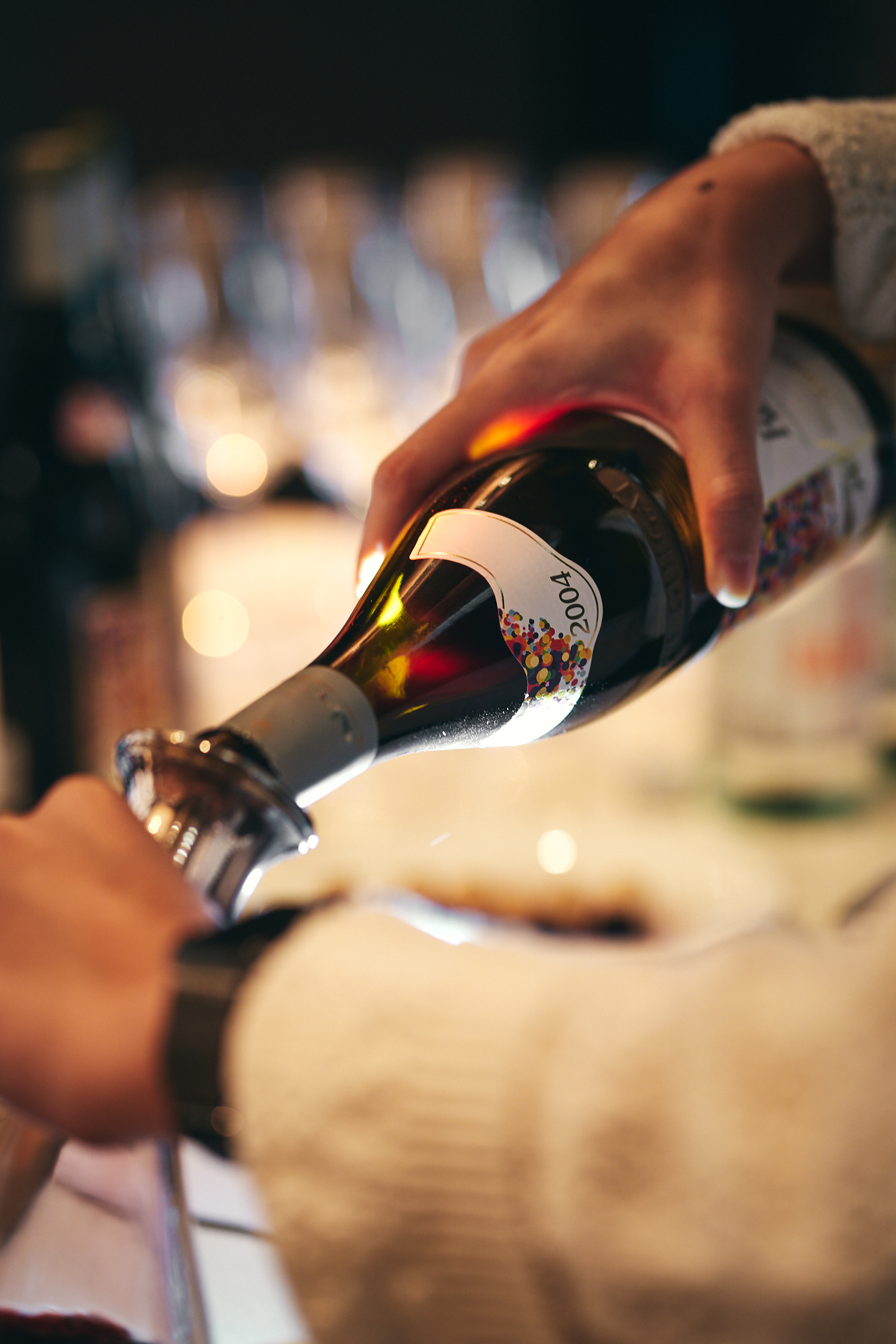 If faced with a choice between the three, I consider the age of the vintage. At 25 years or more I would consider La Landonne, which I feel is the longest lived, and the most difficult to appreciate in youth. It has power and tenacity, with the iron-content from the soil giving a distinct grippy minerality. A fully mature La Landonne and a plate of game and you have something very satisfying in a very primal sort of way. Young, and I want La Mouline which offers its heady perfume early, and coming from the Côte Blonde, is the silkiest of the three. It is also full of reserve and fruit, and ages very well.
For La Turque twentieth century examples some seemed a bit lighter than the other two, combining some of the minerality and earthiness of La Landonne, in a more accessible format, and some of the exotic aromas of La Mouline, but not as pronounced. It could be viewed – unfairly? – as a compromise choice, or more supportively as the quintessential example, combining all attributes, in de-tuned moderation?
There is no lack of excitement here in the top vintages of La Turque. In our tasting I found 2003, 1999, 1998 and 1991 mesmerizingly great. I found my least favoured vintages in the tasting – 2004, 1994, 1990, 1989 – very good gastronomic companions, and in any other context they would be considered highlights of a meal. No duds here, and echoing Parker's comments, the La Las represent for me wines that faced with an opportunity, I would happily drink any vintage of sufficient maturity such that all that new oak is submerged and the wine open. The 2007 and 2004 this evening were ready. The 2005 was not. But I think 2004 and older as a general rule and you are fine.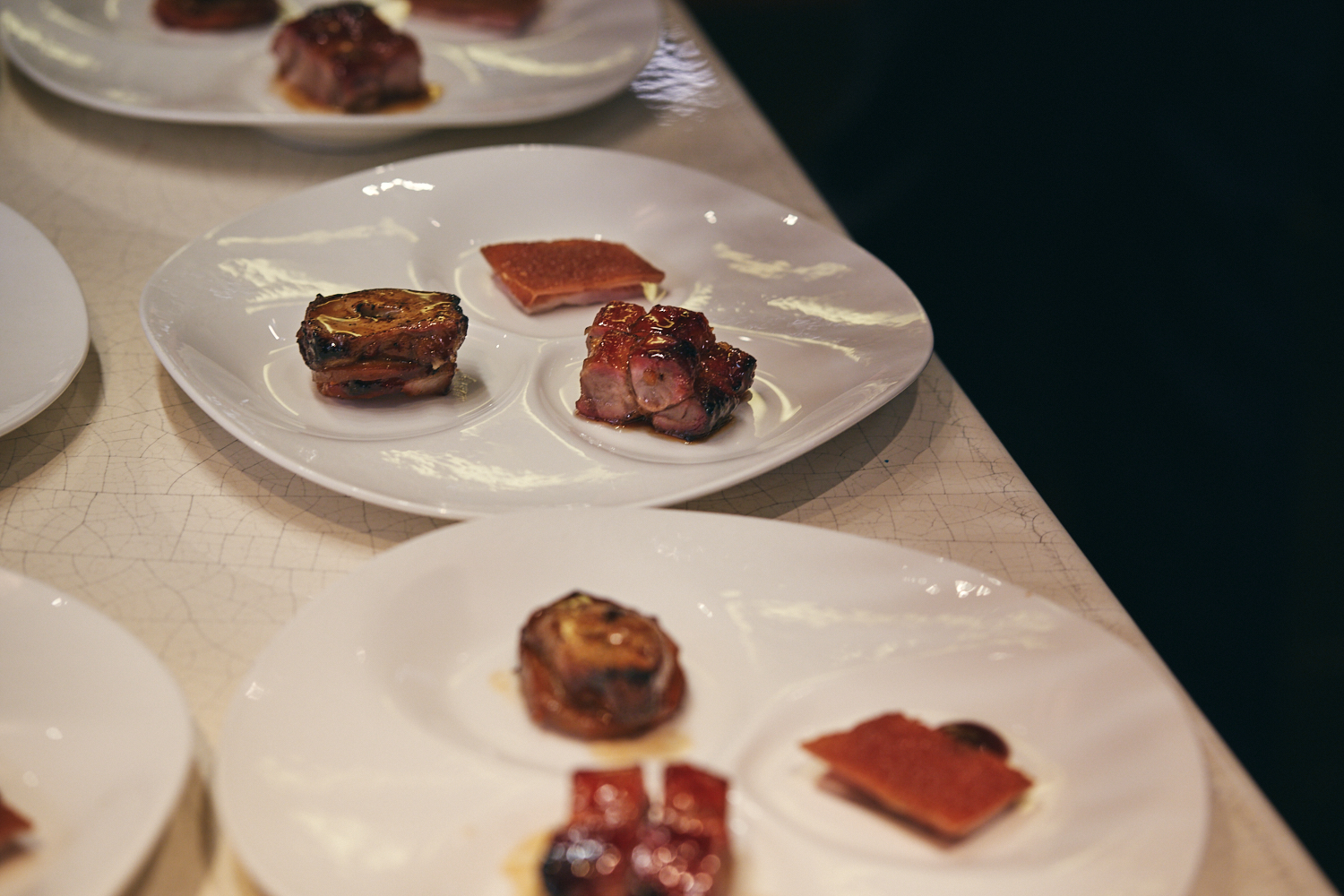 FIRST FLIGHT:
youthful, moderate weight expressions from vintages of freshness
For a straight wine tasting (no food) I usually arrange the wines simply from youngest to oldest. But when dinner is involved I try to think more thematically. I arranged the 12 vintages into four flights, with food pairing in mind. The first flight I conceived of as youthful, moderate weight expressions from vintages of freshness. This was paired with the Hong Kong Rosewood hotel's Legacy House restaurant 'chef appetizer selection' of roasted goose liver, pork belly and mushroom; barbecued pork, and roasted suckling pig. This was an ideal match.
2004 E. Guigal Côte-Rôtie 'La Turque'
Fine garnet of mid depth; open, fragrant, cool and meaty, a touch of leaf, spices, mineral notes, some cedar, open and ready aroma; elegant and fleshy with a silky texture, some minerality, a saline edge, cedar, and a long fragrant finish, lingering. The finish has a little grip to it, but is laden with flavour. This is a lovely, fragrant, mid-weight La Turque.
No votes for wine of the night. 93
2001 E. Guigal Côte-Rôtie 'La Turque'
Mid garnet with some development on the rim; sweeter aroma than the '04, lovely fruit expression, spices; fleshy on the attack – real mid-palate fleshiness too, fruity, supple, succulent, a touch of vanilla, great balance between sweetness and savouriness, and great balance overall, mid-weight, with a very long finish. Lots of appeal.
1 vote for wine of the night. 96
1999 E. Guigal Côte-Rôtie 'La Turque'
By some margin the deepest colour in this flight, still fresh, it is hard to believe it is 22 years old to look at it; a sweet, smoky, vibrant nose; concentration here on the palate, wow! This is so layered, sumptuous, caressing, it is glycerin-driven but at the same time perfectly balanced and proportioned – no heat or disjointed elements. Very fine grip. A multitude of things going on on the palate beneath a zen of calm. Brilliant.
5 votes for wine of the night – second overall. 99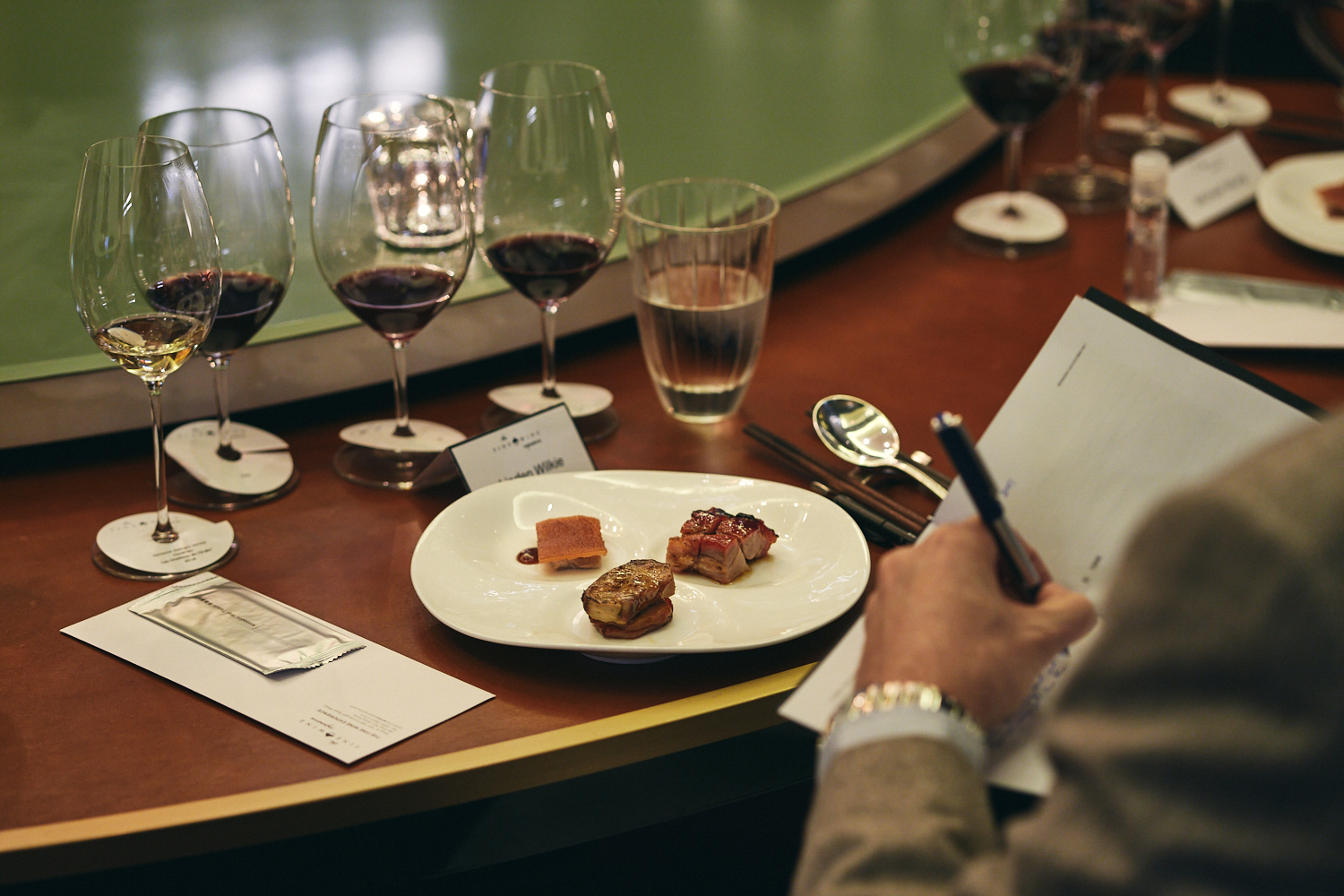 SECOND FLIGHT: mature and challenging vintages
The next flight I conceived of as mature and challenging vintages. It was billed as 1997, 1996, 1994, but when we opened the 1997 the cork had let us down, so we opened our reserve wine – 2007. I'm so glad we did. The 2007 – though younger than I would typically drink a La La, is open-textured, fragrant and yielding on the palate. It is supremely enjoyable now despite being early in its cellaring potential. Given its attractive price, I recommend it for anyone wanting to dip their toes into Guigal waters. This flight was paired with wok-fried lobster, termite mushroom and crispy Jinhua ham. Again, a great match, with the umami sweet-savouriness of the lobster and the earthiness of the mushroom matching the tone in this flight very well – especially the '96 and '94.
2007 E. Guigal Côte-Rôtie 'La Turque'
Deep ruby with a clear fresh rim; sweet, brooding nose, meaty, licorice and spice notes, but still mostly about primary fruit expression, very fruity still; very fine on the palate, pristine, lovely fruit, a real mineral base to the texture and taste, very long, elegant. Such great fruit expression and this is really quite open. Good acidity, still a bit of tannin to resolve. Such a melting texture. A classic that you can drink already as it is open and expressive, but is also a wine that will keep and reward further cellaring. A superb choice given to its relative price.
2 votes for wine of the night. 95
1996 E. Guigal Côte-Rôtie 'La Turque'
Fine ruby-garnet with a fine rim; a fresh fruit expression on the nose, fragrant with a touch of leaf; elegant, a touch lighter in weight, lovely sapid fruit – this sits at the Burgundy end of Côte-Rôtie's range of expressions with its really sapid more red fruit-led character. Fine minerality, gorgeous fruit expression, zippy level of acidity that is nonetheless well-buffered by just enough glycerin and extract. It's a really lively edition of La Turque that offers a lot of appeal. Pristine expression. Superb.
2 votes for wine of the night. 95
1994 E. Guigal Côte-Rôtie 'La Turque'
Mid garnet in a fine hue, bricked rim; a cooler, earthier more brooding nose; meaty, earthy, succulent on the attack, fresh pronounced acidity, this offers a cooler, more cracked pepper expression in the syrah, subdued but fleshy, mature, moderate weight and flesh. There is also charm and sweetness here too – it was hard to tune in after the zippy exuberance of the fresh-faced '96. Very good.
2 votes for wine of the night. 92
THIRD FLIGHT: potent and powerful vintages
The next flight was about potent and powerful vintages, and my goodness did they deliver on that. If you are looking at younger vintages, as I wrote before, 2007 is the one to consider for drinking now, the 2005 is really promising, but it is for your cellar. 2003 is really special – showing all we might expect from such a hot vintage – all that fat and exotic aroma and flavour, but for all that it truly is a remarkably well-balanced and well-proportioned wine and would be a candidate for wine of the vintage from any region. The surprise for me this evening was how it put the 1998 into relief. I recall the '98 Rhônes coming on to the market from the early 2000s, and they were highly rated, big burly wines, but I preferred the more refined and fresh tasting '99s, in Côte-Rôtie at least. So it came as a surprise to me just how fresh and well-balanced the '98 La Turque showed. It seems to be in a very happy place right now. This flight was – again – well-matched by Legacy House to wok-fried wagyu beef and morel mushroom.
2005 E. Guigal Côte-Rôtie 'La Turque'
A full deep fresh colour; sweet, deep, dark and rich nose; rich, thick-textured though supple on the palate, very grand, well-balanced. Very Côte Brune – this behaves very much like a La Landonne. This is a long-haul La Turque, not yet ready. Concentration here melting down to a mineral base, and plenty of supple tannic extract. It needs another 10 years but is promising.
1 vote for wine of the night. 96+
2003 E. Guigal Côte-Rôtie 'La Turque'
Deep garnet with a real depth of colour, a narrow garnet rim; sweet on the nose, roasted, gorgeous exuberant and wild exotic expression, dark fruit, charcouterie, spices, white pepper – wow!; fleshy, concentrated and layered on the palate, it is so laden with fruit, glycerin in spades, thick and oozing in texture, this melts its way to a long finish expressing dark fruit, charcouterie, a touch of dark chocolate, mineral notes and spices. Fabulous.
4 votes for wine of the night. 98
1998 E. Guigal Côte-Rôtie 'La Turque'
Deep ruby with a broad garnet rim; after the '03 this comes across as a fresher, meatier style on the nose, expressive, complex, detailed, more focused; great balance here on the palate – freshness, wildness, it's tangy and sweet with a meaty taste – it is the quintessential umami wine, very appetising, it has both energy and restraint despite its grand scale. Lots of sweet herbs in the taste. Electrifying tension. I expected more of a bruiser here (many '98s are), but this is supremely balanced, expressive, and seemingly in its apogee.
No votes for wine of the night. 97
​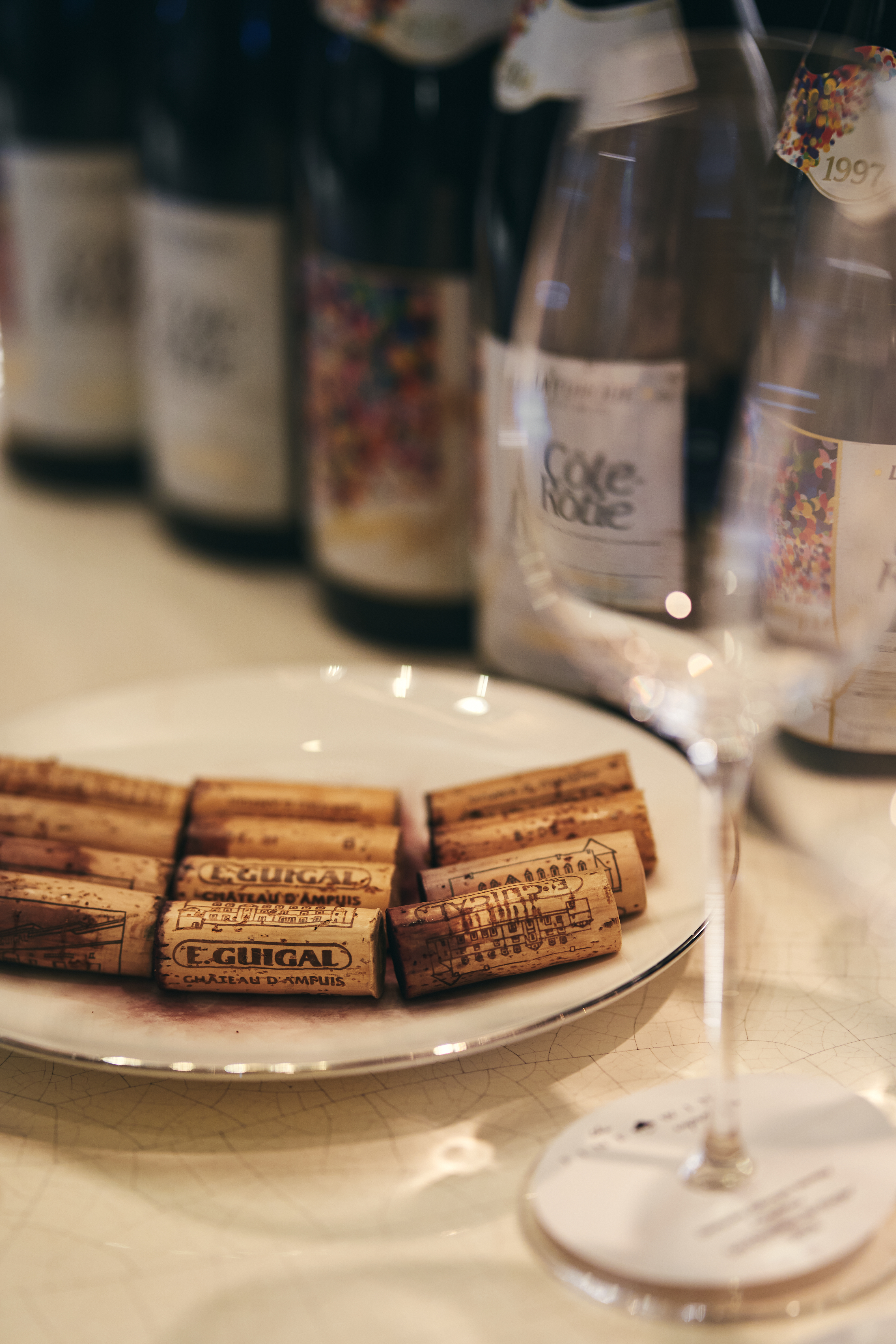 FINAL FLIGHT: consecutive vintages
We finished with a trio of consecutive vintages that I recall on release helping to push the reputation and interest in the Nothern Rhône. 1990 we know of as a universal vintages across most European wine regions, and in Hermitage (and hour's drive south of Côte-Rôtie) 1990 is a king of vintages. But that isn't the case in Côte-Rôtie where growers across the board seemed to nail 1991. A decade or so ago the '90 and '91 La Las seemed closer, but the quality difference today is easier to see with the 1990 showing some signs of decline (though still very good), and the 1991 sitting up on a plateau of greatness from which it feels like it will never depart. The 1991 was one of my two favourite wines this evening, alongside the 1999. No surprises for me there. The 1989 in contrast offers more oomph and hedonism than the 1990, while the 1990 offers more nuance and interest. Take your pick. But the 1991 is clearly on top of both of them offering the best of both in one package. These were paired with wok-fried asparagus, fungus, lily bulb and peach kernel, a dish which helped draw out the tertiary characteristics in the flight.
1991 E. Guigal Côte-Rôtie 'La Turque'
Deep opaque garnet; sweet nose, garam masala, leather, dried mint; concentrated on the palate, gorgeous fruit, spice, this is layered with Inception levels of depth, it is broad-spectrumed, fleshy sweet, succulent, exotic, yet contained, delineated. Going back to the glass later, there is just such an astonishing depth of flavour and exotic intrigue here. Riveting wine. I don't think it has more than this to give – now is its moment.
7 votes for wine of the night – first overall. 98
1990 E. Guigal Côte-Rôtie 'La Turque'
Mid colour, bricked; wild, cedary, savoury, mature aroma; mid weight, fleshy, succulent, attractive, mid-level La Turque that is just beginning to dry a little, the first in this vertical that reveals its substrate of new French oak. That said, there is lovely fruit and nuance to it, ripeness but with tension and good acidity, there is a lot of flavours here and it is well-balanced but the mid-palate concentration is not there to the degree I would expect. Quite overshadowed by the '91.
No vote for wine of the night. 93
1989 E. Guigal Côte-Rôtie 'La Turque'
Deeper than the '90; sweet, cedary, mature now, ripe aromas; fleshy, more concentrated than the '90 too, very ripe fruit up front on the palate, rich, some spices, lacks the nuance and complexity of the '91 or '90, but has an appealing fleshiness, primordial thickness and darkness, full black fruit spectrum of Syrah expression. Yummy, but simpler than some others.
2 votes for wine of the night. 93