The 2022 Hospices de Beaune
Join us in a share of a barrel of 2022 vintage Hospices de Beaune red Burgundy, which when bottled will have your name, your newborn's name, your company logo, or your favourite quote, etc, on the official label.
The morning before the barrel auction The Fine Wine Experience team gathered in the ancient Hôtel Dieu in the heart of Beaune to taste samples of all the 50 different cuvées. Each member tastes alone, marks up on their card their favourites and then there is some discussion with Jasper Morris MW and our senior consultant Anthony Hanson MW, who tastes with us. Our 'shopping list' is always longer than what we end up buying because much too depends on the auction itself. Some wines make sense for quality, but get fought over in a bidding war in the auction, and then just don't make sense, quality for price-wise. We work hard to get the best deals from within our list at the auction, and we are very pleased this year with what we bought.
The great news is that we secured two of our team's very favourite wines – by far the best of the Beaune 1er Crus (a real highlight of the auction), and our top Volnay 1er Cru pick from the highly esteemed 'Santenots' vineyard. These two wines are bound to offer many years of pleasure.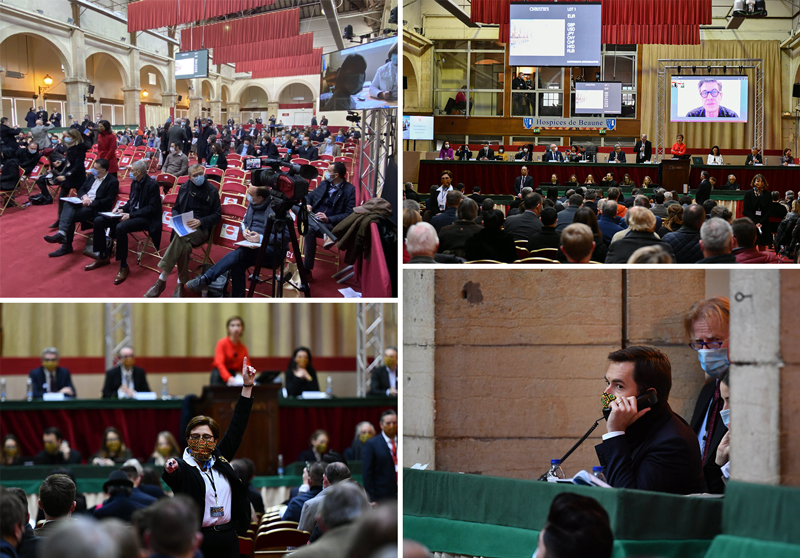 Élevage – or 'raising' the wine over many months of diligent care in the cellar is a very important factor in the final outcome, and this year we are delighted to be working again with the talented Guillaume Rouget of Domaine Emmanuel Rouget.
The Fine Wine Experience team has many years of experience in managing the labelling process, ensuring your name, company logo, or name in Chinese characters is handled correctly, to maximise the personalisation and value to you. Your bottles will display personalised yet official Hospices de Beaune labels.
We manage this process end to end for you, so that you have the best Hospices de Beaune selections for 2022, with the flexibility to buy in manageable ¼ barrel shares (72 bottles per share).
Hospices de Beaune -
Beaune 1er Cru Cuvée Maurice Drouhin
Élevage SAS Rouget Père et Fils (HKD 1,500 per btl, minimum 72 btls)
Just as bright in colour as its confrères, but not the most saturated. Clean bright red fruit. Sometimes slow to show its qualities in the first weeks after the fermentation, this year Cuvée Maurice Drouhin has come flying out of the blocks. There is a crystalline character to the lighter raspberry fruit here, fine tannins and a long finish. – Jasper Morris MW
Hospices de Beaune -
Volnay 1er Cru Santenots Cuvée Gauvain
Élevage SAS Rouget Père et Fils (HKD 1,900 per btl, minimum 72 btls)
Particularly concentrated in colour, the Cuvée Gauvain also shows a powerful if backward bouquet, a wealthy block of dark fruit from the clay-rich soils of the Santenots vineyard. Sumptuous dark raspberries start to emerge. A slight chocolate note, though the fresher side of red berry fruit dominates the finish. – Jasper Morris MW
Buyers of Hospices de Beaune barrels have the privilege to put their name as buyer on the label. We have especially arranged that you can put your name on the label of just one quarter of a barrel quantity (72 bottles). You can put your name, the name of your 2020-born child, the name of a couple who got engaged or married in 2020, or who celebrated a significant anniversary, or you can put the name of your company for corporate gifts. We will arrange this for you as part of the service.
You can put -
Plain text (eg.Name, dates, etc) - which will be printed with Hospices de Beaune offical font and in black colour
Chinese or other Asian text (eg. Name in Chinese or in other Asian language) - you can choose from 5 different fonts and will be printed in black.
Graphics (eg.Company logo, text written in calligraphy, etc) - which will be printed in black and white. For the best result, please provide your graphics in .ai/ .psb file (for logos), and high resolution graphics no lesser than 300 dpi.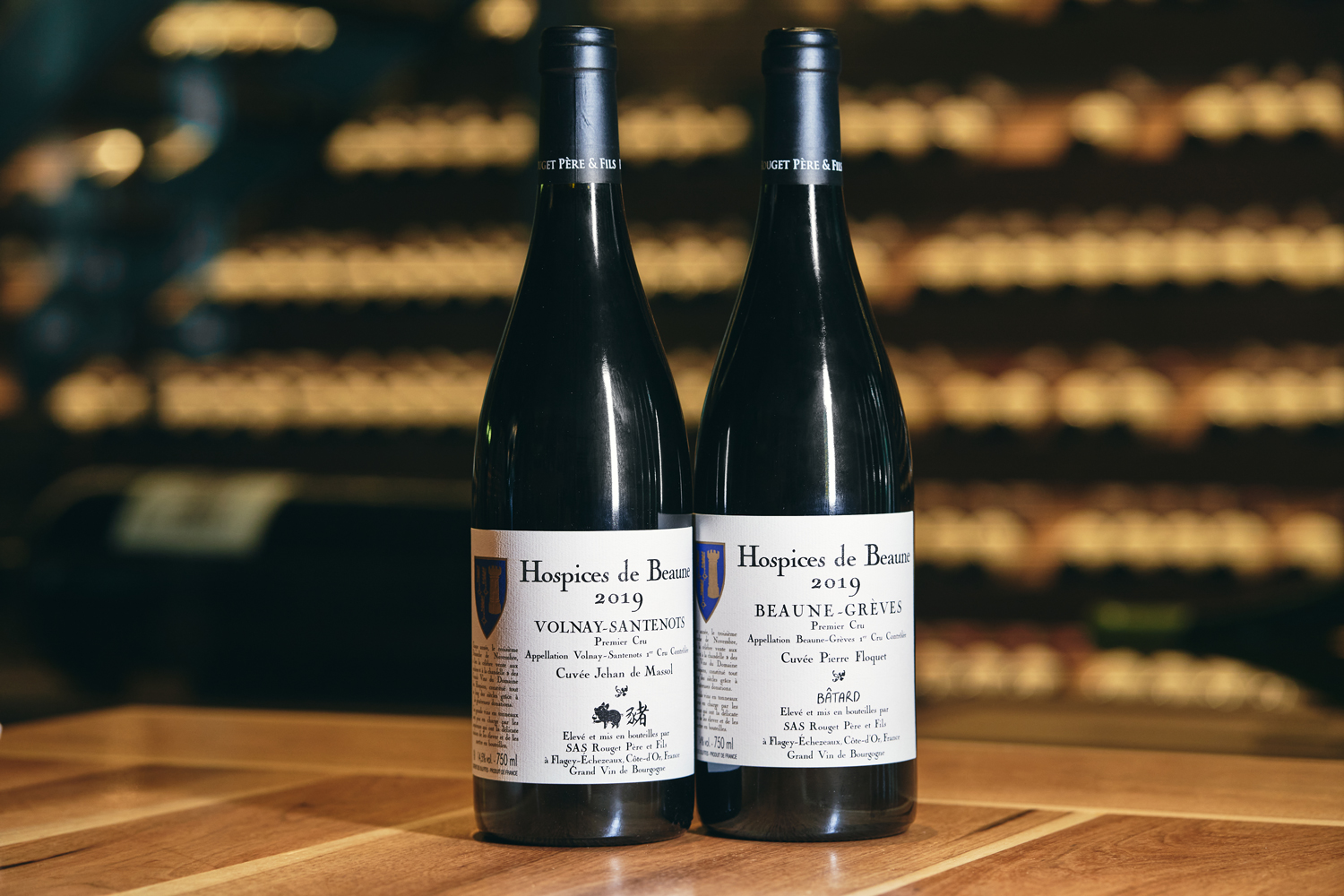 6問6答 - 勃艮第济贫院葡萄酒拍卖全解析
1.问:什么是勃艮第济贫院葡萄酒拍卖(Hospices de Beaune)?
答:追溯到几个世纪以前,济贫院的任务是照顾穷人,如今该组织作为勃艮第的慈善机构和一个现代化的医院。过了几个世纪后,大量的葡萄园土地捐赠使得济贫院成为了一个大型酒庄。特别的是每年济贫院的拍卖会都会在一天之内卖出所有仍在木桶里新酿的酒。
2.问:如何获得勃艮第济贫院葡萄酒?
答:通过在每年11月的第三个星期日举办的拍卖会,以橡木桶形式出售。每一年葡萄采收后,完成酿造的几个星期后就进行拍卖,葡萄酒超级年轻。十几年来,唯有勃艮第葡萄酒的仲介酒商才可以参加拍卖会购买。自从2005年以来由佳士得运作,所有佳士得的客户可参加。在拍卖会上必须购买整个木桶,酒庄有专人管理葡萄酒,直到装瓶。我们会帮你处理每一个程序。
3.问:为什么买勃根第济贫院葡萄酒?
答:首先,济贫院拍卖的葡萄酒相当不错。他们不是勃艮第最优秀响亮的,但葡萄酒的品质很好,非常美味和具有陈年的潜力。主要原因是酒标上可以印有自己的名字,同时也可以支持伟大的慈善事业。
4. 问:如果葡萄酒在桶还没有准备好装瓶,接下来会发生什么?
答:9月是每年的采收季节,拍卖会在11月进行,第二年1月葡萄酒会进到酒庄進行管理。在接下来的一年或更长时间,你的酒将是酿酒师們的重大责任 – 如需要换桶、摇桶、填桶,直到最后装瓶,他们会负责每一个细节。我们慎选勃根地顶尖的酿酒师,从他们的工作经验,名声,绝对是最好的选择。在2022年1月到4月之间,他们将会不断品酒,判断红酒装瓶的最佳时机,直到运往香港,我们将会负责接下来的每个程序,直到酒运送到您指定的地方。
5. 问:如何特制个人专属酒标?
答:购买了济贫院酒桶的客人,拥有特权把自己的名字标在酒标上。经过我们的安排,你可以把自己的名字标在72瓶(等于四分之一的酒桶)的酒标上。你可以把自己的名字放在酒标上,也可以是2015年刚出生孩子的名字。在這一年订婚或结婚,也可以是纪念一周年新婚夫妇的名字。你还可以以公司名称著称作为企业礼品送给客户,我们将会为你安排好一切。
6.问:这些葡萄酒有什么特别呢?
答:这么多年来这些葡萄酒带给了我们很多欢乐- 无论是在家庭聚会、欢庆等等,还可以看到瓶中葡萄酒的陈年变化。他们打造出独一无二的完美礼物。您可以选择和我一样的欢乐,纪念孩子的出生,结婚和周年纪念,订婚等等。这是很美好的主意,可以享受储藏美酒,还有专属自己的酒标(孩子或夫妻双方的名字)。