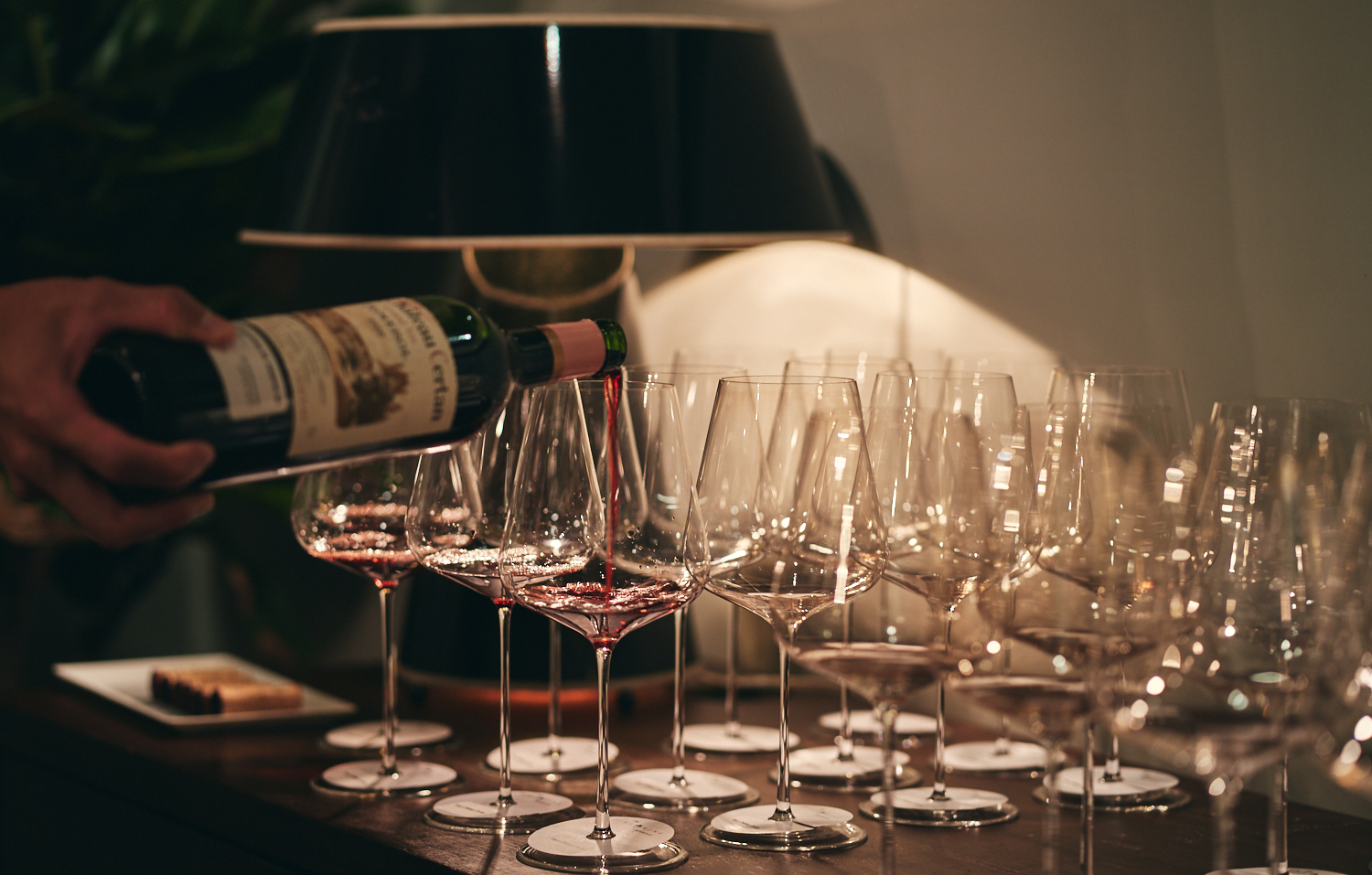 A little more than 20 years since the harvest, top-level red Bordeaux from the 2000 vintage shows high quality, richness, freshness and balance aligned to classic moderate weight, and eminent drinkability. It also represents good value for money.
That's what we found at The Fine Wine Experience 2000 Bordeaux Dinner I hosted at Duddell's in Hong Kong this week. My thoughts on the vintage, the wines, with tasting notes and scores follow.
I began buying wines and organizing tastings in the mid-1990s. Robert Parker was at the peak of his market-influencing dominance at that time, and so too were the wines of Bordeaux. Then came along the 2000 vintage, and I recall that it was one that caught the imagination of a wider audience, such was the hype surrounding it. In 2001, while the wines were still in barrel and offered en primeur, Parker appeared on 60 Minutes, and Charlie Rose. On primetime TV, this is what Parker had to say:
"But when you have a top vintage, like you've had in 2000, the quality of the wines across the board is really the best I've ever seen. And, you know, in 23 years of coming.
… sometimes in some vintages, the top châteaux, because of the strict selection, because they have a lot of money, can sort of skim off the cream of their production, and only put 30 or 40 percent of their production into the bottle, so that they have the best wine, but the smaller châteaux can't do that. They can't afford it, they don't get enough money for their wine. But the thing about this vintage that I really haven't seen anything like it in my lifetime is, the quality goes very, very deep, to really, you know, wines that -- you know, estates, will cost under $10 a bottle that are delicious –"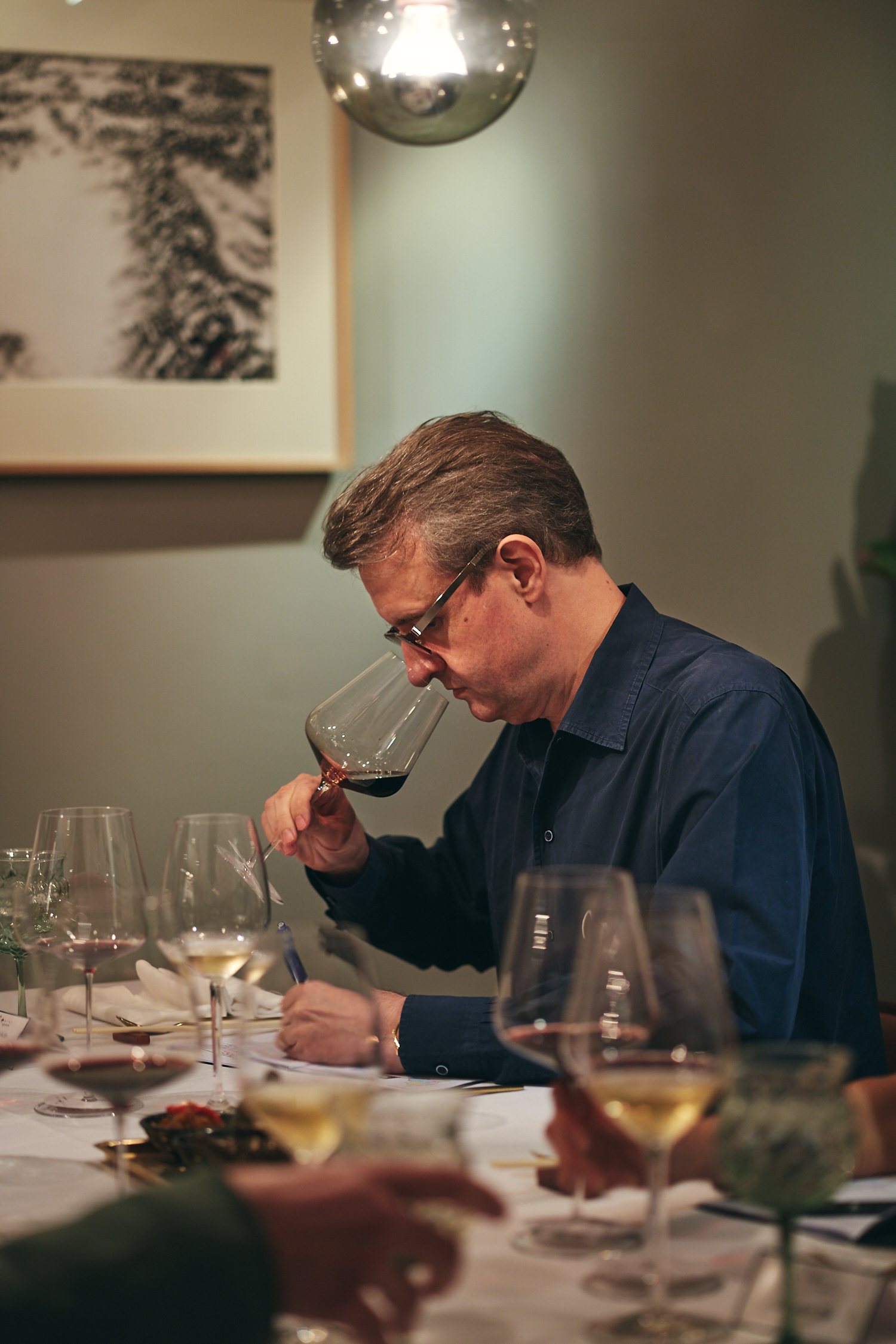 Hosting The Fine Wine Experience vertical tastings in the mid-2000s, the fresh-to-market 2000 vintage was often the youngest wine we tasted. Right from the start I was struck too by the consistency, freshness, balance, and quality of the vintage that Parker had praised.
2000 had gotten off to an inauspicious start. Warm weather in March had led to severe mildew problems. June was rainy, stormy, July cool and wet. But from 29th July, high pressure set in and barring the odd beneficial sprinkle around harvest time, clear skies and warm weather remained through to the finish. Some drought stress and heatwaves thickened the skins, giving good potential for tannin, and for aromas and flavour phenolically rich. Merlot picking got underway on the Right Bank on 14th September, and Cabernets were finished in the Médoc on 10th October. Early analysis showed generally good ripeness, good sugars, good acidities. Moreover, the vintage was balanced by district and grape variety. A universal year.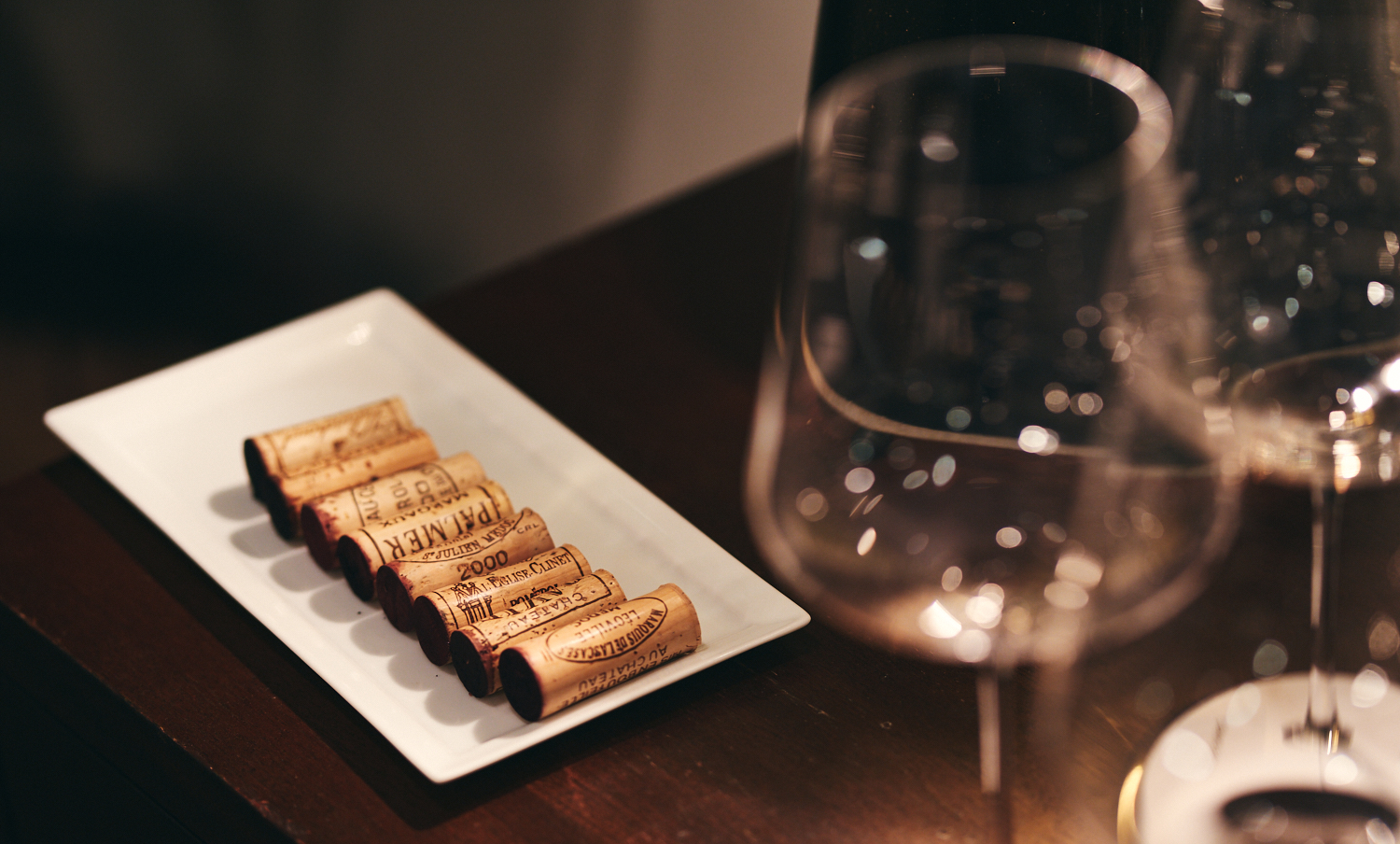 Twenty years in bottle is a really good moment to check in on top level Bordeaux. Any inherent flaws will be clear at this point to see. Some wines will have evolved in bottle fully, and offer their peak pleasure. Others might need further cellaring.
I also suspected that at twenty, we wouldn't necessarily need to taste the absolute top tier to see the style and quality (though I'd love now to follow up and try them too!).
I made a selection that would give a balanced geographic range – two Pomerol, two St.-Émilion, one Graves, one Margaux, two St.-Julien, two Pauillac, and two St.-Estèphe, and we tasted in this right to left, east to north, merlot to cabernet order, alongside some delicious Cantonese classic treats. (Duddell's is one of those restaurants, we reflected, where you don't need to know the chef to get the good stuff.)
At the end of our dinners, I ask the guests to pick their two favourite wines of the night. Ten of the twelve wines got at least one vote – a sign, I think, of the wide appeal, and close range of quality in the line-up.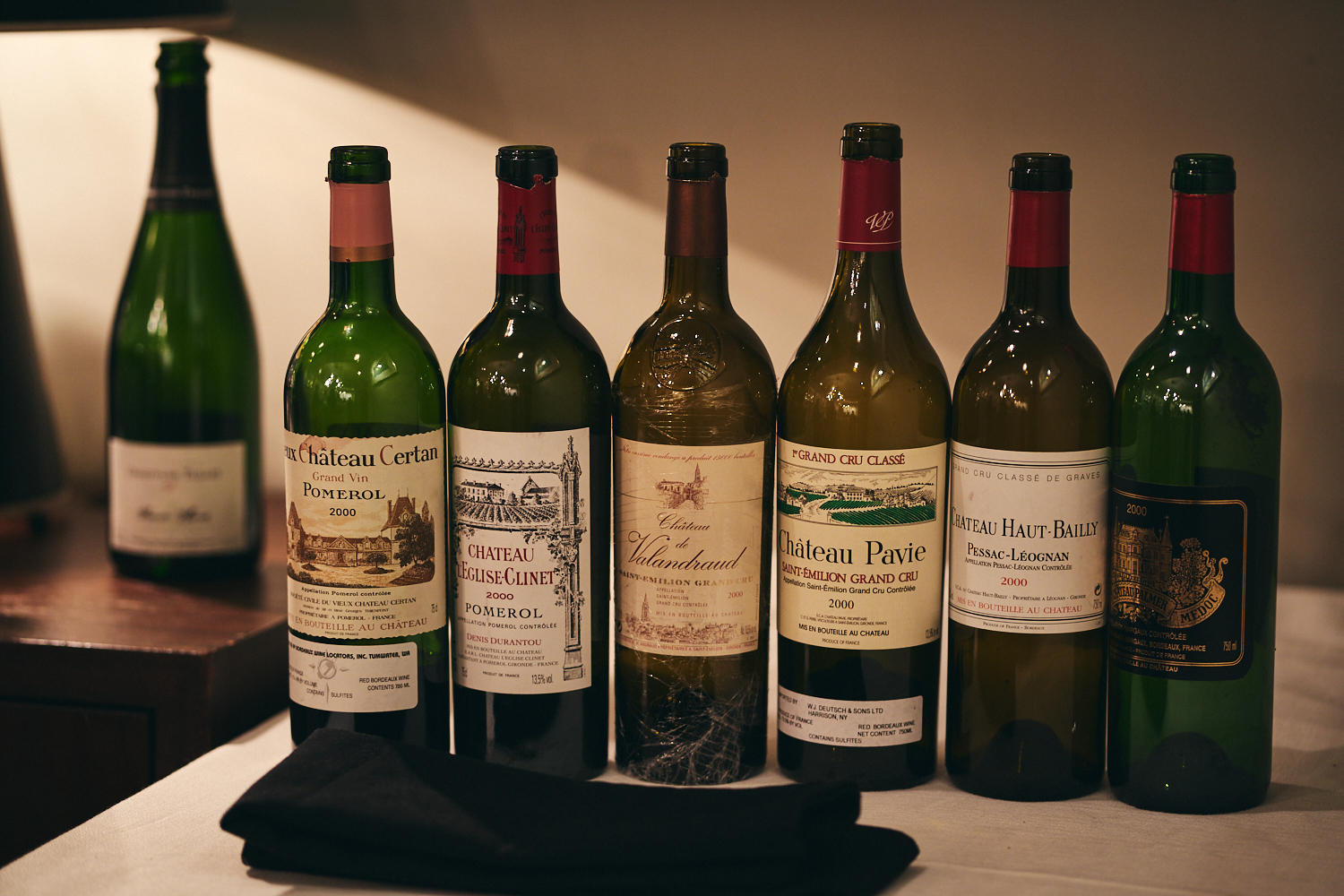 The vintage, in my assessment, lives up today to its early hype, and justifies itself as one of the great classic years. All twelve wines showed freshness, fragrance, ripeness, a moderate sort of opulence and weight (compared to some very rich vintages that raised the opulence bar in Bordeaux in the decades that have followed).
For those who like the contemporary Bordeaux advantages of strict selection, careful and precise vinification and maturation, many of these wines represent that already underway. Palmer had begun its roughly 50/50 production split between Palmer and Alto Ego bottlings two vintages prior. VCC seemed back on form beginning with the 1998 vintage – the same year that Gérard Perse had bought and revolutionized Pavie (the winner of our vote). On the other hand, to my palate, the style and the feeling of most of these 2000 vintage wines is still moderate – recent top ripe vintages have delivered bigger wines than 2000.
For me, the late Denis Durantou's superb 2000 L'Eglise-Client still needs more time in bottle. So too the brilliant Léoville-Las-Cases. Perhaps the still slightly reticent Montrose, and the powerful yet well-balanced Pavie still have more to give with a few more years. But the others all seem to me to be in their prime drinking window now (with decades in reserve). The only wine I felt faded a bit with 90 minutes in the glass was Valandraud, which has lost some of its youthful oomph, and the fine oak base seems a little more exposed, becoming less knit as the wine evolved in glass.
Alexandria Cubbage carefully managed the wines, double-decanting the wines between an hour and two hours prior to their service, depending on anticipated need for air.
Here are my notes, my scores, and the results of our vote. I would encourage you to pick some to try for yourself. They represent, for me, what Bordeaux is all about.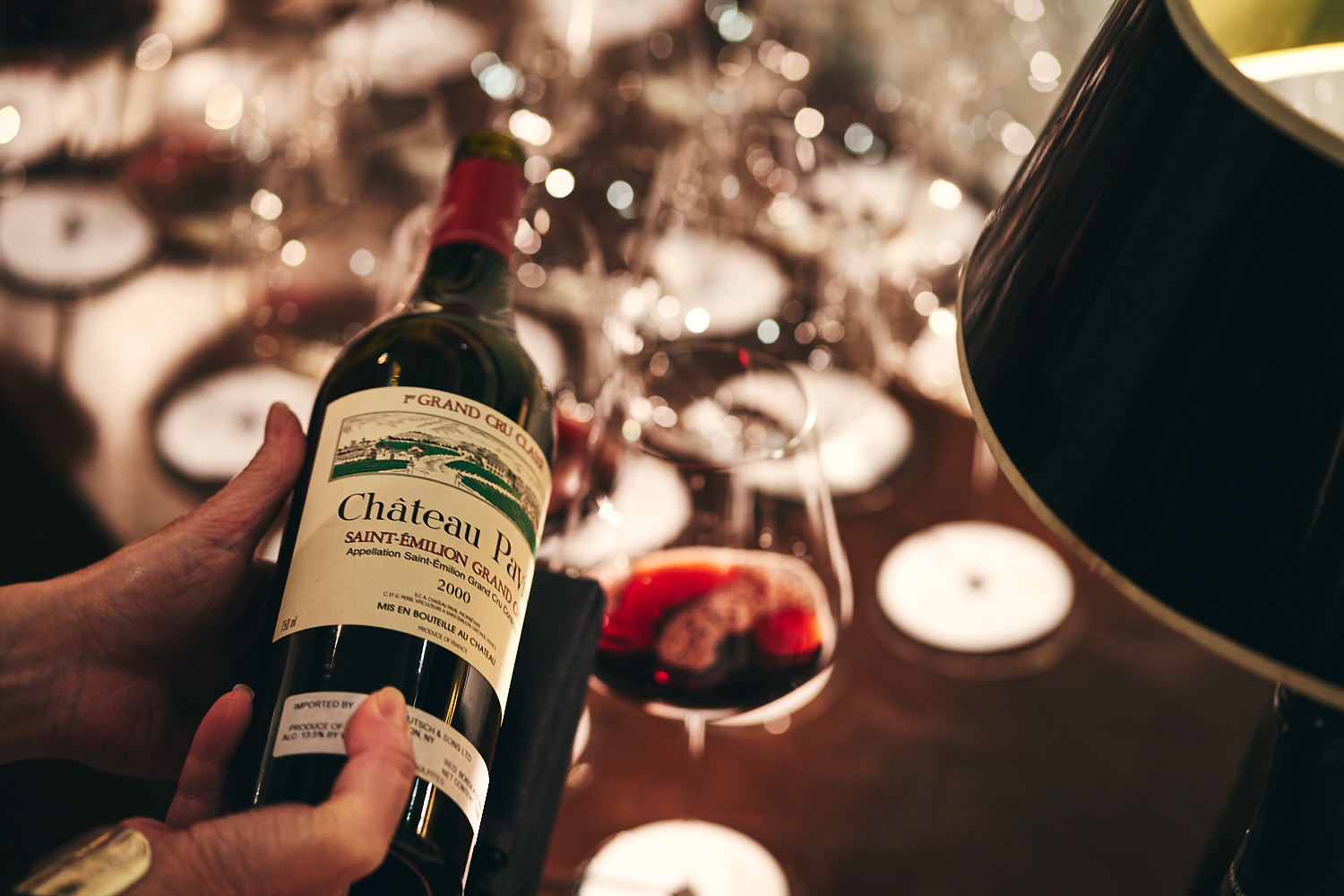 ---
2000 Vieux Château Certan 93
Fine ruby; a toasty nose at first, then herbal, sweet and savoury, and aromatically open; elegant and fine on the palate, with a lovely balance between sweet and savoury elements. With more air it revealed a well-balanced and beautifully fragrant and textured wine. It is lighter, less intense than some of the more recent vintages, but it is sophisticated and charming nonetheless.
Four votes for wine of the night – 2nd= place.
2000 Château L'Eglise-Clinet 94+
Fuller colour than the VCC, a dense clear garnet; dark cherry, spice on the nose, brooding, potent with an underlying floral scent; concentrated and focused on the palate, with very fine layered fruit, mineral, the oak fully-integrated. This is still quite primary, and with good density. This is not over-extracted, but there is plenty of fruit and material here on the palate. Opulent yet fresh.
One vote for wine of the night.
2000 Château Valandraud 92
Deep colour; fragrant, truffly nose, oak/sesame and ripe plummy fruit; sweet and plump on the palate with a rounded texture, this comes across as seductive. Immaculate quality. With more air it began to dry a little on the finish, the oak standing out a little. It's still delicious, but it may have entered the start of decline. Drink up.
No votes for wine of the night.
2000 Château Pavie 96
Still so deep in appearance; sweet, ripe fruit, a hint of coffee, a rich but complex and nuanced nose; sweet and dense on the palate, supple and rich, fleshy, structured. After another hour – this is a wow wine, grand yet refined. Milk chocolate in the finish. Delicious. Hard to resist naming this a favourite of the night.
Six votes for wine of the night – 1st place.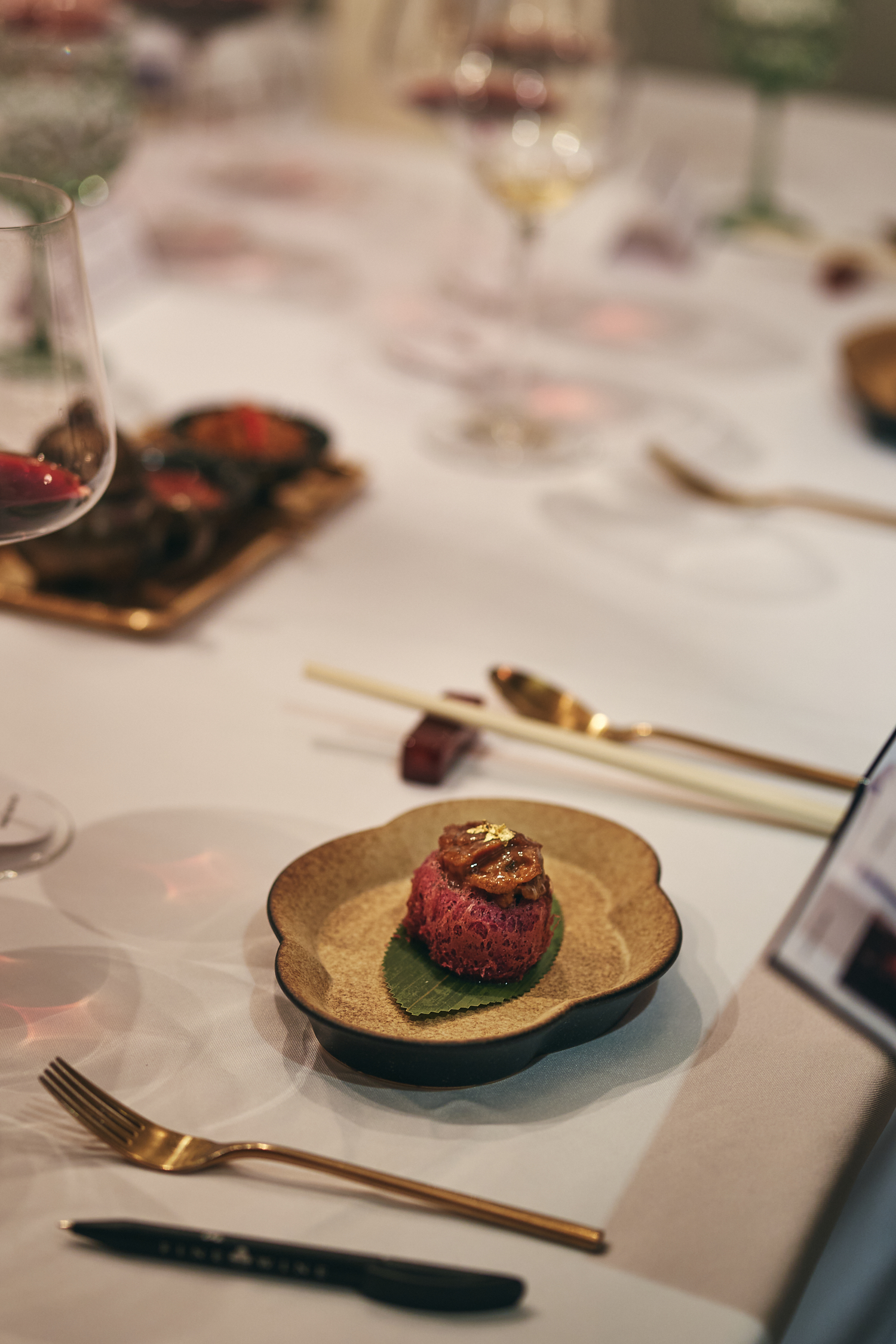 2000 Château Haut-Bailly 93
Fresh clear garnet; a fine berryish sort of nose, touch of truffle, herb, spice – lovely nose; elegant, very supple, attractive, perfumed fruit, good length. The balance is exquisite. Finesse wine.
One vote for wine of the night.
2000 Château Palmer 96
Bright garnet – fresh colour; a fine nose, fragrant, a touch exotic in fact, low key but perfumed; focused, precise on the palate, beautifully delineated, seductive and elegant, with a gentle mouthfeel and superb poise. Beautiful wine!
Four votes for wine of the night (incl. me), 2nd=
2000 Château Ducru-Beaucaillou 97
Fine garnet with a touch of development at the rim; cool and fragrant nose, fresh-ripe, leafy, truffly, open; ripe, very fine, silky-textured, supple and seductive with a fine backbone, some minerality, a touch of oak, but mostly well-knit. This is gently opulent, but classic in expression, and really digestible. Lovely wine! All appeal. After another hour in the glass, I noted a nice freshness, like a touch of mint, liveliness in this wine, and musk on the finish. Fantastic.
Two votes for wine of the night (incl. me)
2000 Château Léoville Las-Cases 97+
Dense, deeper colour, fresh tone; subdued, very pure on the nose, very Cabernet, a touch of violets, perfume, but low key in expression; very fine fruit here, some density, the start and mid-palate are creamy and buoyant, fine tannic grip pulls the finish in tighter. This is very very fine, a more upright, tie done up sort of style, with great quality and purity of expression in the fruit. A regal Las Cases, that still needs a few more years of cellaring, but is superbly promising.
One vote for wine of the night.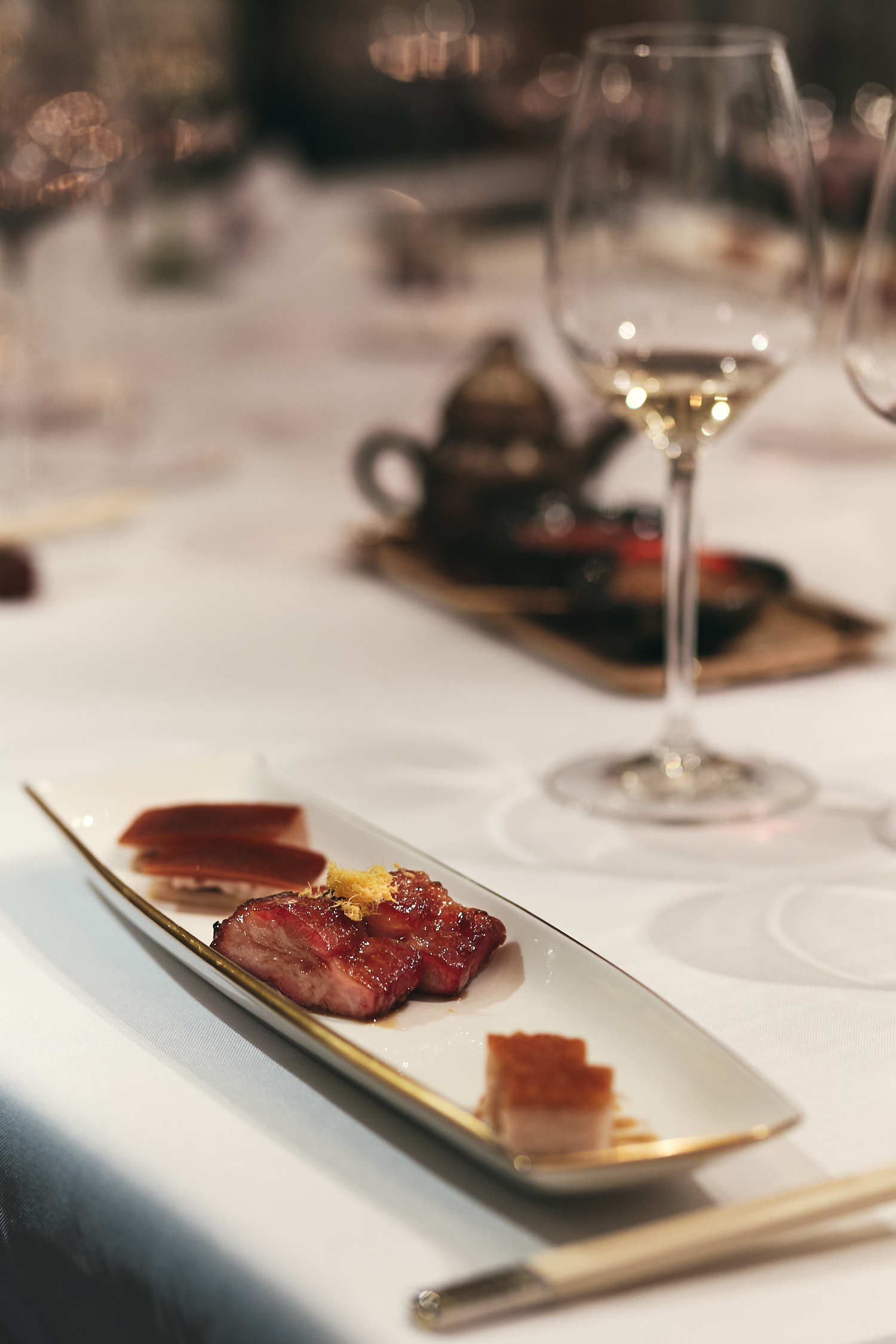 2000 Château Pichon Longueville Baron 95
Fine clear ruby; bright and casissy on the nose, some spiciness here, open and fragrant; lovely fruit, with spice and an exotic feel, melting texture, with good depth and concentration. Delicious, and supremely easy to drink, there's a luxurious decadence to this, like a finely tailored smoking jacket. Nils pointed out how well this paired with Duddell's roast goose. Indeed, it was perfect with that, with just the right melting texture, sweetness and acidity to play condiment.
No votes for wine of the night.
2000 Château Pichon Longueville Comtesse de Lalande 94
Clear deep ruby; fruity and fresh with a distinctly more herbal expression than Pichon Baron, menthol even, spicy too, with lovely fruit; fleshy and berryish on the palate, a touch of vanilla, a touch exotic, this has more focus than Pichon Baron, more definition and clarity. Open. But there is also a small phenolic element that is very grippy, a small hint of something green that would divide tasters on whether it's a positive element. I wondered if it was the (high in this vintage) 10% Petit Verdot in the blend. Nice acidity, and nice lift on the nose and palate.
Three votes for wine of the night.
2000 Château Cos d'Estournel 92
Fine clear full appearance; fine, fresh, elegant nose, a touch herbal, fragrant; elegant and fine in the attack, then some grip. Not the fruit depth or flow of a great Cos. The appeal here is in the superb fragrance.
No votes for wine of the night.
2000 Château Montrose 95+
Fine deep colour; lovely nose, quite floral, fresh and inviting; fleshy, fine, with good fruit, fine structure, this is still youthful. Classic, statuesque Montrose. Supple yet deep and structured with a velvet and refined edge. A finely upholstered chair.
One vote for wine of the night.