19th Aug, 2022, by Linden Wilkie
Certain wines achieve iconic status. They deserve their own moment, are worthy enough to experience on their own. As Maya says to Miles in Sideways, "the day you open a '61 Cheval Blanc… that's the special occasion."
When the wine world chases bottles with miniscule production – as we see today with the top Burgundies – the bottles become unicorns, mythology begins to surround them. This phenomenon began to really take hold with the top tier Pomerols in the '80s and '90s. We think of wines in terms of labels and content but we forget how little is made of some of them. Compare Lafite's 107 hectares to Petrus' 11.4ha, Lafleur's 4.5ha, or Le Pin's 2ha. And as expectation and scarcity collide to drive up expectations when we are finally sitting glass in hand, it becomes harder to separate our aspiration to experience from the experience itself.
What better way then to approach such wines than through comparison? Tasting such wines side by side shows what they have in common, but also helps identify their unique qualities. Comparison provides a turbo boost to understanding, and deeper understanding in turn deepens pleasure. It also helps us work out our own preferences for when it comes time to choose a bottle for ourselves.
With this in mind we assembled as a small group this week to taste through three of Pomerol's finest – Lafeur, Petrus and Le Pin, in four vintages.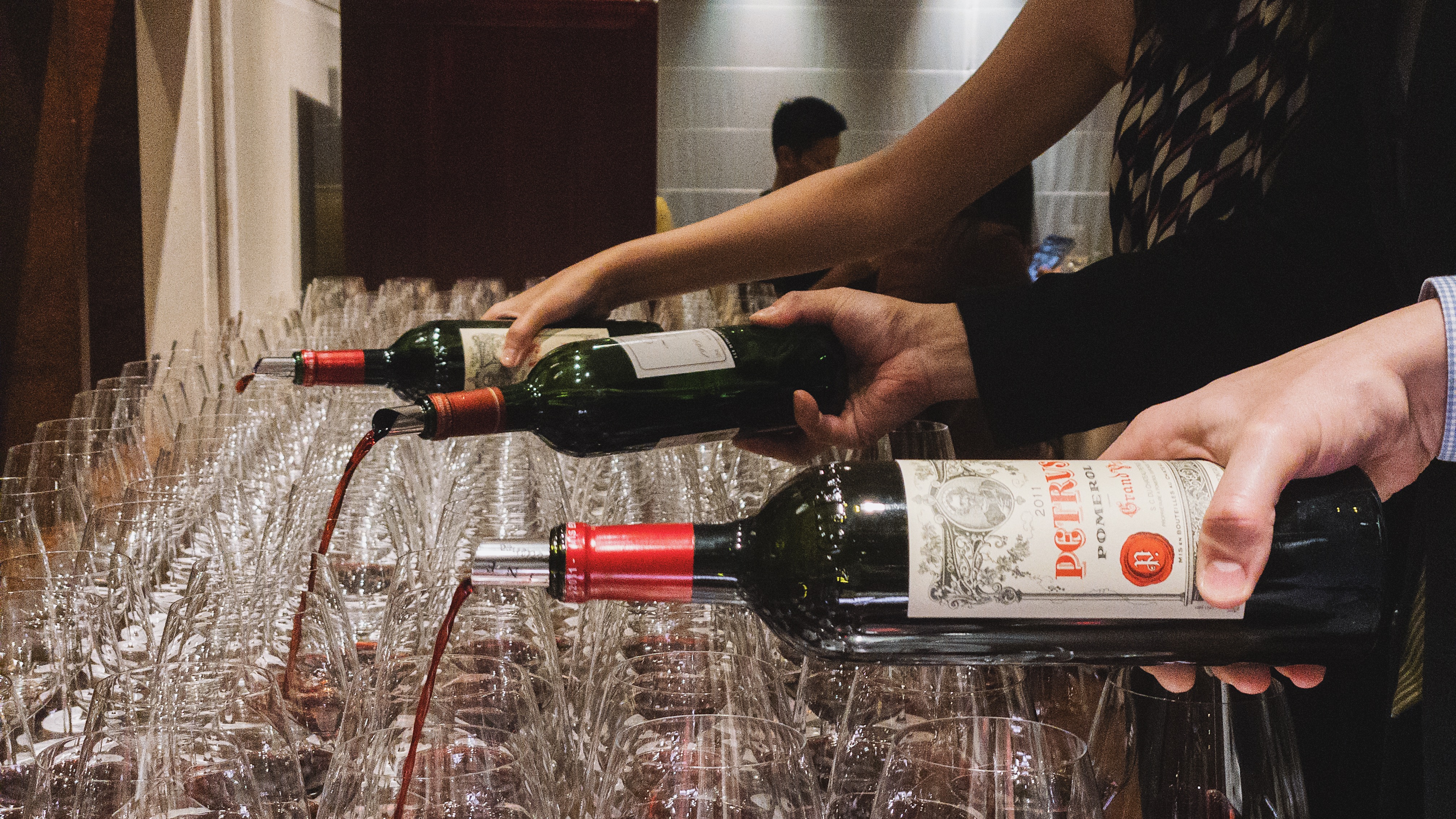 It's curious that the two classics here sitting across the road from one another, each excelling in quality, sharing an ability to deliver power with elegance and grace, without being pushed in the winery. Yet they are also so very different. Both sit in prime spots on the Pomerol plateau. I think tasting these two side by side deepened my appreciation and understanding of both just that little bit more. Allow me to elaborate on that point first, before we take a look at Le Pin.
In the case of Lafleur, the starting point is that the terroir in the rectangular 4.5ha "garden" varies between sandy-clay gravel, clay-gravel, and gravelly sand. This variation is then translated half through Merlot, and half through Bouchet (local Cabernet Franc). Lafleur for me has always been an enigma to drink because it shifts around so much in aroma and flavour, if you allow it to sit in the glass long enough. When I think I have grasped it it has shifted, perhaps offering a wink as it does. I find myself chasing after something definitive, but I think this mysterious side is part of the allure with Lafleur. I feel that this 50/50 contribution from Merlot and Bouchet sets up the play, like a dance, yin-yang, a figure-skating pair. There's a natural tension that isn't immediately obvious because there is usually also a sense of equilibrium, poise, balance as well. Eddies on the surface of smooth, fasting-flowing water.
In contrast, Petrus finds its parallel in some of the great Burgundy grand crus. Firstly, this wine is mono-cépage. There was, historically, some Bouchet here – about 5%, but it apparently never made the final blend, and is now gone. Petrus is 100% Merlot. Secondly, you don't need a beautiful map like Lafleur's to understand the terroir – Petrus sits within the famous "buttonhole" of blue Smectite clay. Some neighbours have a piece of this special terroir (Vieux Château Certan, L'Evangile, Gazin), but Petrus sits entirely within it.1 Mono-cépage, mono-terroir. In the right vintage it delivers a distinct expression, clear as a bell, that builds slowly on the nose and palate. It's usually very well-behaved, not a boisterous wine, but it conjures up superlatives like "majestic", "commanding", "authoritative". You get the idea. And there's always elegance with the power. It never feels pushed, or overplayed. It's not a points-chaser, yet its track record is hard to beat.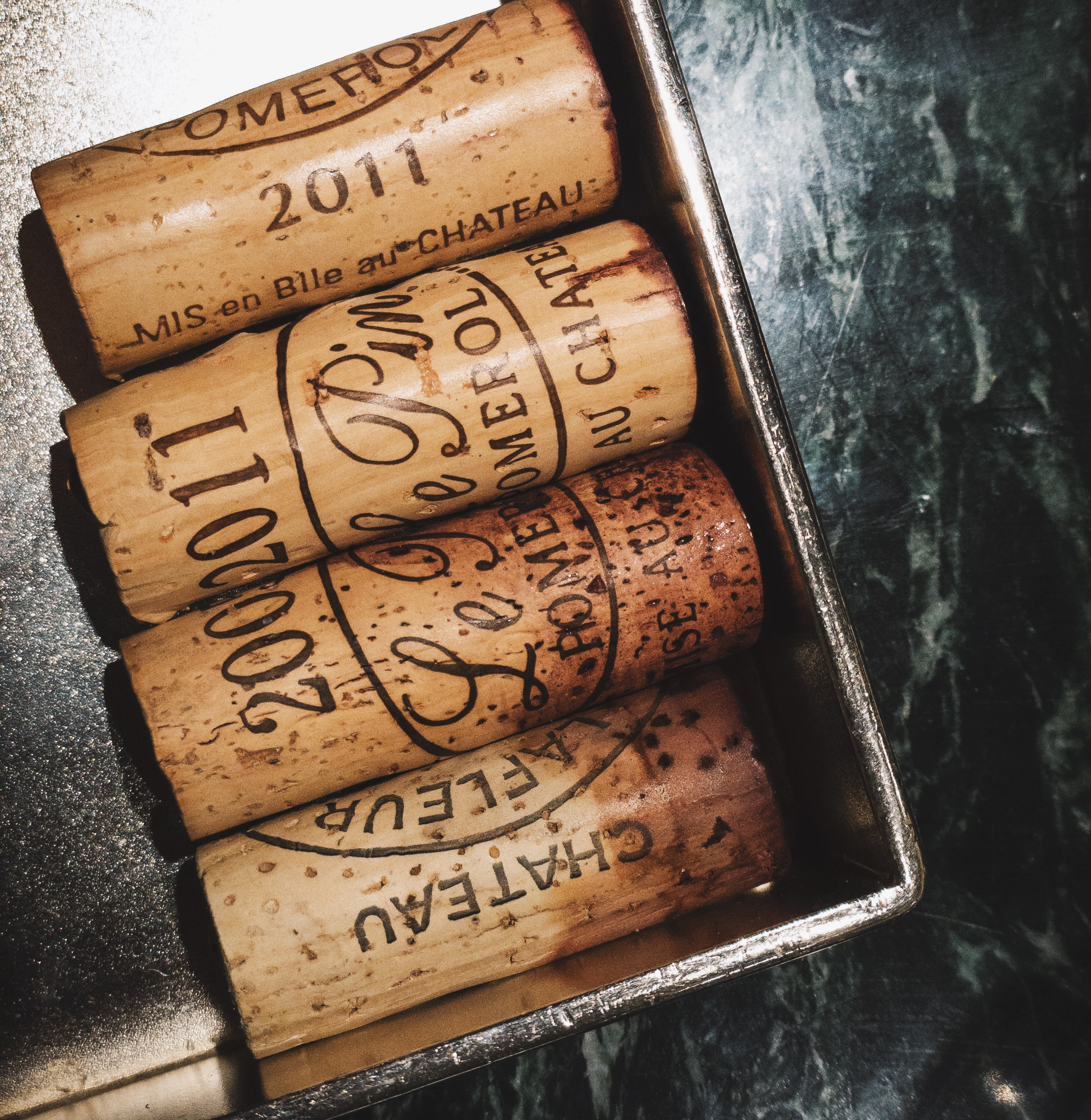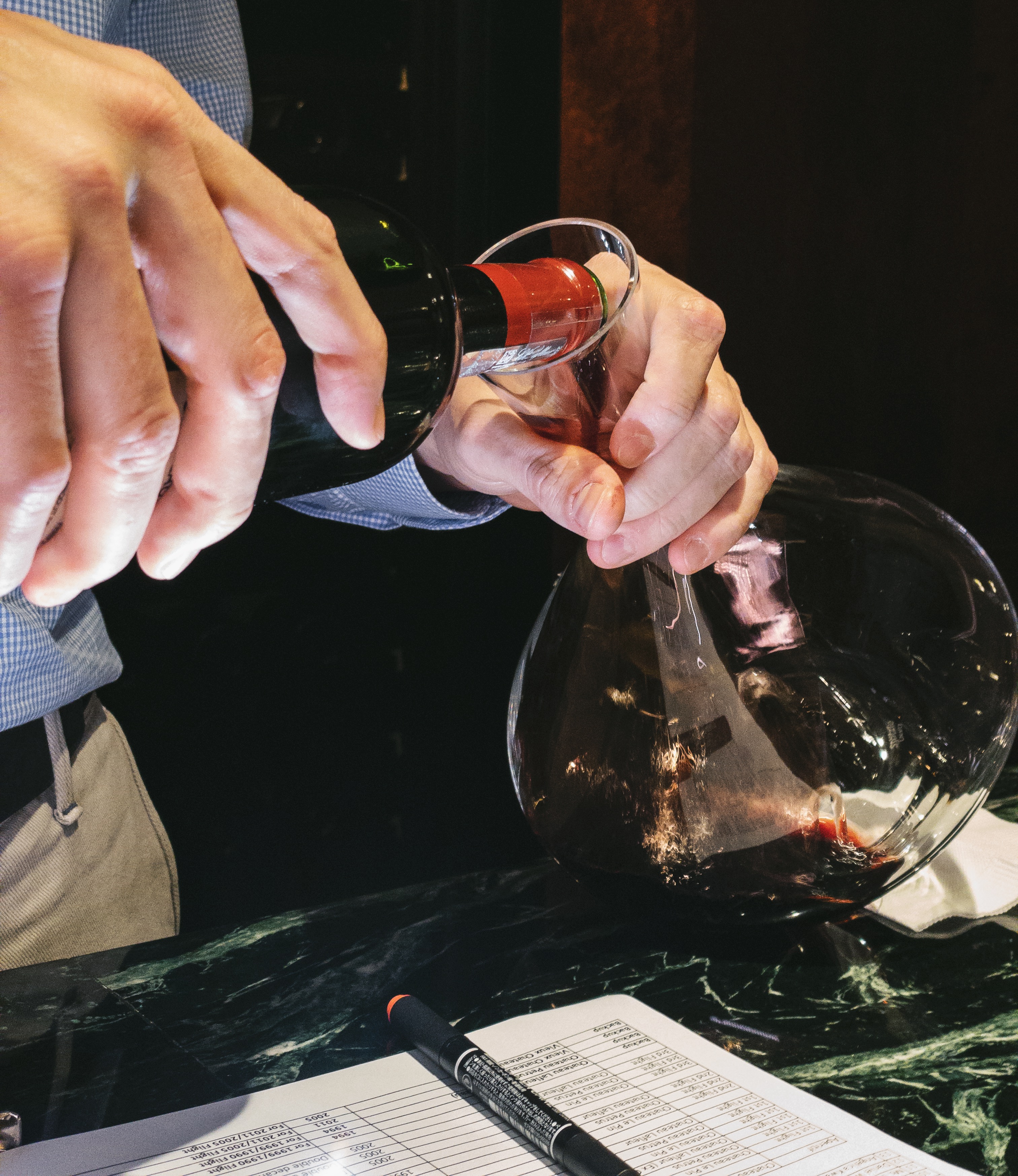 Le Pin brings Lafleur and Petrus closer to one another, by setting itself apart. A Merlot planted vineyard in one contiguous plot, the starting point might be to think it is more like Petrus than Lafleur. But it is much more extroverted, with attention-grabbing aromas that can be thrilling alone, followed by a sumptuousness, a melting, generous, decadence on the palate that is pure pleasure. When Le Pin hits its mark, it is hard not to be seduced by it. It is also a wine that arrives and departs earlier than the other two, you can drink it younger, but should also look to finish the bottles earlier – compared to Lafleur and Petrus anyway. The 2005 Le Pin is already ready, and the 1990, despite coming from a top year, is just beginning to show its decline. In comparison 1990 Petrus and 1990 Lafleur have plenty of energy in reserve. In Neal Martin's excellent book Pomerol he quotes proprietor Jacques Thienpont on the terroir – "There is an unusual amount of iron oxide crasse de fer in the soil, which you can see by the orange pebbles that lie on the topsoil and [these stones] contribute greatly towards drainage. It is one of the reasons why Le Pin always performs well in wet vintages and also lends that exotic mocha / chocolate taste to the grapes."2
Of course, of these three properties, their history, terroirs, winemaking, etc., were discussed at greater length at our event. To delve deeper Neal's book is my favourite reference on Pomerol. Sadly now long out of print, I hope there will be a new edition before too long.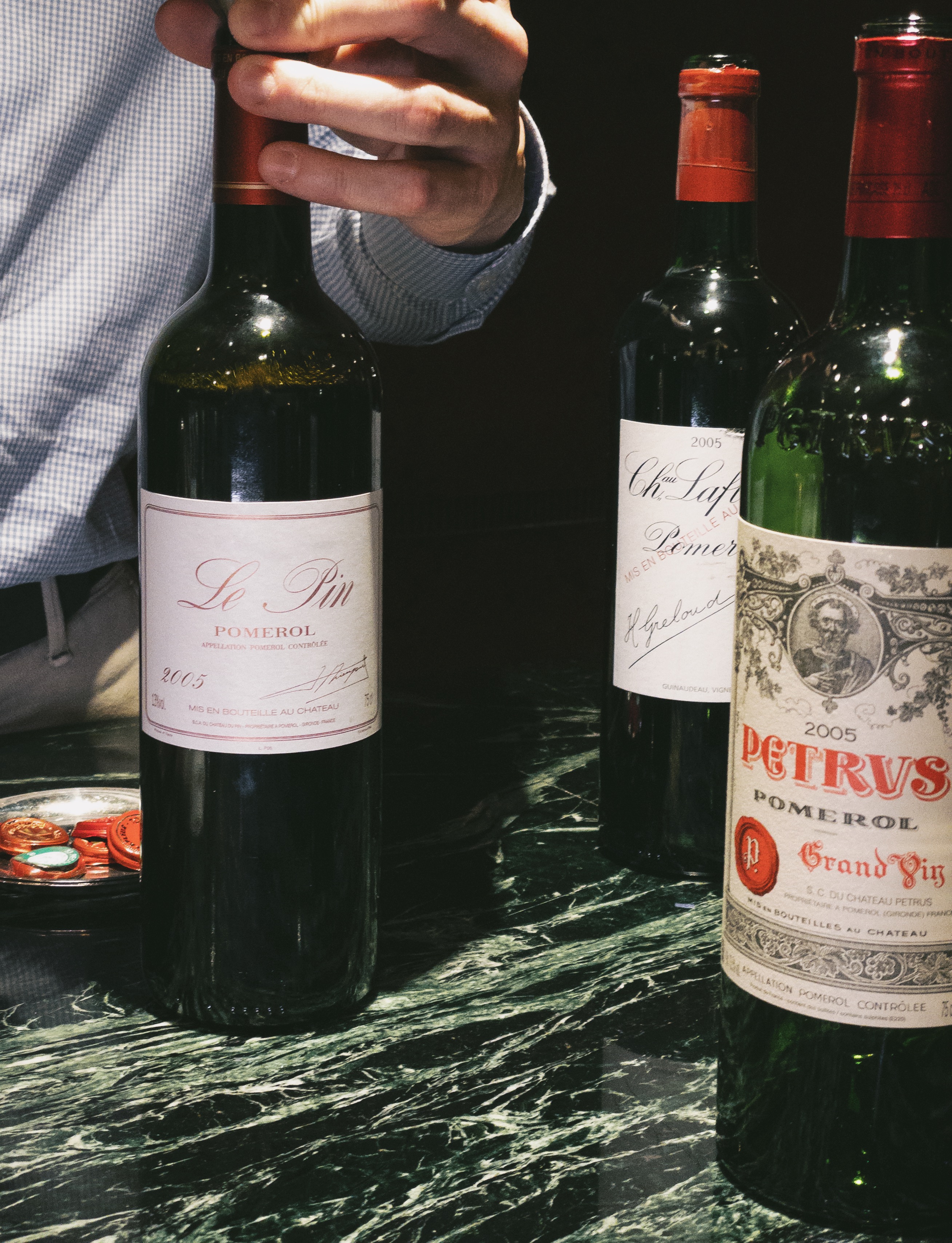 Just as we need albums, not hit singles to get to know bands, the same is true of wines and vintages. The full picture comes from a combination of easy runs and tougher years. 2005 and 1990 were grand sunny vintages – '90 quite open now (and some wines are declining); 2005 known for ripe structured wines, backward in youth, the best '05s are only now beginning to reawaken. 2011 and 1999 offered challenging conditions, with the chance for great terroir and management to come shining through.
2011 Le Pin – not in the advertised line up, was added (the temptation of completeness too great!), as was an interloper, served blind – 2005 Vieux Chateau Certan, which held its own well. From these thirteen bottles there were two casualties – 2005 Petrus (the first bottle from a client's pristine full original case), with a chlorine-laden whiff of TCA, drinkable enough to learn from, but oh what a pity…. and 1999 Petrus, our bottle mushroomy and over the top.
My tasting notes are below. As usual I also asked the group to each choose their two favourite wines, and the results of those preferences are noted below too. For the sake of full disclosure its relevant to know that The Fine Wine Experience has the honour to be an ambassador for Lafleur. My notes below are nonetheless faithful descriptions of what I experienced from each glass.
And oh what a night! With a realistic view of 1999 and 2011, these wines performed very well on the whole, Le Pin and Lafleur excelling particularly in 2011. 2005 showed great quality, but its best days are still ahead of it. It's not shut though, and with food – as we experienced them – and plenty of air (we decanted these at 5.30pm and served them at 9pm) – they offer great pleasure, especially right now the Le Pin. It was with the 1990 flight however that I experienced the sheer level of pleasure and awe that give rise to the sorts of reputations these wines now have. Such bottles justify the journey.
1 Neal Martin (2012) Pomerol, pp43-45.
2 Neal Martin (2012) Pomerol, p394.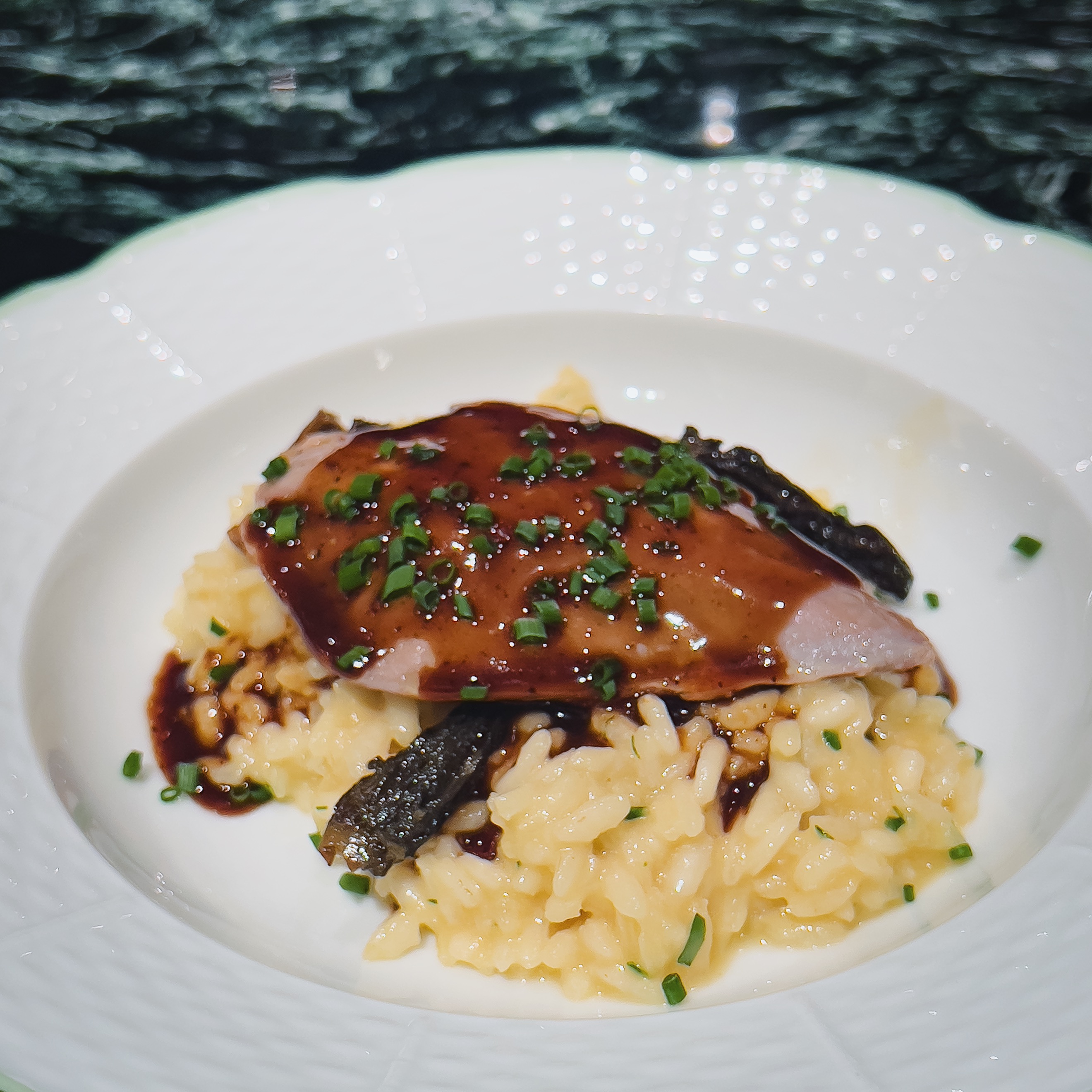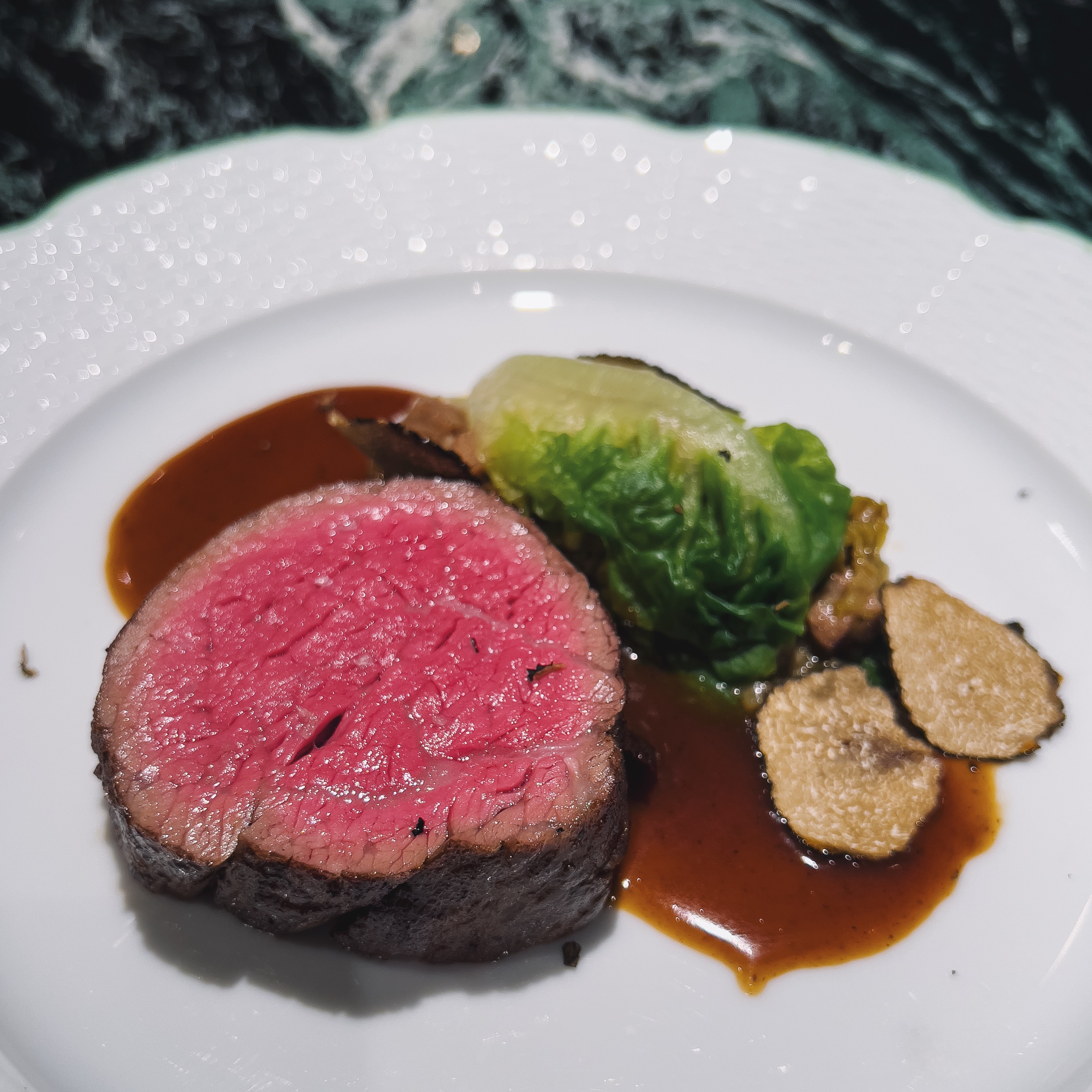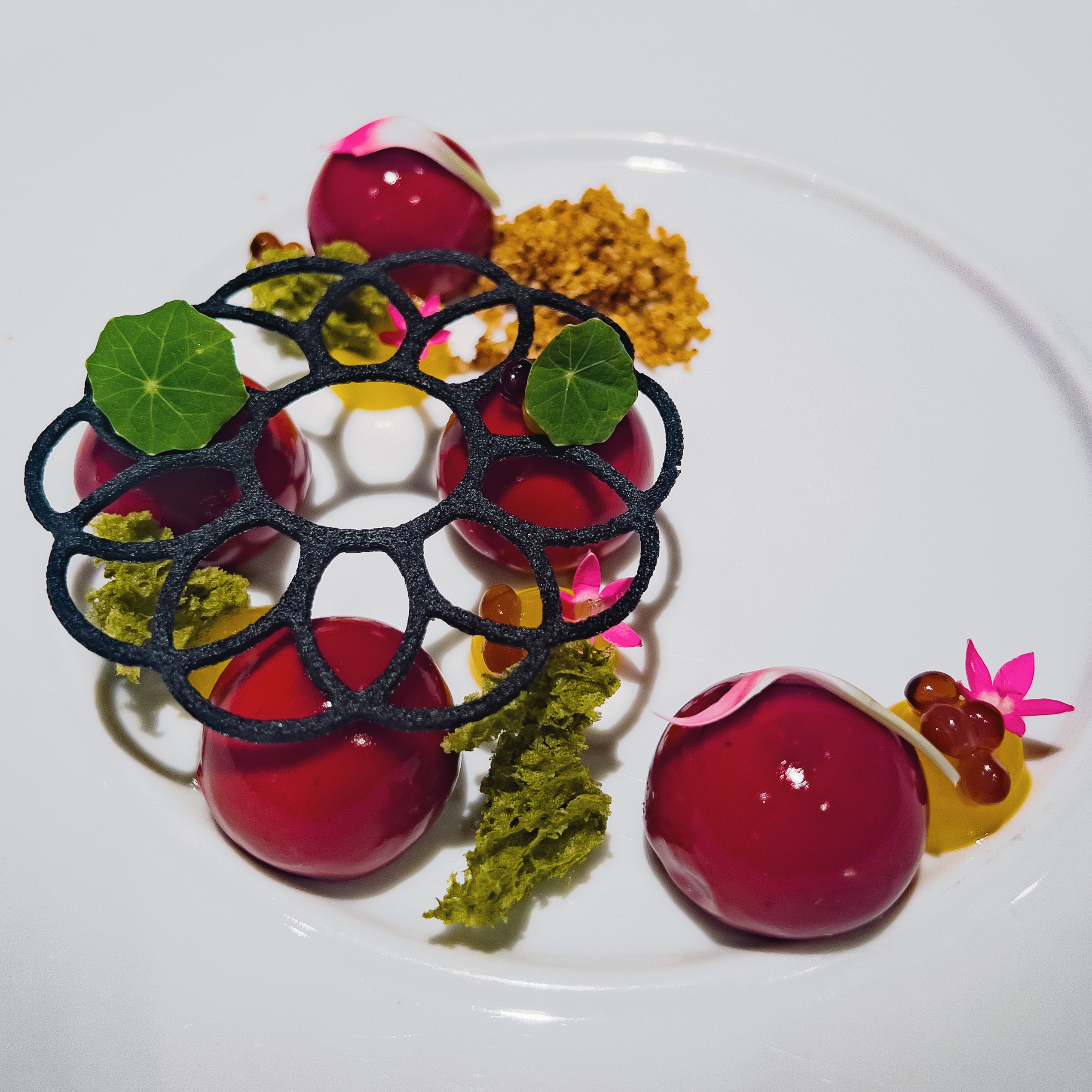 2011 Le Pin
Fine full clear ruby; sweet candied cherry, mocha notes, open and sweet; fleshy, soft and sweet with a very distinctive taste of orange-chocolate reflected through the long decadent finish. This is so sweet, plump, and lovely to drink. It's gorgeous right now – so spicy, sweet, exuberant, with candied notes, a touch of oak, but also freshness and some florals in the mix.
94
No votes for wine of the night
2011 Petrus
Fine ruby; a more quiet and mineral-led aroma, with bright fruit, lovely freshness; fine, elegant on the palate with a fine tannic structure still showing some grip, this wine is still a little awkward in expression. With considerably more air (over an hour in the glass after a two hour decant), ginger spiciness is more forthcoming, a lovely, gentle, evolving fragrance, with violets and red cherries. The palate remains tight, but melting. The flavour overall is fine, fresh, fruity, but lacks the extra flavour dimension of a grand year, and it pulls up a little short on the finish. As a Pomerol this is delicious, mid-tier level wine, but it lacks the extra we hope for in a Petrus.
92
Two votes for wine of the night
2011 Lafleur
Fine ruby; a lovely aroma of spice; fleshy and tight on the palate, concentrated and taut, and there is real depth to this, and with both the Merlot and Bouchet playing good roles. The fruit is sweet, but the wine is not showy, there's a real thread of minerality, the compactness of Lafleur concentration, and also a delicacy revealed in fine sublte aroma notes. With air there is a nice sweetness and ease. It is young, but pleasurable already. The balance and layered feel suggest more to come with further cellaring.
94
No votes for wine of the night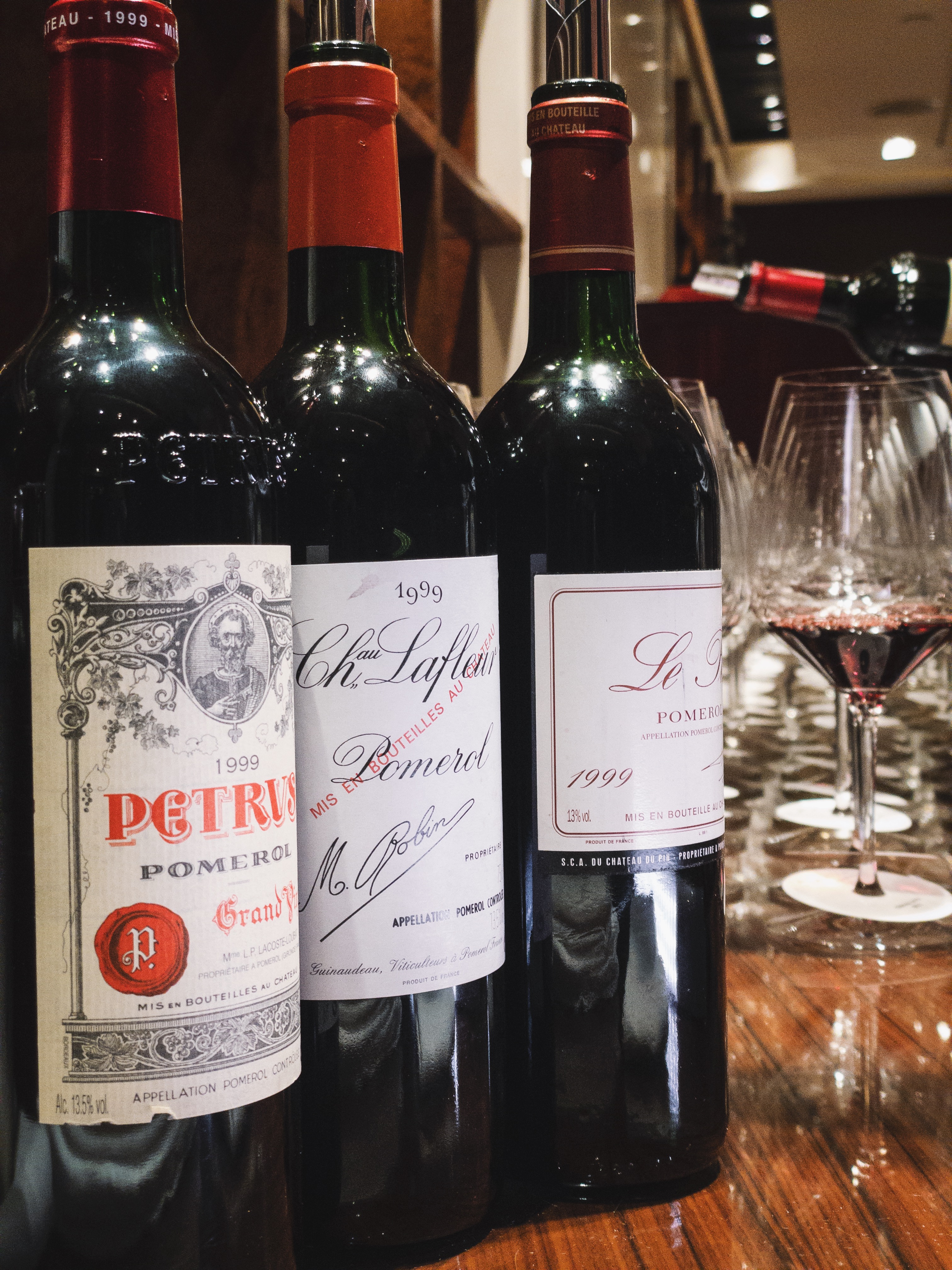 1999 Le Pin
Fine garnet with a bricked rim; sweet ginger biscuits on the nose at first, medicinal, complex and attractive; the palate is gentle, plump, with lovely spice, candied cherry. There's good energy here, but it is also a less concentrated Le Pin, a touch leaner than the archetype. But this is also pleasurable still, long, fragrant and delicious. I would suggest drinking up, as I don't feel more will be revealed with further cellaring.
93
One vote for wine of the night
1999 Petrus
Garnet with a bricked rim; the nose at first was really quite unattractive – a decayed yeasty fragrance, some fine curry spice notes poking through, but a real lack of freshness or sweetness; the palate was tired, lacking energy, some remnants of cherry and chocolate fruit, spice, but also lots of mushroom. With plenty more air this stabilized and was drinkable – just – but either the '99 Petrus has advanced much faster than expected (even for a fast maturing vintage), or this is a poor bottle. (When I look back at my past tasting notes for this wine they pointed to a middle-weight, charming, early-drinking Petrus, nonetheless I would still expect more freshness and charm still at 23 than this bottles displayed).
n/r
No votes for wine of the night
1999 Lafleur
Fine garnet; fine nose, sweet, herbal, with a cool, leafy-toned fragrance; there's good concentration here, but also an awkward shape, the frame is fine, but there is a noticeable dip in the mid-palate, it's good, but less confident than a top-tier year Lafleur would show at this age. With another hour in the glass the aromas became more nuanced, more classically chameleon in that Lafleur way; the palate is a touch firm, but there is just sufficient concentration for that fruit intensity and sense of melting to emerge. There is good complexity, but in terms of balance the structure has a slight upper hand today. I would suggest drinking, based on this bottle.
92
No votes for wine of the night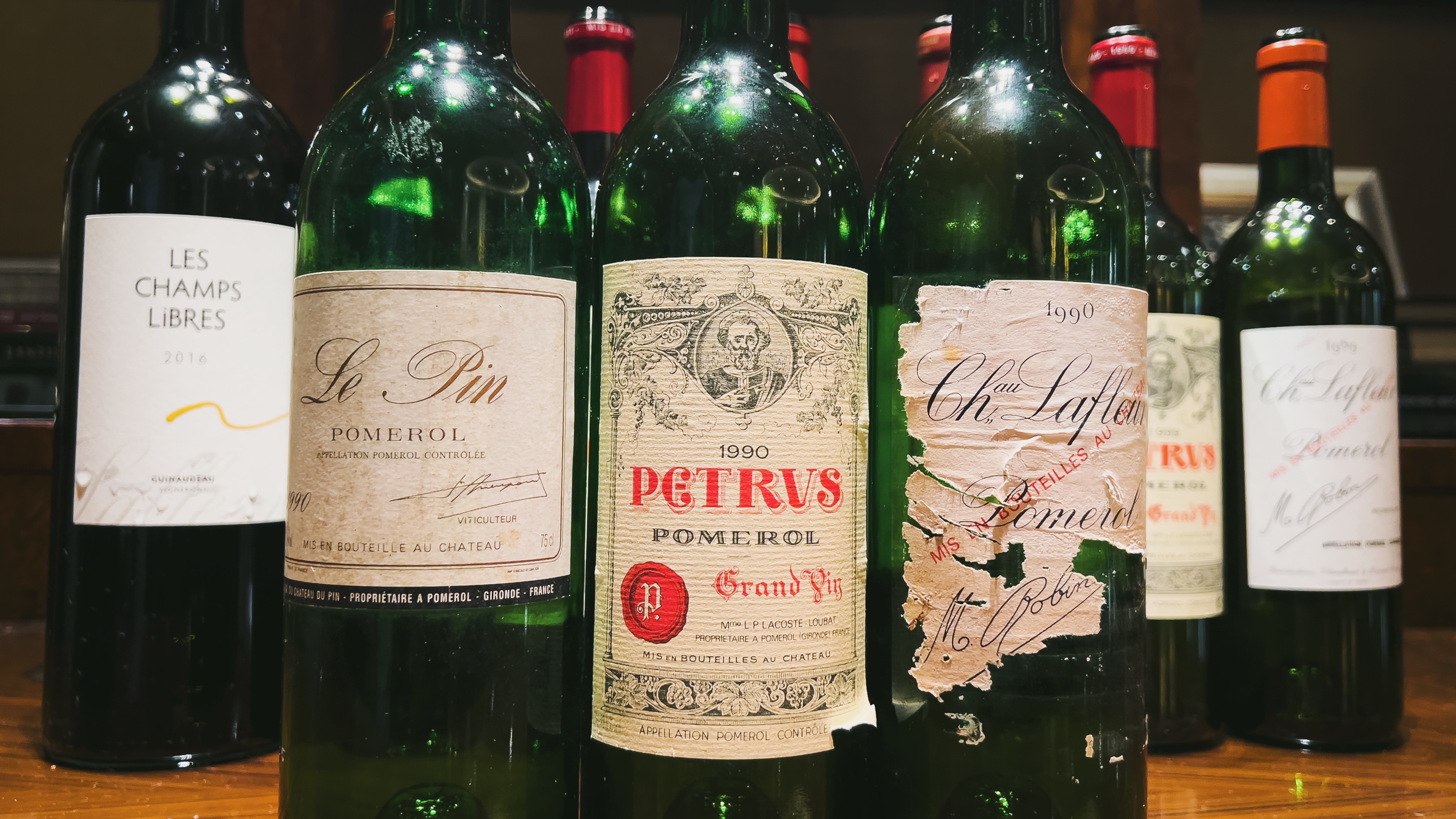 1990 Le Pin
Fine garnet, bright amber edge to the rim, a good clear expression; a lovely sweet biscuity nose, mature, this has gone more cedary and quiet for Le Pin, it's lost some of its sparkle and exuberance, there is a slightly leafy note too; the palate though shows more Le Pin character this evening – a gorgeous, sweet, melting core of fruit, this is fully resolved in flavour and texture, but it doesn't suggest any rush required. This bottle shows a mor subdued, yet complex expression of Le Pin, a lovely bottle, sweet, delicate and delicious, just missing the full Le Pin fireworks.
94
Three votes for wine of the night
1990 Petrus
Fine clear bright garnet, bricked rim; sweet dark and brooding on the nose, spicy, myriad alluring scents that require some coaxing at first; the palate is concentrated, fleshy, melting, dark, and brooding, really layered too. Wow! And there is so much glycerin, so much in reserve still. It's so refined despite the power. No blockbuster alcohol or oak or excess in extraction here at all, it's powerful yet poised and it delivers everything slowly through the thick, glycerin-driven mouthfeel. There's succulence too. It struck me that this is just the more clear, single voice, single grape variety, single terroir-type, pure expression of Petrus. At all? It's staggeringly good, and I wonder if it could really be surpassed. A perfect bottle of a perfect wine.
100
Nine votes for wine of the night
1990 Lafleur
Clear, bricked garnet, fine and clear; really sweet and exotic on the nose right from the start, nuanced and beguiling; so rich yet so balanced on the palate, melting, so utterly compellingly complex, layered, long. The concentration, like that in the Petrus, is amazing, yet not overly "big" as such, its well proportioned. There's tea-like floral, delicate and earthy elements in the aromatics. Such delicacy with this power. It's thick, but stays aromatic throughout, never losing transparency, the low sense of acidity adds to the decadent feel here. It's so packed with flavour through to the exceptionally long finish. This bottle is in a perfect place right now, I cannot imagine it revealing more, but there is nothing missing or to want either. Drink now, no rush.
100
Four votes for wine of the night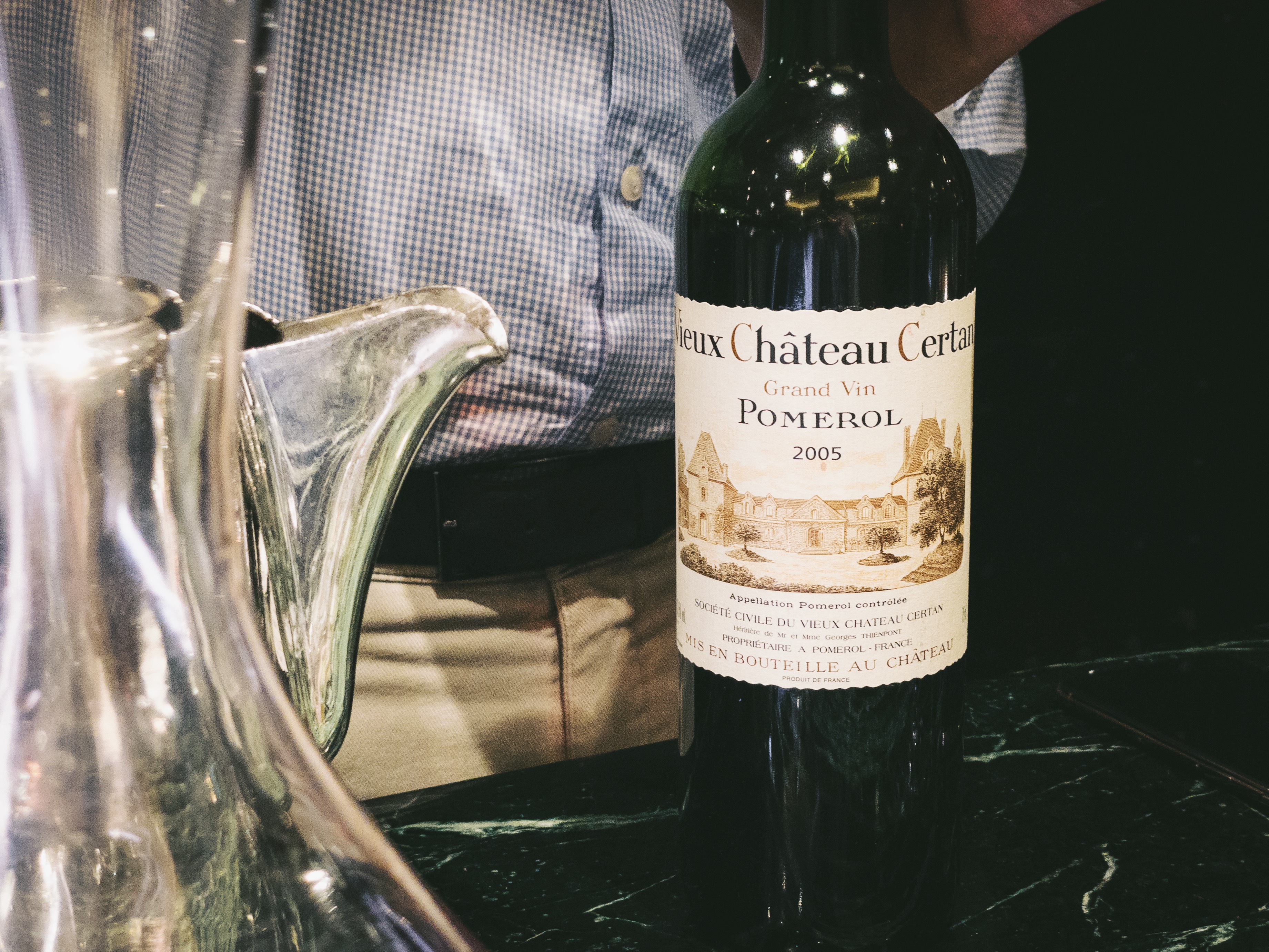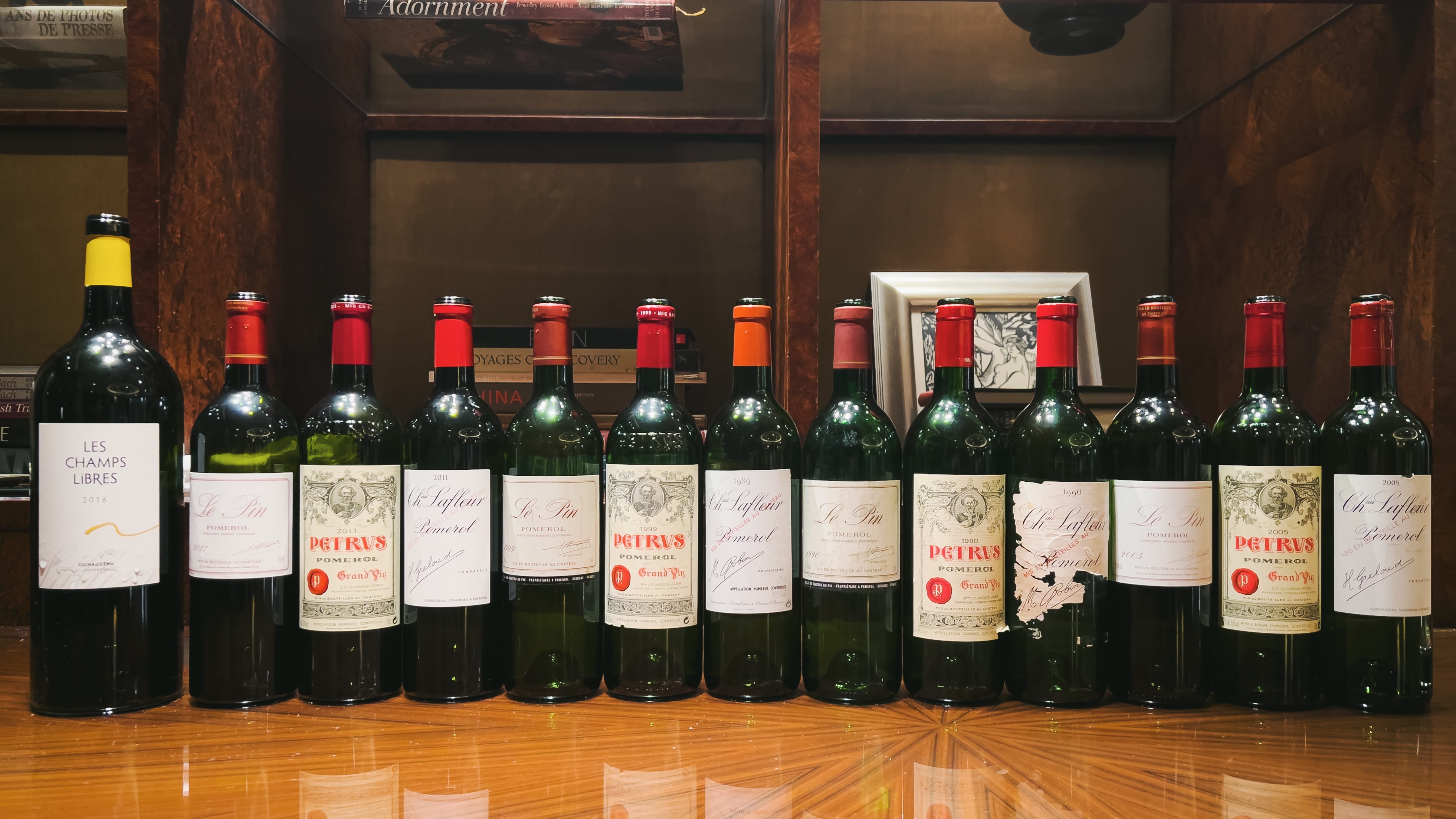 2005 Le Pin
Fine deep garnet; a lovely nose super spicy and vibrant, curry spices and leather; fleshy, sweet and complex on the palate, orange peel and milk chocolate, a little oak steps in to intrude just a little on the finish, it's not seamless, but it is lovely, so much more fragrant right now than the other '05s. A real pleasure wine.
95
Four votes for wine of the night
2005 Petrus
Clear bright deep colour; the sweet, aromatic top notes are there, but there is also a slightly grubby and intrusive very distinctive chlorine aroma too; the palate is so fleshy, rich, sweet, dense and melting with fine, dense, yet yielding tannin, but what appears to be a touch of TCA, and an odd touch of chlorine has spoiled this otherwise pristine bottle. Oh corks!!!
n/r
No votes for wine of the night
2005 Lafleur
Deep colour, clear and bright; a sweet nose, a subtle muclhy note in the mix, opulent and ripe, yet still fairly primary aroma; the palate is sweet, compact, very fine and melting with notes of dark chocolate, there's a lovely sense of balance and poise here, so much depth, and balance. This is Lafleur in statuesque form, a wine for the ages. Destined clearly to be a classic.
98
One vote of wine of the night
2005 Vieux Château Certan
Offered as a mystery bottle to add to the flight – "2005 + Pomerol"
Clear ruby; a higher register aromatically, more open than Lafleur, complex, with a touch of Le Pin's milk chocolate tone; sweet and fleshy on the palate, fleshy and spicy, a deep melting feel – though not quite as deep as the other three – long, very pure in expression, open already, though years in hand. Superb.
96
No votes for wine of the night