Join us for this exploration of Paul Jaboulet Aîné's flagship wine -- Hermitage La Chapelle. This is Syrah in its spiritual home, an assemblage of the key lieu dits - individual vineyard parcels that combined produce the full symphonic expression of that iconic hill.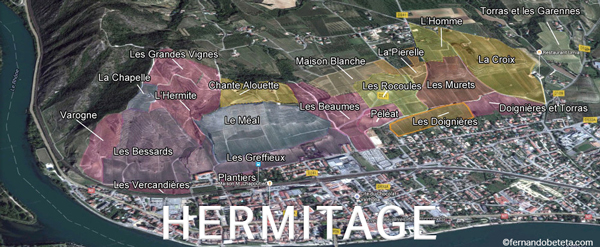 'La Chapelle' refers to the little chapel at the top of the hill itself, adorned on the label. It was here that the Chevalier de Sterimberg sought solace.
The wine of the 19th century was already famous in the fine wine world for, ahem, 'improving' even first growth claret. I have seen, for example, Château Margaux Hermitagé, for rather than seen as adulterating a great wine as that would be viewed today, it was well known that Hermitage offers strength and richness to weaker claret years.
Quality Hermitage today can carry the same hallmarks that made it sought after in the 19th century - it has a great depth of rich black fruit, sufficient natural acidity and liveliness to carry that intensity, great minerality, and a sort of - what I call "wild character" - a combination of aromatic wild herbs and savoury game or roast meat notes. It's wonderfully appetising stuff.
Hermitage ages tremendously well. Usually 3 decades, and often much more.
In today's market - such is fashion - it offers relatively speaking, tremendous value.
At this tasting we shall see the modern-styled immaculate wines made under the Frey family leadership, and also the wines spanning the career of the late great Gerard Jaboulet - technically less 'exact' but full of expression and character. I'm a fan.
So please, come join me for this special exploration of Jaboulet's crown jewel - Hermitage 'La Chapelle', spanning 50 years.
Wines will be served
1967 Jaboulet - Hermitage 'La Chapelle' (Ex Domaine)
1982 Jaboulet - Hermitage 'La Chapelle'
1983 Jaboulet - Hermitage 'La Chapelle'
1985 Jaboulet - Hermitage 'La Chapelle'
1988 Jaboulet - Hermitage 'La Chapelle'
1989 Jaboulet - Hermitage 'La Chapelle'
1996 Jaboulet - Hermitage 'La Chapelle'
1997 Jaboulet - Hermitage 'La Chapelle' (Ex Domaine)
2009 Jaboulet - Hermitage 'La Chapelle'
2010 Jaboulet - Hermitage 'La Chapelle'