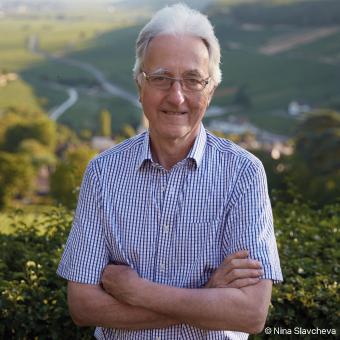 Anthony Hanson MW
(Senior Consultant)
We are delighted to announce that Anthony Hanson MW has joined The Fine Wine Experience as Senior Consultant.
The Europe-based role brings to the business Hanson's considerable expertise and experience in wine, and in Burgundy in particular.
Hanson has a highly distinguished career in wine stretching back to the 1960s. He became a Master of Wine in 1976, and co-founded London wine merchants Haynes Hanson & Clark in 1978. He has served on both the UK's Royal Household, and its Government Hospitality, Wine Committees, been a senior consultant to Christie's Wine Department where he played a major rôle in transforming the Hospices de Beaune wine auctions, has published books and articles on Burgundy, judged wine shows, and lectured and tutored on wine around the world.

"I met Anthony in the early 2000s when I was organising fine wine verticals and horizontals in London. For several years he very kindly co-hosted The Fine Wine Experience Burgundy-themed events there. It's not only his knowledge that is so appealing, but also his feeling for wine, his enthusiasm and natural sense for it. He's an incisive taster. As a Hong Kong-based wine merchant, having Anthony's representation for us in Europe is absolutely invaluable." - Linden Wilkie, Director.
"The 1st time Linden asked me to take part in a Fine Wine Experience was November 2004 – just one year after the company was formed – to taste 10 wines from Armand Rousseau, including Chambertin and Clos de Bèze 1997 and 1995, both served blind. That was a fabulous start, which led on to many other starry events, great bottles, tastings and meals together, with him, with Mike, and most recently also with Julie and Sora in Burgundy. It is a great thrill to be joining TFWE, and I much look forward to working with the incredibly talented, highly enthusiastic team, and to meeting some of the firm's clients.
I love tasting wines out of barrel, and we will be doing a lot of that together I hope, and not just in Burgundy. I love telling the stories behind the wines and the people who make them – watching inter-generational shifts as parents involve, hand over, and sometimes battle with the kids who will – one day, they hope – take over their vineyards. Listening to owners and wine makers, as we seek out delicious wines – some rare, some just superb value – is endlessly fascinating." - Anthony Hanson MW.