There are some things about 1962 that still feel just recognisably modern today – the Beatles had debuted, the Russian and American leaders were in a relations crisis, and Dieter Rams had designed Vistoe's '620' chair, the same chair that only recently filled Cathay Pacific's business class lounges.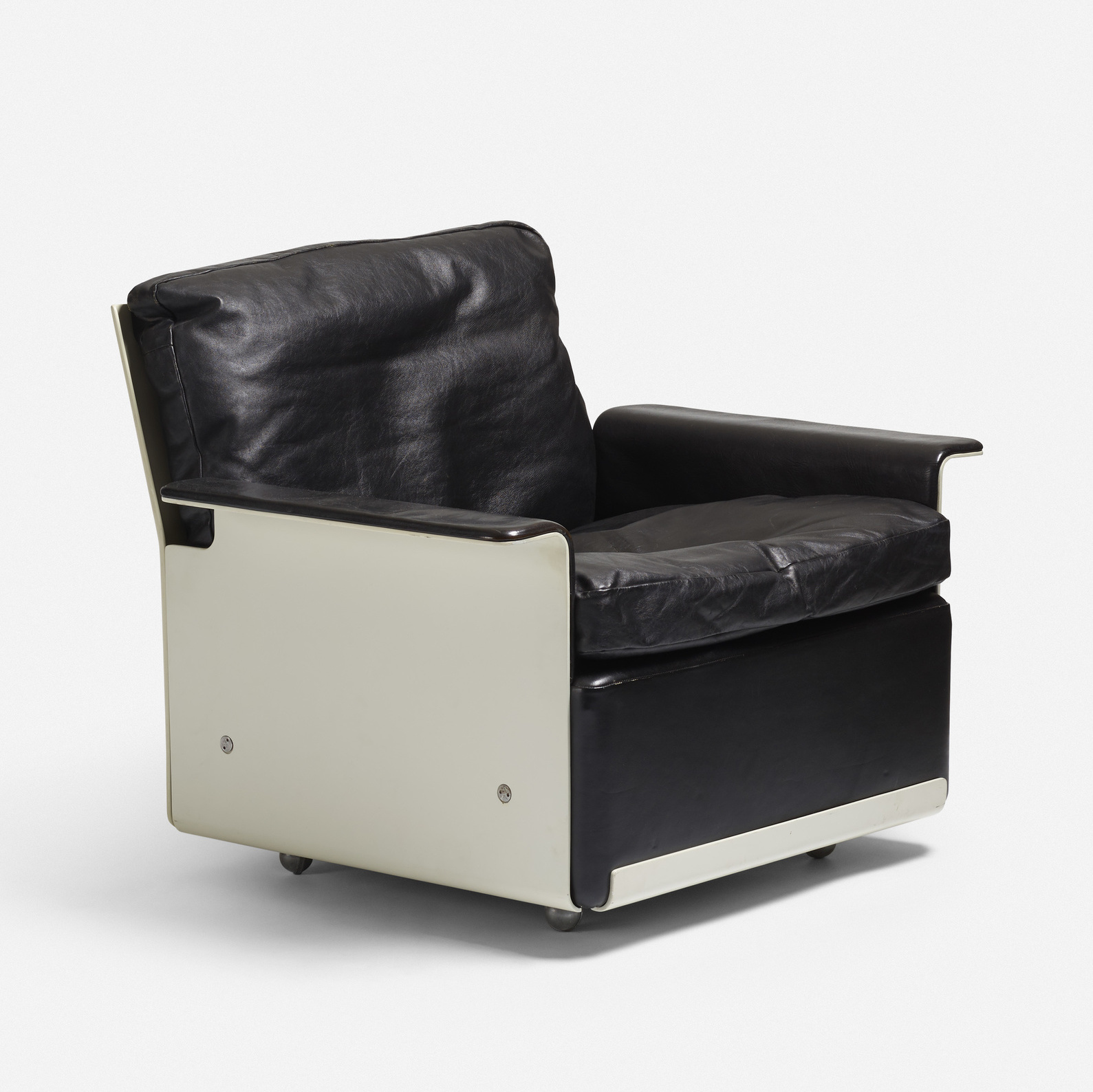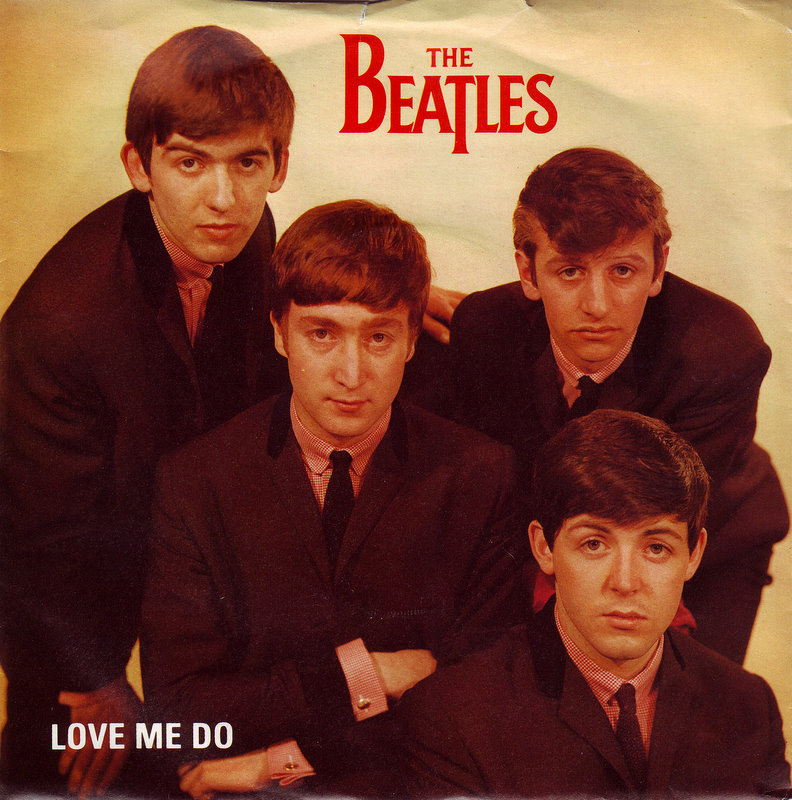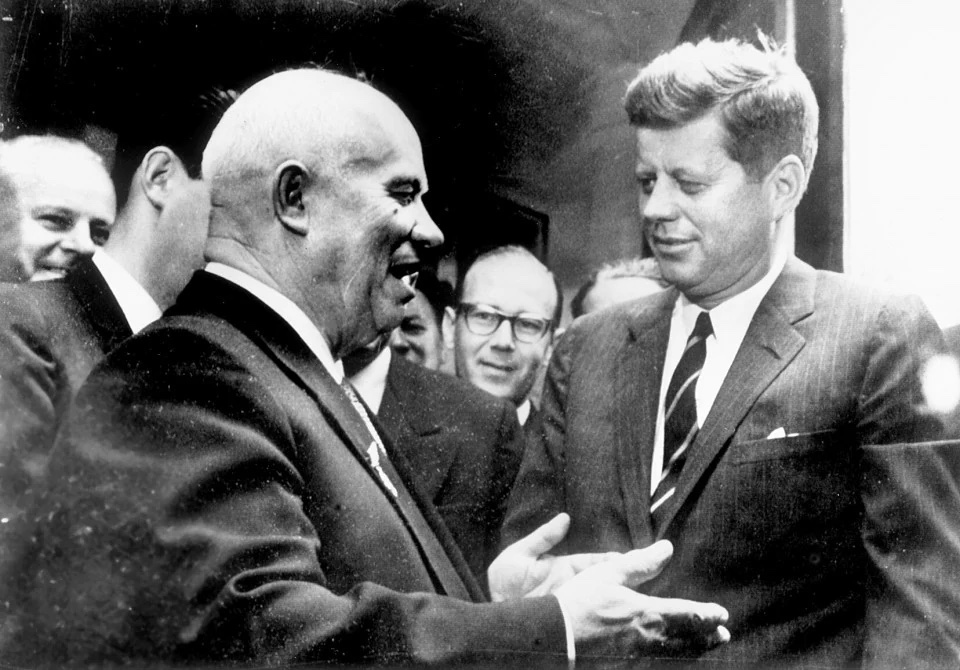 Left to right, top to bottom: 1962 Dieter Rams '620' chair, 1962 The Beatles Love Me Do,
Kennedy meets Krushchev months before the 1962 Cuban Missile Crisis
But 60 years is quite a milestone, and if it's a birthyear it's time to celebrate. Two friends of mine – Véronique and Kelly – celebrated their 60ths this year, and to mark the occasion, quite a lot of 1962s that had been saved up for years were opened at a special dinner. Wines of any vintage have the habit of going from plentiful to obscure within a short period of time for the obvious reason that when they seem to reach the peak point of all they have to give, people drink them up. Look around for 1962s and you'll see what I mean. We only have one on our list currently, which surprised even me.
So, with a few torn out notebook pages stuffed into my jacket pocket, I scribbled down what notes I could in between the food and conversation.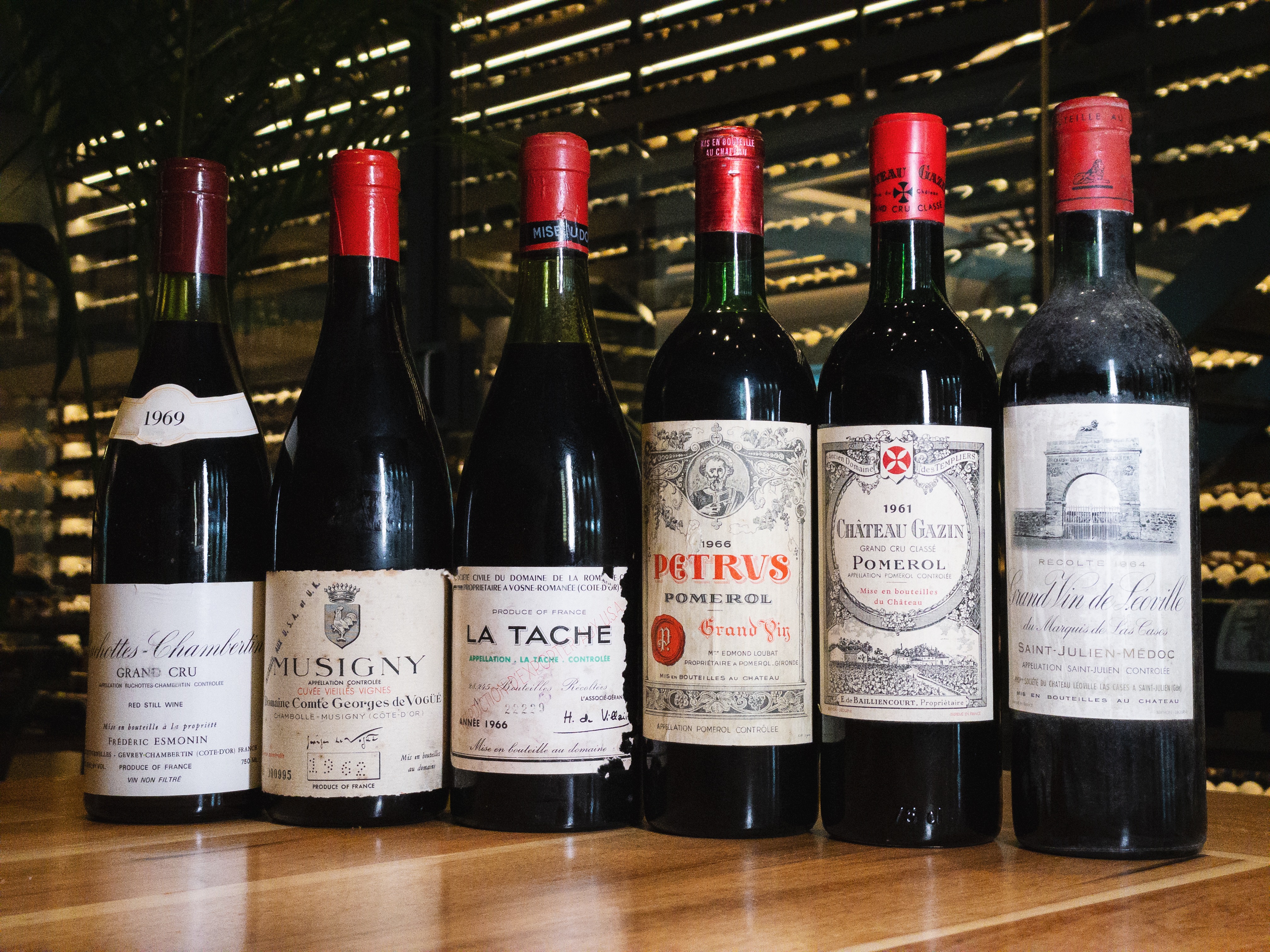 We began with three Champagnes. A magnum of 1962 Bollinger reminded us of this 6-decade gulf in time, with its lack of bubbles, slightly dull appearance, and amontillado tone. Drinkable for curiosity's sake, but only just. (n/r) 1962 Dom Pérignon, an original disgorgement, was glinting old gold in the glass, with a few bubbles lingering late, a lovely toffee sweet dried fruit nose, it tasted round, winey and complete, if a little past its best. (92). The star was 1962 Krug Private Cuvée, seemingly destined for the UK market with "Great Britain" printed down the length of the foil. A lighter colour and with a little more persistence in its fine bubbles, it offered a satisfyingly mature and complex nose, recognisably Krug, clear enough to convey detail, not just 'impression'. The elegant palate, gently petillant still, was very complex and long. (97) Richard Juhlin describes 1962 as 'a year that is often underestimated in Champagne circles, but which produced great, rich, and smooth Champagnes. My only note of reproach would be that they lack a certain amount of bite.'1 Well, the Krug had enough for me.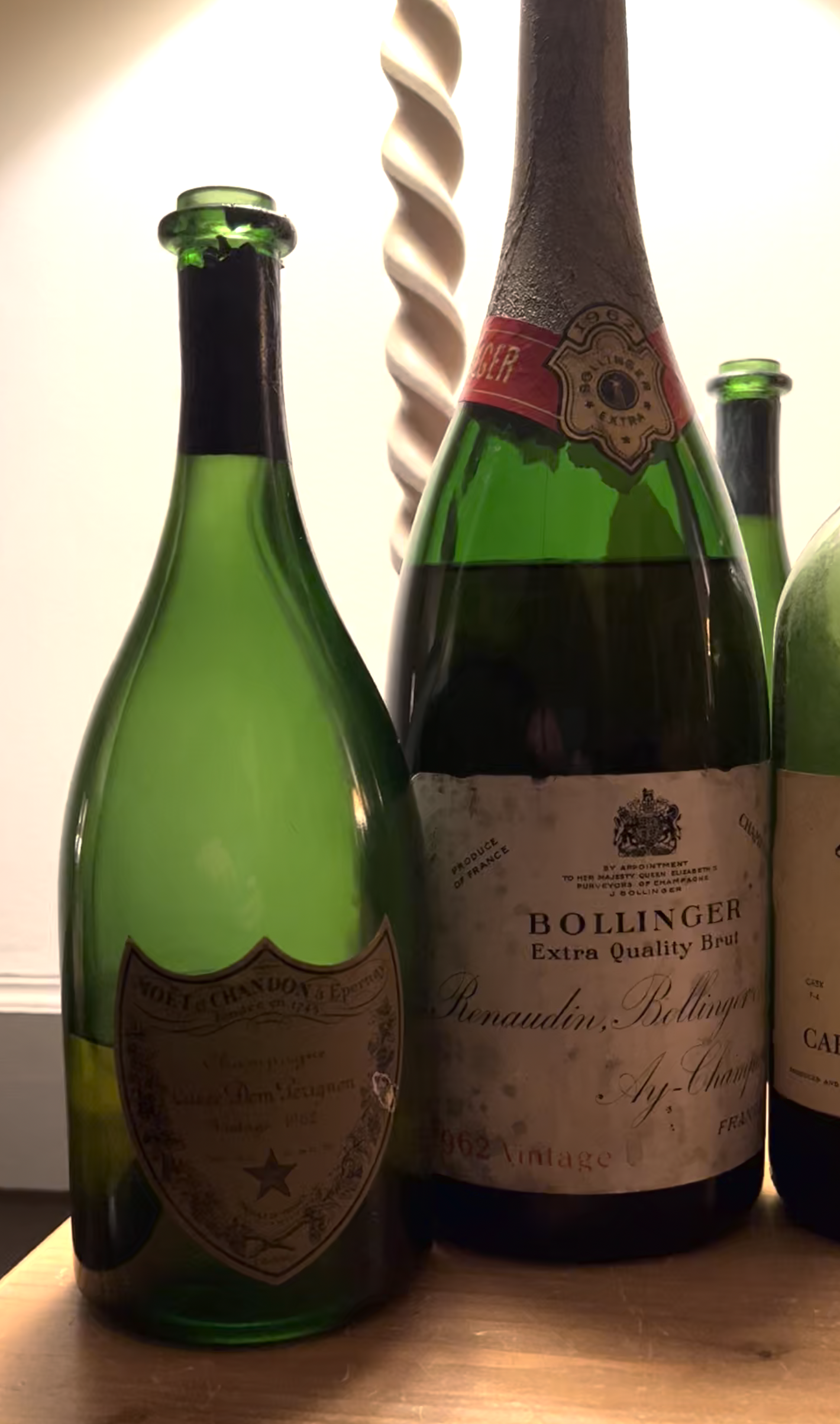 The whites got off to a controversial start, with an otherwise pristine 1962 Château Haut-Brion Blanc deemed corked. With a slight note of chlorine and earth I could see why, but very old HBB often shows this when first opened, and patience is required. The wine was set aside and with half an hour or so it was showing citrus-like juiciness, earthiness and a bright lively character, the palate was long, energetic and elegant, with a refreshing burst at the finish, the integrated fine oak the main clue to the origin, which might otherwise just as easily have been Loire Chenin or even Riesling without it. (93).
We drank some younger white Burgundies, that might otherwise have warranted long and detailed notes, but alas…
If you were born in 1962 then red Burgundy is the star of the vintage show, really. That feeling has taken time to form – ironically, more so as the wines become impossible to find. For Clive Coates MW 1962 'was overshadowed by 1959 and would be by 1964',2 but its a quarter century since he wrote those words. For Allen Meadows and Doug Barzelay, drinking everything in sight for their recent Burgundy Vintages, they are unequivocal: '1962 is one of the 20th century's greatest vintages. Yet only in recent years has its brilliance been widely recognised – which is perplexing, as it was evident at least since the 1980s.'3 Until this dinner I had tasted very few – a characterful, fragrant spicy 1962 Grands Echezeaux from René Engel, and a light, pure and delicious Echezeaux from Domaine de la Romanée-Conti spring to mind. Then suddenly, at this dinner, twelve of them, and many of them dazzling…
1962 Nuits-St-Georges 1er Cru 'Les Murgers', Domaine Méo-Camuzet, never moved from the cellar until this evening, was pale, limpid, a lovely bricked colour, a fine fresh nose of red fruit, sous bois, it was silky, bright, juicy, with a lovely earthiness. The maker back then? – Henri Jayer. (94)
Next up 1962 Gevrey-Chambertin 1er Cru 'Clos St Jacques', was quite browned with an olive rim, an oxidised walnut nose and palate, tea and sherry notes on the palate. Dead, sadly. (N/R) 1962 Nuits-St-Georges 1er Cru, Maison Leroy was in good drinkable shape, but had the deep colour and heft of négoce wines common at the time. Whether the bottle was a later invention by someone with ill-intent, or poorly chosen by this usually unimpeachable house, I really don't know, but pure old Pinot Noir it was not, to my palate anyway. (88)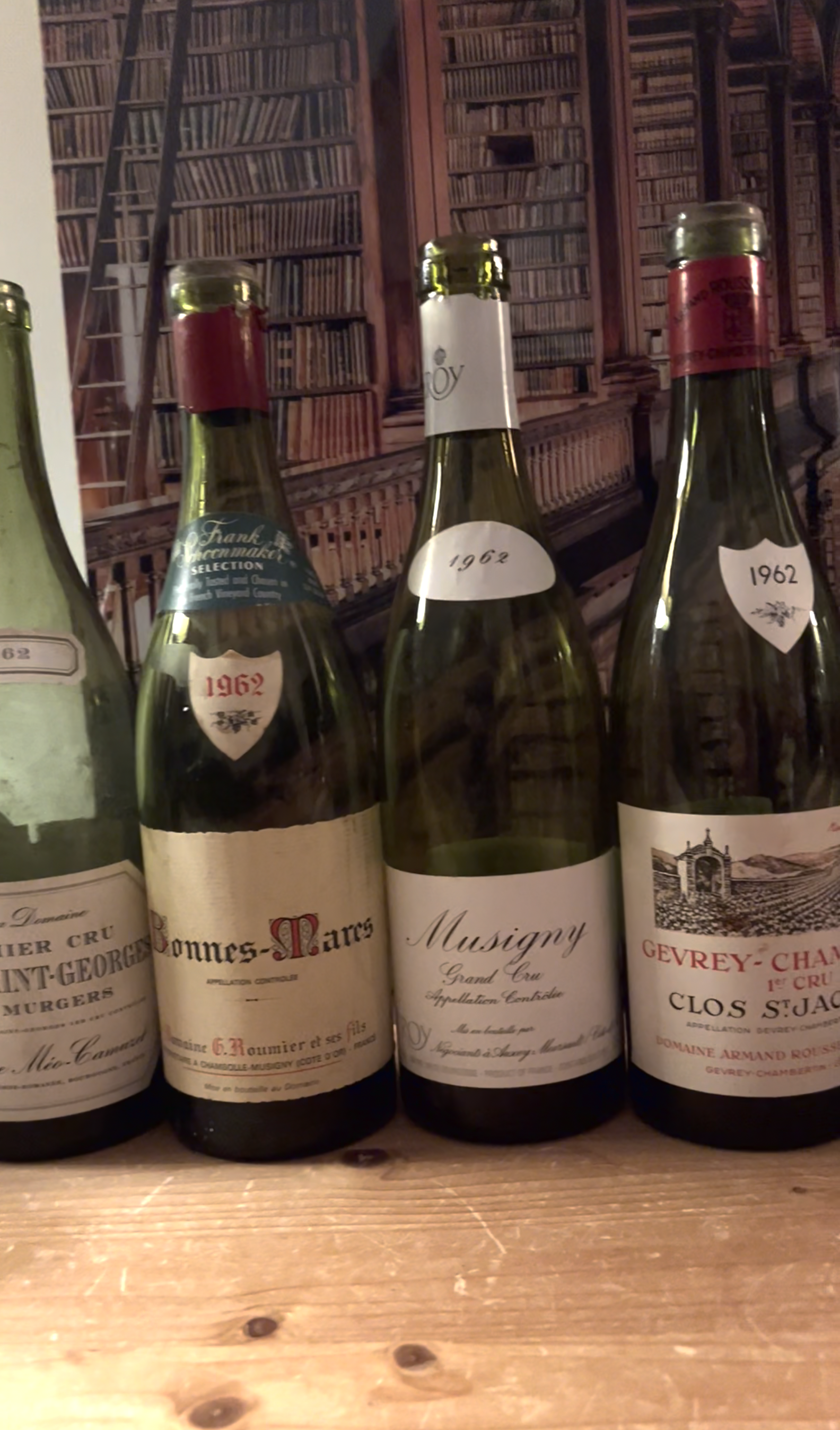 1962 Chambertin-Clos de Bèze,, Maison Joseph Drouhin, showed a deeper shade of colour, and while it showed richness and spice, it was corked. (N/R). 1962 Bonnes-Mares Grand Cru, Domaine Georges Roumier was a fine limpid amber-pale colour; sweet red fruit on the nose, rosehip tea, sous bois and spice; the palate sweet, melting, quite ripe and ample, wild strawberry fruit, sweet tannins and a finish that verged on warm. It was an outlier in a line up that was generally cooler and more compact. Delicious. (96) 1962 Echezeaux, Maison Leroy had a really spicy and exciting nose, wild and sexy – this is what we expect from these old Leroys! Fine on the palate, with lovely spicy fruit, impressive intensity, yet elegant in shape. It got plenty of smiles at the table. (96) 1962 Chambertin Grand Cru, Louis Remy – now here is a name you don't really see today, but I have tasted some good examples from this era before. This though was certainly the best of them. Bricked through in the glass, the nose was lifted and spicy, sweet, with sous bois, wild strawberry, juicy and fine-boned with clear Chambertin terroir expression, sapid and sweet, pure, fine long and lovely wine. It held its own in the company of more illustrious labels. (94) 1962 Grands Echezeaux, Domaine de la Romanée-Conti – a cherished bottle, the owner had had it in his cellar more than 30 years. It showed a lovely fine glinting garnet colour and a fabulous nose that grew and grew, aromatic and earthy, spicy and just soaring from the glass, sweet with lots of wet tree bark, spicy on the palate, wet earth and bark again and a long sweet finish. This was quite a pristine bottle (98) What could come after that?! 1962 La Tâche, Domaine de la Romanée-Conti, a bottle direct from The Domaine's cellar had a slightly lighter colour, a lovely faded garnet; the nose was more contained than the GE – fine, earthy, sous bois, very detailed and layered; the palate was unctuous on the attack, earthy and melting in intensity, then lifted mid-palate by fine juicy acidity, and finishing… how can I say this? Four-dimensionally? Simply spectacular, a Burgundy of a lifetime (100). 1962 Musigny, Maison Leroy, from a bottle released by Leroy in 2012 and stored perfectly since, was perhaps the only way to segue from the brace of DRCs. It was very pale and limpid next to them, almost a fine polished copper rather than ruby or garnet; the nose was wild, spicy, lifted, ethereal and gorgeous, exquisite in fact; what was so impressive on the palate was the delicacy, this was gossamer light, so beautifully scented with small wild red berries, and perfume, and complexity… it was airy, one of those wines that pulls off the paradox of so much intensity of mouth-filling, never-ending scent, with the sort of weightlessness that doesn't quite appear to begin or end on the palate, it just appears like perfume atomised. (100)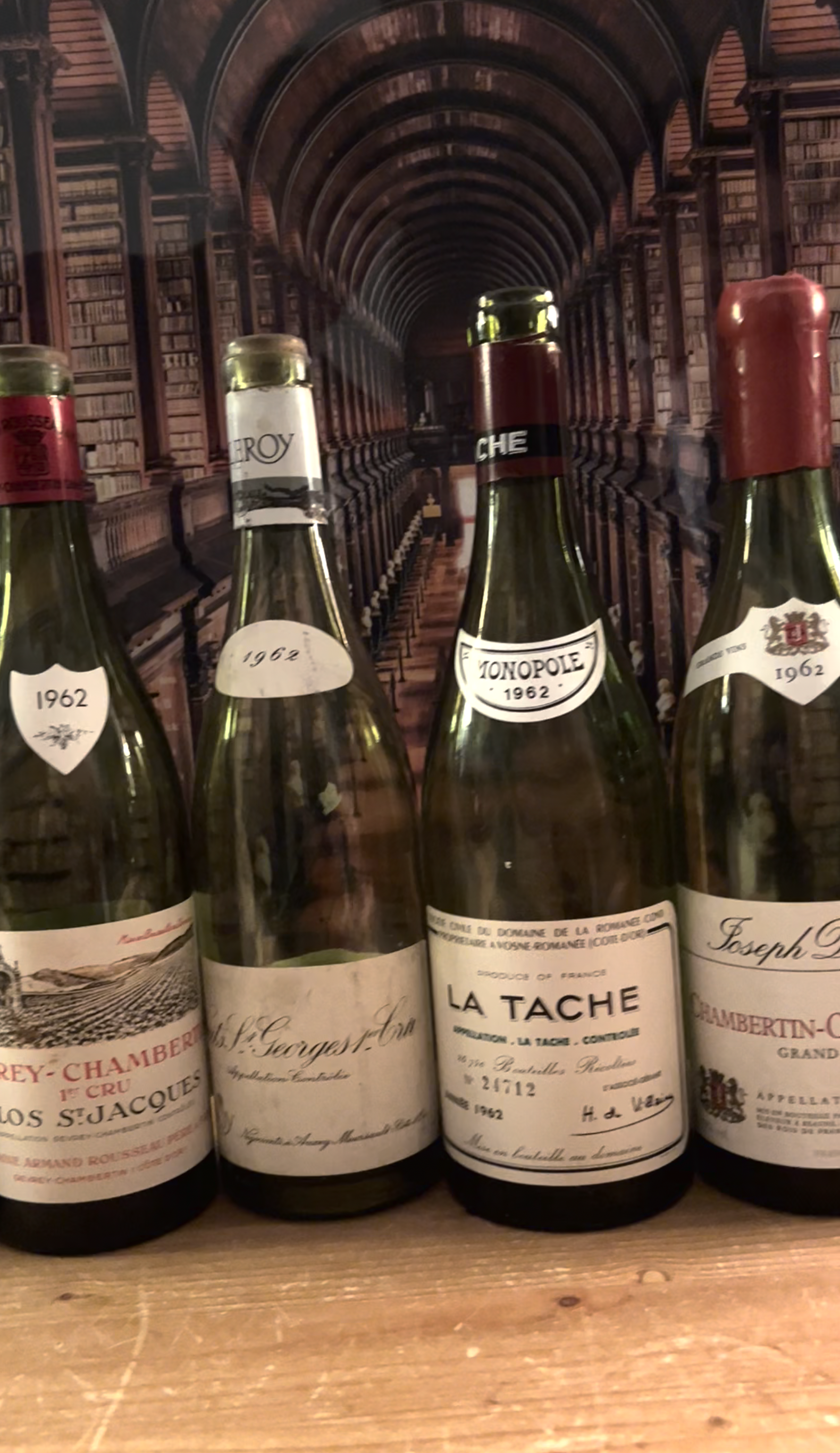 There were further red Burgundies to follow, weaved into a flow of clarets, so I'll mention them here first. 1962 La Romanée, La Miserey-bottled, was succulent, but not fully clean – just a little grubby (85), and 1962 Echezeaux, Domaine René Engel had a ruddy garnet appearance, and a coppery rim; it was earthy, with volatile acidity and notes of leather, it showed a bit tired on the nose; the palate was sweet and full, with some heft, a lovely sweetness and fullness of fruit on the palate, very long and lovely on the finish. Quite typically Engel of the era. (92)
I'm pretty sure I'll never see a line up of '62 red Burgundies like that again. We like to say 'once in a lifetime', but this really was. I think too that it is telling that Coates rated '59, '61, and '64 higher in the '90s, as those were red Burgundies of the rarer, riper and concentrated kind. Back then they were vintage exceptions. Meadows and Barzelay, writing today praise the '62s for their classicism – something that is rarer today, with Burgundy awash in recent warm ripe years. I'm not saying that's why they rate '62 the way they do, but tasting them in a flight the way I did a fortnight ago, I was reminded of Burgundy the way it used to taste, and that can make us pine for it. As Coates reminds us, in 1962 'the bud-break was late, April and May were cold and sunless, though dry, and as a result the flowering – though it was successful – was late, not until the second half of June. From then on the weather improved, progressively warming up through July and August, which was hot and sunny, with some welcome rain at the end of the month. September was good, if not brilliant, but the harvest did not begin until 8 October. Again it was a large crop. And the quality was very good.'4 Let me repeat that date… 8 October. The most recent October harvest start date we know is 1987 (thank you JR).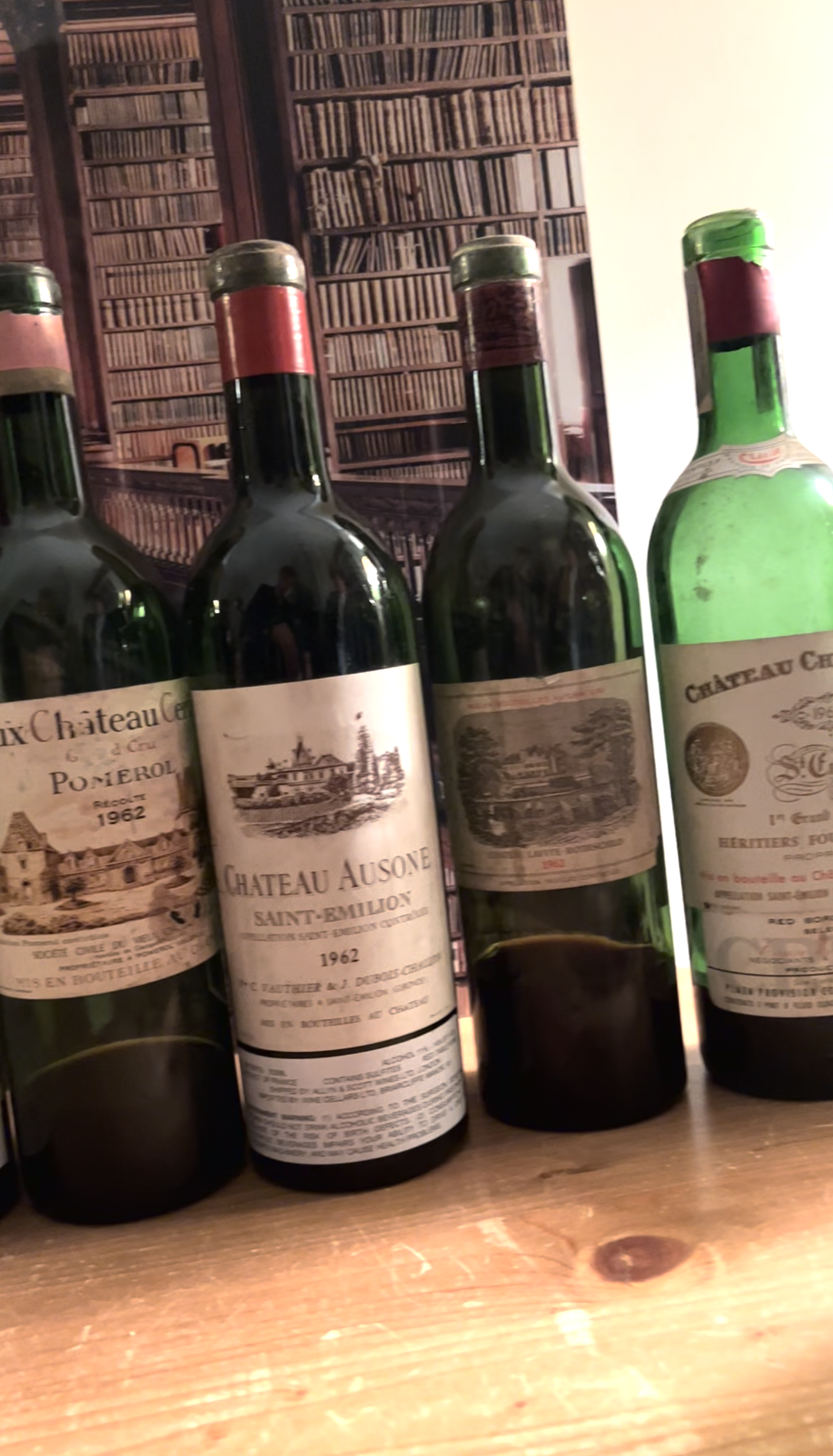 The good news though if you were born in 1962, is red Bordeaux. For Robert Parker this was a 'terribly underrated year'5, and for Michael Bradbent MW 'thoroughly upstaged by the quality and sheer bravado of the preceding year.'6… namely 1961. Both writers really liked 1962 clarets however, Parker describing them at the end of '90s as 'still lovely, rich, round wines full of finesse and elegance'.7 I had taken this advice in, and when I began organising The Fine Wine Experience tastings in London in 2003 I would almost always try to include a 1962 in any claret vertical. They were relatively inexpensive, tasters had their low expectations usually exceeded, and the vintage style seemed to deliver a high hit rate. Yes, the 1961s were always the stars – concentrated by a small crop, deep-coloured and often exciting to taste. But in a vertical, it was more often a 1962 that conveyed the terroir, the chateau expression most faithfully. Like, say, 2008, 2004, or 1988 clarets, they were moderate in weight, with crisp preserving acidity.
So on we went…
1962 Château Mouton-Rothschild showed a full garnet colour with a fine rim – a lovely full bright colour at sixty; elegant minty sweet Cabernet on the nose; fine, elegant on the palate, still so fresh and minty – like a '78 Napa Cab, long and full-flavoured. (95) 1962 Vieux Château Certan had a fine full garnet, mature appearance; sweet and mulchy nose, the Merlot comes through, it is pure and aromatic (my neighbour at dinner brought this bottle from his cellar – laid down on original release); sweet and melting on the palate, there was also something dusty and leathery, lots of extract, sesame crackers sweet nuttiness, confit fruit, and super long fragrant finish. Just a faint suggestion of brett at the end. Lovely acidity running the length of it. Fabulous. (95) 1962 Château Ausone had a fine garnet colour with a bricked rim; a lovely sweet nose, black sesame paste, a hint of resin marking it, red fruit; supple and melting on the palate, mineral fine – the limestone terroir pulling it in tight, the fruit is sweet, but with a somewhat blurred 'pasteurised' sort of expression, I noted. I think what I meant is that there were elements we would see in modern Vauthier-era Ausone smoothed out and missing here. Hefty, monolithic, nice fruit-acid balance, good length. Just not enticing. (91)
At this point I got into some sort of intense dinner table discussion and almost missed 1962 Château Margaux that had lovely sweet fruit and a little spiciness, and 1962 Château Lafite-Rothschild that showed its more reserved, high-brow style, something more delicate, fragrant and elegant than the other Médocs. Lovely. Then, with my nose was properly back in the glasses in time for 1962 Château Cheval Blanc – by far the best bottle I've ever had of this '62 – a fine garnet; lovely fragrance, sweet, silky, and so seductive. My goodness this is so silky, and so fresh, just superlative quality (98). 1962 Château Latour a deeper, fresher colour than the others; sweet and rich on the nose, so fresh too; fleshy, lush, pure Cabernet Sauvignon, lovely acidity, this is sapid and morish, pure and direct, a world away from the Lafite. (94).
A late-served magnum of 1962 Château Ducru-Beaucaillou showed the classicism of the vintage, in part because a few around the table discussed the fireworks of the '61 at this estate – one of the wines of that vintage. In contrast, the '62 is straight down the line, tie done up neatly, a Borie behaving (though I'm mixing my eras). Precise, defined, supple and elegant, I concluded (93).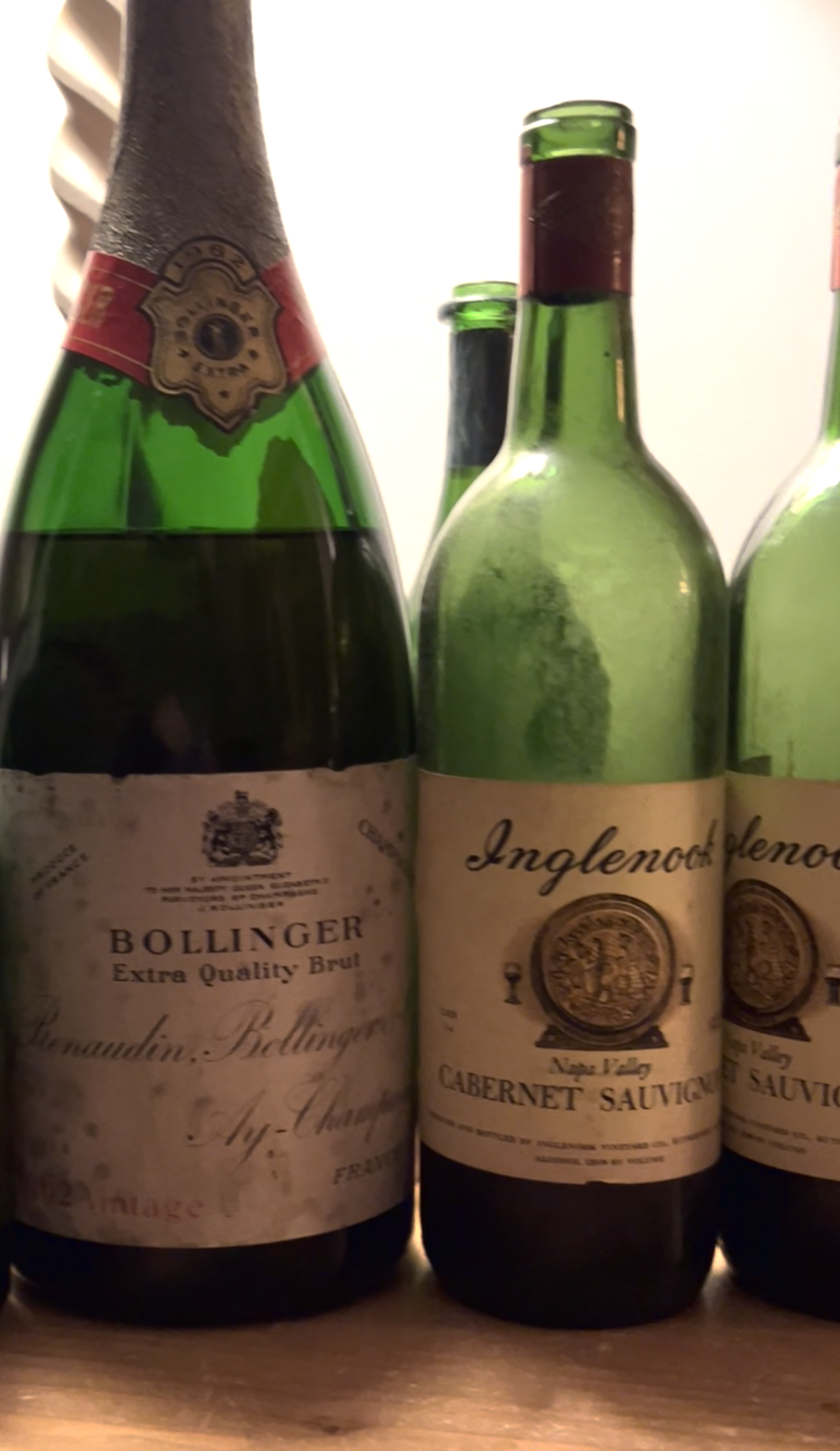 My friend Mike included a brace of 1962 Inglenook Cabernets – Cask F4 and Cask F3, from the tail end of the amazing John Daniel Jr era. In my view he was the best in the Valley in the '50s and up to the mid-'60s. His motto had been "Pride, Not Profit", and sadly by the late '60s that brought his run to an end. The F4 was sweet, medicinal, with some heft, and the F3 was a little clearer, more together. But neither were up to the peak achieved by Daniel in this era. The clue – if we turn to an old book from Wine Spectator critic James Laube – is the vintage itself. The 1962 'vintage was a frost victim that produced no memorable wines…'.8
One further show-stopper concluded the reds at our dinner – 1962 Vega Sicilia 'Unico', and from a rare magnum (which were not released until 1992). This is one of the greatest ever Unicos. Made from 70% Tinto Fino (Tempranillo), 20% Cabernet Sauvignon and 10% Merlot, it is still a strikingly, almost 'fixed' colour; it begins with a rich, brooding nose of baked fruits, a little VA-lift – balsamico, olive oil, even a touch resinous; the palate is gushingly rich and lush, with ripe fruit, nut and sandalwood notes, dried herbs, and a fine spine of intense acidity giving it full energy, and a long potent finish. The last time I had this, from a pristine bottle, it was improving still after 8 hours. (98+ probably, but we had to say goodnight to it long before it had really unfurled).
Completists among us might complain that neither of the two extraordinary Penfolds 1962s – Grange, and Bin 60A – were served, but no complaints. I think we had a pretty good run.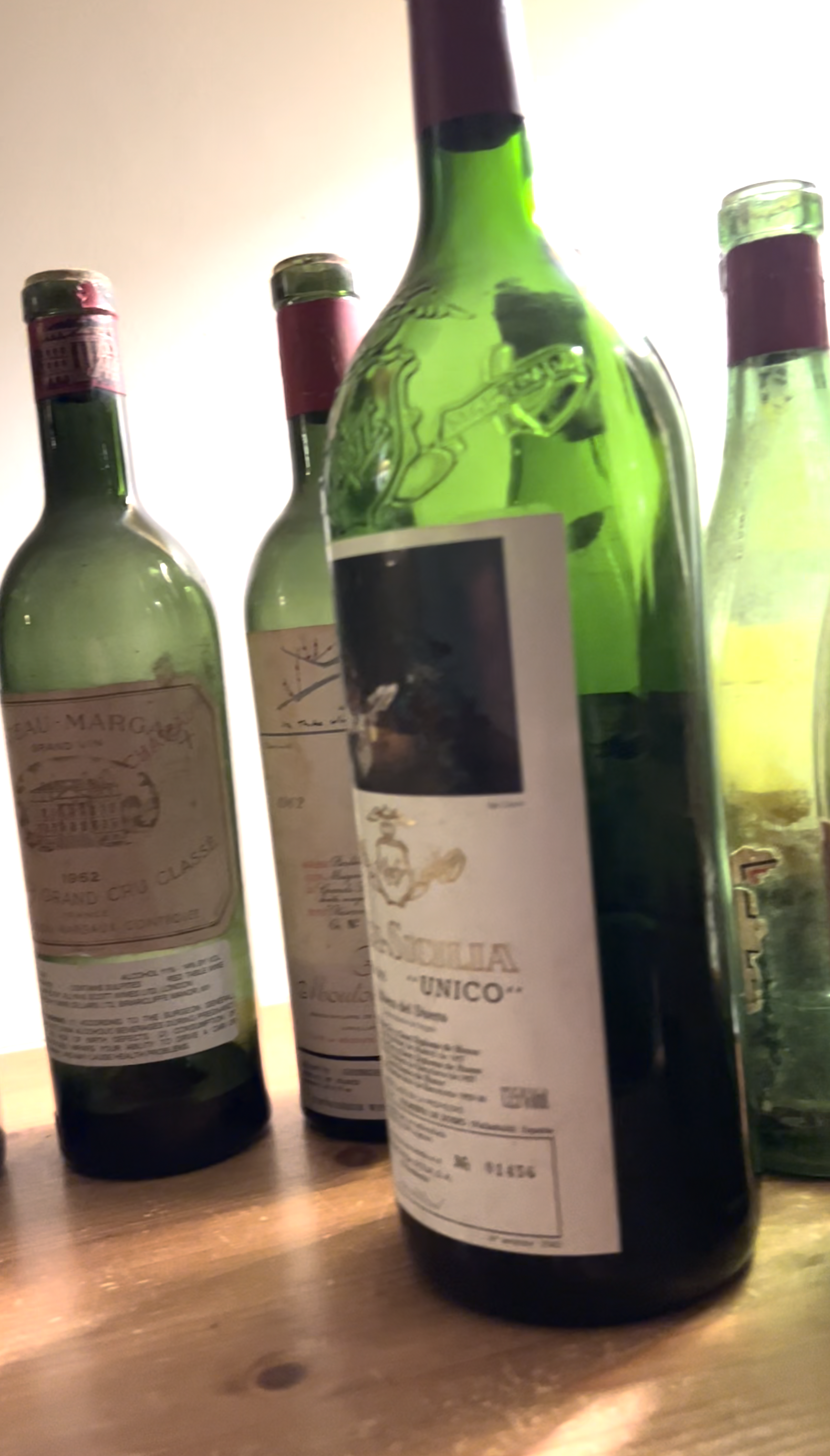 If there was a Sauternes I missed it, but a few nights later I opened a 1962 Château Coutet from Barsac, a full bright old bronzey appearance, its nose and palate are toffee and barely-sugar scented, crème patisserie, and a hint of mint (91). '62 is not a memorable Sauternes year, but it is a nice one, quite elegant. I think of it and 1988 in the same category.
Finally, if a rabbit was to be pulled from a hat to bring focus back to the table at the end it was with the "'62" madeira – 1862 Sercial Vintage, d'Oliviera. A nice flourish, but 1862, along with 1846, as my friend Paul taught me, are the two greatest vintages on Madeira in the 19th century, arguably ever. A fine copper colour the nose was of baked banana and something marine and salty; though perfectly 'dry' on the palate, there was both essency richness of baked banana and nuts, a palate-puckering acidity that nonetheless stayed in full harmony, the palate left drenched in extract the flavour of which refused to disappear, lingering as I floated home in the taxi. (96)
---
1 Richard Juhlin (2002) 4000 Champagnes, p100.
2 Clive Coates MW (1997) Côte d'Or, p961.
3 Allen D. Meadows and Douglas E. Barzelay (2018) Burgundy Vintages – A History from 1845, p257
4 Clive Coates MW (1997) Côte d'Or, p961.
5 Robert Parker Jr. (1998) Bordeaux: A Comprehensive Guide, 3rd Edn., p94.
6 Michael Broadbent MW (2002) Vintage Wine: Fifty Years of Tasting Over Three Centuries of Wines, p67.
7 Robert Parker Jr. (1998) Bordeaux: A Comprehensive Guide, 3rd Edn., p94.
8 James Laube (1989) California's Great Cabernets, p63.