© Alexandria Rae Cubbage, 8th August 2019
At the end of July, Antoine Zaruba of the Cheese House and I put together a wine and cheese pairing class; we matched eight different cheeses with eight different wines and included a variety of cheeses from creamy to soft to hard, from mild to gamey, to herbaceous to smoky to salty, to rich and full-bodied. The cheeses included goat, sheep and cow's milk cheeses in a range of flavours and textures. And for wines we included a range too, from sparkling to white to red to dessert to fortified including both a Sherry and a Port. When we think about pairing wine and cheese, many people think red wine with cheese. However, most of the time red wine will be too strong for cheese. More often than not, white wine, Champagne, Sherry, Port and dessert wine will be a better match. Like wine and food pairing, the factors we considered with the pairings were the following: acidity, fat, tannin, texture and flavour intensity.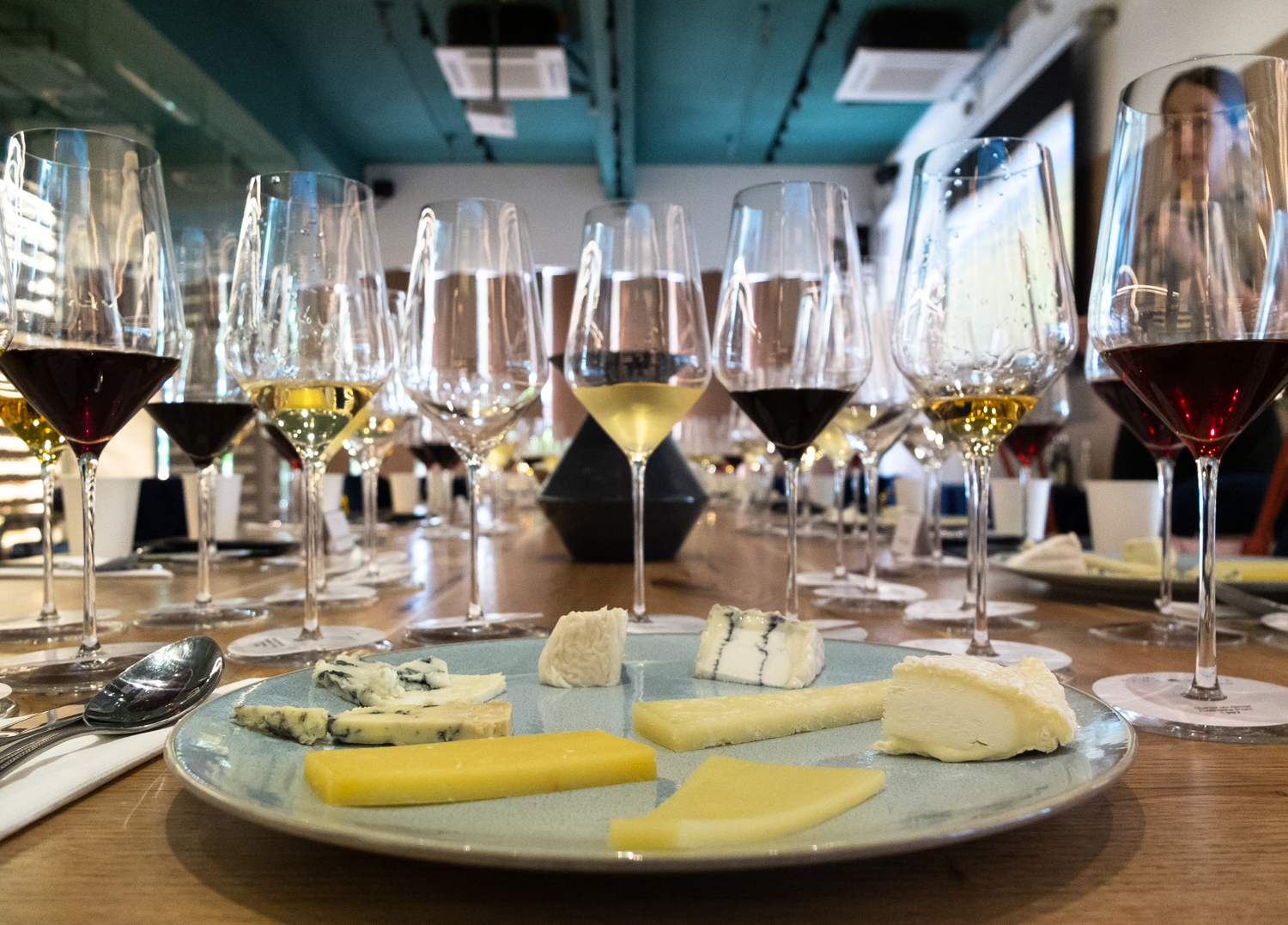 Classic matches:
Sauvignon Blanc and Chenin Blanc with goat cheese
Champagne and sparkling wine with creamy cheese
Gewürztraminer, Viognier and off-dry Riesling with stinky cheese
Red wines with aged firm or hard cheeses with strong flavours like aged Gouda, aged Cheddar, aged Manchego, aged Pecorino
Port and Stilton
Sauternes and Roquefort.
Here's what we matched together and discovered during the class.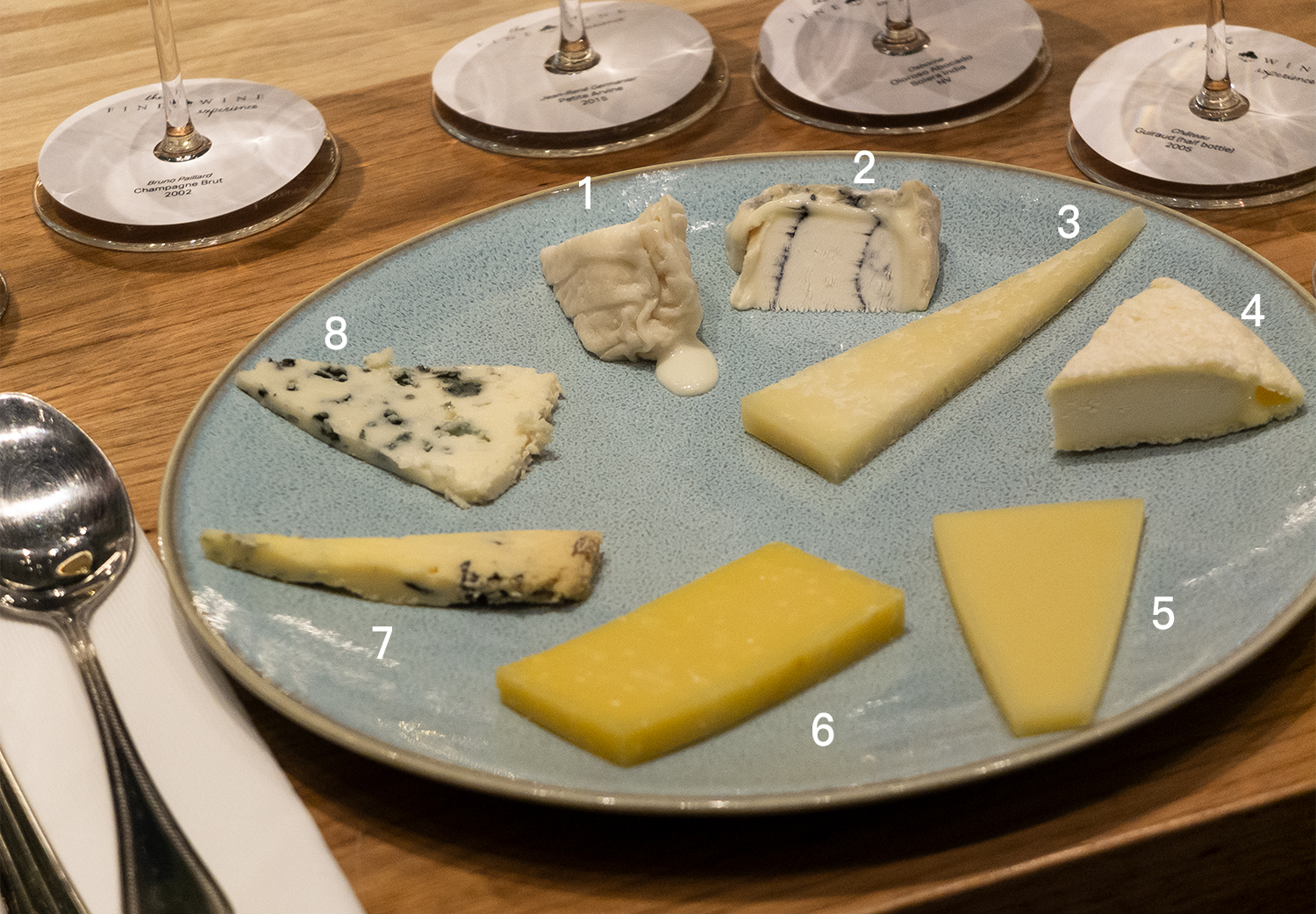 1: Gramat du Lot, 2: Marbré, 3: Tomme Corse de Jean-Jo
4: Saint Félicien Fermier, 5: Comté 18 months, 6: Comté 24 months
7: Stichelton Fermier, 8: Roquefort
1st Pairing:
Gramat du Lot with
2011 Domaine Billaud-Simon Chablis Vaudesir Grand Cru
Gramat du Lot is a goat cheese produced in the south of France (traveling east as you're leaving Bordeaux) at a farm owned by the Landes family. They own about 300 goats that graze outside most of the time. The cheese produced with their milk is very tasty, sometimes creamy and herbaceous. It is a larger version of the Rocamadour cheese, coming from the same region; however, it is much milder.
I chose 2011 Domaine Billaud-Simon Chablis Vaudesir to pair with the Gramat du Lot because I wanted a wine with bright citrus notes, crunchy orchard fruit, a touch of herbal flavours, and vibrant acidity while at the same time having delicacy to pair with the mild, refined nuanced flavours of the cheese. At the end of the tasting, we all voted on our favourite pairing of the day, and this one received three votes for favourite pairing.
2nd Pairing:
Marbré with
2014 Château du Moulin-à-Vent 'Champ de Cour'
Marbré is a goat cheese produced at la Ferme du Bois Rond. The producers add two layers of ash to the curds when making the cheese to give it a blueish colour that reminds of Morbier. This cheese is lactic and tends to become more goaty/animal and creamy when matured.
When Antoine, Francois, Jennifer and I met to put this wine and cheese pairing together, we tried this cheese with the 2014 Château du Moulin-à-Vent 'Champ de Cour' and liked the match. The cheese is dry and chalky with acidity on the finish, and its flavour is a bit gamey and earthy. This Moulin-à-Vent has enough acidity to complement the cheese, and it's minerality and cherry fruit notes with herbal elements and earthy qualities matched the similar notes found in the cheese. This pairing received no votes for favourite pairing of the day.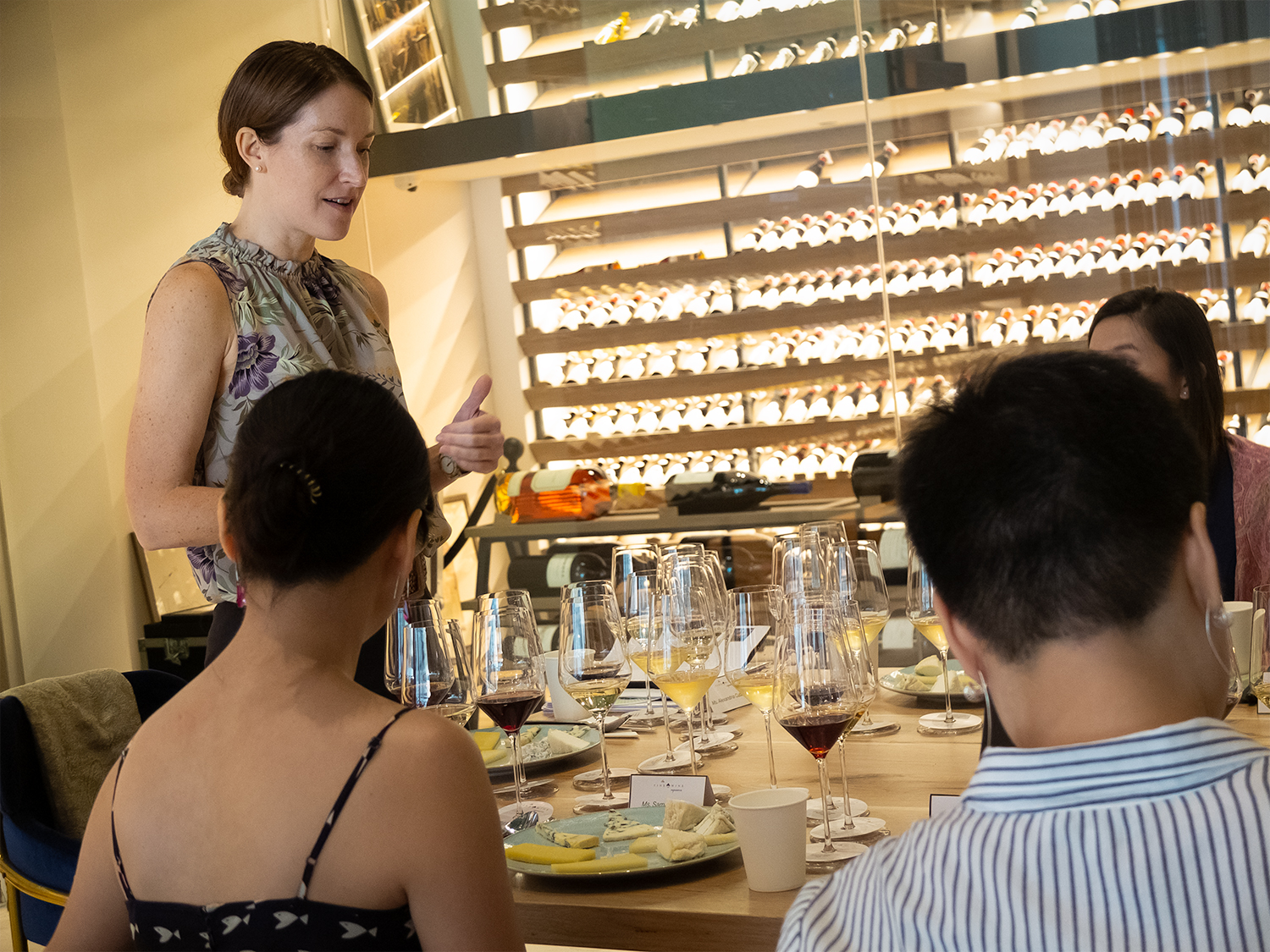 3rd Pairing:
Tomme Corse de Jean-Jo with
2010 Bouchard Père et Fils Meursault 1er Cru 'Charmes'
Jean-Jo is a farmer from south Corsica who has sheep grazing in the most beautiful area. Weather permitting, the sheep are out in nature most of the time, eating the diverse flora that Corsica offers. They have kept the traditional way of producing their Tomme, which is therefore typical: herbaceous, lactic, milky and a little smoky. You will also perceive fruity aromas such as olive oil whilst getting rétro-olfaction notes too. Below is a video you can watch to learn more about this farmer and his sheep.
When I tasted this cheese to prepare for the class, what stood out was the texture; it's a hard cheese that's grainy and the version that we had in the class had a bit of granular crystals to it. This cheese is a bit salty and tasting it with the rind gives a smoky taste. To pair with this cheese, I chose the 2010 Bouchard Père et Fils Meursault 1er Cru 'Charmes' as I felt its creamy texture and nuttiness would make a good match for the cheese. This pairing received two votes for favourite pairing of the day.
4th Pairing:
Saint Félicien fermier with
2002 Bruno Paillard Champagne Brut
Saint Félicien fermier is produced in Isère, Saint-Joseph-de-Rivière where Montbéliardes cows pasture grass all summer long. The Saint-Félicien is a lactic cheese; it's very creamy in taste and a little chalky in texture, becoming more creamy and gamey when aged. This cheese comes from an area very close to Switzerland. The one we had in the class was produced on 1st of July, so the maturity of four weeks brought out more gamey qualities in the cheese. It also has a salty note and a slight bitterness on the finish.
Because of its intense creaminess and gamey and salty elements, I chose 2002 Bruno Paillard Champagne to pair with this cheese. I wanted a contrast with the cheese and the Champagne so a dry Champagne with some age and low dosage (The 2002 Bruno Paillard is 47% Pinot Noir, 42% Chardonnay and 11% Pinot Meunier and was aged for 9 years on its lees; dosage is less than 6 grams per litre). This pairing received three votes for favourite pairing of the day.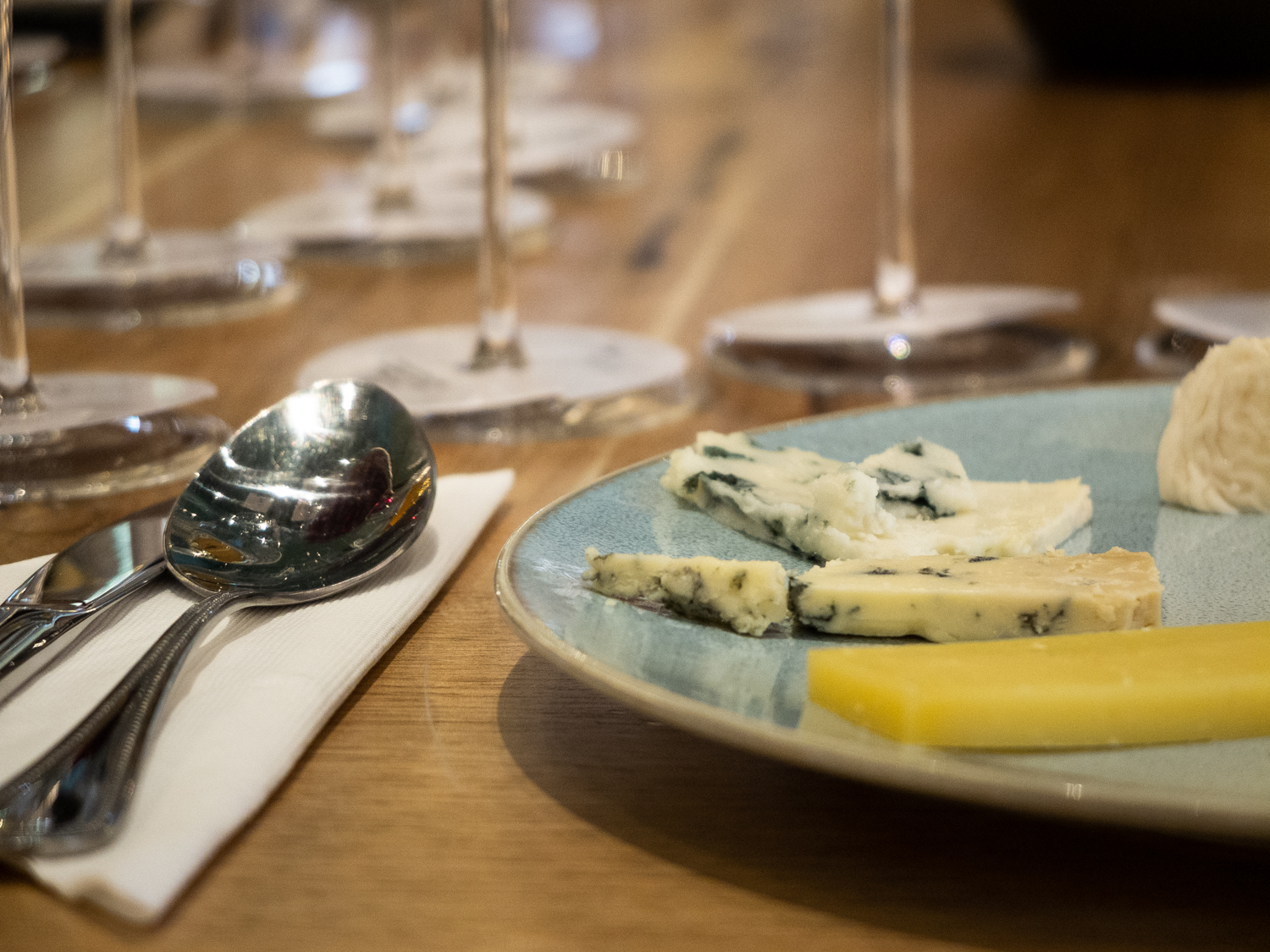 5th Pairing:
Comté 18 months with
2015 Jean-René Germanier Petite Arvine
This Comté is matured for 18 months in very humid caves that would make you feel like Hong Kong is dry... Made in Fruitières, it is buttery, subtle and very well balanced. When less mature, it's lactic and delicate. With more maturity, this cheese becomes fruity, sometimes giving dry fruit notes and roasted flavours. Antoine found this pairing particularly interesting because I chose a wine from Switzerland. He explained the French were very much influenced by the making of Gruyère in Switzerland in terms of their production process for Comté. Similar to Gruyère, Comté is produced in a large wheel which enables it to age for longer periods of time.
For this pairing, I wanted a wine with fruity elements to complement the cheese and highlight those notes in the cheese. On its own, the Petite Arvine shows orange blossom and white floral notes with apricot, peach and grapefruit citrus aromas and flavours; it's lively and aromatic and when combined with the cheese both the wine and cheese improve with their flavours enhanced and additional flavour notes coming forth. This pairing received five votes for favourite pairing and was the overall favourite match of the day.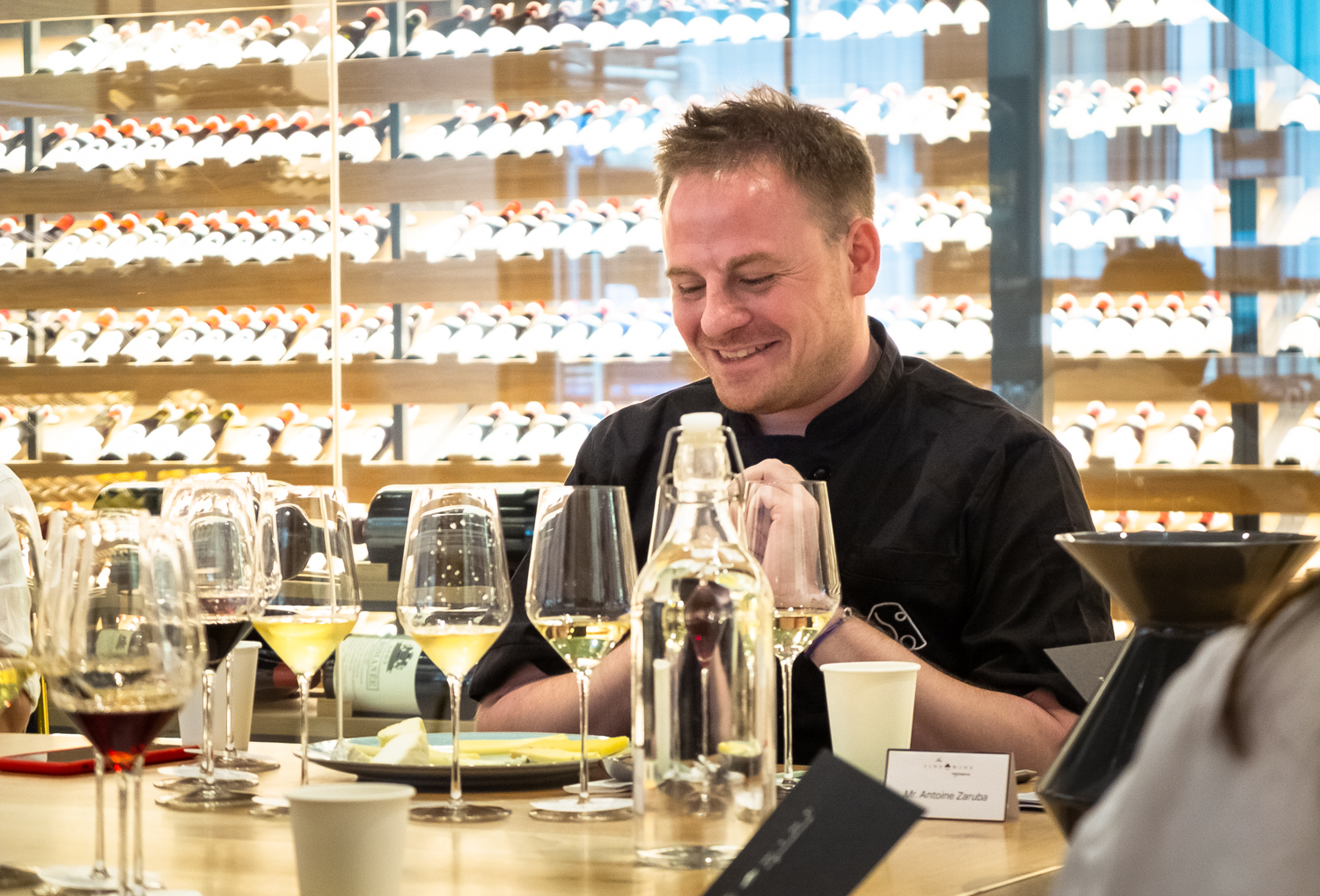 6th Pairing:
Comté 24 months with
NV Osborne Oloroso Abocado Solera India
Also coming from la Fruitière des Suchaux, this Comté has more intensity, and fruitier notes with nuttiness at the end. Tyrosine crystals are more visible and bring a salty sensation.
Because this cheese is very flavourful, I wanted a wine with flavour intensity too that shared notes of roasted nuts, dried fruits and saltiness. I chose a Sherry that is in an old style that Osborne used to produce. It's actually 80% Palomino co-aged with 20% Pedro Ximénez; now the Consortium doesn't allow Bodgeas to do this practice. The average age of this Sherry was 25 years old at bottling, and it came from two criaderas established in 1922. The style of this Sherry is unique and close to Boal Madeira which also would have worked for this cheese. This pairing received one vote for favourite pairing of the day.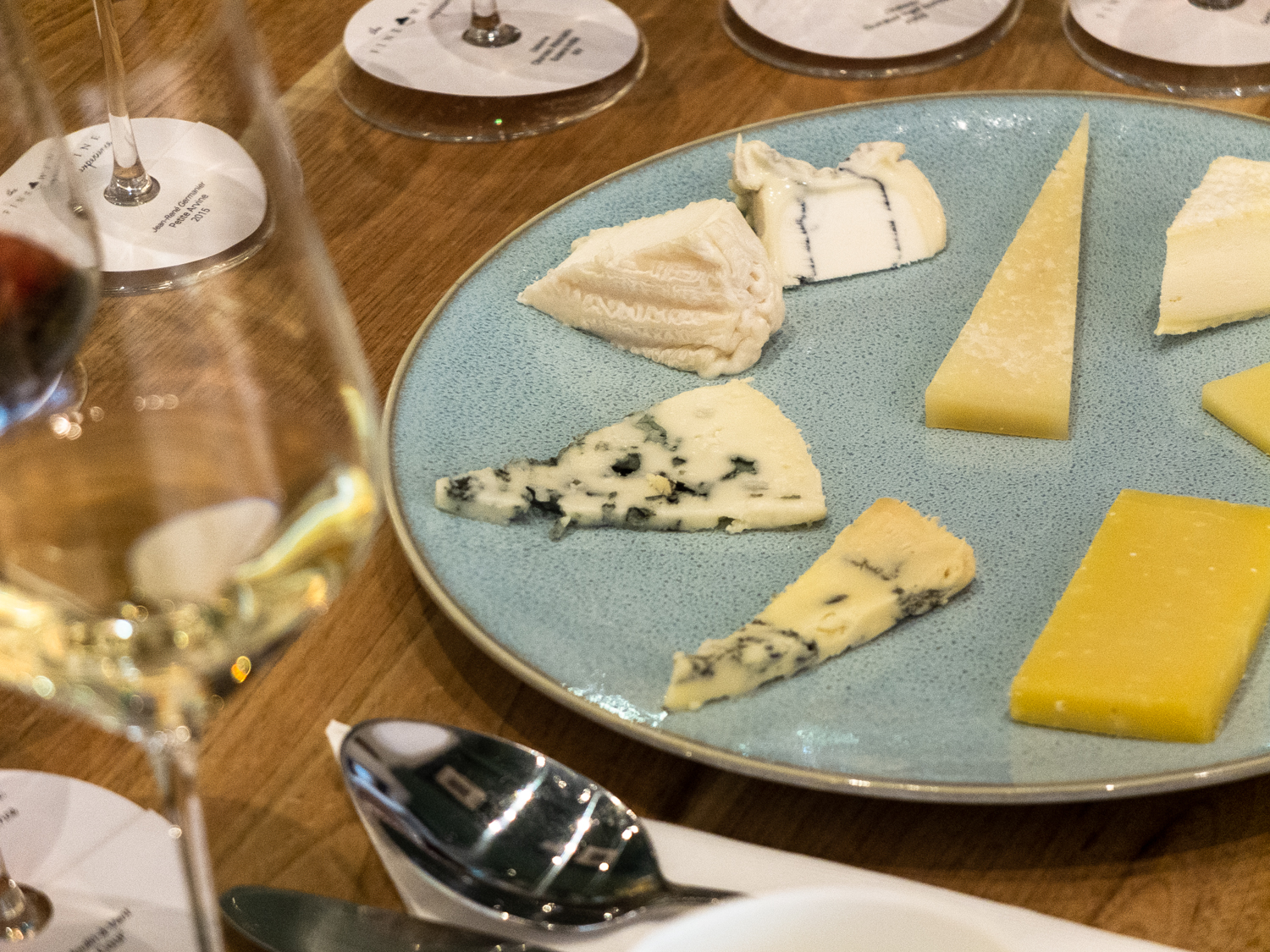 7th Pairing:
Stichelton Fermier with
2005 Château Guiraud, from half bottle
This English blue is made in the same way as Stilton but from raw cow's milk. The maker Joe Schneider didn't want to follow the current regulations for making Stilton. He wanted to make Stilton in the old style with raw cow's milk, but in order to do this he had to change the name, so he calls his version "Stichleton". The cheese comes from Lincolnshire in the United Kingdom. It delivers a rich and delicate taste.
I wanted a wine with honey and dried apricot notes to complement this blue, so I chose the 2005 Château Guiraud. I'm not a fan of blue cheeses, in general, as I find their flavour too strong and overpowering. However, this cheese is well balanced, and the Sauternes proved to be a fitting match. Antoine explained that the penicillin mold in blue cheeses matches well with sweet wines; it mellows the sweetness and richness of the cheese. The pairing received two votes for favourite pairing of the day.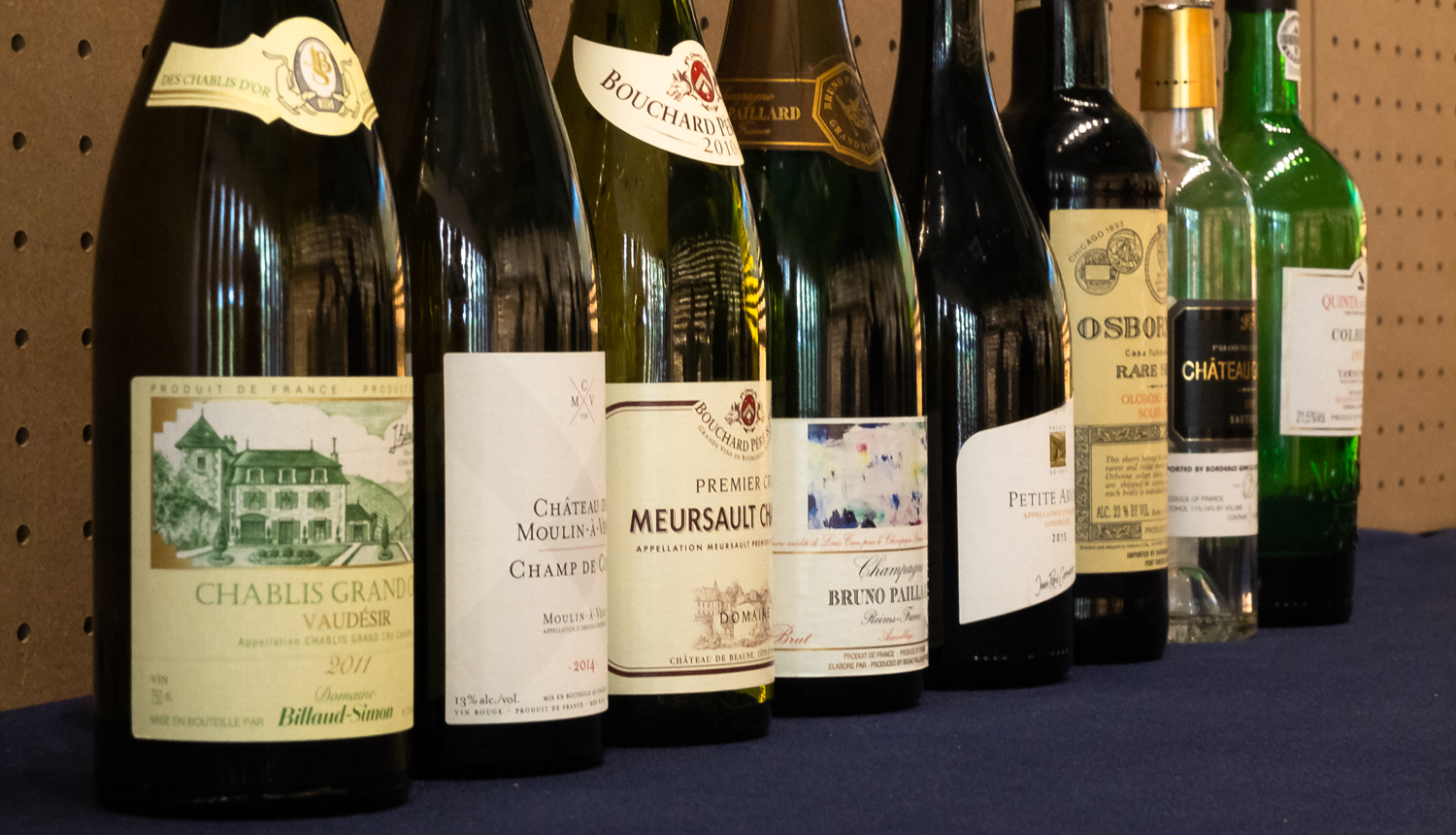 8th Pairing:
Roquefort Artisanal with
1997 Quinta do Noval Colheita Port
This Roquefort is from Aveyron (in the south of France). It's a classic blue cheese made from sheep's milk with more saltiness and richness in its flavour profile than the Stichelton. Antoine noted that this producer is one of the last artisanal cheese producers left for Roquefort.
The buttery texture of this Roquefort was the quality that stood out most, so I wanted a tawny Port with nutty and toffee notes as well as sweet spice to complement this cheese. In addition, Colheita, a Tawny Port of a single harvest matured in cask (At Quinta do Noval Colheitas are matured for 10-12 years.), is a category often overlooked in pairing, and I wanted to show its strengths with cheese. Quinta do Noval makes one of the finest examples of this rare style of Tawny. This pairing received one vote for favourite pairing of the day.
---
Wine and cheese pairing just like wine and food pairing is very much subjective, so these are our thoughts on the subject and matches from our class. We hope it sparks creativity and provides a little guidance for your next wine and cheese pairing.