By Florian Rossignol, 21 December 2022
Last Monday evening Biondi-Santi's CEO Giampiero Bertolini joined us at Bâtard for a masterclass to introduce the three latest released wines: 2019 Rosso di Montalcino, 2016 Brunello di Montalcino, 2015 Brunello di Montalcino Riserva. It was followed by a dinner in the same venue. Biondi-Santi wines deserve nice food to fully express themselves.
We learnt a lot about new challenges the estate is facing and how they are reacting. We discussed climate change and warmer vintages. It is a threat to their style of wine, as they always try to keep a balance between freshness and concentration. This is how you can differentiate a Biondi-Santi wine from the rest of Brunellos di Montalcino. For a start the wine will appear amongst the most transparent, and with a colour that is more garnet and evolved, less deep. Secondly, although certain vintages can express youth, you will never taste a really 'young' Biondi-Santi Brunello di Montalcino. They believe they can maintain the same style over warmer vintages if they adapt a few things in their vineyard management, such as canopy management and harvest date.
You can follow our discussion in the recording below.
Click to watch the full discussion with Giampiero Bertolini
It is a nice experience to taste wines on their own and then with food. It's two different interpretations. For that special evening, Bâtard's Executive Chef Jun Kai made new dishes, such as Japanese Tomato, Burrata and Basil Sorbet to pair with 2019 Rosso di Montalcino. The very fresh and light dish had strong flavored ingredients, yet it gave room to the wine to showcase its potential.
It was followed by an Iberico Pork Pluma, Jerusalem Artichoke with a sauce made from the same wine that was paired with – 2016 Brunello di Montalcino. We all enjoyed this new dish very much, its delicate aromas with that killer sauce, obviously, no better wine to pair with.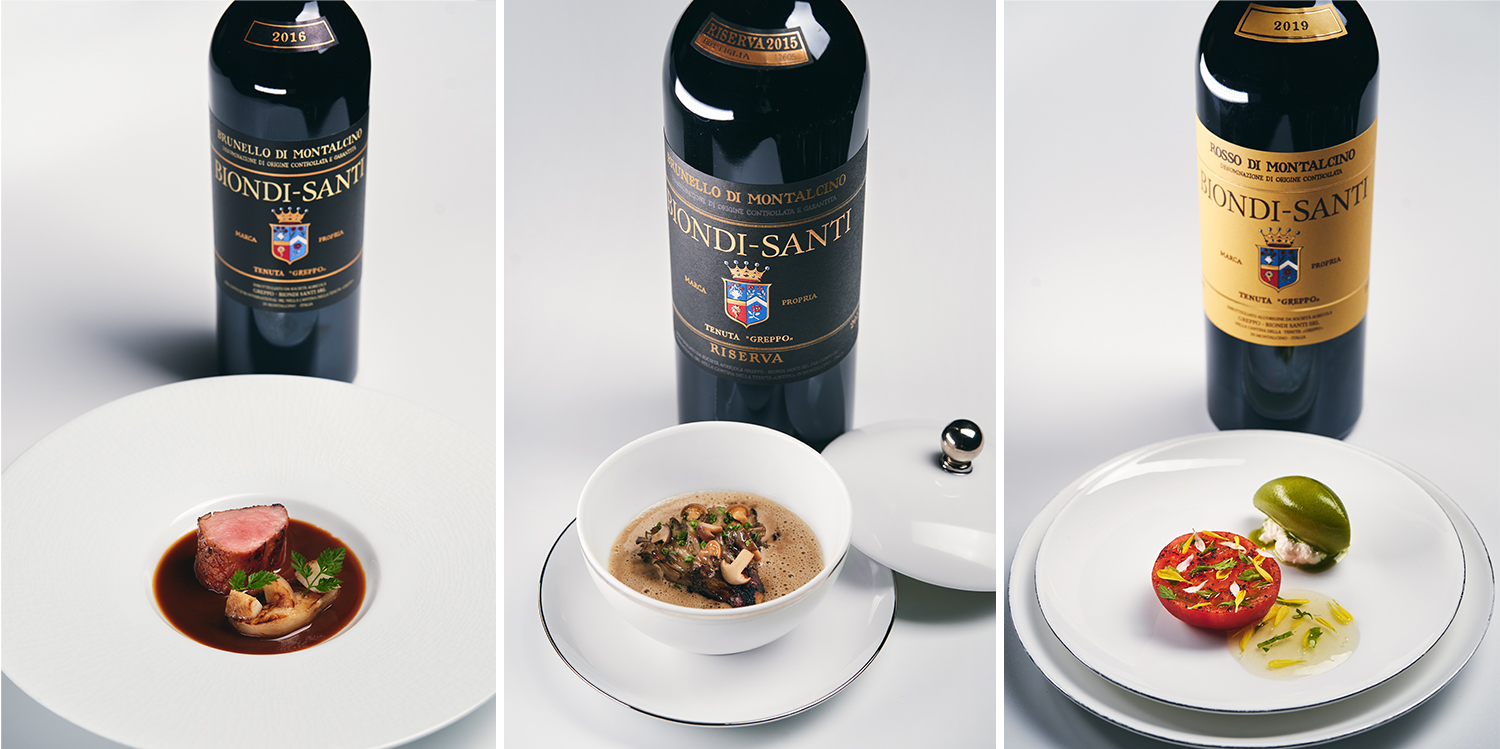 2015 Brunello di Montalcino Riserva was paired with Chawanmushi, Maitake, Pickled Shimeji. It worked beautifully, the umami flavour sublime with this wine. The vibrant acidity of the wine balanced out the richness of the creamy mushroom soup.
2019 Rosso di Montalcino is a beautiful wine to discover Biondi-Santi's style. I could sit up in my couch and sip up this wine all night long. Young, yet enjoyable to drink. Pale ruby colour that invites you to smell and taste it. The freshness and fruitiness combine to a good grip makes this wine pleasurable.
2016 Brunello di Montalcino is a classic example of what Biondi-Santi is able to make. Clear, light garnet, limpid, with a touch of fire development in the colour at the rim; open, fragrant, spicy fruit, a hint of fine balsamico, earthy notes, this is complex and already quite open; elegant, round mouth feel. It turns juicily succulent, and is driven more by this acidity in the structure than the fine light tannins, which offer secondary support. Very distinctly Biondi-Santi in expression – elegant, refined, and fresh. It is drinking very well, is morish in fact, and otherwise for keeping over the next 5-10 years.
2015 Brunello di Montalcino Riserva has a slightly fuller colour than the Brunello, but still open, transparent garnet, with some fire toward the rim. Velvet and concentrated fruits, it has darker fruit expression while keeping the signature elegance true to Il Greppo estate. There is more weight and structure than previous vintages but they somehow managed to keep the fresh acidity on a warm vintage. Solid wine that has all components to age.