© Alexandria Rae Cubbage, 21st December, 2018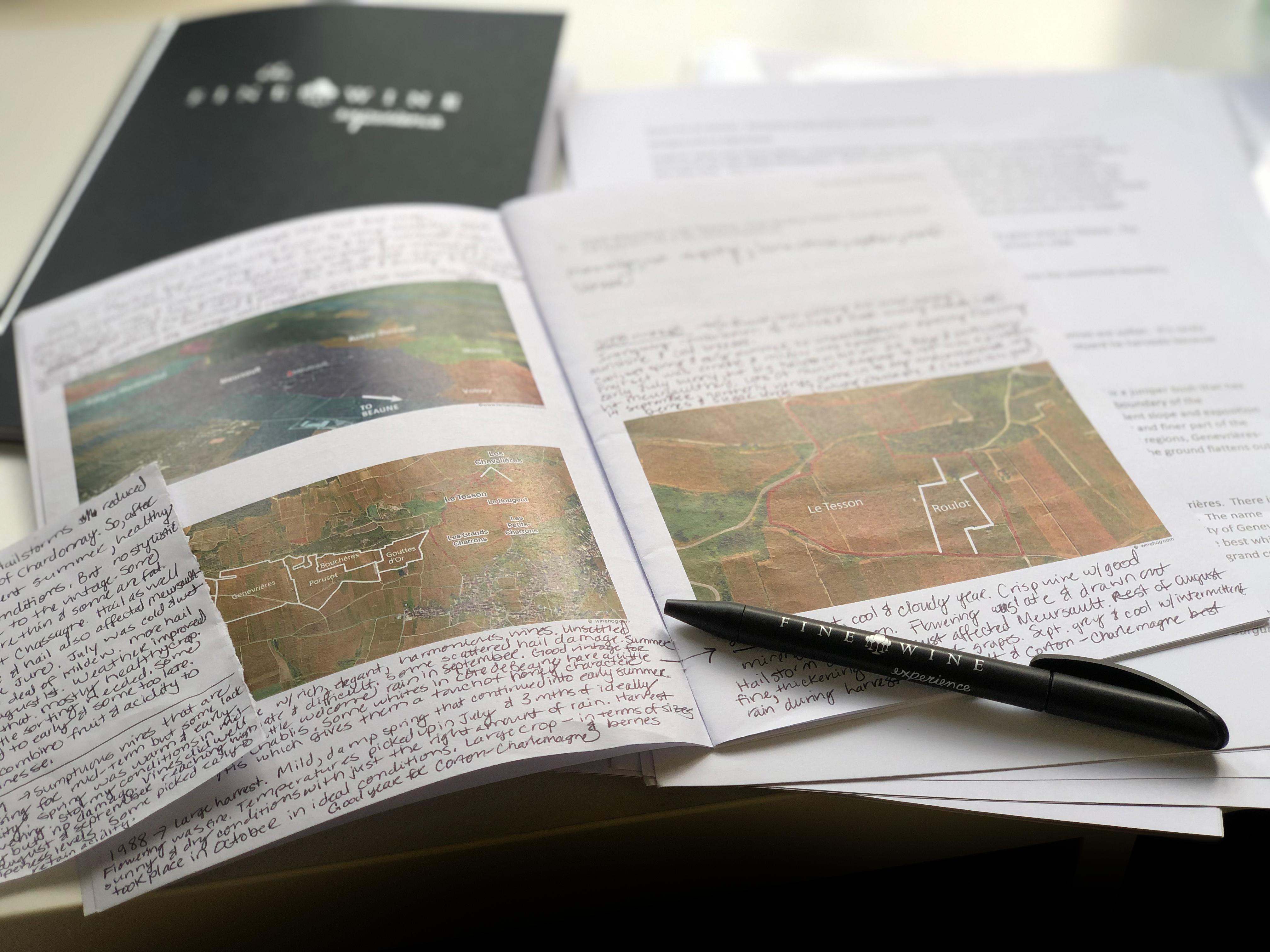 When I first started taking wine classes back in October of 2006, I was taught to identify Meursault blind by tells of aromas of hazelnuts and butter. And then I became exposed to a broader range of producers and vineyards from Meursault and learned that this village, where more Chardonnay is grown than any other village in the Côte d'Or, is fair more complex than these attributes. This Domaine Coche-Dury v. Domaine Roulot dinner came about out of an interest in exploring Meursault in an in-depth way and also covering a topic that my wine loving friends in Kuala Lumpur are quite savvy about already.
I chose the producers Domaine Coche-Dury and Domaine Roulot because they offer contrasting expressions of Meursault. To me, Coche offers a richer expression of Meursault and what I would call the more classic idea of Meursault. While Roulot shows a more minerally expression with the acidity ever present and an elegance in the wines. These two producers, while having stylistic differences are connected, Guy Roulot married Geneviève Coche and some of their Meursault holdings came through that union.
In terms of viticulture, Domaine Coche-Dury and Domaine Roulot share a devotion to their vineyards and a belief that great wine is made there. Both dedicate a good deal of time to and stress the importance of pruning. They aren't fans of green harvesting. At Coche-Dury their farming style is lutte raisonnée with no use of pesticides and thinking about the environment in their vineyard practices. At Roulot, they have been organic since 1999 and are also experimenting with biodynamics. In the vineyards at Coche-Dury, they prefer to use their own plants as opposed to clones which is quite unique in Burgundy. Most producers use clones to help with the challenging weather conditions. In addition at Coche, old vines are prized and encouraged for their deep root system which promotes concentration in the wines.
The soils in both the vineyards of Coche-Dury and Roulot are mainly clay and limestone. Both showcase the heights that even the lieux-dits of Meursault can reach. Roulot is likely most famous for highlighting and differentiating the qualities of the lieux-dits vineyards.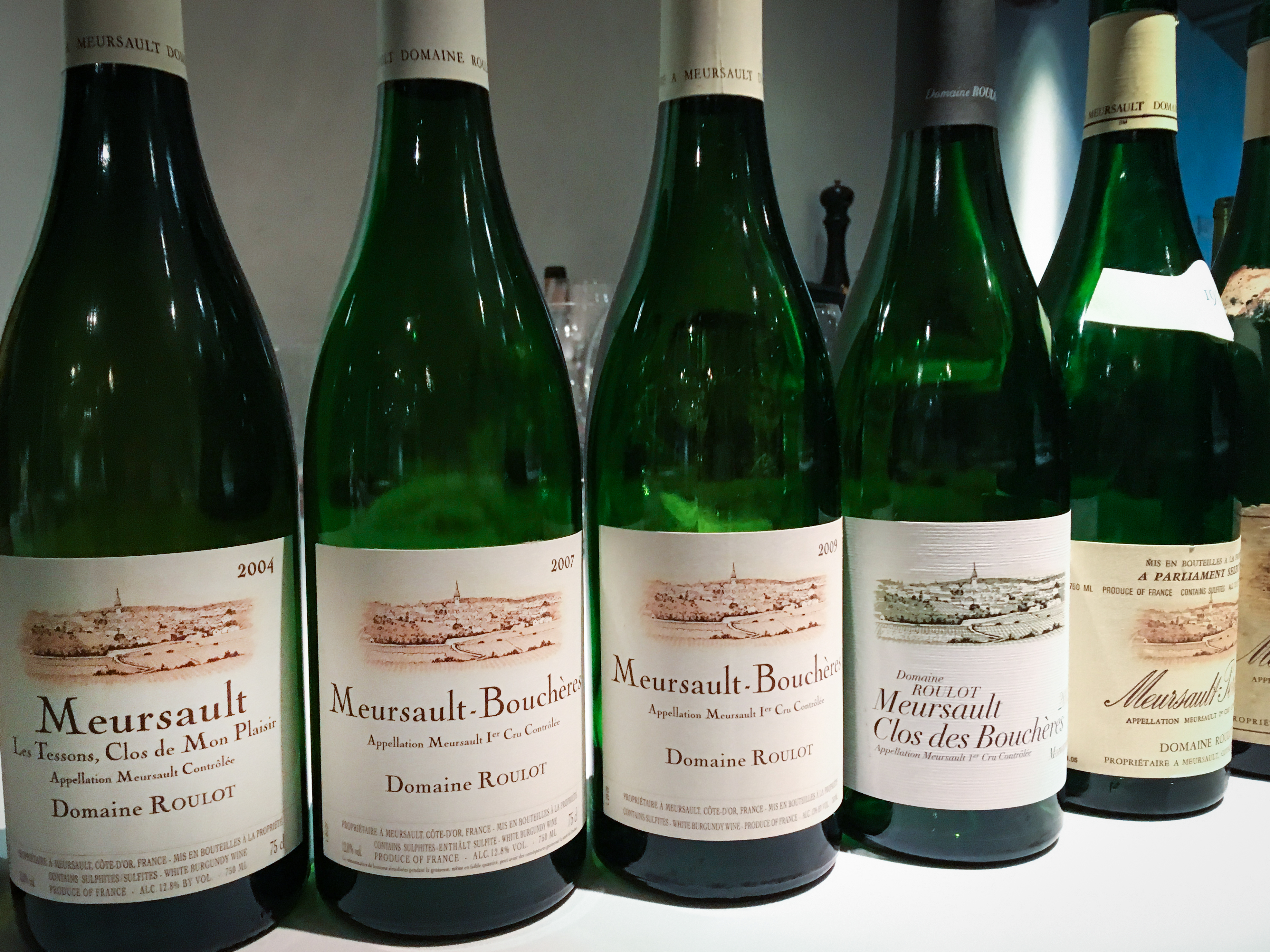 In terms of winemaking, Coche-Dury and Roulot are quite different which is apparent in their work with the lees and their oak ageing regimen. If the grapes are healthy, both producers will crush the grapes before pressing them which tends to produce a greener juice with a bit more acidity. They value this quality for enabling their wines to age. Then, they both vinify their Chardonnay in wood. And they both like lees contact in their wines. It's seen as a preservative to help prevent oxidation. However, Coche-Dury likes bâtonnage whereas Roulot doesn't. Jean-Marc wants purity in his wines and feels bâtonnage can create heaviness. He stirs the wine on its lees every two weeks. Jean-Marc likes his wines with food, and he believes minerality and acidity in his wines will make them best suited for enjoyment with food. For the oak regimen, Coche uses up to 50% of new oak while Roulot uses between 15-18% new oak. Coche ages the wines for 15-22 months in barrel depending on the vintage and the wine. Roulot ages the wines for 11 months in barrel and then for 7 months in stainless steel. It was enlightening to try the wines of these producers side by side to see how these differences played out in the glass.
Before we went through the wines and commenced the dinner, I asked everyone to keep in mind as they tasted the wines throughout the dinner that at the end I would ask them to vote on their two favourite wines of the night. With this lineup, I didn't think it was fair for people to have to select just one wine as their favourite.
---
Flight 1
The purpose of this flight was to experience the lieux-dits from Domaine Roulot and Domaine Coche-Dury. I purposely selected the vintages of 2004 and 2008 and wanted those same vintages featured in the final flight with the grand cru of Coche-Dury, Corton-Charlemagne. The 2004 vintage for white Burgundy is likely known best for its racy acidity. While the 2008 vintage for white Burgundy displays fresh acidity but also with a bit of richness. Both were vintages where cool temperatures and rain were a problem causing issues with mildew and odium. Hail was also an issue especially for Meursault in 2008. Thankfully, September in both 2004 and 2008 brought sunshine and winds from the north to dry the grapes and promote concentration. In the end, the white wines produced are very fine examples of Meursault.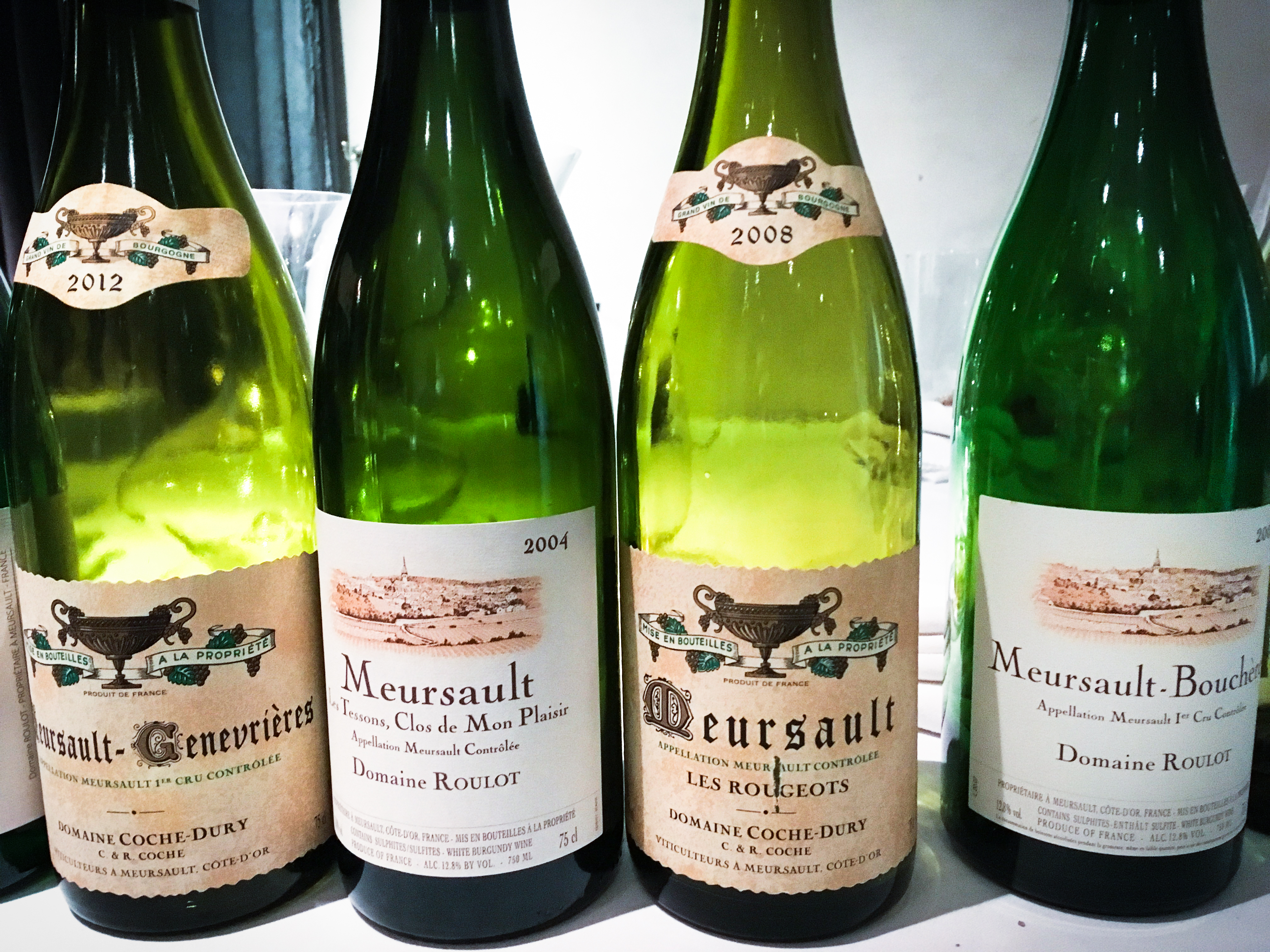 2004 Meursault 'Les Tessons, Clos de Mon Plaisir' Domaine Roulot
This wine was a sharp contrast to the 2008 Domaine Coche-Dury 'Les Rougeots' likely owing both to the winemaking style, vineyard and vintage. The elegance of Roulot came through in this flight. This 'Les Tessons, Clos de Mon Plaisir' showed floral aromas, notes of lime citrus, white peaches and honeydew melon. The wine was a not as giving or expressive as the Coche in this flight which jumped out of the glass with aromatic intensity. That said, this Roulot was a delicious match with the amuse bouche which was Striped Jack Mackerel with roasted organic cauliflower in sage butter, topped with Hokkaido scallop carpaccio and shaved white Alba truffle. The wine offered a brightness to the dish, highlighting the freshness of the in-season Hokkaido scallops and allowed their brilliance to shine with the complement of the white truffle – pure, clean flavours of the ingredients came through.
No votes for top two favourite wines of the night.
2008 Meursault 'Les Rougeots' Domaine Coche-Dury
This lieu-dit, 'Les Rougeots' was intensely aromatic and definitely showed well above its vineyard designation with intense concentration. The wine displayed expressive floral aromas, notes of exotic fruits, sweet spice, roasted almonds and lemon citrus. I enjoyed this wine most with the stronger flavours of the second course which featured Alaskan King Crab, black autumn truffle and tomato gelée. This wine isn't shy and needed these stronger flavours to match its intensity.
No votes for top two favourite wines of the night.
---
Flight 2
For the second flights of wines, I chose vineyards with similarities from contrasting vintages. The premier cru vineyard 'Les Bouchères' is known for ripening early, so this vineyard is the first one Jean-Marc picks, and actually few people make this wine with Roulot's likely being the most famous. The main quality conveyed from this vineyard is Chardonnay that's more opulent and giving in its expression. By the 2012 vintage, Roulot had stopped making 'Les Bouchères' and instead started making wine from the monopole within this vineyard which is 'Clos des Bouchères'. His first vintage of this monopole was 2011. In this year a deal was made with a group of New York investors who took over ownership of this vineyard whereby Jean-Marc gave up control of 'Les Bouchères' to Dominique Lafon in exchange for a lease on 'Clos des Bouchères'. This section offers more minerality and delicacy; the vineyard is quite steep in places. In the Roulot lineup, this vineyard 'Clos des Bouchères' comes in second to 'Perrières'.
'Les Genevrières' has quite a bit of mineral concentration in the soil as well as sharing the same slope and exposition with 'Les Perrières'. Thus, 'Les Genevrières' shows minerality in its expression and is sometimes compared or seen as a rival to 'Les Perrières'.
Then, for vintages, I selected one where everything went right(2009) and one where everything went wrong(2012). In my mind, we see the real strength of wines and when we try them in their most challenging vintages and when we try them with age(which we get to do in the next flight). So, I wanted us to be able to experience these wines in a strong year and in a vintage where the conditions were challenging. The vintage 2009 for white Burgundy is known for producing rich wines with more exotic and tropical flavours. The issue with 2009 was ensuring that the wines had enough acidity. By contrast, in 2012, hail was very harsh on the Chardonnay vines, so everyone produced less. Cold and wet conditions in July also made it difficult to produce wines with concentration. But, those that picked at the right time and met these challenges effectively made wines with balance between their fruit and acidity with concentration. We found that with both Coche and Roulot in this flight; these are both strong producers to buy for the 2012 vintage.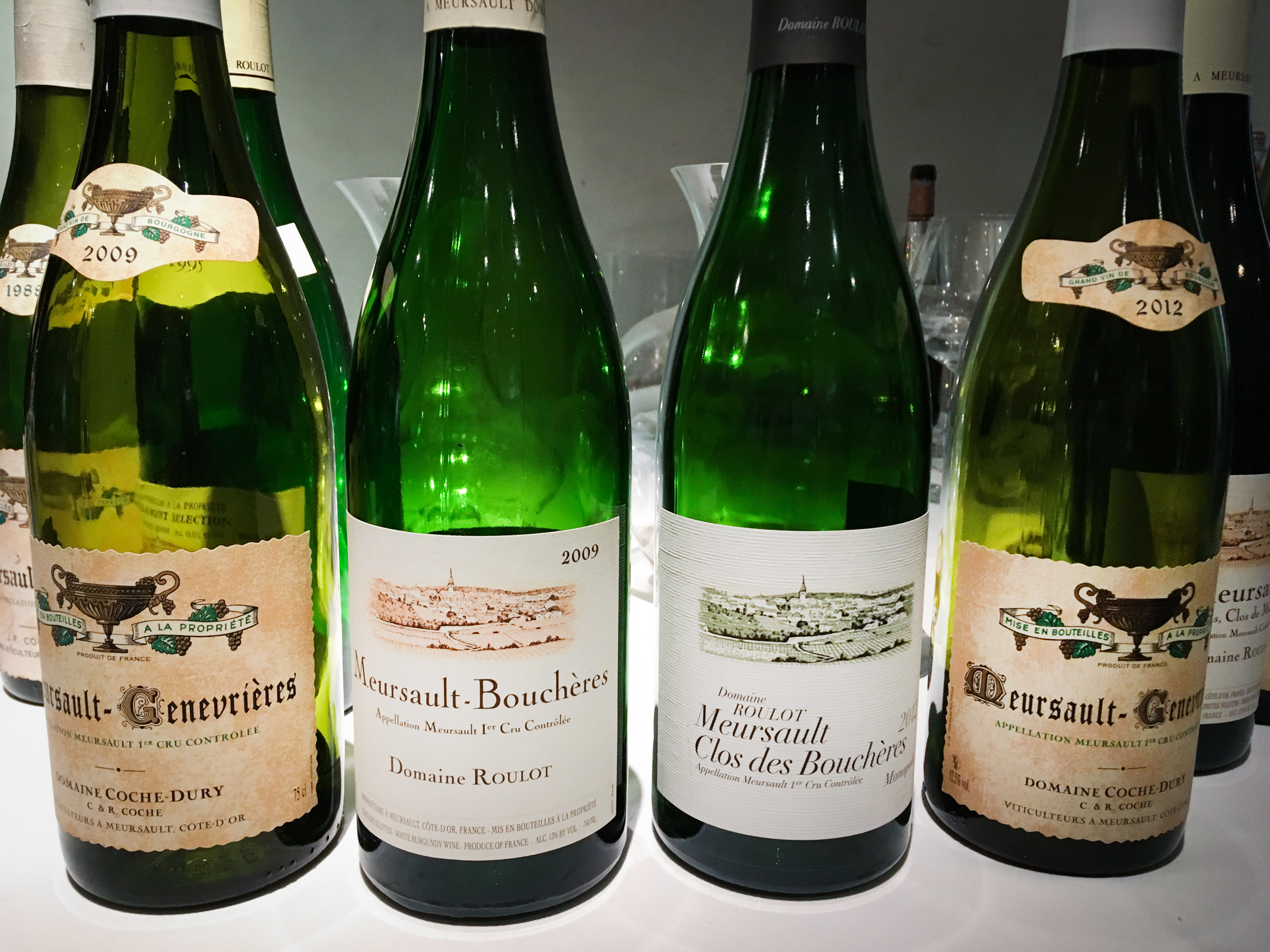 2012 Meursault 1er Cru 'Clos des Bouchères' Domaine Roulot
This wine showed a bit of flint on the nose with pear, apple, yellow fruits and a hint of herbal aromas of tarragon and sage; it seemed to need more time to fully express itself, but the wine offered good balance between the fruit and acidity and wasn't lacking in either as might have been expected given the vintage. There was a little reductive note still showing here that went away as the evening progressed.
This wine received no votes for top two favourite wines of the night.
2012 Meursault 1er Cru 'Les Genevrières' Domaine Coche-Dury
This wine is the best 2012 white Burgundy I've had. If I tried the wine blind, I would never guess it's 2012. The wine displayed aromas of yellow peaches, orange rind, sweet baking spices of cloves and cinnamon, lemony acidity and had a long finish with a minerally backbone. There was pronounced intensity and lively youthfulness showing this wine has many years ahead; it conveyed the alluring and entrancing aromatic appeal that Coche wines have in their youth before the flavour intensity on the nose starts to soften a bit and combine in with the other elements of the wine.
This wine received 3 votes for top two favourite wines of the night.
2009 Meursault 1er Cru 'Les Bouchères' Domaine Roulot
This 2009 'Les Bouchères' displayed a cheese-like aroma on the nose which we noted at the dinner conveying a lactic quality about the wine that seemed to come from this warmer vintage of 2009 and perhaps how Jean-Marc chose to handle this vintage. Then, other flavours displayed on this wine were golden delicious apple, ripe pear, floral aromas, grilled nuts and lime and lemon citrus.
This wine received no votes for top two favourite wines of the night.
---
Flight 3
The point of this flight was to offer us an opportunity to explore 'Les Perrières' as made by Roulot and by Coche in older vintages. In his book Inside Burgundy, Jasper Morris noted that Dr. Lavalle described 'Les Perrières' as the best white wine vineyard after the Montrachets. (p.389). For me, that's my impression too, in fact, I feel Coche-Dury's 'Les Perrières' is the greatest wine they make. 'Les Perrières' is known for the high proportion of stone in the vineyard as well as its optimal east to southeast exposure. It's said to have the minerality of 'Les Genevrières' with the weight of 'Les Charmes'.
The 1995 vintage for white Burgundy was small but known for rich, elegant wines. It's described as a good vintage for whites, but there was some scattered hail damage and some of the wines have a bit of botrytis character to them.
Another strong vintage for white Burgundy but for a different reason is 2001 because it produced wines with appealing minerality. So, if you like steely wines of precision, 2001 is a good vintage for you. Hail was a problem for Meursault in early August, but the rest of the month helped to produce concentrated grapes. The cool temperatures and rains of September brought acidity and freshness to the wines.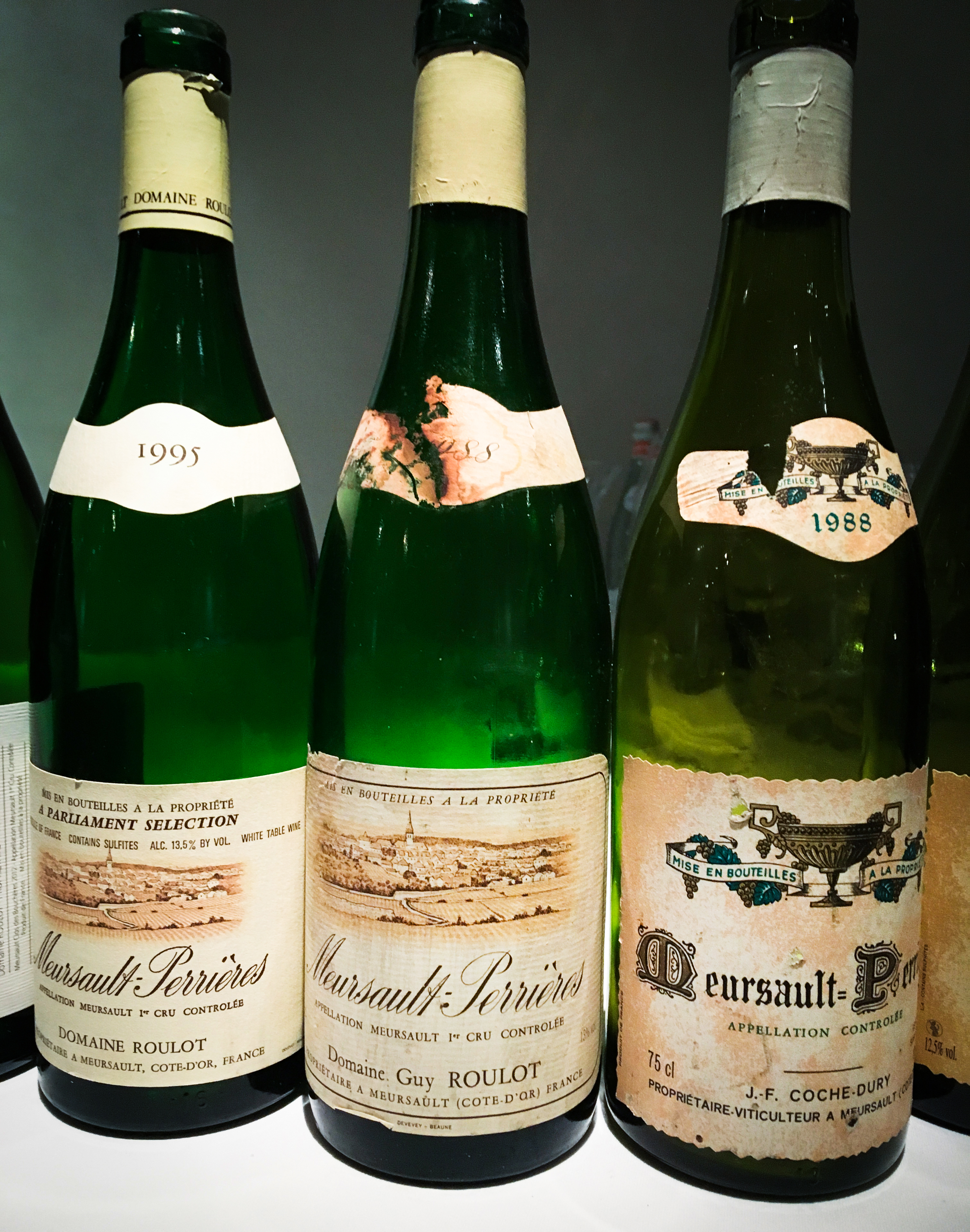 1995 Meursault 1er Cru 'Les Perrières' Domaine Roulot
In this 1995 Roulot, we did, indeed, find aromatics indicating botrytis, but a very pleasant, delicate honeyed expression of it rather than a distracting flaw. The wine delivered aromas of yellow peaches, nectarines, with orange blossom and a honeyed quality to the fruit. These flavours were combined with lemon and mandarin orange citrus on the palate and an underpinning of minerality. This wine received one of my votes for top two favourite wines of the night. It was the overall winner of the night. I liked how this wine complemented our dish described as Homage to M. Paul – French seabass with crispy potato scales and sauce Vin Jaune. The acidity in the wine stood up to the sauce, and the honeyed note worked well with the crispy potato scales and offered a hint of sweetness to the fish.
The wine received 7 votes for top two favourite wines of the night.
2001 Meursault 1er Cru 'Les Perrières' Domaine Coche-Dury
Sadly, this wine was corked, and we didn't have a backup bottle.
The 1988 vintage for white Burgundy was a big harvest and some of the berries were large such that these wines can lack concentration. It is also a vintage that saw good amounts of acidity in the wines which sometimes stands out. I chose this vintage as I like it for whites and feel it's one that is often overshadowed by 1986, 1989 and 1990. I thought most people have likely tried these wines in some of those vintages, so it would offer a good discussion for the group to try them in 1988.
1988 Meursault 1er Cru 'Les Perrières' Domaine Roulot
This 1988 was made by Frank Grux who is a cousin of the Roulots and went on to Olivier Leflaive when Jean-Marc returned to Domaine Roulot in 1989 to take over. His father, Guy Roulot, passed away in 1982, and during that time initially Ted Lemon made the wine from 1982-1983. Then, Frank Grux took over from 1984-1988; he used more new wood than Jean-Marc does which is one of the primary differences between the wines made during this period and when Jean-Marc took over. This wine showed aromas of dried and fresh apricots, baked apples and crunchy pears with lemony acidity. Although showing developed, rich aromas on the nose, it was still elegant, refined, and lively on the palate. The wine seems to have reached its peak and is drinking well as a fine mature white Burgundy.
It received 2 votes for top two favourite wines of the night.
1988 Meursault 1er Cru 'Les Perrières' Domaine Coche-Dury
The 1988 Coche 'Les Perrières' was one of my other favourite wines of the night. I was quite taken with it partially because of the youthfulness still present as it felt like the elements of fruit, acidity and structure were just starting to come together. On the nose, I found aromas of bright citrus notes of orange peel interlaced with sweet baking spices of cinnamon and nutmeg and honeyed peaches and lemon curd on the palate. The finish was quite long with refined acidity and minerality.
This wine received 5 votes for top two favourite wines of the night.
---
Flight 4
The Corton-Charlemagne is considered the crown jewel in the Coche-Dury portfolio. They make just six barrels and acquired these vines in 1986. They are located in the 'Le Charlemagne' portion of the vineyard just below the cross. This wine from Coche is known for having a firm, minerally backbone and takes years to open up. We saw that in these two vintages. Although they were appealing and showed well, you could tell that with more time these wines will reveal even more. Both vintages showed a minerally persistence on the palate with tension and a long finish.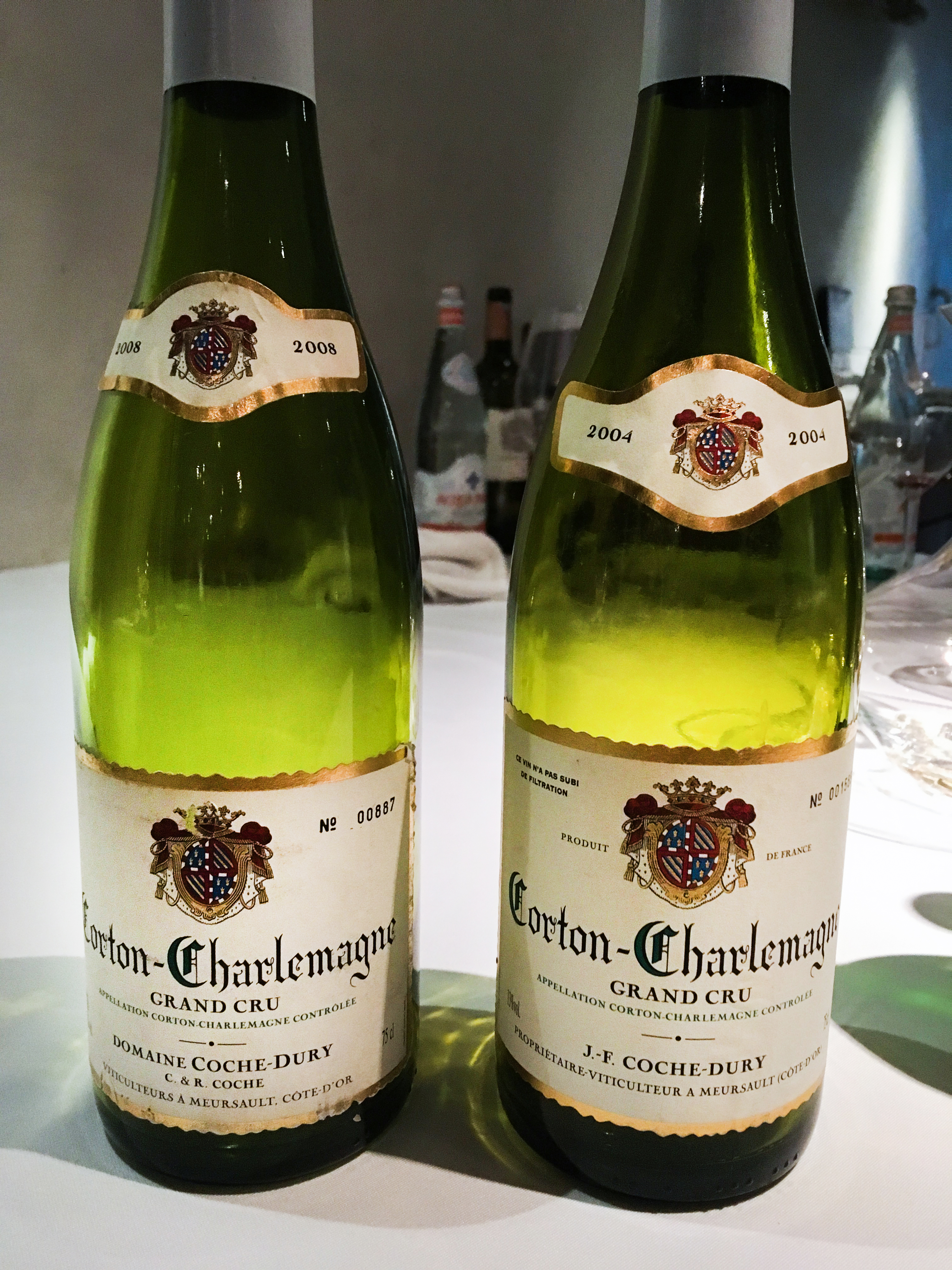 2008 Corton-Charlemagne Grand Cru Domaine Coche-Dury
The 2008 Corton was more giving in its expression, not quite as taut as the 2004. This 2008 showed flavours of spiced Bosc pear, golden delicious apple, peaches, hazelnuts, and lemon citrus. On the palate the wine had tension with lively acidity and intense concentration leading through to a lasting finish.
This wine received 1 vote for top two favourite wines of the night.
2004 Corton-Charlemagne Grand Cru Domaine Coche-Dury
This 2004 was my runner up for top two favourite wines of the night. It is a wine filled with depth and complexity just starting to show some of its layers. The nose showed aromas of Granny Smith apple and golden delicious apple, nutmeg spice, and lemony acidity. There were minerally notes of crushed stones too. The palate was precise but also complete and concentrated with a long length. I can't wait to try this wine again in ten more years.
This wine received 6 votes for top two favourite wines of the night.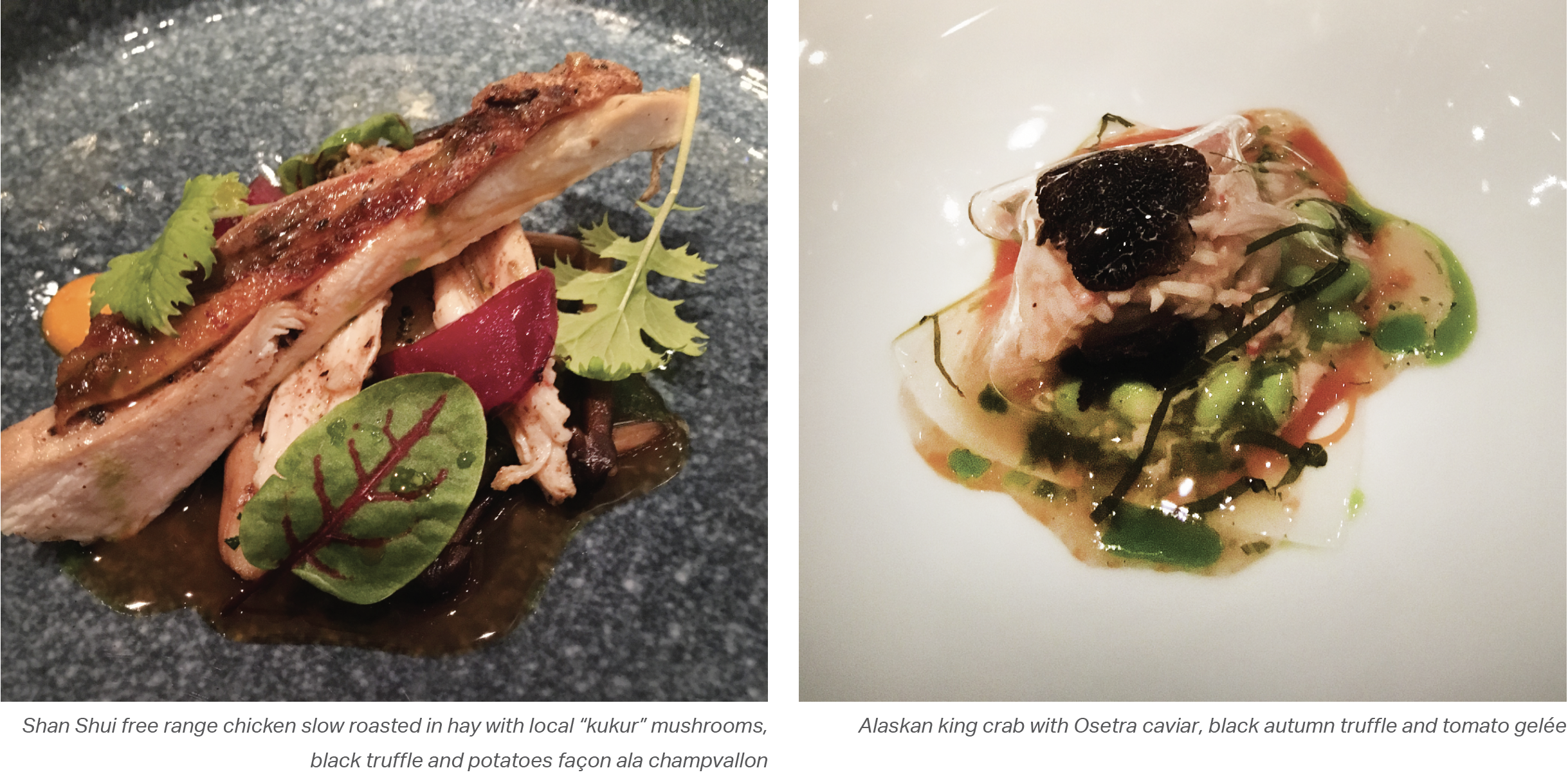 Both Corton-Charlemagnes were served with Shan Shui free range chicken slow roasted in hay with local "kukur" mushrooms, black truffle and potatoes façon ala champvallon. This chicken was filled with flavour and was quite rich with its complements. The acidity and full-bodied character of these wines stood up to this dish. These wines also offered lift to the palate so the richness wasn't overwhelming and you were able to take another bite.
---
Extra Wine
2007 Meursault 1er Cru 'Les Bouchères' Domaine Roulot
Of the wines from Roulot, this one was my second favourite of the night next to the 1995 'Les Perrières'. It's a pretty and elegant wine with aromas of honeysuckle, pears, yellow and white peaches, and lemon citrus. There is a minerally precision in the wine and a salinity on the finish. I enjoyed this wine with the Hommage a M. Paul dish as the salinity in the wine matched well with the French sea bass and brought out its natural sweetness.
This wine received 1 vote for top two favourite wines of the night.
---
One of the guests commented at the end of the night, "the Roulot wines are the ones I would buy to drink, and the Coche wines are the ones I would buy for investment," as a conclusion from the evening. For me, my take away was noticing how the wines of Roulot have this elegance to them and a striking minerally precision. They also worked well with food whereas the Coche wines in some instances outshined the food. You just wanted to focus solely on the wine. Both producers wines were representative of their vineyards and vintages. These are terroir driven wines, yet the style of the winemaker comes through in the wines too but not in a heavy handed and polished way. All of the wines were complex and showed the broad range of flavours and textures displayed by Chardonnay grown in Meursault. A few guests suggested that we should have included Arnaud Ente in the lineup, maybe next time. My gratitude to all of you who came to join me in KL for this dinner. It was a pleasure to delve into Meursault with you. Thank you for the surprise wines too – a little red after all those whites packed with acidity and a sticky made for a perfect end to the night.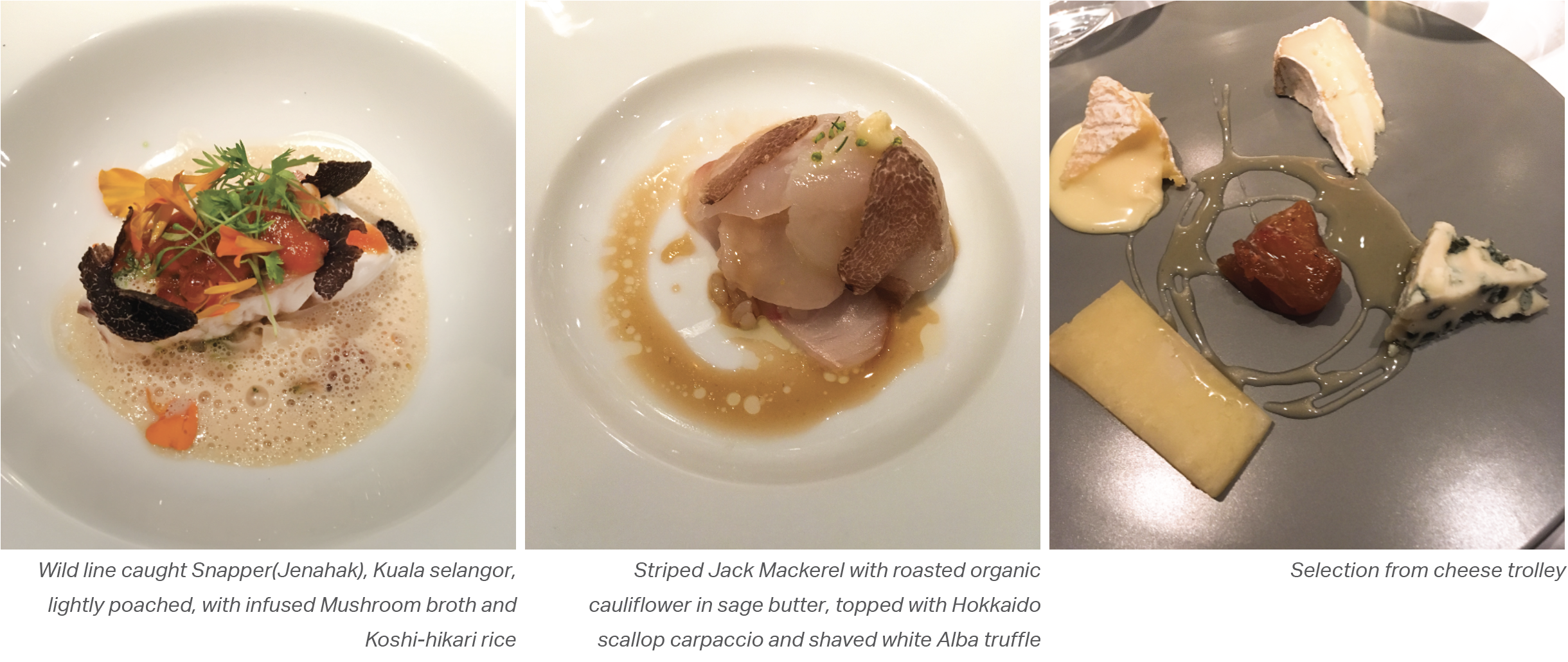 Thank you to Chef Darren Chin and his culinary team for the delicious food they prepared to match the wines and to Sommelier, Agnel Sathiananthan, and the rest of the service team for taking good care of us at DC Restaurant. We were happy to share this special evening with you. If you'd like to do your own Meursault dinner we have a broad range for you to choose from and are happy to help. These are food-friendly wines and offer you the opportunity to drink Chardonnay at its finest.