By Alexandria Rae Cubbage, 28th December 2020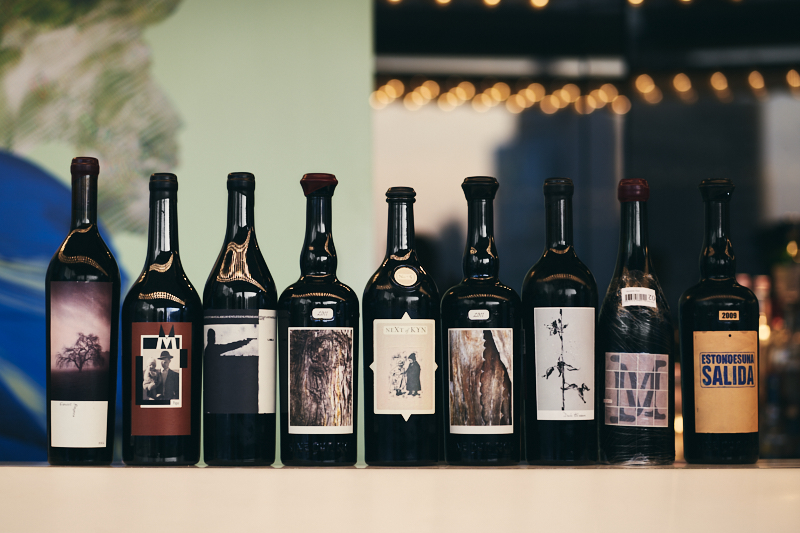 California sunshine, top vineyard sites, mentorship from some of the best winemakers in the world, and lofty ambition – a vision to create a wine that every wine lover will want – these are the hallmarks of Sine Qua Non ("SQN"). These are wines focused primarily on Rhône varietals grown in some of the best vineyards in California's Central Coast. When we received in a collection from a private collector that included exquisite, rare bottles of SQN that had been acquired direct from the producer via their mailing list, we decided to put together a dinner for you to experience the unique characteristics encapsulated in these wines. And what we found was that many of you were excited by this theme, so what was originally one dinner became two. I also decided to include a few bottles in our latest "Vintage Pairs" Blind Tasting session, so even more of you could experience these wines. Below is a bit of background on the extraordinary vision and passion of Elaine and Manfred Krankl and their wine label Sine Qua Non, as well as my experience tasting them with some of you over two dinners and a tasting.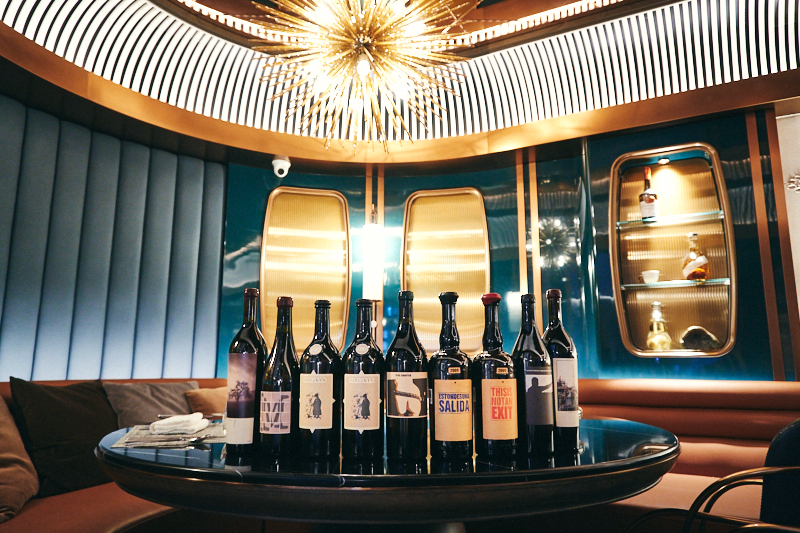 The story of Sine Qua Non begins with the arrival of Manfred Krankl from his homeland of Austria to Los Angeles in the early 1980s. In 1989 he helped open a high-profile restaurant called Campanile where he was the wine director and managing partner. And that's where he and his wife Elaine met; they worked there together. Next door they had a small space where they were able to sell the restaurant's breads and named this spot La Brea Bakery; it became a national success. In 1994, with their shared passion for wine and money from the restaurant and bakery venture, Elaine and Manfred founded Sine Qua Non. They began by purchasing grapes from trusted winery owners and friends with a similar passion for Rhône varietals, like John Alban. And initially they made their wine in Alban Vineyards' cellars. John Alban, one of the Rhône Rangers, was the first to show the world how well these Rhône varietals could grow in California's Central Coast. Ever humble and modest, John has been a tremendous leader and mentor to others. By 1997, Elaine and Manfred were able to set up a winery in Ventura, California in an industrial warehouse space. Eventually, they were able to buy some of their own vineyards, and now they own the following four vineyards in California: Eleven Confessions Vineyard in the Santa Rita Hills near Buellton, The Third Twin Vineyard near Los Alamos, Molly Aïda Vineyard in Tepusquet Canyon near Santa Maria and their home vineyard Cumulus located in Oak View near Ojai. And in 2012, they built a new winemaking facility at their home in Oak View, California. Now, on to our impressions of the wines: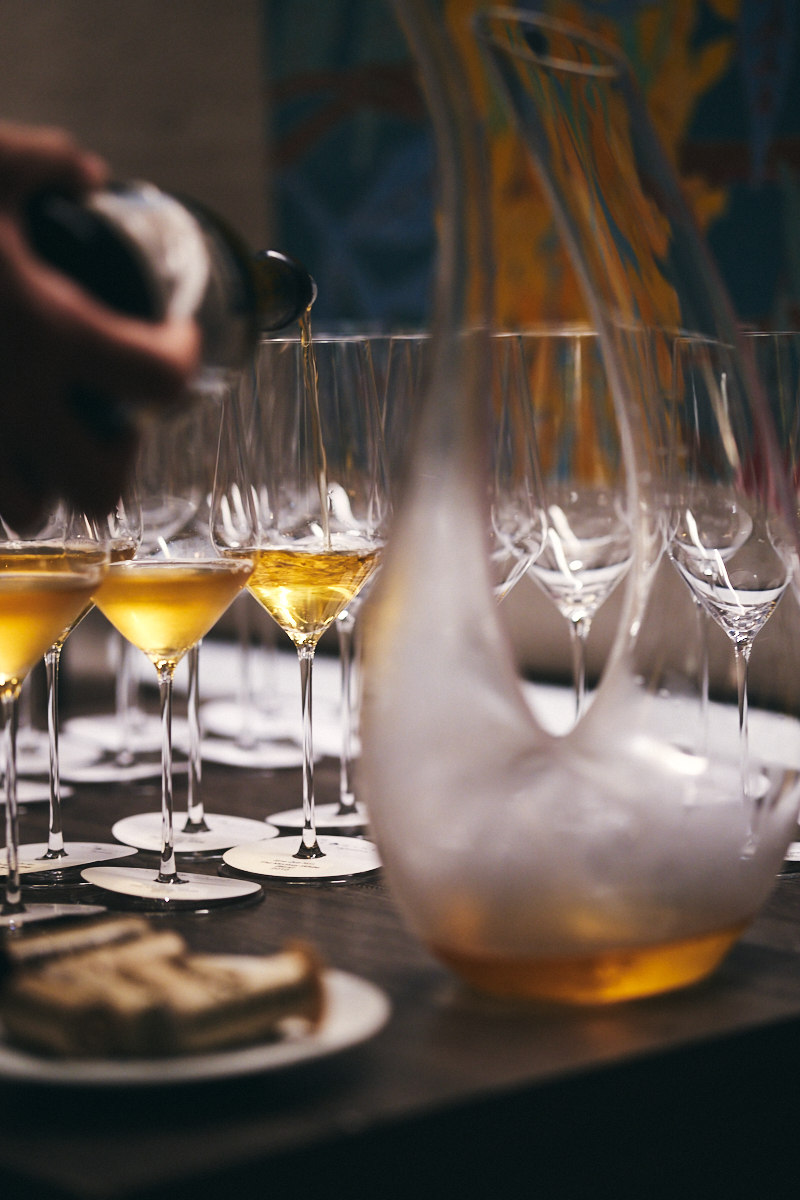 The Whites:
2013 Sine Qua Non Résisté
45% Roussanne, 26% Chardonnay, 14% Petite Manseng, 10% Viognier and 5% Marsanne that spent 19 months in 46% new French oak and the balance in concrete eggs and used barrels. The fruit for this wine comes from the following sites: 40% from the Eleven Confessions vineyard, 29% from the Cumulus vineyard, and 31% is purchased fruit from the Bien Nacido vineyard.
2013 was a good vintage in the Central Coast for Rhône varieties and for Chardonnay. The warm temperatures over the summer produced small berries resulting in concentrated and flavourful wines.
This 2013 was my favourite white of the two dinners. It reminded me of Hermitage Blanc but richer, with more tropical fruit notes and more weight on the palate. However, the wine wasn't cloying or too heavy to want another glass. It had lift and lemony acidity balancing out the fruit notes of ripe pears, banana, and yellow peaches. The Bien Nacido vineyard is likely most famous for Chardonnay. It's located in the Santa Maria Valley in Santa Barbara County which is an area known for its cooler average temperatures enabling a longer growing season for the grapes.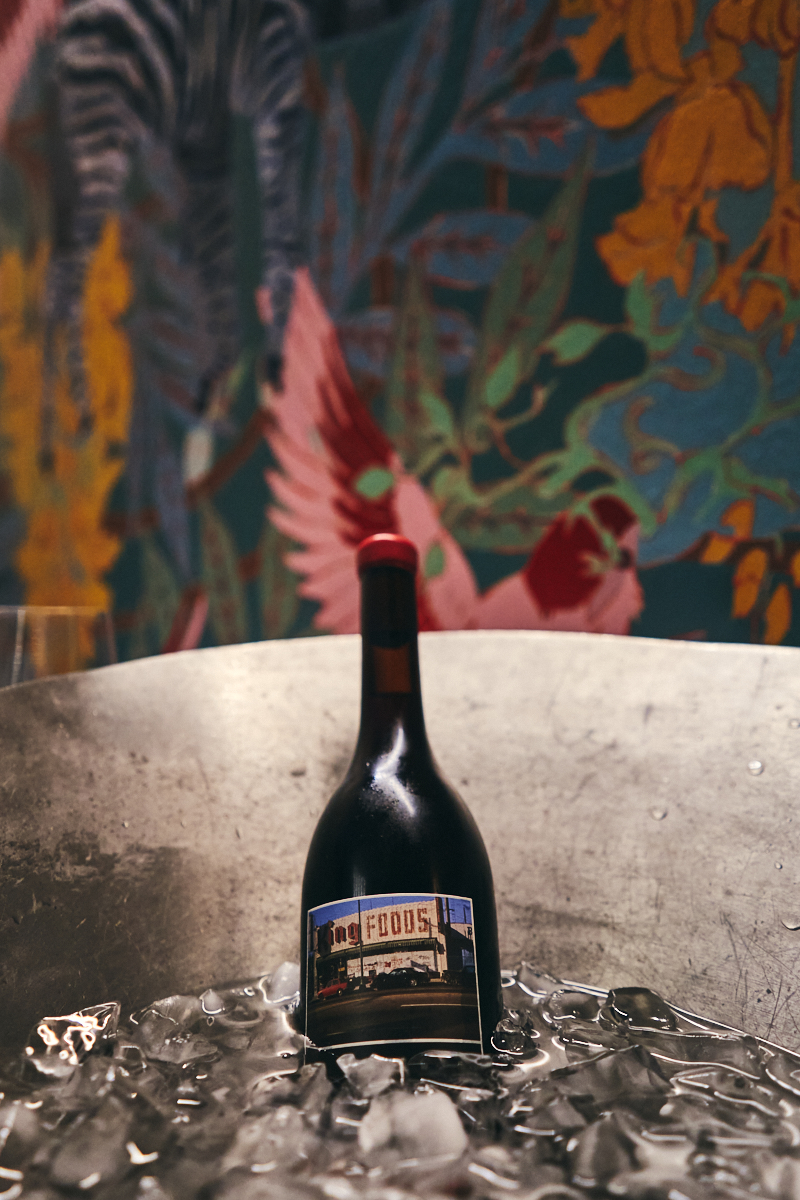 2011 Sine Qua Non The Moment White Blend
57% Roussanne, 19% Petite Manseng, 17% Chardonnay and 7% Viognier, mostly from estate fruit, that spent 16 months in a combination of concrete, new and used barrels, and stainless steel. The fruit comes from the following sources: estate fruit – 45% from Eleven Confessions vineyard and 38% from Cumulus vineyard. Then, 17% is purchased from Bien Nacido vineyard.
The vintage 2011 is best known as a rainy and cold vintage for most of California including the Central Coast. On top of those challenges, frost was another issue in this area of California, so the yields were reduced.
At our first SQN dinner, this 2011 was the second favourite wine of the night. Those who joined that dinner back in October were overall most impressed by the whites and the rosé. The 2011 The Moment White Blend showed flavours of apricot, nectarine and other stone fruits with a honeyed character to the fruit; it didn't have the youthfulness and lively acidity of the 2013. At the second dinner, this wine showed more toasty notes on the nose and a richer more opulent expression aromatically and on the palate. I wanted the richer elements of the wine to show in the glass, so I served the wine from decanter at the second dinner and a bit warmer.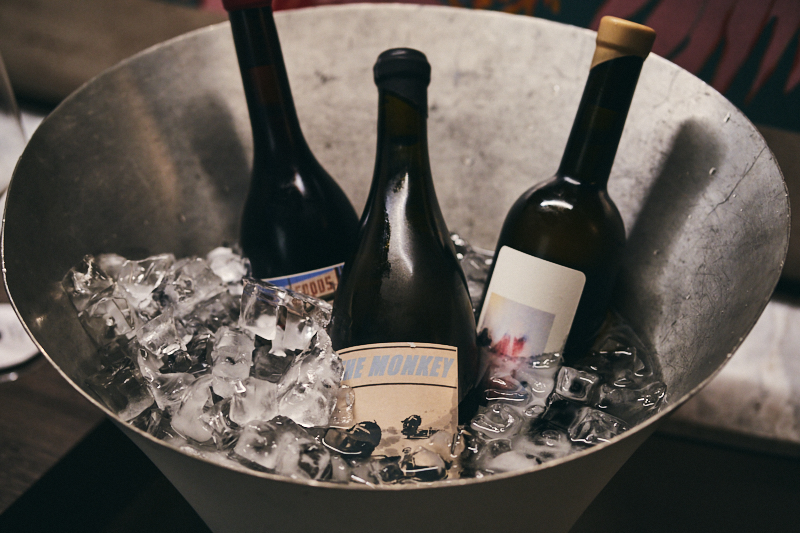 2010 Sine Qua Non The Monkey White Blend
58% Roussanne, 23% Viognier and 19% Chardonnay. The majority of the fruit is coming from the estate vineyards of Eleven Confessions and Cumulus. Then, there is also purchased fruit from Bien Nacido vineyard.
The 2010 growing season was a cool one, but it also experienced some heat spikes. Overall, the irregular growing season proved favourable for Rhône grape varietals because it allowed for longer hang time which tends to produce wines with brighter acidity.
The 2010 The Monkey White blend showed an earthy minerally quality on the nose with ripe citrus notes of mandarin oranges combined with yellow peaches and exotic spices. These flavours conveyed a complex and rich expression.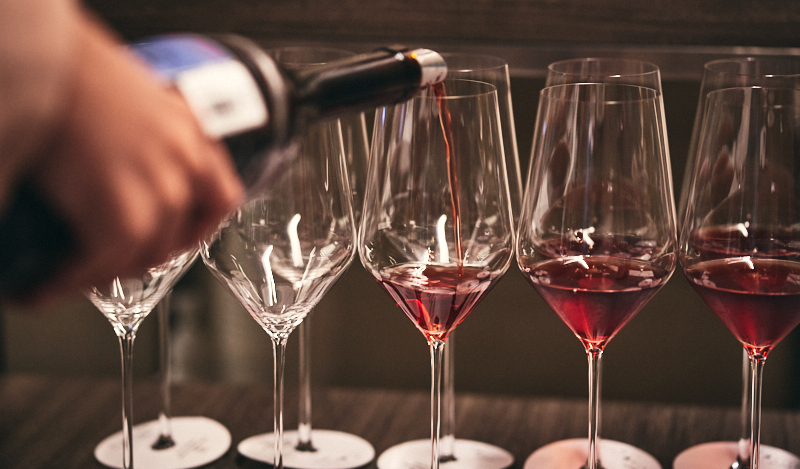 2013 Sine Qua Non And An Eight Track Rosé
85% Grenache, 10% Mouvèdre and 5% Syrah.
In our first SQN dinner, some of you were quite taken with the 2013 And An Eight Track Rosé. It's a very unique rosé that stands out right away with its darker colour in the glass appearing more like a light Pinot Noir than a rosé. Also, the aromatics are distinctly different from what we normally associate with rosé. This wine delivered aromas of cinnamon and savoury spices combined with notes of crushed autumn leaves. There was aromatic intensity to the wine from its spice flavours and earthy notes that intermingled with red berry flavours of wild strawberry and cranberry.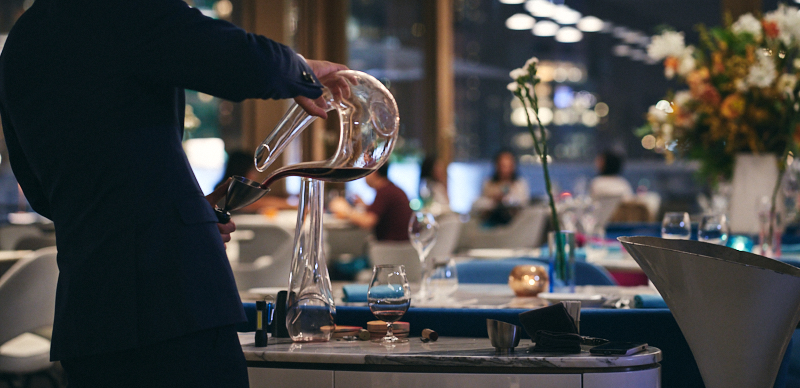 The Reds:
2004 Sine Qua Non Covert Fingers Pinot Noir
Fruit from Arita Hills vineyard located in Santa Rita Hills AVA, California; 100% de-stemmed and aged in 70% new French oak (the rest in 1-3-year-old barrels), never racked, and bottled unfined and unfiltered, 462 cases made.
The Santa Rita Hills where the purchased fruit for this wine comes from is considered one of the best sites for growing Pinot Noir owing to its calcareous soils and cooling winds. These conditions produce Pinot Noir with darker fruit character, intense aromatic expression and concentrated flavours.
The 2004 vintage in the Central Coast experienced very hot temperatures in August and September, so harvesting took place early and quickly. At both dinners this wine showed intense aromatics. Violet floral notes, sweet baking spices and dark raspberry flavours combined in the glass creating a concentrated and flavourful feel on the palate with a bit of alcohol being felt on the finish.
2002 Sine Qua Non Hollerin' M Pinot Noir
Fruit from the famous Shea Vineyard in Oregon's Willamette Valley – a 4-acre (1.62 hectare) plot; 704 cases made. The Pinot Noirs made by SQN were from purchased grapes, and they started making Pinot Noir in 1996 with 'Left Field' and stopped in 2005 with 'Over and Out'.
Like the 2004 Covert Fingers Pinot Noir, the fruit for this wine is also from one of the greatest sites for Pinot Noir. The 2002 vintage in Oregon's Willamette Valley was a very good vintage for Pinot Noir because it experienced a long growing season. Dry weather conditions throughout the winter resulted in a smaller crop, but that ended up being a good thing for winemakers.
The 2002 showed darker fruit aromas, notes of dark cherry combined with earthy notes and a bit of spice at the end. There was less alcohol and greater concentration on the finish. At the second dinner this wine showed more developed character with aromas of old leather and an earthy morel mushroom note.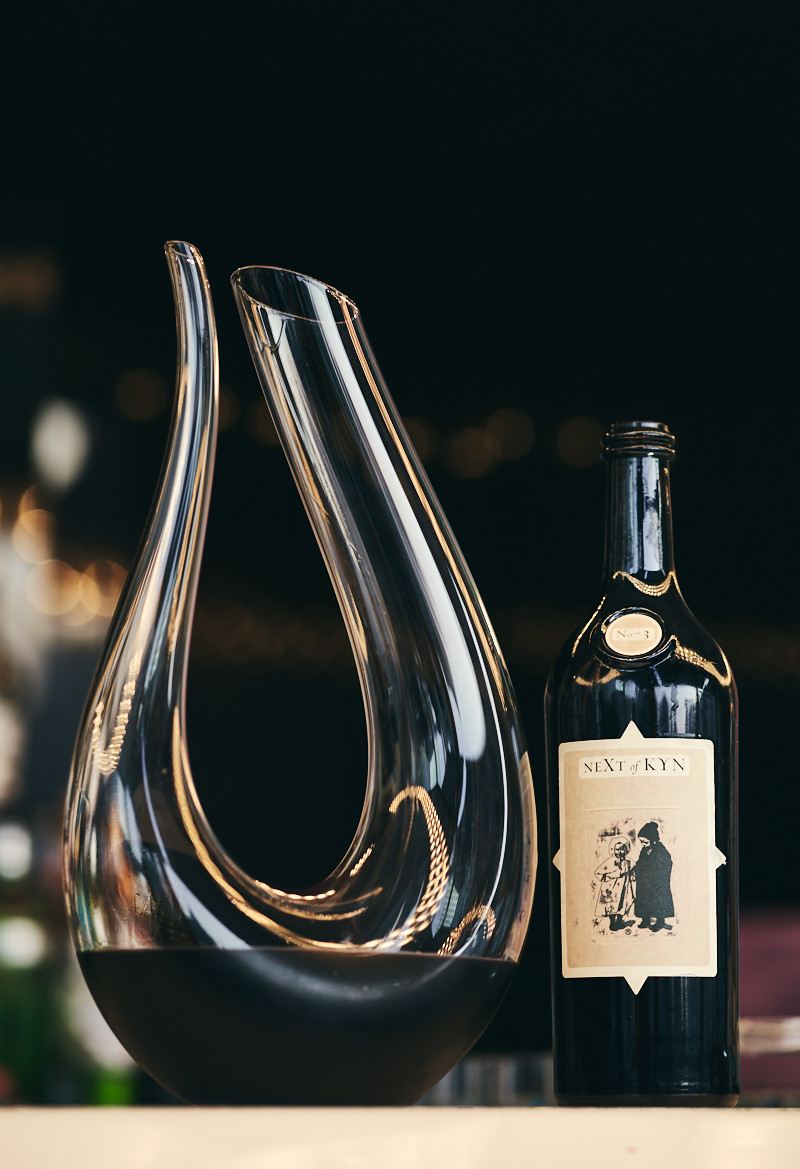 2011 Sine Qua Non Cumulus Vineyard 'Next of Kyn'
42% Syrah, 32% Grenache, 16% Mourvèdre, 7% Petite Sirah, 3% Touriga Nacional. Coming from their sister project Next of Kyn (the first vintage was 2007), this wine is made in small quantities and most of the fruit comes from their estate vineyard Cumulus. It was their first completely owned estate vineyard and was planted in 2004 to Syrah, Grenache and Roussanne. In 2008, they added Petite Sirah, Mouvèdre and Touriga Nacional, so those grapes are also part of the blend in the 2011 and 2010 Next of Kyn. In this vineyard the soils are clay, loam and limestone, and they do high density planting. The low yields that result produce concentrated wines.
The 2011 'Next of Kyn' showed more dark cherry fruit notes combined with a bit of cassis and dark berry notes. Overall, this wine was fresher with a floral perfumed quality and less power and weight than the 2010 and 2009. The 2011 was shown beside the 2009 in our second SQN dinner and offered a sharp contrast showing the range of character that can come from this vineyard site depending on the blend and vintage conditions.
2010 Sine Qua Non Cumulus Vineyard 'Next of Kyn'
The 'Next of Kyn' wines started out being mostly de-stemmed but in 2010 they started using 24% whole cluster. It showed aromas of cassis, dark berry notes, blueberry fruit, liquorice and was full-bodied and powerful in expression; the wine was quite structured and can easily take more time in the cellar.
​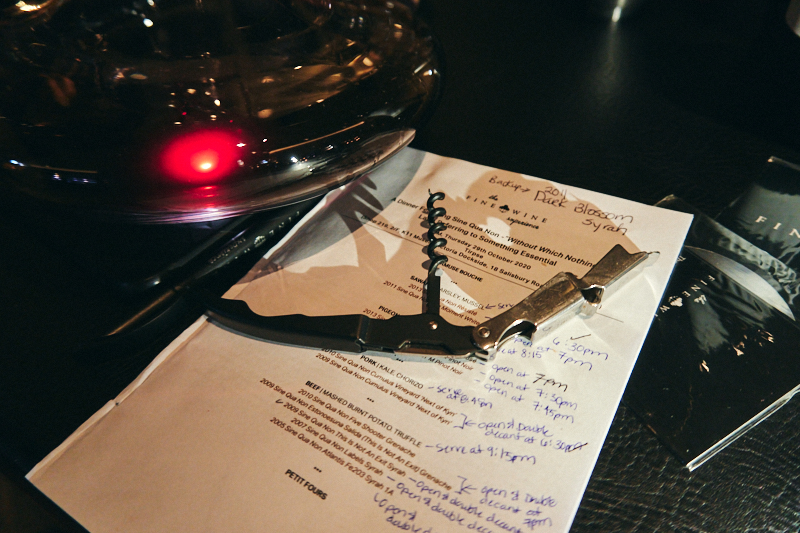 2009 Sine Qua Non Cumulus Vineyard 'Next of Kyn'
The blend for the 2009 is 80% Syrah, 14% Grenache and 6% Roussanne. The ageing regimen for the 'Next of Kyn' wines is usually 30 months in French oak barrels with 30% being new (for recent releases the new oak can be up to 50%).
In 2009, the Central Coast experienced some drought conditions during the growing season as well as a heavy rainstorm on the 13th of October during the harvest time. These conditions combined to produce less fruit, but the wines are giving with flavour and bright aromatics.
The 2009 'Next of Kyn' was included in both dinners and each time the wine showed riper fruit flavours and more intensity on the nose than the 2011 or 2010. It displayed blackberry and dark berry fruit notes with silky tannins and a concentrated finish.
For the final flight of wines at each SQN dinner, we put together a lineup of Grenache and Syrah with at least nine to ten years of age in order to see what happens to these wines after some years have passed.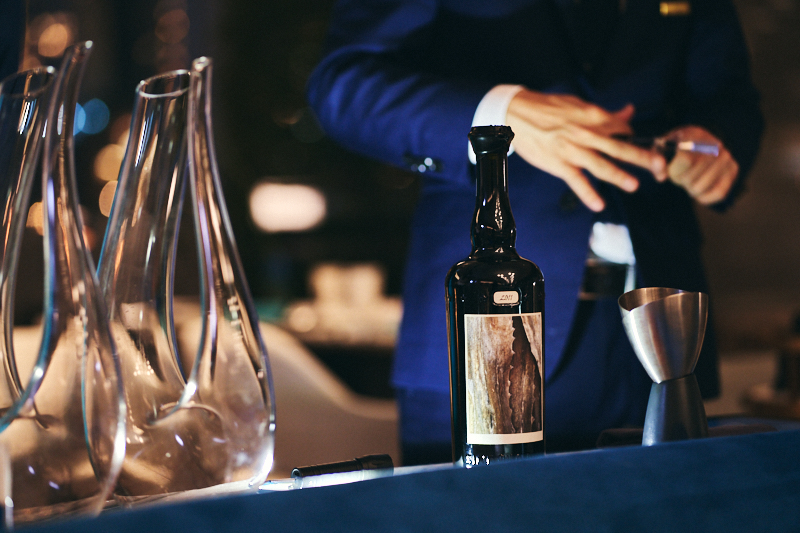 2011 Eleven Confessions Vineyard Patine Grenache
77% Grenache, 22% Syrah and 1% Viognier. Made with 25% whole clusters, the wine spent 33 months in French oak barrels with 11% being new.
At the second SQN dinner, the 2011 Eleven Confessions Vineyard Patine Grenache was the first wine in the last flight. The nose conveyed a youthful character and a perfumed expression of violets combined with blackberry, dark raspberry, dark cherry and plum fruit notes that were pure in expression. Savoury herbal flavours and dark chocolate also intermingled with these dark fruit notes.
2010 Sine Qua Non Five Shooter Grenache
75% Grenache, 16% Syrah, 2.5% Mourvèdre, 4.5% Roussanne and 2% Viognier; 20% is whole cluster. For the ageing, this wine spent twenty months in 75% used French oak barrels with the remainder in new French oak and concrete.
In our first SQN dinner, the 2010 Five Shooter Grenache followed the 2009 'Next of Kyn' and was bolder in expression and more fruit driven. This Five Shooter Grenache showed intense dark berry fruit character with flavours of blueberry, blackberry and dark raspberry with notes of liquorice and supple tannins. A minerally quality was underlying the generous fruit providing lift and freshness.
2009 Sine Qua Non Estonoesuna Salida (This Is Not An Exit) Grenache
79% Grenache, 15% Syrah, 3% Viognier and 3% Roussanne; For ageing, this wine spent 31 months in French oak barrels with approximately 35% new. This fruit is from the SQN Santa Rita Hills Eleven Confessions Vineyard just like the Syrah that was included with it in our first SQN dinner.
The 2009 Estonoesuna Salida was the second favourite wine of the night at both SQN dinners. At the first dinner it tied with the 2011 The Moment White Blend. I adore Grenache and for me SQN shows this grape at its finest, different, yet rivalling other expressions that are some of my favourites like Château Rayas. This 2009 Grenache expressed a perfumed character on the nose with aromas of purple flowers and delicate fruit notes of blue and black fruits. The flavours were more intense on the palate yet refined with a silky texture and lingering finish.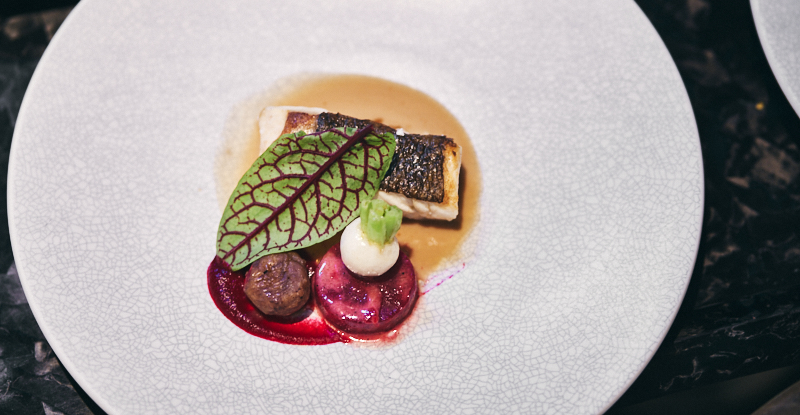 2011 Eleven Confessions Vineyard Patine Syrah
97% Syrah, 2% Roussanne and 1% Viognier. Made with 22% whole clusters and aged for 39 months in French oak barrels, 63% new.
The Eleven Confessions Vineyard is located in the Santa Rita Hills, an area that is very much influenced by wind. In the Northern Rhône, Le Mistral, its famous wind, is influential on the resulting wines especially with respect to the aromatic expression of Syrah. When grown in the Santa Rita Hills, Syrah can deliver a marked perfumed note in the wines, somewhat similar to what we find in the Northern Rhône. The 2011 Patine Syrah was included in our second SQN dinner.
Some were very taken with this 2011 Patine Syrah because of its pretty aromatics. It conveyed youthful qualities with bright red berry fruit, floral notes and sweet spices along with dark cherries, plums and dark chocolate flavours on the palate. An air of elegance combined with depth stood out in this wine.
2009 Sine Qua Non This Is Not An Exit Syrah
80% Syrah, 12% Grenache, 7% Roussanne and 1% Viognier; For ageing, this wine spent 41.5 months in French oak barrels with approximately 65% new.
The 2009 This Is Not An Exit Syrah was served at our first SQN dinner. It showed more structure and savoury aromatics as opposed to its Grenache counterpart. In this glass, flavours of white pepper and sage combined with cassis and dark cherry notes. Then, on the palate, this wine conveyed a more structured feel with the tannins being present.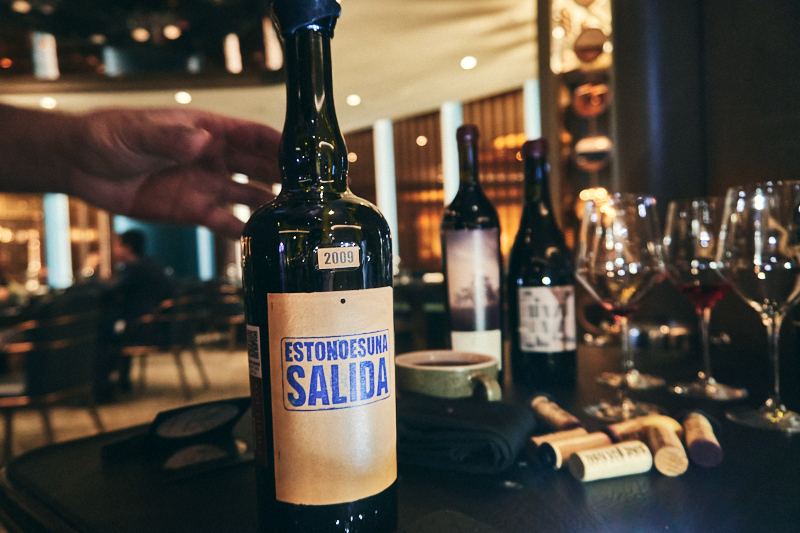 2007 Sine Qua Non Labels Syrah
89% Syrah, 7% Grenache, and 4% Viognier. For this wine, 57% of the fruit comes from the Eleven Confessions Estate Vineyard, a small amount from the home estate vineyard in Oak View called Cumulus, and the rest from purchased fruit grown in the White Hawk Vineyard in Los Alamos and the Bien Nacido Vineyard in Santa Maria.
The 2007 vintage was very favourable for Grenache and Syrah in the Central Coast. The cold winter and dry spring led to small berries producing wines of concentration and intensity but not as structured and tannic as 2005.
The 2007 Labels Syrah was served at both dinners and showed savoury spices, a smoky note and flavours of fresh and dried fruit with predominately dark raspberry and dark cherry in the glass. This wine was more restrained on the palate than the 2009 This Is Not An Exit Syrah that was shown next to it in the first dinner. And in the second dinner, it came after the 2011 Patine Syrah and conveyed a more developed quality with aromas of old leather and more dried fruit notes.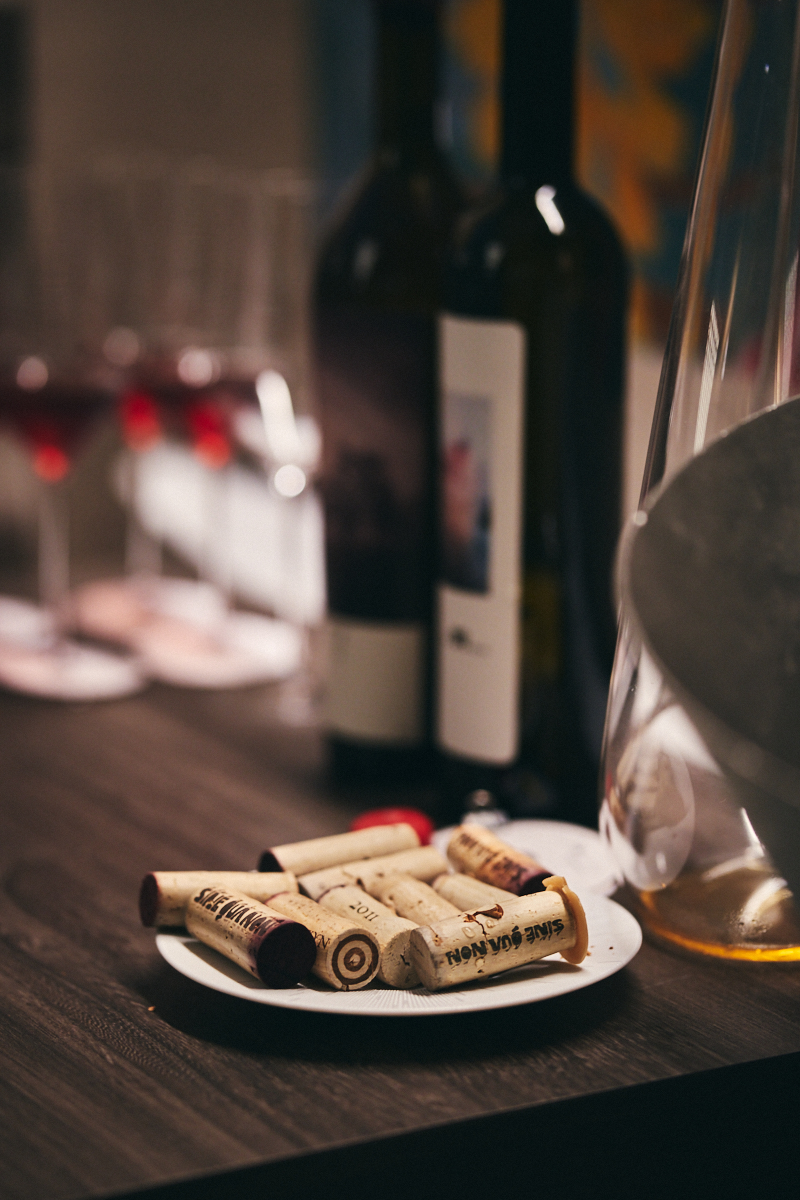 2005 Sine Qua Non Atlantis Fe203 Syrah 1A
93% Syrah, 5% Grenache, and 2% Viognier; it's made with 25% whole cluster. This wine comes from a combination of sources with 43% from the Eleven Confessions estate vineyard, 28% from the White Hawk Vineyard, 21% from the Alban Vineyard, and 8% from the Bien Nacido Vineyard.
The 2005 vintage was a bit delayed in terms of ripeness, but in the end delivered good quality Grenache and Syrah in the Central Coast.
At the first SQN dinner, this wine was the overall favourite wine of the night and was also my favourite. I liked this wine because it offered the most complexity and was also graceful in its expression. The 2005 Atlantis Fe203 Syrah 1A showed aromas of blackberry and cassis with floral notes and a hint of white pepper and exotic spice. These flavours continued onto the palate and combined with fine grained tannins giving a refined and lasting finish.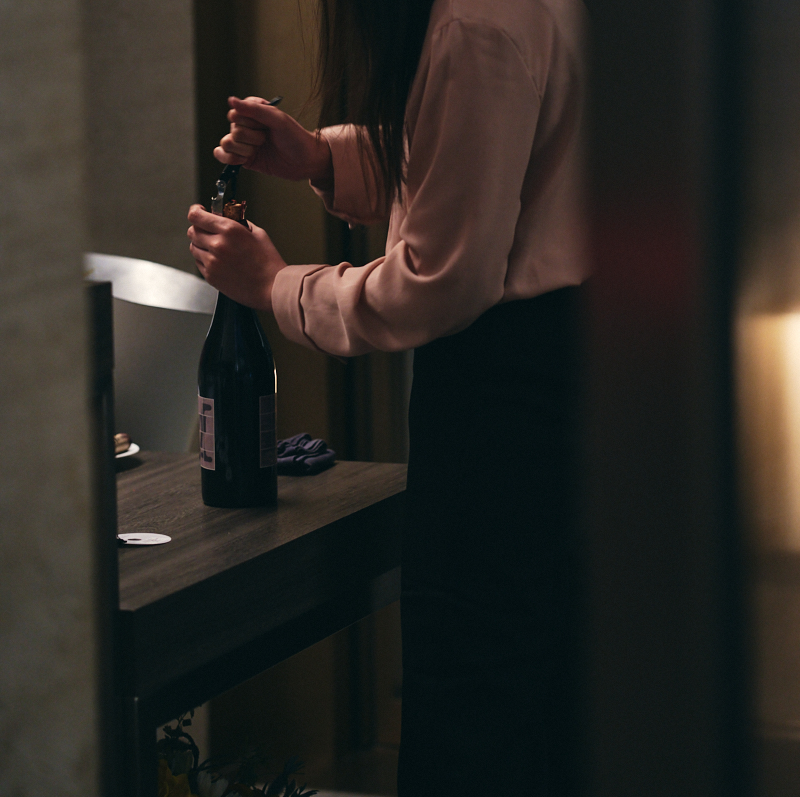 2003 Papa Syrah
97% Syrah, 2% Mourvèdre, and 1% Grenache sourced from six different vineyards: White Hawk vineyard, Alban vineyard, Shadow Canyon vineyard, Bien Nacido vineyard, AltaMesa vineyard, and Eleven Confession vineyard. This wine is dedicated to Manfred's father.
The 2003 vintage experienced up and down growing conditions. It began with warm temperatures in February, and then cool and wet weather in April. The months of June and July saw warm weather. Then some cool weather in August and rain in September with hot temperatures at the end closed out the growing cycle. Fortunately, the grapes that were produced delivered concentrated wines capable of ageing.
The 2003 Papa Syrah was the overall favourite at our second SQN dinner. It was still youthful in expression and showed aromas of violets, white pepper, savoury herbs like sage and thyme with dark cherry, cassis and dark raspberry fruit notes. The palate was concentrated with the tannins and structure well integrated with the fruit.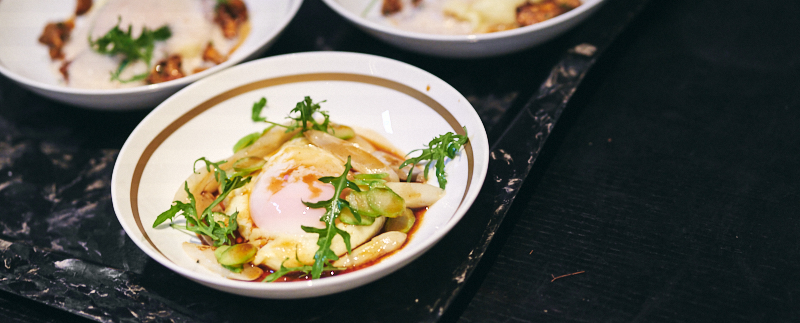 Because of the enthusiasm for these SQN wines, I also included two of them in our most recent "Vintage Pairs" Blind Tasting session. Here were the takeaways from that tasting of SQN wines:
2013 Sine Qua Non - Female Grenache
The 2013 SQN Female Grenache is a blend of 78% Grenache, 19% Syrah, and the rest Mourvèdre that's mostly from the Eleven Confessions Vineyard in the Santa Rita Hills. It's made with 88% whole cluster which is high for SQN.
This wine showed aromatic intensity with notes of violets, purple flowers, sweet herbal flavours and dark berry fruits. It was concentrated and you could feel the alcohol, yet there was a lift to the wine too. It came in as the second favourite wine of the night at our blind tasting session with a bottle of 2000 Domaine Henri Bonneau – Châteauneuf-du-Pape 'Réserve des Célestins' coming in first. This SQN definitely held its own and was a big surprise to many at the tasting for its balance.
2013 Sine Qua Non - Male Syrah
For the 2013 SQN Male Syrah, Manfred used 28% whole cluster. The blend is 80% Syrah, 7% Petite Sirah, 6% Mourvèdre, 3.5% Touriga Nacional, and 3.5% Viognier.
This wine was striking in colour with a deep purple hue. It showed notes of anise, liquorice, purple flowers, blackberry and other dark berry fruit flavours. The wine was full on the palate conveying a bit of alcohol heat at the end.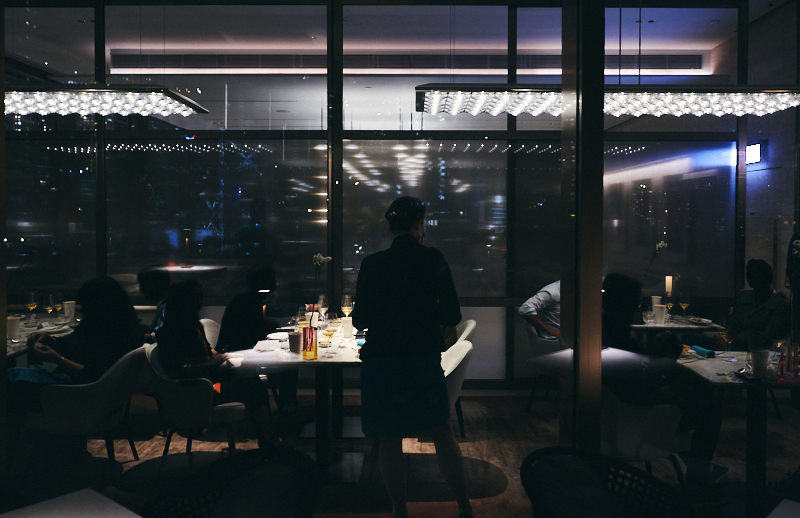 What we learned as we tasted the wines through these dinners and at our "Vintage Pairs" Blind Tasting session is that each wine is distinctly different just as the bottles of SQN suggest. Perhaps that's confusing to Burgundy and Bordeaux lovers who prefer to compare vintage to vintage to see a marked style and vintage change. To understand wines better, we frequently try to define them. The wines of SQN are a bit different with the goal being pure enjoyment; these are wines for experiencing the passion in the glass from those who created them. With each new vintage, Elaine and Manfred give the wine a new name, a new label and a new bottle shape. On their website they explain that they don't see themselves as having a set method, recipe or style for the wines they make. Rather, each year is a new experience that they embrace as a new opportunity to take what nature has given and to make wine reflective of it. As those of you who joined me at the dinners saw, the wines are flavourful and full of fruit. The warmth of California comes through in the wines, and some of you felt the alcohol by the end. Yet, the wines were balanced, even with their ripe flavour and richness, the wines invited you to take another sip. And while some of the wines were more open than others, you could see that the wines are ones you can enjoy now or hold onto. Manfred and Elaine make these wines with that aim in mind too – wines to drink in their youth or to keep in your cellar.
A big thank you to the Chefs and service teams at Tirpse at K11 Musea and at Popinjays at The Murray for hosting our SQN dinners and creating thoughtful menus to pair with these wines.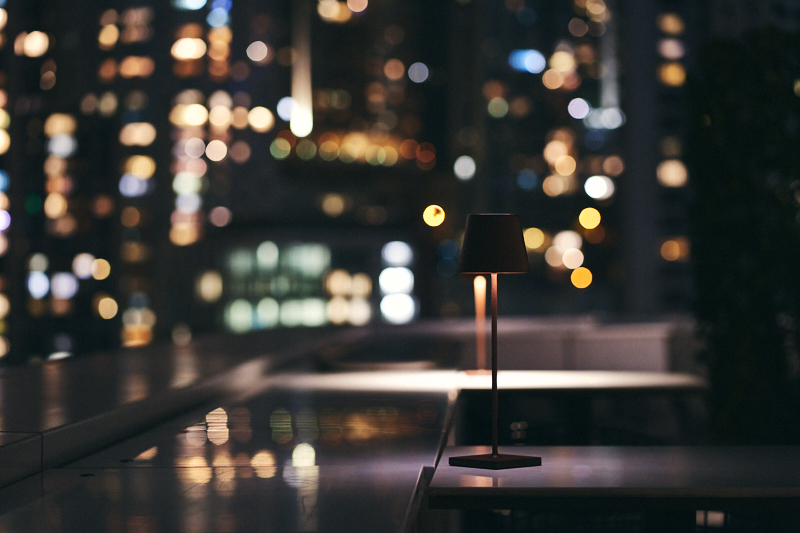 With this review, I've followed our common pattern of relaying my own tasting notes combined with impressions of some of you. I'm not sure this method of sharing these SQN wines with you is best as each one really is so very unique that perhaps word descriptors do not do them justice. Here is our offering of SQN. I encourage you to experience these wines for what they are – fruit forward and in some cases powerful - with the goal of pure enjoyment in mind; save the intellectual study for another time.