© Alexandria Rae Cubbage, 13th August 2019
It was a fun week of Riesling and Spätburgunder this past week at The Fine Wine Experience. Maximin von Schubert of the Maximin Grünhaus estate in the Mosel came to see us in Beijing and Hong Kong.
Maximin arrived in Beijing last Sunday, and joined Jing, Sora, and Linden and our wine loving friends there for a wine dinner featuring Maximin's wines. Then, he joined us in Hong Kong for our Riesling and Char Siu party. A big thank you to Chop Chop in North Point for the delicious Char Siu! It was Maximin's first time having it, and he especially loved it with his 2016 Maximin Grünhaus - Abtsberg Spätlese. Maximin also lead masterclasses for Macau and Hong Kong's sommeliers who are passionate about Riesling and Spätburgunder. And on Wednesday night, we held a Rarities dinner featuring Maximin's fuder wines at Kin's Kitchen.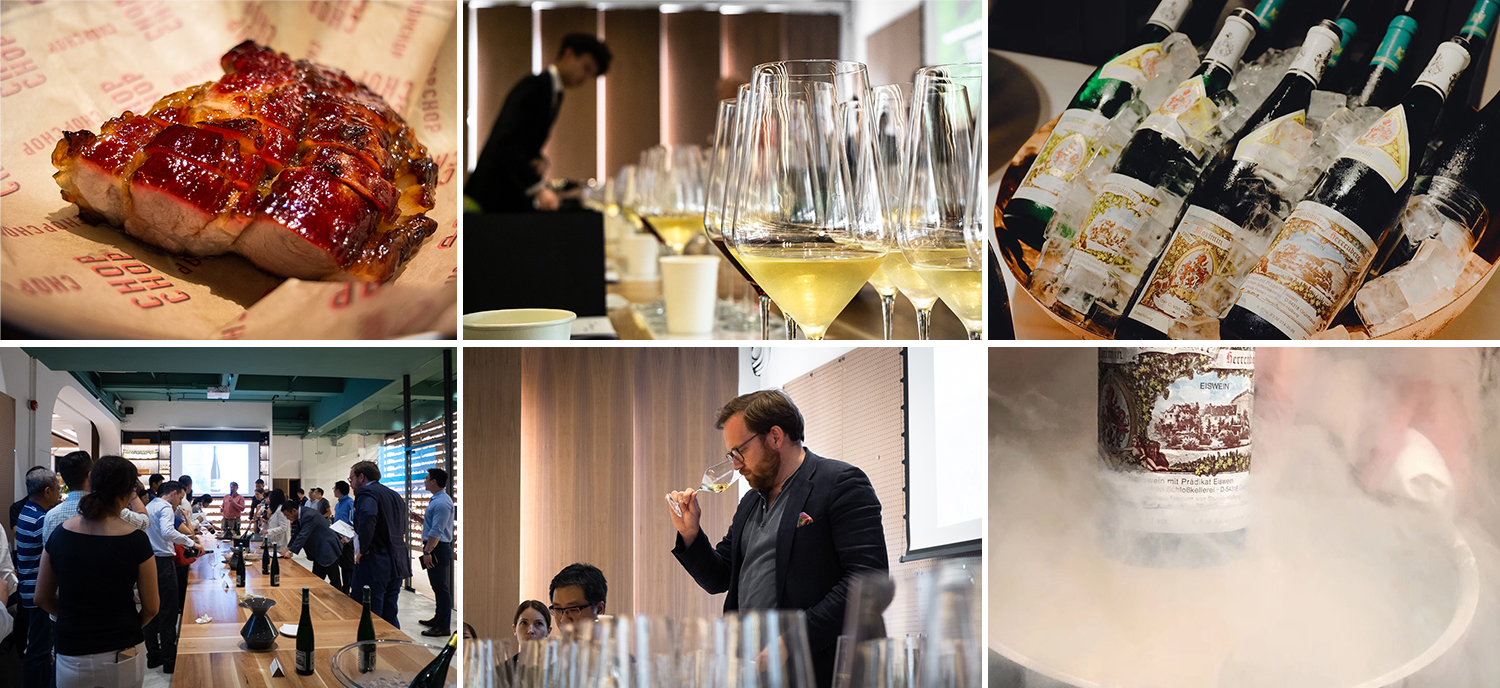 The Maximin Grünhaus estate selects single fuders of Riesling that show special characteristics and are deemed worthy - after tasting - of bottling separately, rather than being blended into the "regular" bottling of a given praedikat. Usually this praedikat level is auslese because it is the broadest in terms of styles - from creamy but very elegant and fresh from fully healthy berries, up to something just approaching the more unctuous and intense concentration of beerenauslese or eiswein. Fuders - German 1000 litre oak casks, which are often very old and therefore neutral, are used at the estate. In practice a "single fuder" wine at Maximin Grünhaus may be exactly that - a 1000 cask of wine bottled separately. But the quantity can also be much less. Also, while auslese is the most typical "single fuder" category, since the estate re-joined the VDP in 2015, single fuder kabinett, spätlese and auslese wines have been sent to the annual September auctions in Trier, and from time to time, in a great eiswein vintage for example, there may also be a "regular" eiswein and a "single fuder" eiswein in a very small quantity. These fuder-designated wines at Maximin Grünhaus always show a fuder number on the label and most often they come from a single fuder, but always they are a special selection - a wine with special enough qualities to be kept out of the regular blend, and bottled separately. The reason behind this special quality can vary - a particular plot of origin, special botrytis character, different aroma profile, etc. But always they are one of the great treats of following this estate. I recommend taking a close look at our list below and taking home some of these. The wines will be perfect for your upcoming Mid-Autumn Festival celebration. Don't forget the mooncakes and the Riesling!
We captured a few memories for you to enjoy from Maximin's tour of Asia with The Fine Wine Experience. If you missed it this time, be sure to join in the fun next time!