By Alexandria Rae Cubbage, 5th November 2020
The Napa Valley has been on my mind this fall as I learned of friends and family being evacuated due to the fires and smoke again at the end of September and received images that looked like an apocalypse happening in the sky. Charred vineyards, destroyed wineries and barrel houses still dot the landscape. One of the places I frequently stopped at for a quick bite to eat or a glass of wine in between winery visits, the Meadowood Resort Grill, is no more. This valley is special to me for the loved ones who live there and because it's where I started learning about wine. I used to go visit wineries on my weekends and during the summer while I was in law school in San Francisco. I fell in love with Cabernet Sauvignon from those visits. And now, it's one of my go to regions when I want to enjoy wines with age.
SEPTEMBER 28: Cathedral City firefighter Russ Barrsness puts water on a burning structure at the Meadowood Napa Valley resort in St. Helena, Calif., on Monday, Sept. 28, 2020 ©Jane Tyska/Bay Area News Group
I used to crave power and ripe, dark berry fruit in a wine. Now, I want elegance, restraint, acidity balancing the fruit, and usually a wine with quite a bit of age too. For me, the strength of a wine shows through in its ability to age; that's usually how I determine if I like a specific domaine or winemaker. Recently, I've been drinking quite a lot of aged Napa Valley Cabernet Sauvignon and have been reminded of just how special these wines are for those of us who enjoy older wines. That's especially true if you are looking for good buys. Some of my favourites from the 1960s and 1970s are Beaulieu Vineyards Georges de Latour Private Reserve Cabernet Sauvignon, Robert Mondavi Winery, Chappellet Vineyards and Mayacamas Vineyards.
Likely few have done more to shape the winemaking history of California than Beaulieu Vineyards ('BV'), and more specifically, winemaker André Tchelistcheff. He would go on to transform not only Beaulieu Vineyards but countless other wineries, winemakers, (Joe Heitz of Heitz Cellars, Mike Grgich of Grgich Hills, Theo Rosenband formerly of Sterling, Rob Davis who recently retired from Jordan and Jill Davis formerly of Buena Vista, William Hill and most recently Lambert Bridge), and wines to follow.1 André Tchelistcheff was also the first person to use the wine descriptor "Rutherford dust." As Stephen Tanzer explained in his article for Vinous, this term is another way of saying "clean dirt." And it 'is widely used as a general descriptor to characterize the region's unique terroir, encompassing the notes of pencil shavings, cocoa powder, chocolate, tobacco, coffee, and loam that are frequently shown by the wines from this area, as well as their underlying minerality and powdery, fine-grained tannins.'2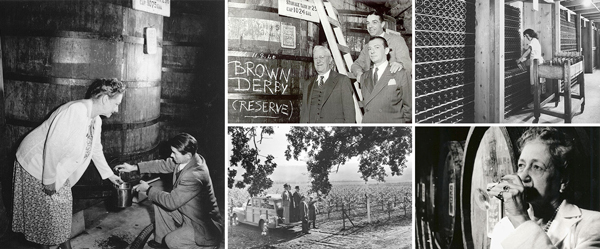 ©Beaulieu Vineyard
In 1900, Georges de Latour's wife, Fernande, gave this vineyard its name, "beau lieu" or "beautiful place". Soon after Georges de Latour purchased the four-acre piece of land in Rutherford with the goal of making top level wines to rival those of his native France. In 1938, he travelled to France and met famed winemaker and viticulturalist, André Tchelistcheff, and convinced him to come and make the wines at BV.
Georges de Latour considered the 1936 Cabernet Sauvignon to be the best wine he ever made, so in honour of him Tchelistcheff labelled the wine 'Georges de Latour Private Reserve'. The wine received international fame and would become one of the most famous wines in Napa's history; it cost USD 1.50 per bottle at the time.3 In 1940, BV released the first vintage and called it 'Georges de Latour Private Reserve Cabernet Sauvignon'.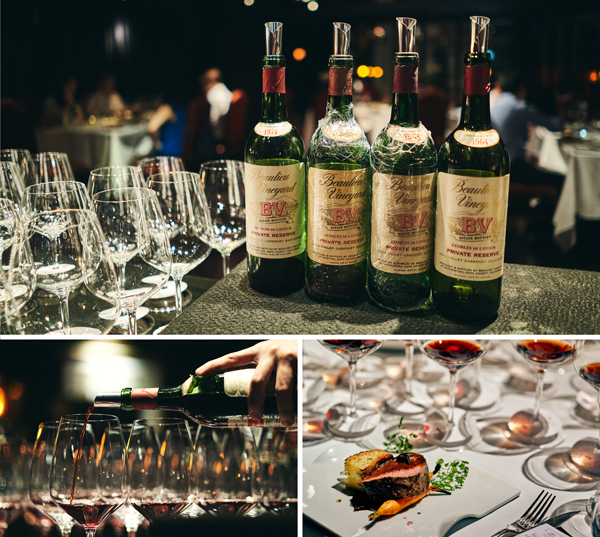 Recently, we hosted a retrospective of this wine, featuring the following vintages: 1964, 1968, 1973, 1974, 1976, 1977, 1978, 1979, 1983, 1984, 1985 and 1987. The overall favourite wine from the dinner was the 1973 with the 1968 and 1979 tying for second place. In Napa 1968 is an excellent vintage, and André Tchelistcheff called the 1968 the greatest vintage he made. We found this wine to still be thriving. While showing developed aromas of black tea and dried plums along with notes of cassis, tobacco and dark chocolate, it was concentrated with elegance and delivered a lasting finish. I found a bit of that Rutherford dust in my glass too. The surprises for me at the dinner were the 1973 and 1977. I've never heard anyone discuss this wine as being strong in these years, but indeed the delicate qualities of the 1973 were alluring to many at the dinner with one person saying it reminded him of Burgundy. The 1973 showed floral perfumed aromas and red fruit notes with delicate red berry flavours and notes of thyme and mint; it was a very pretty expression of BV Georges de Latour.
If you are a 1977 and have been looking for a wine from your year, the BV Georges de Latour is a good choice. It delivered perfumed notes of dried roses, sweet baking spices - notes of cinnamon, vanilla and clove - intermingled with aromas of old leather and fruit scents of fresh and dried cherries and cassis. The tannins were well integrated and delivered a pleasing finish.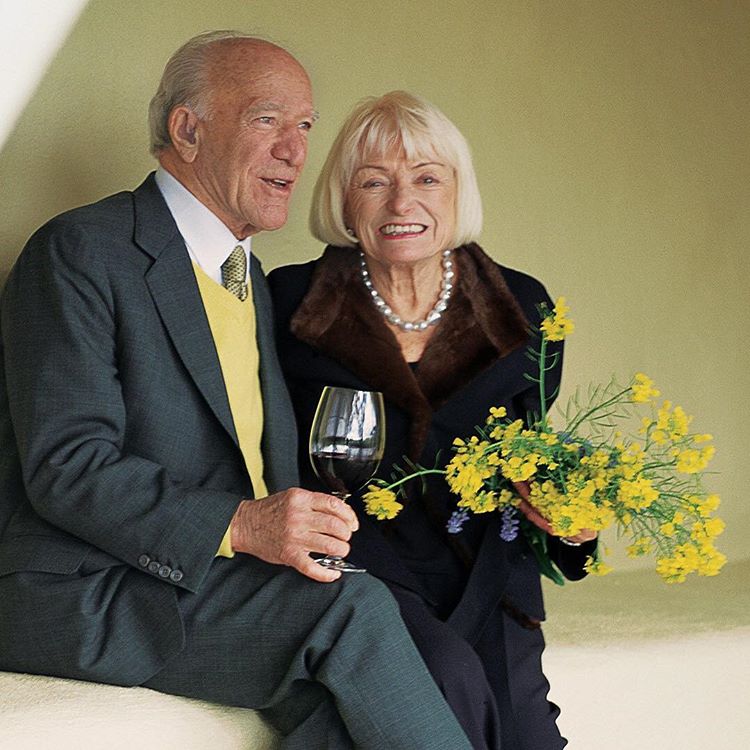 ©Robert Mondavi Winery
While BV represents the initial days of Napa winemaking, Robert Mondavi brought a whole new way of promoting the region's wines. In 1966, Bob bought a 12-acre piece of the historic To Kalon vineyard from the Stelling Family and set up the Robert Mondavi Winery. The new winery that Bob constructed was the first new winemaking facility built in Napa since the repeal of prohibition and the most technologically advanced. In addition, the building he constructed was intended not only as a winery but as a hospitality centre. Bob Mondavi believed and promoted wine as part of a lifestyle and cultured way of life. The Robert Mondavi Winery was often referred to as "The University of Mondavi," as it was the first to use stainless steel fermentation tanks in California, used the best French oak early on, tried most of the new innovations over the years and can be credited with being the training ground for those who would go on to become the wine industry's leaders. We have the 1978 Reserve Cabernet Sauvignon on our list in magnum which offers a very fine example for exploring the wine quality from Napa in the 1970s.
BV taught us about Rutherford dust and Robert Mondavi shared with us the attributes of the To Kalon vineyard and helped us understand wine as part of a lifestyle, then Chappellet would identify Pritchard Hill as one of the legendary terroirs for growing Bordeaux varietals in Napa. Chappellet was founded in 1967 on Pritchard Hill by Don Chappellet on the recommendation of legendary winemaker André Tchelistcheff. We now know this mountain winegrowing site of Pritchard Hill to be one of the best sites for growing Bordeaux varietals because of Chappellet and other wineries like Colgin, Bryant Family, Continuum and Ovid that followed. So, if you've been drinking those California cult wines I just mentioned and you like old Cali, I encourage you to try Chappellet. The vineyards are north-west facing and situated above the fog line at 244 to 549 metres in elevation with volcanic soils that include iron and other minerals. These attributes produce wines that are structured, intense and long lived. We have an example from the legendary 1974 vintage for Napa in magnum. Perhaps line this up at dinner with some of your Colgin and Bryant Family to see how this one measures up with the more recent wineries up on Pritchard Hill.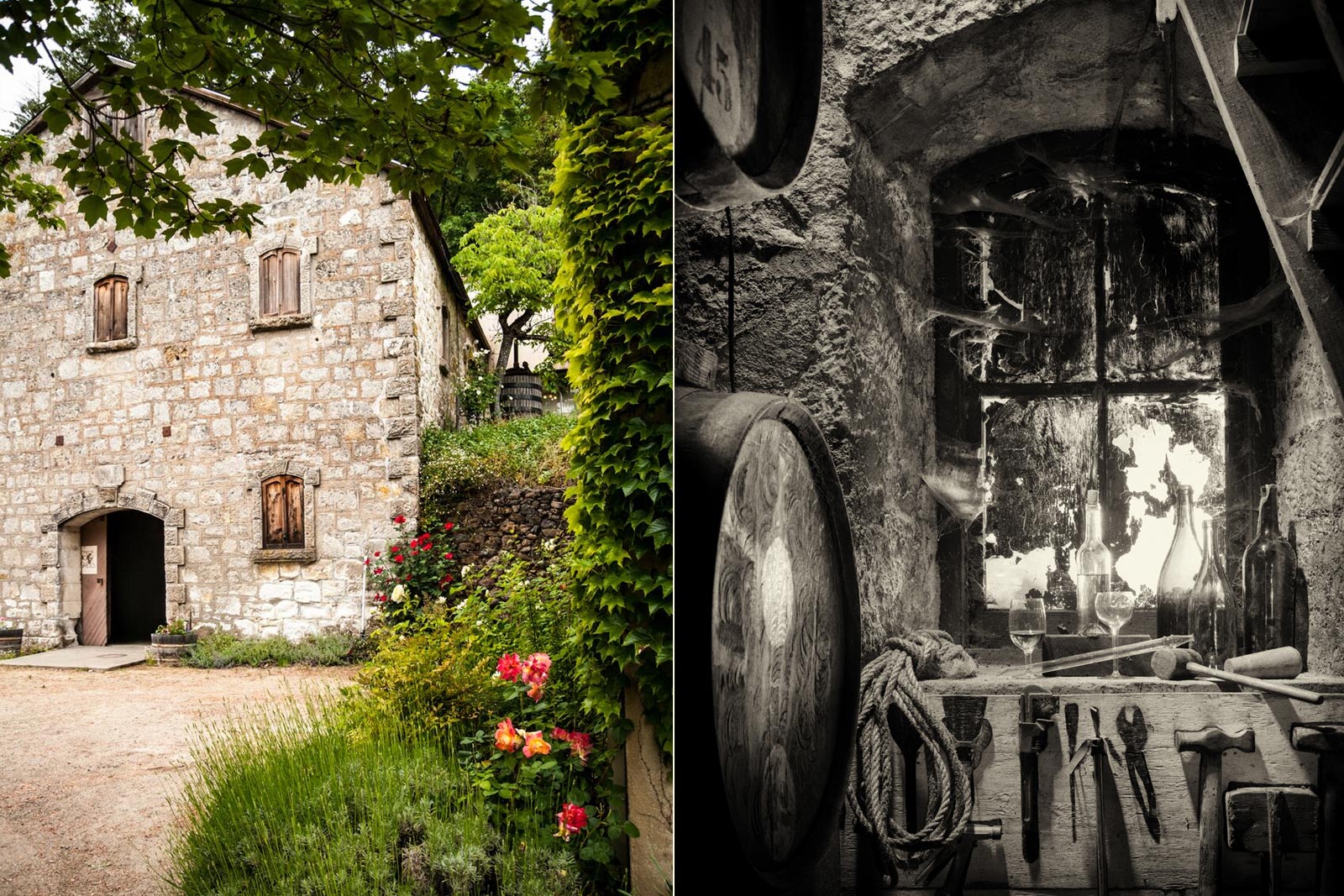 Mayacamas Winery, 2013 & 1955 ©Mayacamas Vineyards
Another winery that taught us about the strengths of Napa's mountain fruit early on was Mayacamas Vineyards. There was winemaking happening at this estate back in 1889, and it was originally known as Fisher & Sons. The earthquake of 1906 forced John Henry Fisher to sell. This estate changed hands several times and in 1941, it was purchased by Jack and Mary Taylor who renamed it Mayacamas Vineyards after the famous mountain range located on Napa's western side.
This mountain range and the Vaca range (located on Napa's eastern boundary where famous sites Pritchard Hill and Howell Mountain are situated) are the two major mountain ranges in Napa produced during the formation of the San Andreas Fault and are very impactful on the grape growing conditions. The elevation of the vineyards ranges from 549 metres to 732 metres. Cool air from the San Pablo Bay and a fairly high average rainfall are other major climate factors here as well as rocky soils made up of shale, fractured sandstone and volcanic rock that produce Cabernet Sauvignon that can be rustic and austere. As a result, it was common practice for Mayacamas to have 10-15% of Cabernet Franc and Merlot in the blend early on.4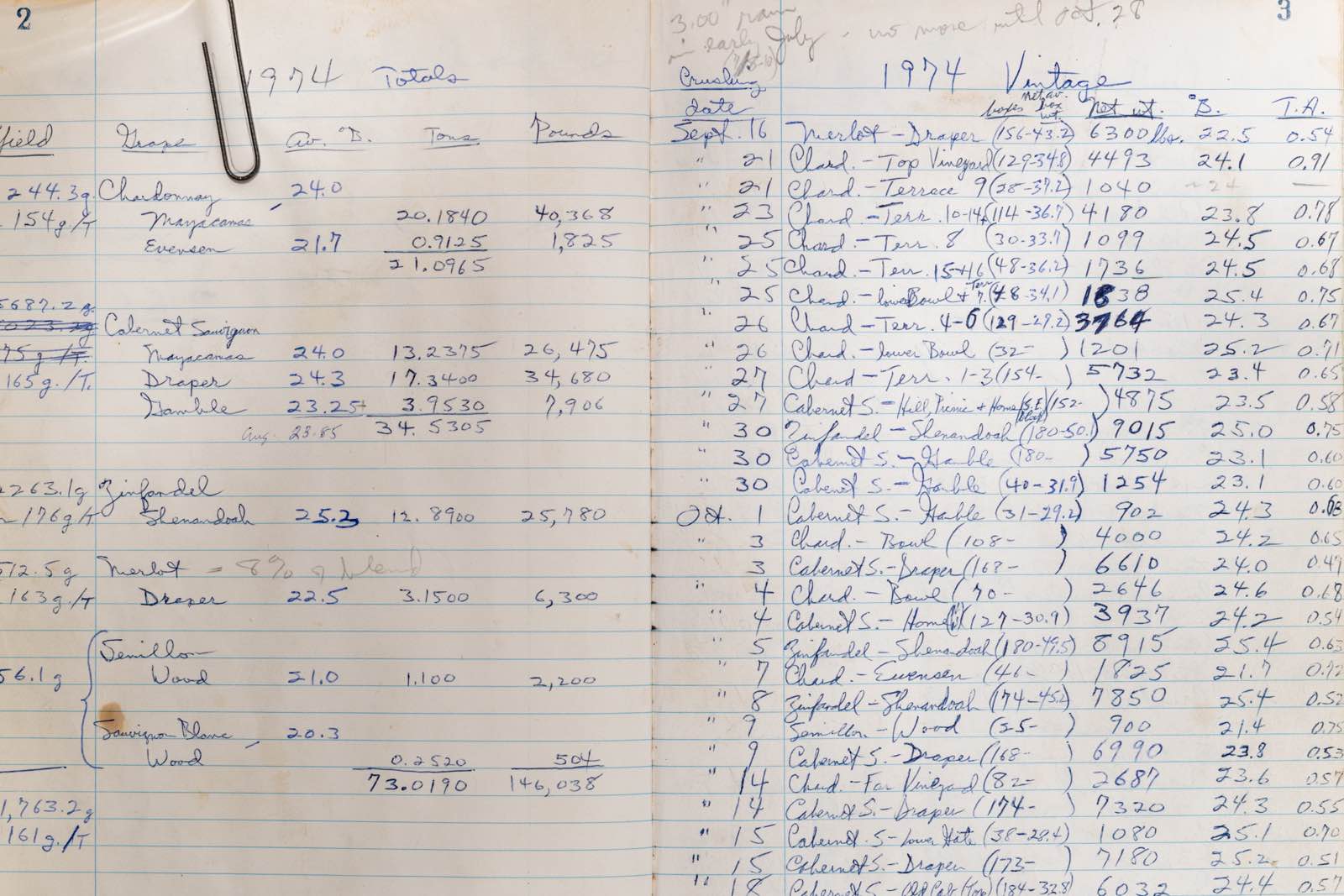 Bob Travers' Notes, 1974 ©Mayacamas Vineyards
In 1968 Bob Travers purchased Mayacamas, and with Bob Sessions already there since 1964, the two together made some of this winery's most legendary wines including the 1971 that was part of the 1976 Judgement of Paris Competition. Bob Travers led Mayacamas for forty-five years keeping the wines true to their original style and resisting the temptation to go for the more modern, ripe expression of Napa wines that became desirable.5 Recently, I drank a bottle of the 1978 and was reminded how much I like the style of Mayacamas. The wine displayed aromas of smoky bacon fat, herbal notes of thyme, burning tobacco, and flavours of dark cherries and blackberries. The fruit was lively in character and still quite fresh with concentration and a solid structure leaving a lasting finish on the palate. It was a favourite of several of us that night. This estate built wines to last and ones that often needed quite a bit of time to come around similar to its counterpart Dunn Vineyards over on Howell Mountain.
Discover some of these old Napa Valley wines over dinner – BV Georges de Latour Private Reserve Cabernet Sauvignon, Robert Mondavi Private Reserve Cabernet Sauvignon, Chappellet Vineyards Cabernet Sauvignon and Mayacamas Vineyards Cabernet Sauvignon. Many people tell me that I like these older California wines just because they taste like Bordeaux. And while I do taste a similarity and have mistaken them at times when tasted blind, I feel there is a terroir character shown in these wines and a fruit quality too that's distinctly California. Taste and explore these California treasures for yourself. We are lucky to have them as the challenges of the fires in Napa have shown us in recent years.
http://bit.ly/AgedNapa