© Linden Wilkie
The pickers began gathering the nectar-laden bunches under fine skies, and we sat agaze 15 gleaming deep gold-laden glasses that bejeweled the room. 172 autumns and 9,558km separated these two events in time and space, but as we lifted the glasses and found the scent of Meursault-Charmes from 1846, that connection pulled tight like a paper cup phone.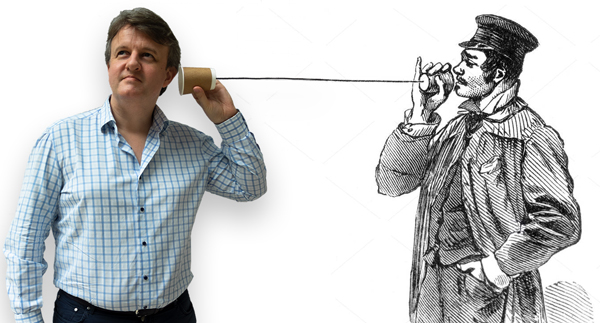 The labels denoting space all bore familiar enough names – Château Latour, Montrachet, Yquem… but the dimension of time is hard to fathom beyond what we might ordinarily call 'old' – say 30 or 40 years for even the finest wines. How does wine taste when it's 120 to 188 years old?
The answer can seem startling: just fine. Great, even. All 15 of our 19th century wines showed at least drinkably, and most surpassed this bar by a lot. It seems like a paradox when so much wine can seem decrepid within an easily fathomable scale in time – like 10 to 30 years. It's as if these 19th century wines pass through an Event Horizon, like 2001: A Space Odyssey's astronaut David Bowman calmly sitting down to dinner in some inexplicable folding of the time dimension, 1846 and 2018 seem to momentarily exist contemporaneously.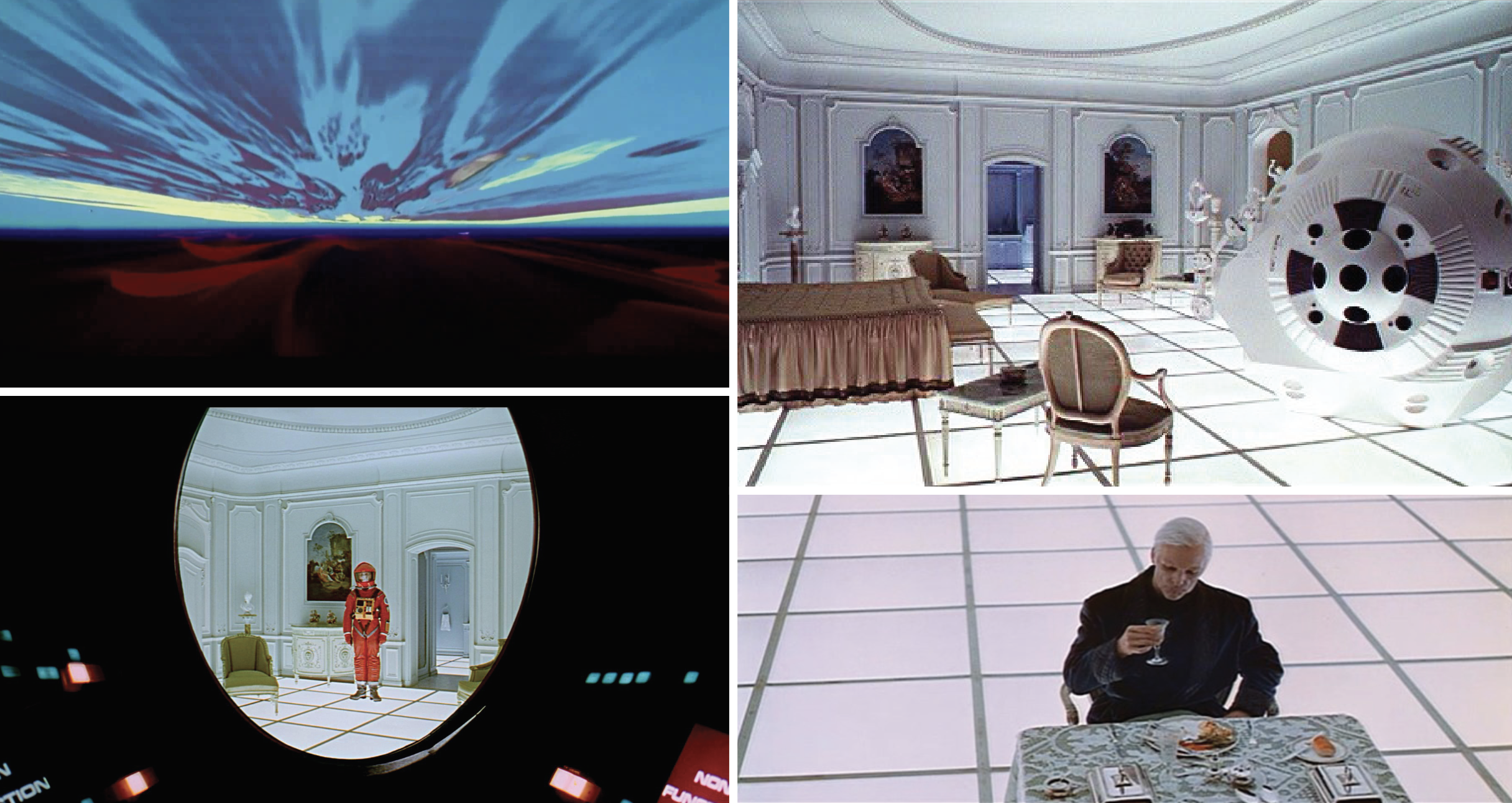 Screenshots from 2001: A Space Odyssey © Metro-Goldwyn-Mayer
As the wine glinted golden in my glass, I quietly contemplated the people who made this wine. Who were they? What were their lives like? I imagined a conversation on my paper cup phone with a man – Jean-Baptiste, let's say – who yearly worked Meursault-Charmes' vines in the mid-19th century. His life, and his work in 1846 would have looked almost identical to that of his father, grandfather or great grandfather. The Industrial Revolution was visible just over the horizon in Alsace-Lorraine, and in Aquitaine, but Burgundy was still to experience the crises of oidium (1850s), or phylloxera (from 1880s), that called on the services of science and technology. Vines were on their native roots. Work followed the rhythm of the seasons, working hours followed the trajectory of the sun. The 1846 Meursault-Charmes had filled hand-blown bottles and had been laid to rest.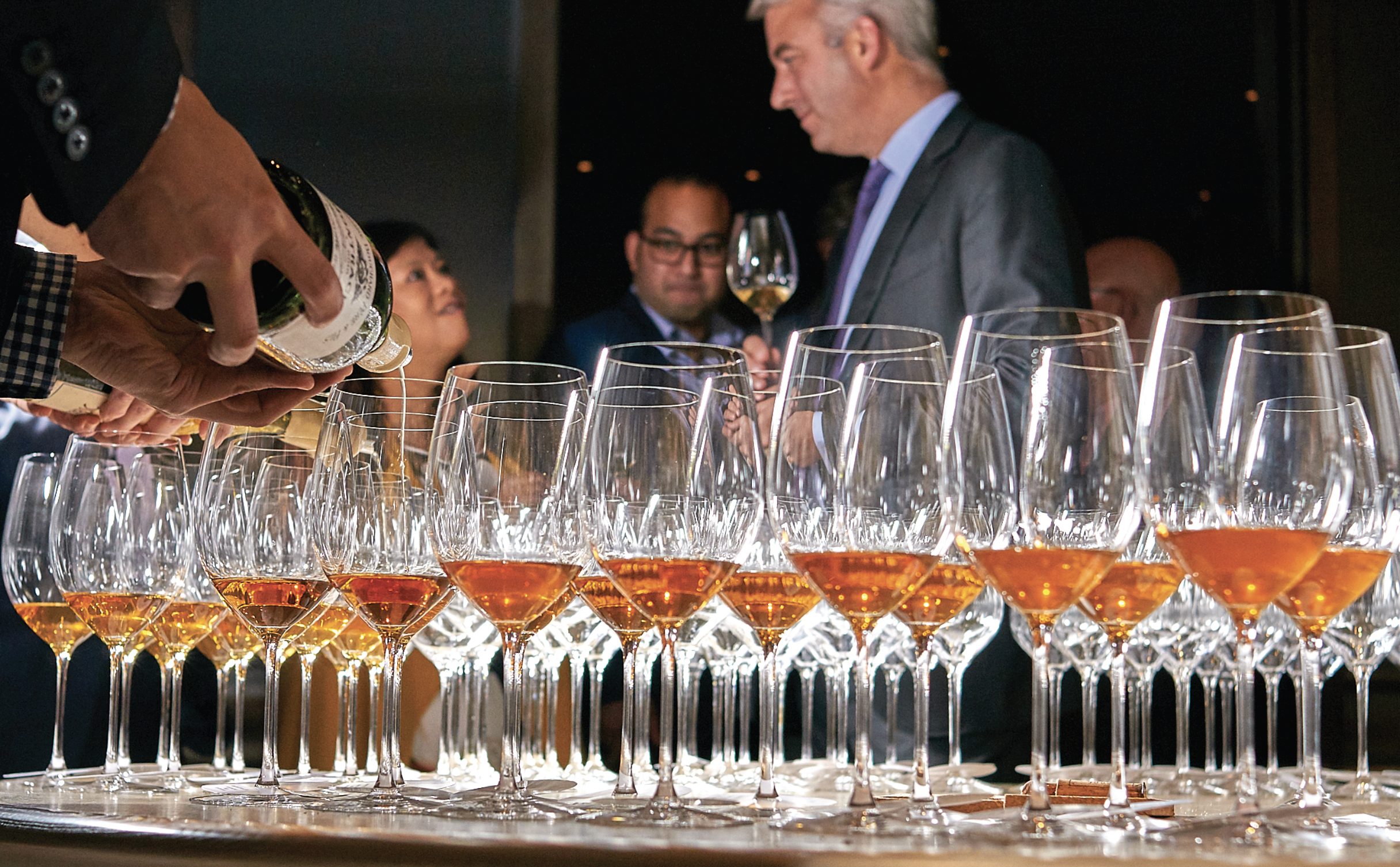 Mike pouring 1885 Montrachet, Bouchard Père et Fils
As I took in this wine's scent, I glanced around the room at the other participants doing the same. Where to begin the conversation with Jean-Baptiste in 1840s Burgundy on one end of the line, and me on the other? "Bonsoir Jean-Baptiste. It's 25th October 2018, and I am in a dining room on the 25th floor of a building in Hong Kong". That's pretty 'low-rise' in 2018 Hong Kong. But on the other end of the line in 1840s Burgundy, the Opium War is still relatively fresh news. Hong Kong has been a British colony only since 1841. As for "25th floor", Jean-Baptiste might consider the 142m tall Strasbourg Cathedral – the tallest building in the world in the 1840s – to conceptualize the height. The tallest non-religious building in the world in the 1840s is the Ditherington Flax Mill in Shrewsbury – just 16 metres tall. I go on… "Guests for the dinner set off from their homes in Beijing, Shanghai, Honolulu, New York, and Beaune last night or this morning, and all arrived and sat down together with Hong Kong guests at 7 p.m. this evening, conversing in English, Cantonese, Mandarin and French." A silent pause. "The chef, from Finland, has combined ingredients and cooking techniques from Finland, Japan, China, France, and India to match the wines." ……
The conversation is not going that well. I move on to the wine, and we find a conncection at last. The 172-year-old wine displays the recognizable colour, fragrance, texture and taste of Meursault-Charmes. We know from records at Bouchard Père et Fils that 1846 was an ideal, sunny, and relatively early harvest year – and this helps. Despite the adoption of science in viticulture and oenology, and despite the jolt to the pattern of vintages caused by climate change in these interceding 172 years, I feel that if I could transmit a 2014 Meursault-Charmes back to Jean-Baptiste he would recognize the wine. He had helped make something in 1846, something that Bouchard had preserved in its cellar, that this evening provided just as remarkable an experience for me as anything I could have shared with him in return. And Jean-Baptiste and I would have found our common language.
When reflecting on how much has changed in this world in the past century and a half – in politics, in family life, in technology and work, a wine like juxtaposes with its sheer continuity.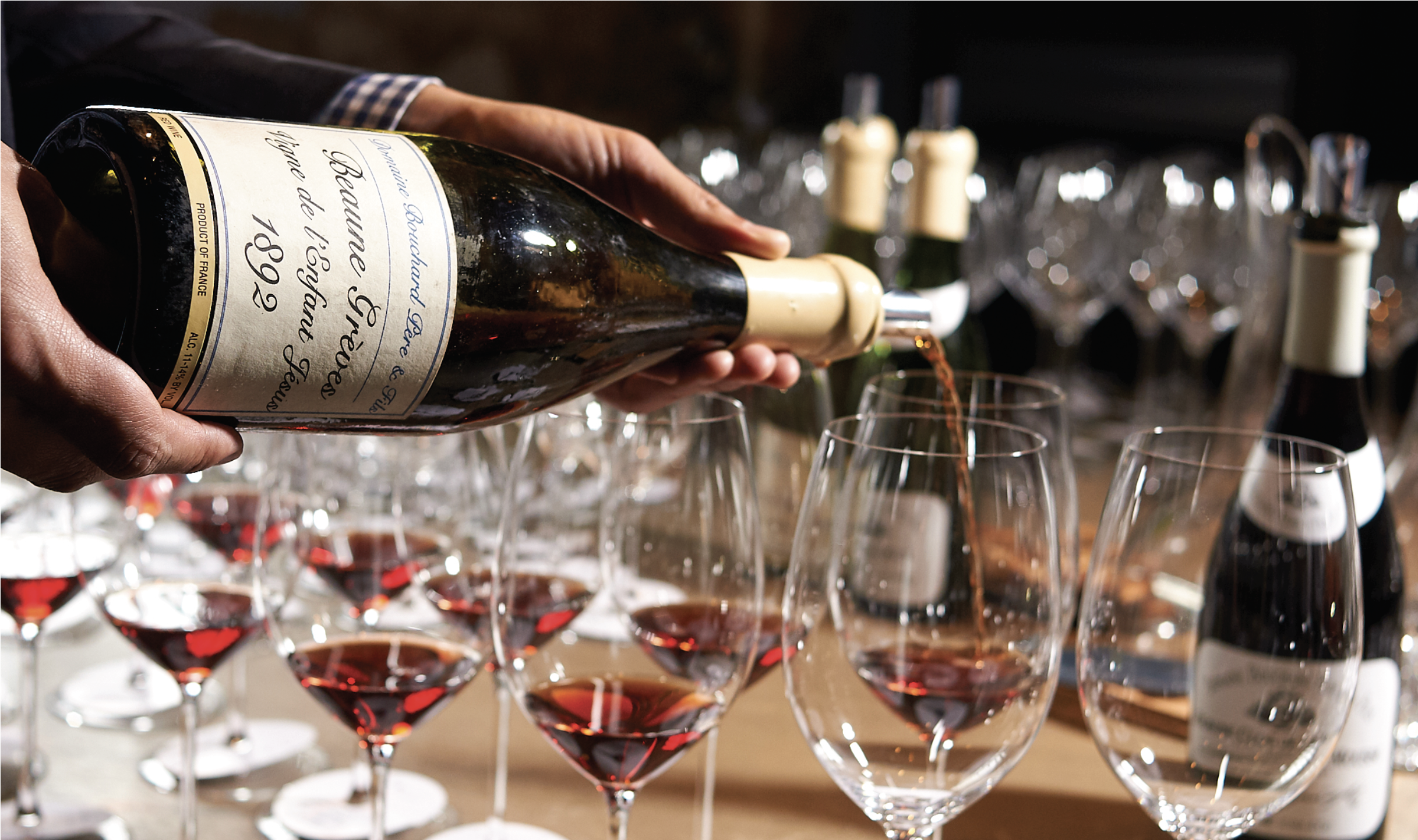 Mike pouring 1892 Beaune Grèves 'Vigne de L'Enfant Jésus', Bouchard Père et Fils
The Bouchard wines – two whites and three reds - were all in remarkable condition. It's testament to the fact that the bottles had remained in the Bouchard cellars since the wines were made. They spent their life in one ideal quiet, dark, cool place. As other wines were consumed to extinction in Bouchard's unparalleled 'archive' of wines, it's reasonable to presume that the ones selected for further keeping were amongst those deemed capable of lasting. Third, the bottles have been subject to a programme of re-corking at Bouchard. The process today involves opening all the bottles of a particular wine. Each bottle is assessed for health, and those that have expired or are faulty are discarded. The remaining bottles are then topped up with one of the bottles of the same wine sacrificed for the purpose, and a fresh cork put in. This re-corking takes place every few decades.
The three reds were a reminder that the wines of the Côtes de Beaune are just as age-worthy (even more so?) than those of the Côtes de Nuits. The two whites were favourite-equal wines of the night for our guests – the '46 Charmes being one of mine, though, I was impressed by the way the '85 Montrachet showed its depth with Eric Räty's brilliant grilled langoustine dish.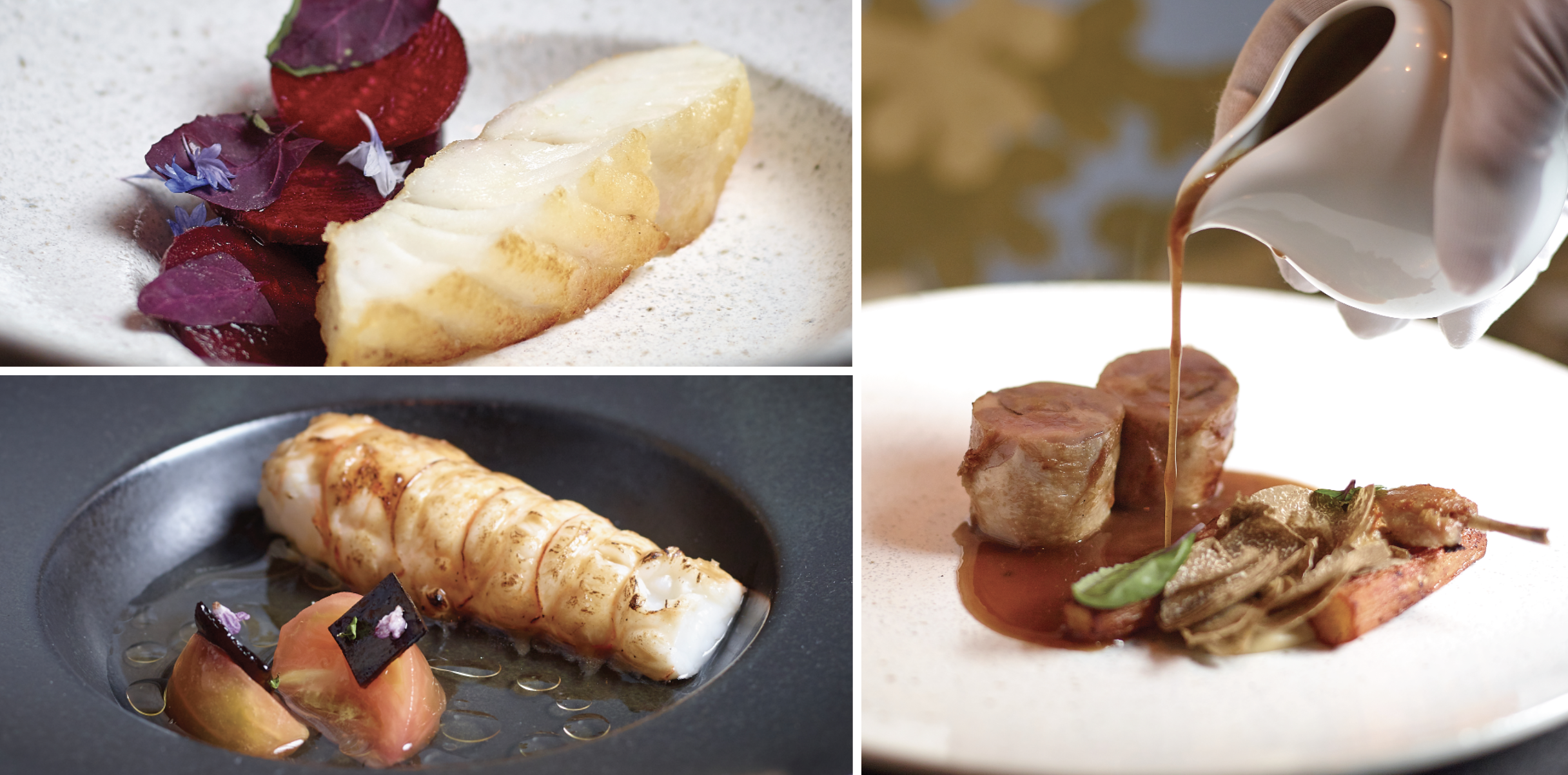 Special pairing menu created by Chef Eric Räty
Gilles de Larouzière, President of Bouchard Père et Fils, joined us for the dinner as guest of honour, bringing with him precious notebooks, and hand-drawn maps of the vineyards from the 19th century. We saw notes on the weather and the condition of the vines written in the hand of men who produced the wines we were drinking. And my colleagues Carine To and Ricky Wong spent months gathering photographs, illustrations, maps and other artefacts from the 19th century world of wine, to produce hand-made bound tasting books, complete with handmade marble papers from Florence to give the covers a 19th century look. A 19th century style tablecloth was custom made, and the table at Arbor was set with candelabras and 19th - century style floral arrangements. We did all we could to bring ourselves to the 19th century as much as we the 19th century was brought into our glasses by the bottles assembled.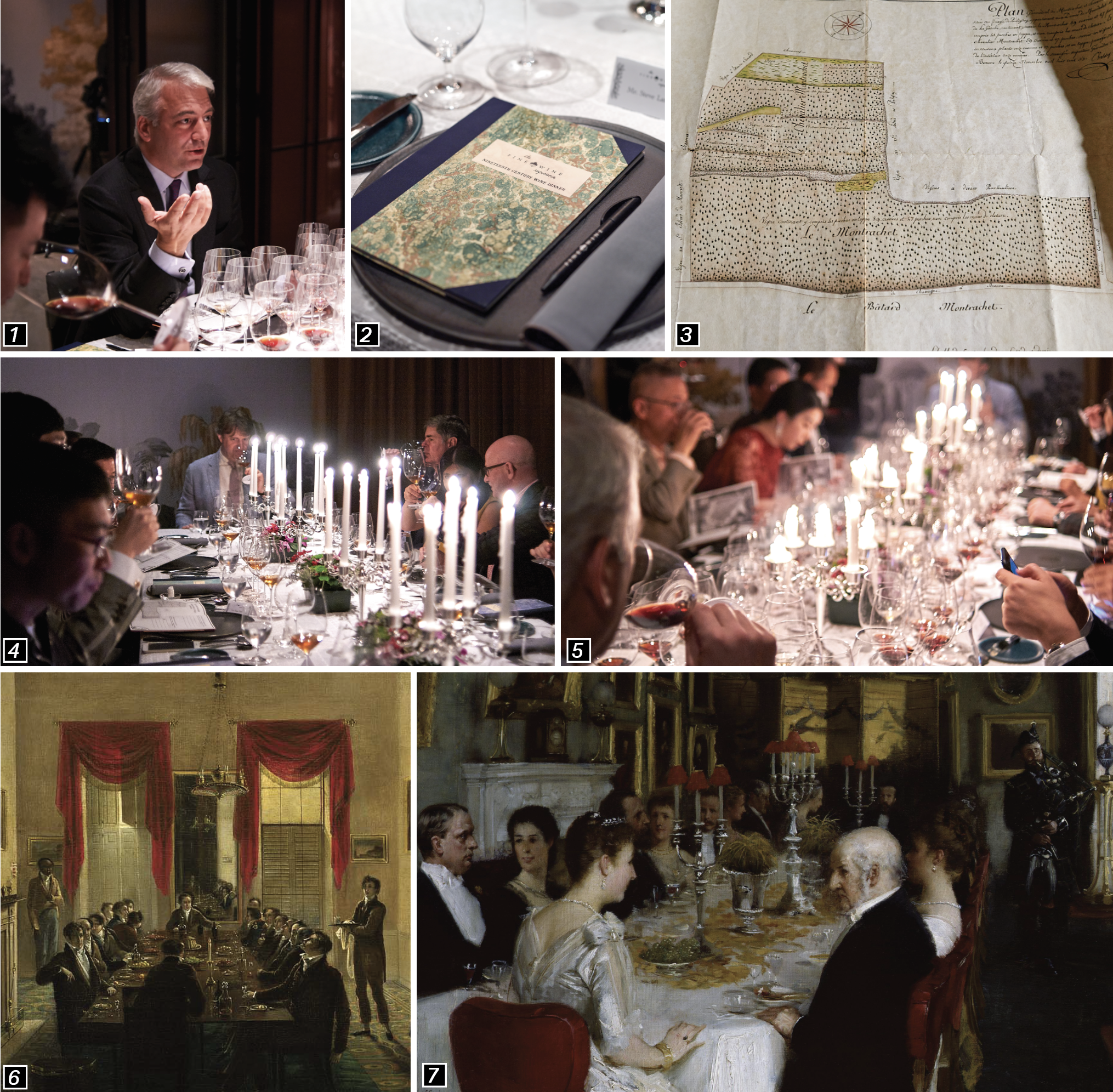 1. Gilles de Larouzière 2. Dinner Booklet 3. Hand-drawn map from the 19th century 4-5. Our receation of a 19th century dinning scene
6. Dinner Party by Henry Sargent, 1821 ©Museum of Fine Arts, Boston
7. Dinner at Haddo House by Alfred Edward Emslie, 1884 ©National Portrait Gallery, London
The claret flight began with a pair of 1865s. Michael Broadbent MW describes 1865 in his (1991) Great Vintage Wine Book II – 'Another great vintage. Unusually early harvest. Magnificently sturdy wines, more consistently reliable – if well cellared – than any other pre-phylloxera vintage.' The '65 Lafite was absolutely glorious – one of my three top wines of the night, so layered and complex, mature, but timelessly so. The Giscours in contrast showed the weight and muscle of the vintage. It's a bit less refined, a bit more grippy. A few days after this 19th century dinner I was fortunate to have a second dip – another bottle of the 1865 Giscours was opened at our company dinner for all our team to experience such a wine for themselves. This bottle was similar, but a touch cleaner than the one at our 19th century dinner. (I include both tasting notes below). At this age every bottle offers variation, as if the name and vintage on the label offers the sheet music, and the wine behind the cork provides the live performance.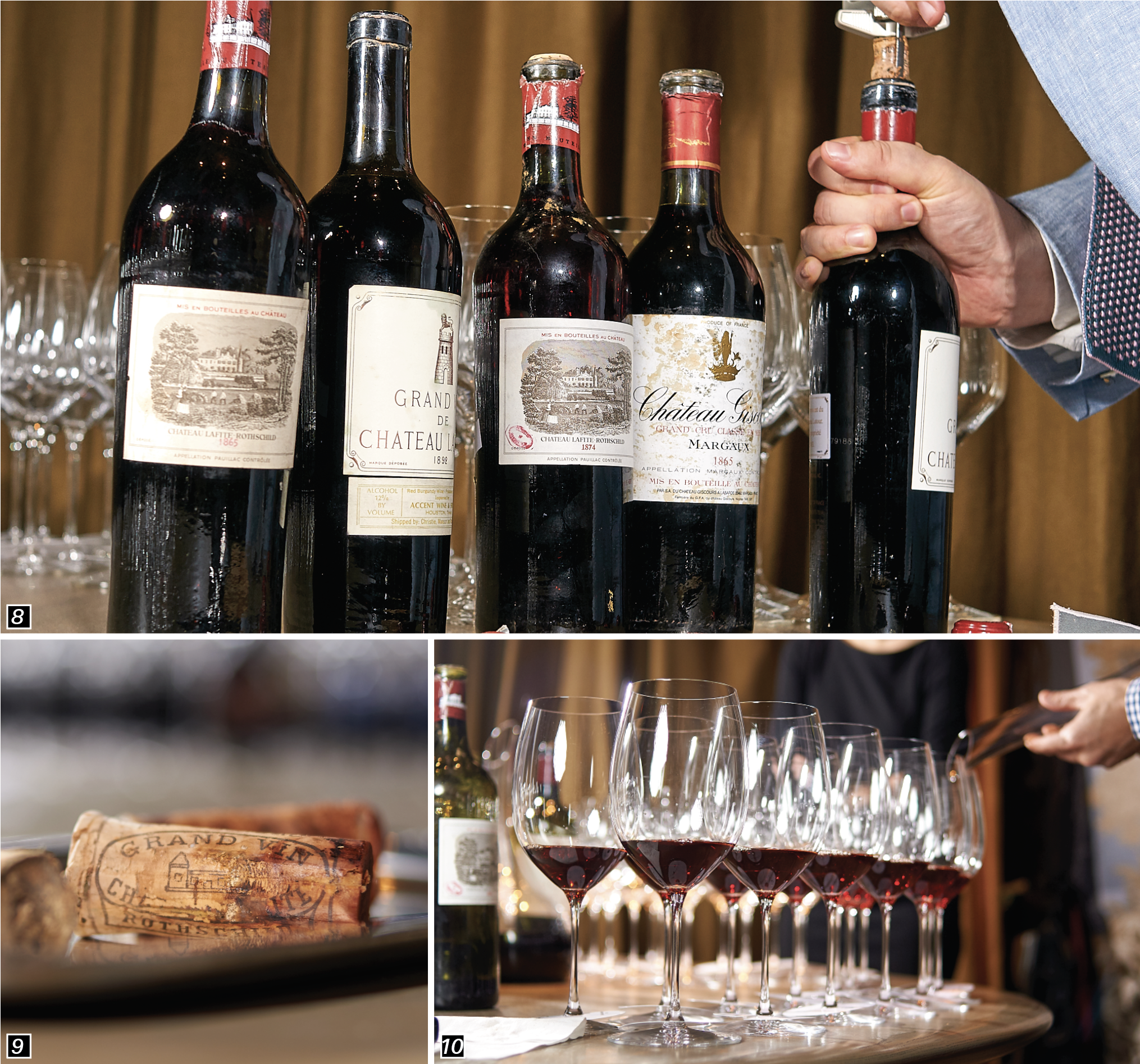 8. Linden opening the wines using a Durand™ 9. 1874 Château Lafite-Rothschild cork 10. Mike pouring 1874 Château Lafite-Rothschild
The 1860s and 1870s mark a golden age in Bordeaux. Oidium was the problem of the 1850s – the first calamity requiring multiple attempts at multiple experiments before a solution was settled upon. The end of the 1870s saw phylloxera arrive and slowly wither the vines. The crisis was deep, and the right solution even longer to find. We must, of course, be careful when talking about "pre-phylloxera". It is often used to denote wine from ungrafted vines, but it is also often used to denote wines made before the arrival of phylloxera. However, these are not the same thing. The solution we know and still practice today is the grafting of native vitis vinfera varieties onto American – vitis rupestris – rootstocks resistant to the phylloxera louse. But the systematic conversion to this solution took many years. At Château Latour, for instance, the first experiments took place in 1888, with trial plots on unimportant soils converted in 1889. But it was only from around 1900 that a full conversion programme was begun, and this was not completed until 1919. Therefore, the 1892 and 1896 Château Latour wines we enjoyed this evening came 100% from ungrafted vines. In that sense they are as "pre-phylloxera" as the 1874 Château Lafite-Rothschild, even though châteaux were in the grips of a full phylloxera crisis in the 1890s. I would rather we abandon the term "pre-phylloxera" altogether, and adopt "pre-grafted", or simply "ungrafted" instead. (After all, there are pockets of ungrafted vines dating back to the 19th century, in South Australia and the Mosel for instance. For the apéritif we served 2004 Bollinger Cuvée Vieilles Vignes Françaises – a nod to this wine's production from tiny plots in Champagne that are still ungrafted, though the source vineyards have dwindled to 0.5ha – the ungrafted vine's last gasp.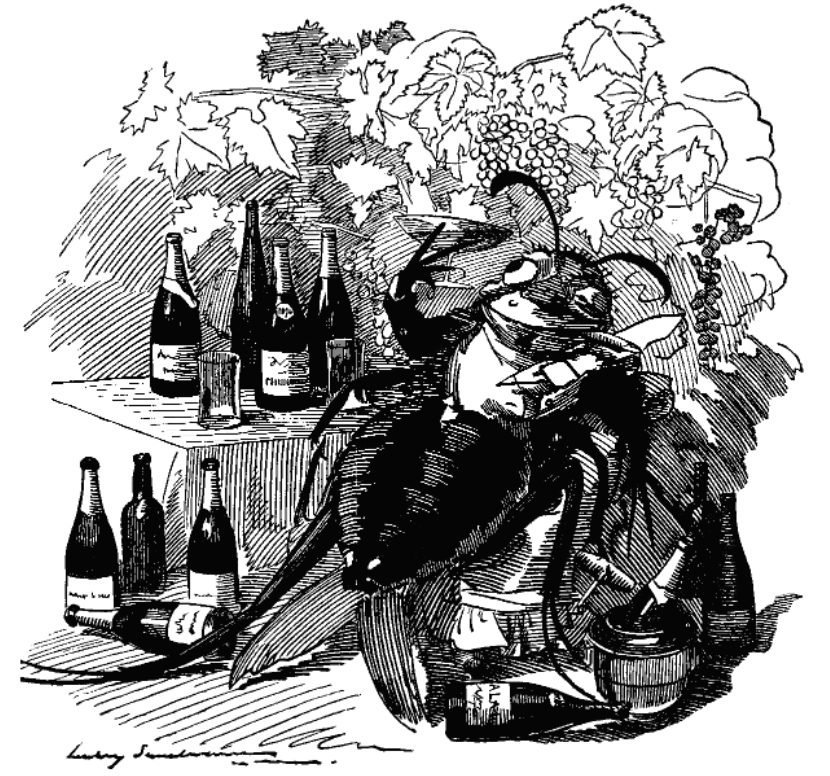 A cartoon from Punch from 1890: "The phylloxera, a true gourmet, finds out the best vineyards and attaches itself to the best wines."
© Artwork by Edward Linley Sambourne (Jan 4, 1844–Aug 3, 1910)
Next was the 1874 Château Lafite-Rothschild, a lovely, but lighter Lafite than the 1865, coming from a very large, healthy crop. It's interesting to note that the prices of the day say as much about prevailing economic conditions and market sentiment as they do about the greatness of individual vintages and wines. In this regard nothing has changed! The 1865s were expensive – Lafite and Latour selling for 5,600 francs per tonneau (900-litres to the merchants of the day. The 1870 Latour – also one of the greatest vintages of the 19th century, sold for just 3,000 francs a tonneau. Why the drop? The Franc-Prussian War of 1870-1871. In contrast, 1874 Latour – a record large crop, sold for 4,000 francs a tonneau. France was in recovery.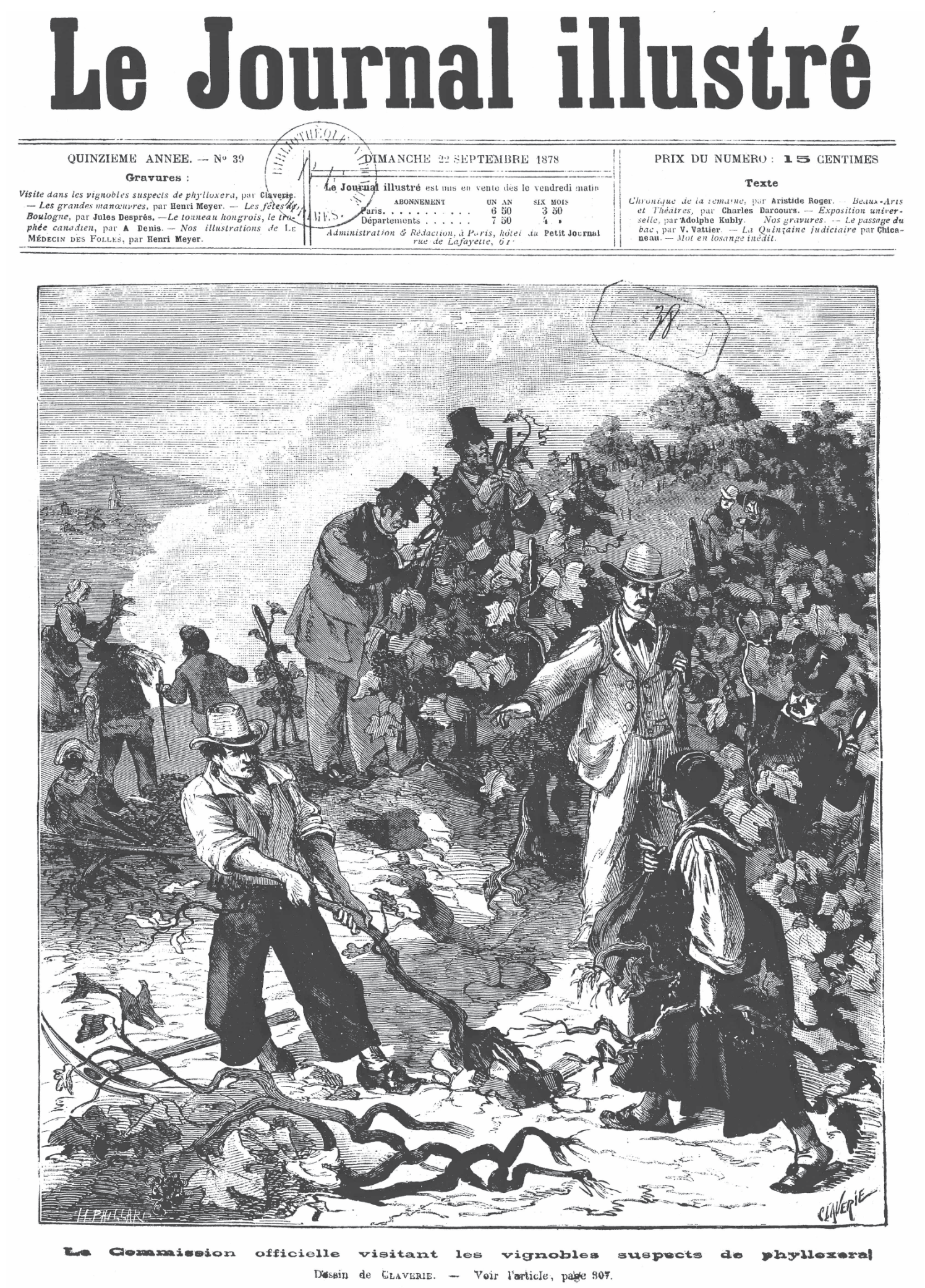 An official commission visiting vineyards suspected of phylloxera infestation. 1878 © Une coopération exemplaire entre entomologistes enançais et américains pendant la crise du Phylloxera en France (1868–1895) by Yves Carton​
I would love to know the vineyard compositions at Lafite and Giscours in the 1860s. Although the beginning of the 19th century had seen a range of weird and wonderful varieties included in prestigious Médoc vineyards, the 'Médoc recipe' predominating with Cabernets, was well-established by the 1860s. That's not to say that it was then the same as it is today. Thanks to one of the best wine estate history books I've ever seen – Charles Higounet ed., (tans. Edmund Penning-Rowsell) (1990) Château Latour: The History of a Great Vineyard 1331-1992, we know from Latour's archives that the composition of its vineyard in 1855 (when the Bordeaux classification confirmed its position as a 'first growth') was 56.8% Cabernet Sauvignon, a 22.7% mix of Cabernet Sauvignon and Cabernet Franc, 13.9% Malbec, 5% Merlot, and 2% mixed cépages. Without losing sight of the fact that the Cabernets (about 80%+) predominate, it's interesting to note the relatively low amount of Merlot by today's standards and the high amount of Malbec (today there is none at all, and the amount of Cabernet Franc has also been significantly reduced).
From the same source we know that Latour's yields were very low – the 1853-1883 average yield was just 18.8hl/ha, and partly because no chaptalization was practiced in the 19th century, alcohol levels were low. From technical analysis – which began around the turn of the 20th century – we know that the 1907 Latour had 10.7% alcohol by volume (the same year that electric lights and a telephone were installed at the winery.)
For all the differences one thing that struck me was how much the Lafite offered the recognizably Lafite smell, taste and texture we would know from mature 20th century examples, and this was as much true for the Latours too. I've tasted far fewer old 20th century Giscours to have the same sense of reference, but I have had moderately old vintages showing the estate's potential for weight and grip – the 1970 for instance – a long-keeping star of that vintage. Indeed, Giscours in the 1860s was an estate on the rise. As David Peppercorn MW (2003 edn. ) Bordeaux notes in his write up of the property, J-P Pescatore, who bought it in 1845, hired Pierre Skawinski in 1847, who managed it for fifty years. Skawinski was a 'remarkable man… one of the great agriculturalists of the Médoc in the nineteenth century, and it was largely due to men like him that such strides were made in the region during this period.' Incidentally, Peppercorn offers a tasting note for the 1865, a bottle recorked in 1985 and tasted in 1987, '…amazingly perhaps, it actually filled out after half an hour in the decanter, instead of dying as one could have expected.'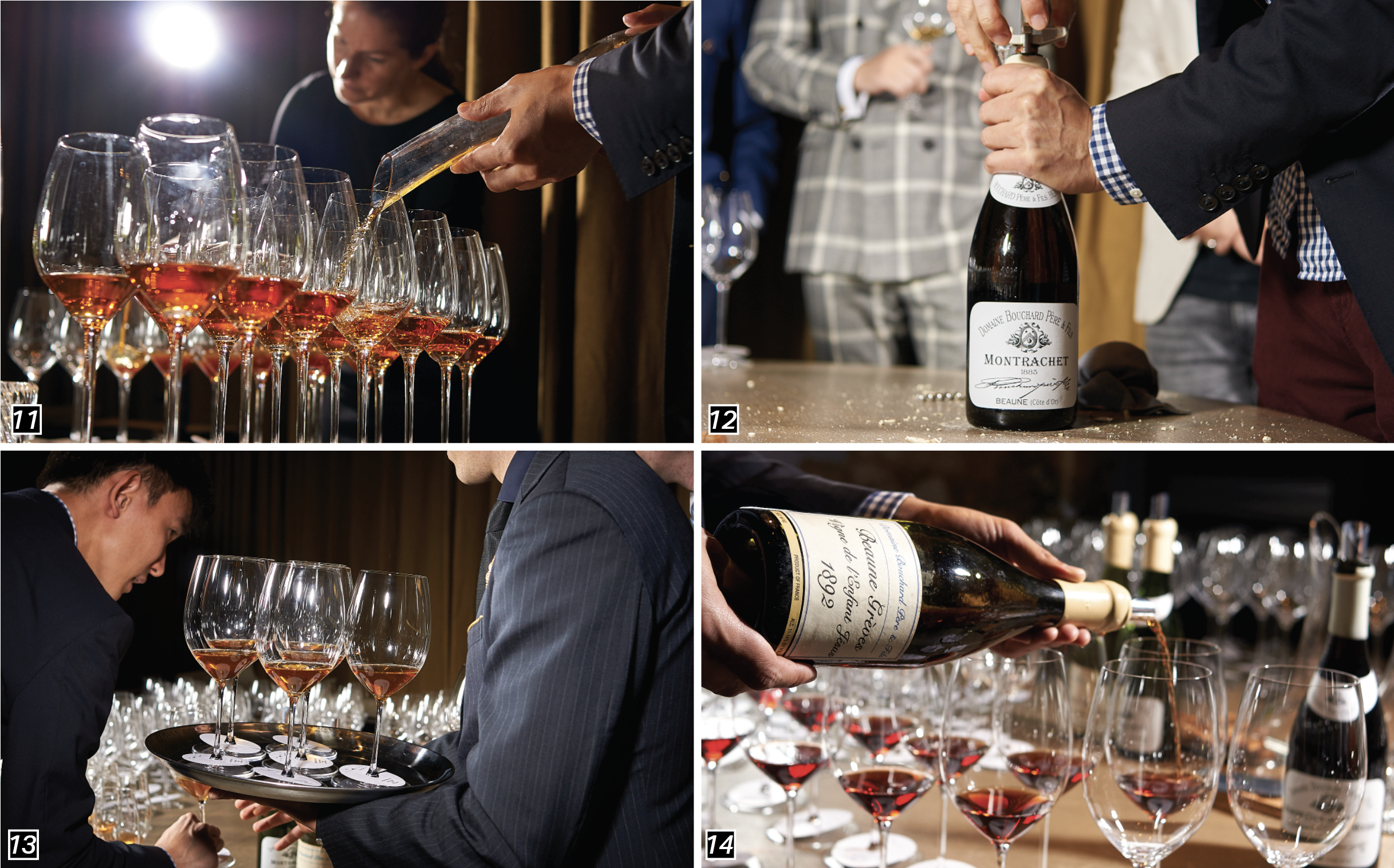 11-14. Alex and Mike from The Fine Wine Experience taking care of the wine service with the Arbor team
This ability of 19th century wines to open and to continue to be healthy and alive is perhaps one of the most remarkable aspects of drinking 19th century wines like these. In most cases our fifteen 19th century wines improved in the glass, and so where possible I have noted the opening, decanting (if done, and tasting times for each wine in the tasting notes below).
Perhaps the most curious wine of the evening was the 1898 Blanc Vieux d'Arlay from Domaine Jean Bourdy. This bottle had come direct from the estate's cellars via Christie's recently. A Jura white, apparently from 100% chardonnay aged 4-5 years in barrels, it had been re-corked twice at the domaine in its history. Perfectly drinkable, it never seemed to recover from its crumpled feeling of having spent more than a century in bottle, though the aged Comté – sharing the wine's Jura provenance – helped it.
Late harvest wines are perhaps the most reliably successful category for long life, all things being equal, because of their concentration, and because in addition to that, they balance the twin natural preservatives of acidity and sugar.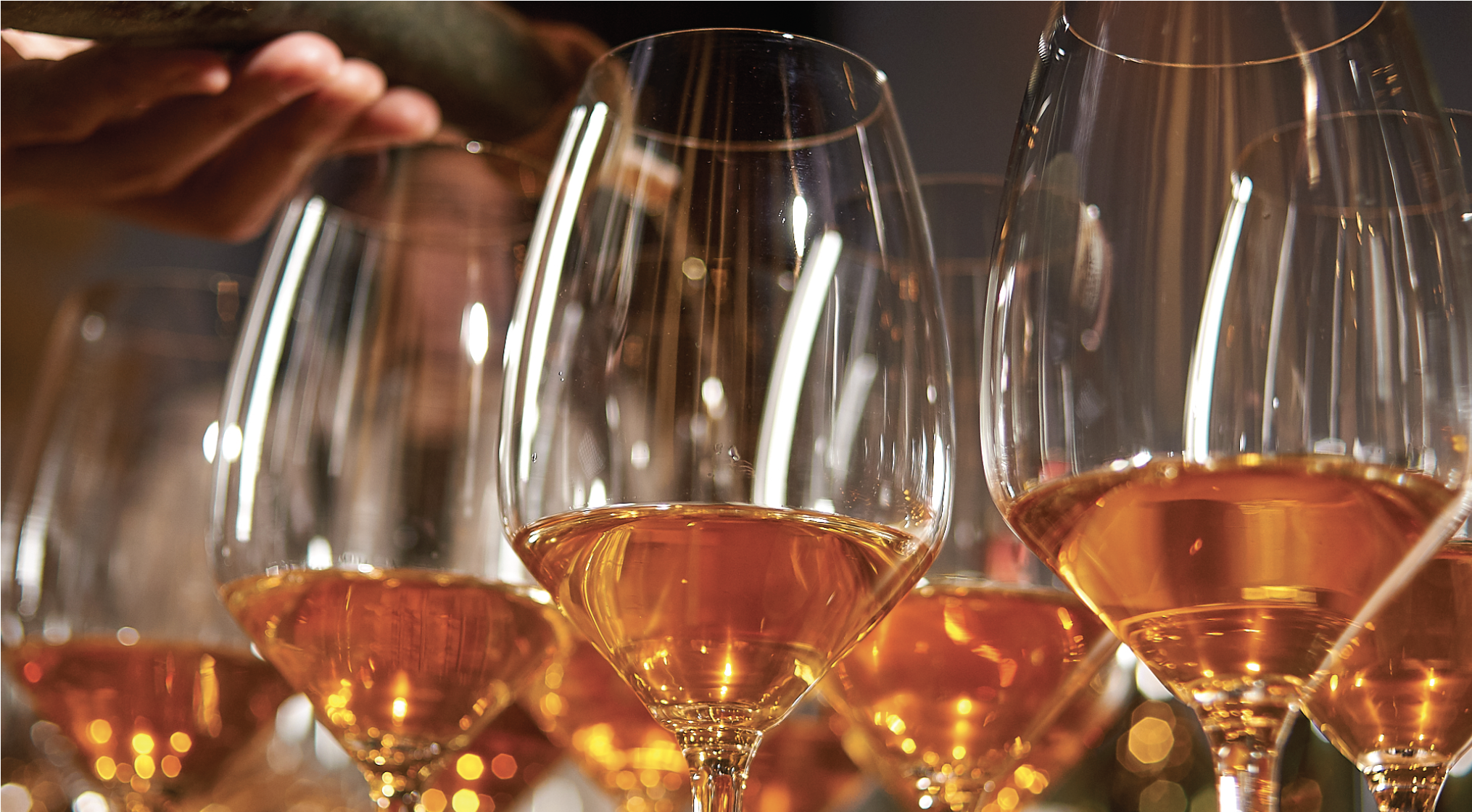 Mike pouring 1898 Blanc Vieux d'Arlay, Domaine Jean Bourdy​
The '96 Yquem, remarkably, still had its original capsule and cork, was delicious, pristine, bright and fresh. For me it was an especially welcome gear-change in the dinner – much like a refreshing little sorbet between plates. Others found it lighter than expected and that disappointed them. The biggest delight for me was the 1834 Tokaji. It was no surprise at all that either of these Tokajis were still good to drink. I have opened and served Tokaji from the eighteenth century at events, some proving unctuously rich, tangy and delicious. The surprise was that it was what appeared to be the lighter (and older) of the two that appealed most. Both bottles had been imported and labelled for the U.K. by Berry Bros. & Co. (Mr. Rudd yet to make the masthead), and for the past twenty-five years I had dreamed of tasting some of these 1930s UK imports. The 1883 'Tokay Essence' – an Aszú Essencia in 21st century currency – was indeed rich and sweet, (though not full Essencia-rich) but didn't seem as complex or aszú-tangy as the malty-rich, super enthralling 1834 '5 Buttig' (I presume a relation of the word 'puttonyos', denoting a measured level of aszú enrichment of the regular must during winemaking).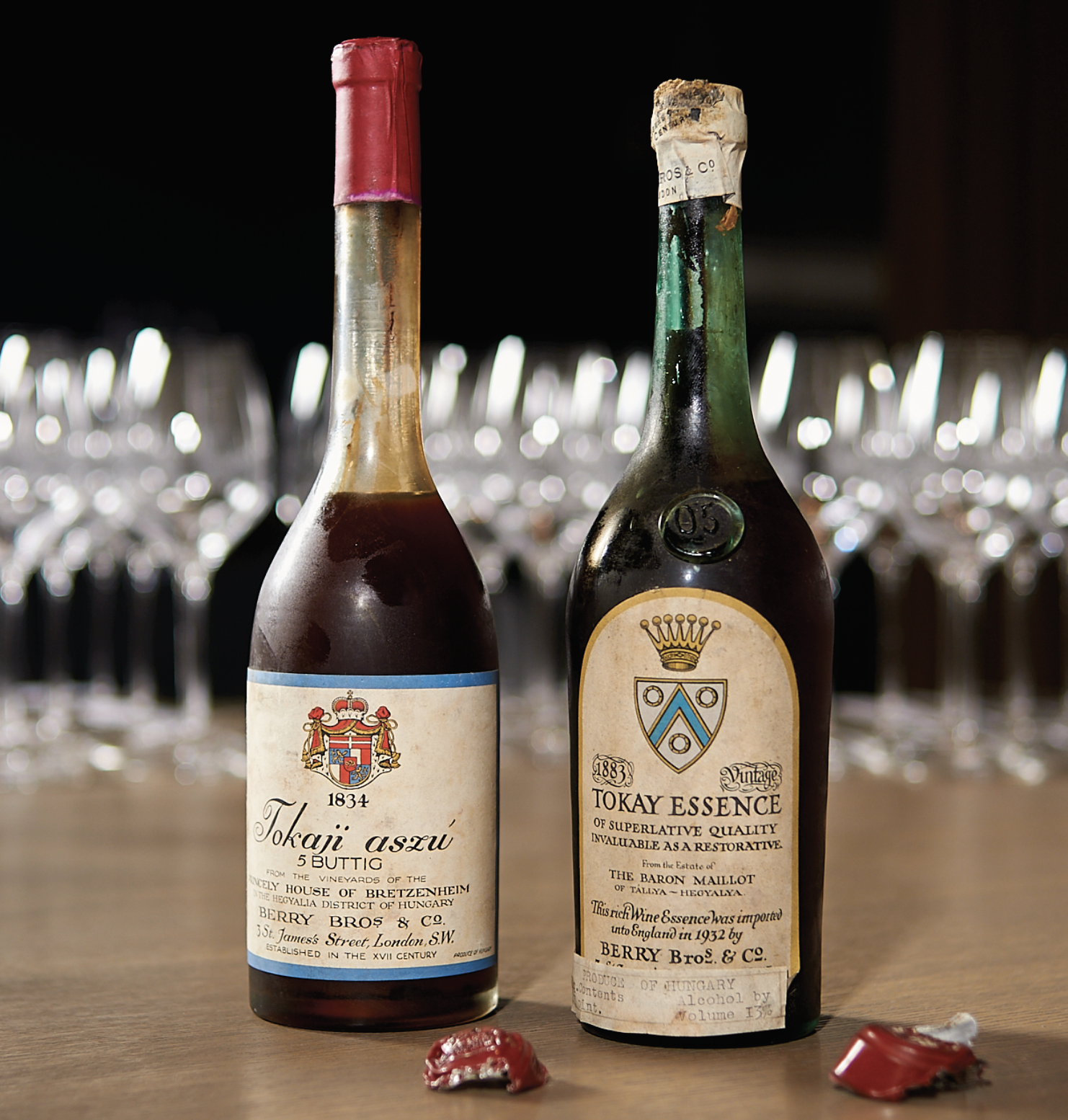 LEFT: 1834 Tokaji Aszú 5 Buttig RIGHT: 1883 Tokay Essence.
Berry Bros. & Co. bottlings shipped in the 1930s.
The 1830 Quinta do Serrado, which was a familiar friend at wine dinners in London when I lived there in the 2000s, packed its vintage Malmsey punch with aplomb, but to be honest my head was still reeling from the incredible quality of the '34 Tokaji, also one of my own choices for three favourites of the night.
At the end of the evening, I asked that the fourteen of us around the table each choose our three favourite wines and then vote for them. It seemed an especially unappreciative thing to ask our guests to do on a night like this, but I am always curious to see what people choose. The exercise encourages everyone to focus a bit as we take one last taste back through some of the glasses. Below you'll find my tasting notes and the results of the vote.
This dinner wasn't the first exclusively 19th century vintage wine dinner I had helped put together and host. The previous ones had been in London in 2009 and 2010 in partnership between The Fine Wine Experience and Christie's. This 2018 dinner in Hong Kong had been the result of four year's of patient and conservative collecting. Prices for rarities like these have risen dramatically in the past decade, and the task of finding bottles that give confidence for provenance and condition continues to get harder too. Will we ever host another 19th century dinner? Never say never, but I dare say it would take at least as long to put together and I would hate to consider the price. This one was HK$108,000 per seat – about US$14,000. For having had the chance to be a part of this one I count my blessings.

---
1846 Meursault Charmes, Bouchard Père et Fils 94
The oldest wine in Bouchard's cellar today. Bottle opened 7.00 p.m., poured 7.10 p.m. Not decanted.
Clear, amber-gold, limpid and appealing in the glass; a sweet vinous, lifted nose, a touch spicy, with candied-apple, earth and even oak on the bright nose when first served at 7.20 p.m.; good richness and concentration with bright natural acidity, this is full on the palate with a long, gently earthy/smoky finish. At 8.31 p.m. I noted a hint of mint-cream. This was opening up beautifully. My last note – at 9.37 p.m. – was that the wine was holding very well, still stable, with no signs of degrading in the glass. The wine showed its terroir too – 172 years after the grapes were picked balancing Meursault-Charmes minerality and generosity. "JF" remarked that it had the sweetness and roundness of old Champagne, which seemed an apt description too.
Eight votes for wine of the night – tied for first place.
---
1885 Montrachet, Bouchard Père et Fils 93
Bottle opened 7.05 p.m., poured 7.10 p.m. Not decanted.​
A deeper amber gold than the 1846 Meursault-Charmes, with a limpid though less pure-bright appearance, light olive tinge to the rim; at 7.20 p.m. an earthy, rich and ripe nose, old, old with a touch of champignon and decay; concentrated and powerful attack with a melting texture, it then gains grip and focus by mid-palate, with a dry finish. The balance is very good. This took a little more time to show its pedigree than the Charmes served alongside it, and it really came into its own at 8.00 p.m. with Eric Räty's superb langoustine dish – the sweetness of the tail with its gently charred exterior showed the Montrachet's concentration, depth, and tension between sweet and smoky/earthy tones. At 9.37 p.m. I noted that while the Montrachet had the richness in attack, in contrast it was the Charmes that had the length.
Eight votes for wine of the night – tied for first place.
---
1892 Beaune Grèves 'Vigne de l'Enfant Jésus', Bouchard Père et Fils 92
Opened and poured at 7.45 p.m., Not decanted.​
Pale, fresh garnet-rose, very limpid and fine looking; sweet, bright, smoky and wild on the nose – real sauvage noted at 8.08 p.m., elevated, clean and pure in expression, with a touch of fine herbs; elegant and pure on the palate, with a really Beaune-signature fine-boned texture – chalky, but with fine vinosity. At 8.30 p.m. – really rather slender and delicate, this drinks like a Wu Yi rock tea with its very fine, silky texture. By 9.46 p.m. fading a touch on the nose, but remaining delicate and pretty on the palate. I liked this a lot – no fireworks, but it draws you in with its elegance and grace.
One vote for wine of the night.
---
1865 Beaune Grèves 'Vigne de l'Enfant Jésus', Bouchard Père et Fils
Opened and poured at 7.45 p.m. – the cork was problematic, and my pour – the last, had some sediment. Still, at 8.15 p.m. I noted a wild biscuit sweet nose, complex and rich; sweetness on the palate and with ample weight than the '92. At 9.46 p.m. it was still going strong, with the most concentration of the three Bouchard reds, but – in my pour anyway – less nuance or charm than the other two. Given my pour was not clear, I did not rate the wine.
One vote for wine of the night.
---
1864 Beaune Clos de la Mousse, Bouchard Père et Fils 94
Opened and poured at 7.45 p.m.
Fine and clear, a touch deeper than the Grèves '92; candy edge to the fruit and a smoky-rich aroma with sous bois and sweetness – this is a super appealing nose; sweet, bright and very pure on the palate, wild in tone. A touch of mint. At 9.46 p.m. it was showing good richness, very good still, but a touch of bitterness not seen in the '92 or '65 Beaune. But during its long window in the glass (over an hour), it was wonderful by any measure.
Three votes for wine of the night.
---
1865 Château Giscours 91
Opened at 7.45 p.m., single-decanted at 8.15 p.m.​
A deep garnet of extraordinary depth – like a 1928 or 1945; at 8.40 p.m. a complex nose – earthy, sweet, violety, rich fruit, just a little touch of manure, or in some sense oddly 'off', but just a touch; rich sweet attack fine acidity, quite some tannin and grip, rich, potent – this is grippy, but a sweet fruity wine of impressive depth. Some old-wine decay notes on the long finish. At 8.55 p.m.
JF noted 'wet campfire ash on the nose' – again, apt. At 9.40 p.m. I noted that subtle manure-like note again, but the wine stayed rich, with impressive fruit and power. The sheer tannin level – much like a '28 or '45 has clearly sustained it, but the depth is there too. Two votes for wine of the night.
Another bottle of this wine was opened at our company team dinner on 1st November 2018 in Hong Kong. Opened, decanted, and served after 15 minutes, I noted – A full garnet with a yellow-tawny rim, really a full colour in the glass at this age; sweet, leathery, lovely Médocain nose – like a 1928 or 1945; sweet, lush, amazing fruit depth, tannic – there is the real grip of old-fashioned tannin here, but the wine stays sufficiently sweet. Seemingly immortal. This bottle did not show the odd manure-like whiff present in the bottle served at the 19th century dinner the week before. 93
---
1865 Château Lafite 97
Opened at 6.30 p.m. (and immediately plugged with a rubber stopper), single-decanted at 8.15 p.m.​
Lighter in depth of colour than the '65 Giscours, garnet – like an old red Burgundy; at 8.40 p.m. a discrete biscuit-sweet nose, earthy, with lovely warmth to the mellow nose; sweet, elegant in its approach on the palate, this is totally balanced, good fruit, then a kind of tingle that seemed not to point to VA or anything else distinct, but a sort of energy and harmony in the wine as a whole, real depth here, and a sense of layering to the elements and expressions that only the greatest mature wines have. At 9.40 p.m. it had opened further – just so seamless and glorious, just so lovely, combining elegance – a light touch that delivers so much depth in one seamless package.
(This perhaps deserved 100 to have given this experience at 153, but I am giving nothing to age in my 97/100).
Seven votes for wine of the night, Third place behind the two Bouchard whites.
---
1874 Château Lafite-Rothschild 93
Opened at 6.30 p.m. (and immediately plugged with a rubber stopper), single-decanted at 8.35 p.m.
Clear, aged, coppery tawny-garnet, light and limpid; at 9.25 p.m. a low key, earthy nose, a touch grubby on first nosing; a sweet attack on the palate, an earthy note, sweet middle with a gentle-textured finish, moderate length. By 9.48 p.m. it was revealing more – elegant, fragrant, with an almost white wine-like texture, ethereal, long, silky, the fruit has faded but the wine remains fragrant, like an echo. A lovely old bottle.
One vote for wine of the night.
---
1892 Château Latour 93
Opened at 6.25 p.m. (and immediately plugged with a rubber stopper), single-decanted at 8.35 p.m. ​
Fine tawny-garnet, clear; fine and sweet on the nose at 9.25 p.m., the Cabernet really to the fore here, with a note of mint and a note of iodine – this is immediately recognisably "Latour" on the nose; fleshy, sweet and gentle on the palate, this wine is full, with a minty note on the finish. By 9.50 p.m. this wine had really grown in the glass – sweet, fruity, biscuit and ripe, with iodine and mineral notes; the texture had smoothed out – there is such evident concentration and sweetness, as well as good length. Drinking very well.
Six votes for wine of the night. Overall fourth place.
---
1896 Château Latour 90
Opened at 6.25 p.m. (and immediately plugged with a rubber stopper), single-decanted at 8.35 p.m.
Bright, a touch lighter than the '92 Latour; a cooler-spectrum nose, fresh, with a menthol tone on first nosing at 9.25 p.m.; elegant in style – lighter than the '92, a touch thin, but there is some elegant charm (like a 1953). Better at 9.51 p.m. – there is a lovely minty tone, almost spearmint in spectrum, something peculiarly numbing on the palate – I couldn't put my thumb on what it was, but I noted it twice. Overall an elegant Latour, with the sense of age and style of an older 1985 or 1953 – just a little thinner today than either of those.
One vote for wine of the night.
---
1898 Blanc Vieux d'Arlay, Domaine Jean Bourdy 88
Opened and poured around 9.50 p.m.
Mid old gold, limpid; a very earthy old nose, grubby, mushroomy – okay. A bit nutty too smelling it at 9.58 p.m.; good concentration, nice acidity giving it a juicy sort of palate feel, old taste, moderate length and some heft on the finish. Not charming, but alive and drinking well enough. The aged Comté was an apt choice to pair with it – the richness and juiciness a good foil.
No votes for wine of the night.
---
1896 Château d'Yquem 93
Opened at 6.40 p.m. (and immediately plugged with a rubber stopper), single-decanted at 9.30 p.m.
Lovely light bronze with a bright yellow rim; at 10.20 p.m. – lovely, rich apricot, with wax and smoke – this wine comes across mid-light in spectrum for Yquem; sweet and tangy, mid-weight with lovely fruit, acidity and zip and freshness. Lighter spectrum but with positive sweetness still – this wine has not dried out. It gives nothing to age. Just lovely in its elegance and stylishness.
No votes for wine of the night.
---
1834 Tokaji Aszú 5 Buttig, 'Princely House of Bretzenheim', Berry Bros. & Co. 99
Label: 'Tokaji Aszú 5 Buttig, from the vineyards of the Princely House of Bretzenheim in the Hegyalya district of Hungary. Berry Bros. & Co., 3 St James's St, London S.W.'
Opened at 6.35 p.m. (and immediately covered with cellophane wrap), poured at 10.15 p.m. ​
A toffee sort of colour, not clear, olive rim; immediately at 10.20 p.m. displaying a rich nose, raisins, muscat, smoky citrus rind, malty – appealing; unctuous and sweet on the palate, with real aszú tanginess, real grip from the acidity, malted raisins, and a super long finish that returns waves of complex aromas. This wine is very special. At 10.36 p.m. I was bowled over by it – a really enthralling Tokaji, outstanding, with great complexity, it comes in waves, smoky, raisiny, tangy, complex, smoked marmalade with real cut. Perfect balance and a very long finish. An incredible wine – made all the more so for having this much energy and clarity aged 184!
Four votes for wine of the night.
---
1883 Tokay Essence, 'The Baron Maillot, Berry Bros. & Co. 91
Label: 'Tokay Essence of superlative quality, invaluable as a restorative. From the estate of the Baron Maillot of Tallya-Hegyalya. This rich wine essence was imported into England in 1932 by Berry Bros. & Co., 3 St James's St, London S.W.'
Opened at 6.35 p.m. (and immediately covered with cellophane wrap), poured at 10.15 p.m.
A clearer bronze appearance with an olive rim; a lifted nose with a touch of resin at 10.20 p.m.; unctuously sweet on the palate – indeed very very sweet and intense, but more heft than I would presume for pure Tokaji aszú eszencia – this had an element of old Moscatel about it, though by the end of the palate the aszú bite kicks in. By 10.40 p.m. it was opening up further however. Even so, easily overshadowed by the '34, which if I had had to guess I would have thought the other way around. This 1883 is very good, but the 1834 is a superstar wine.
No votes for wine of the night.
---
1830 Quinta do Serrado Malmsey 92
Double-decanted at 4.10 p.m.
Bright cola; a lovely, lifted smoky toffee nose, a touch of molasses, black pepper, wild, good complexity and real vintage Madeira heft to the nose; a concentrated attack, prickly, some alcohol, the acidity ripples through the palate like electricity, real heft and concentration. Bold, sweet – though the acidity does the trick to give the illusion of dryness on the finish. Seemingly immortal. A rich wine.
No votes for wine of the night.