© Linden Wilkie, 21st February, 2019
Last weekend we tasted Domaine Sérol wines with husband and wife team Stéphane and Carine Sérol. This took place in our brand new shop tasting room in Sai Ying Pun. Honestly, after 25 years of organizing and hosting tastings, this room is a dream come true – spacious, airy, and with all that we need right at hand. I can't wait for you to come see it.
The Sérols are a great team. What they produce typifies the amazing value and interesting alternative wines available nowadays from small, highly dedicated domaines like this one.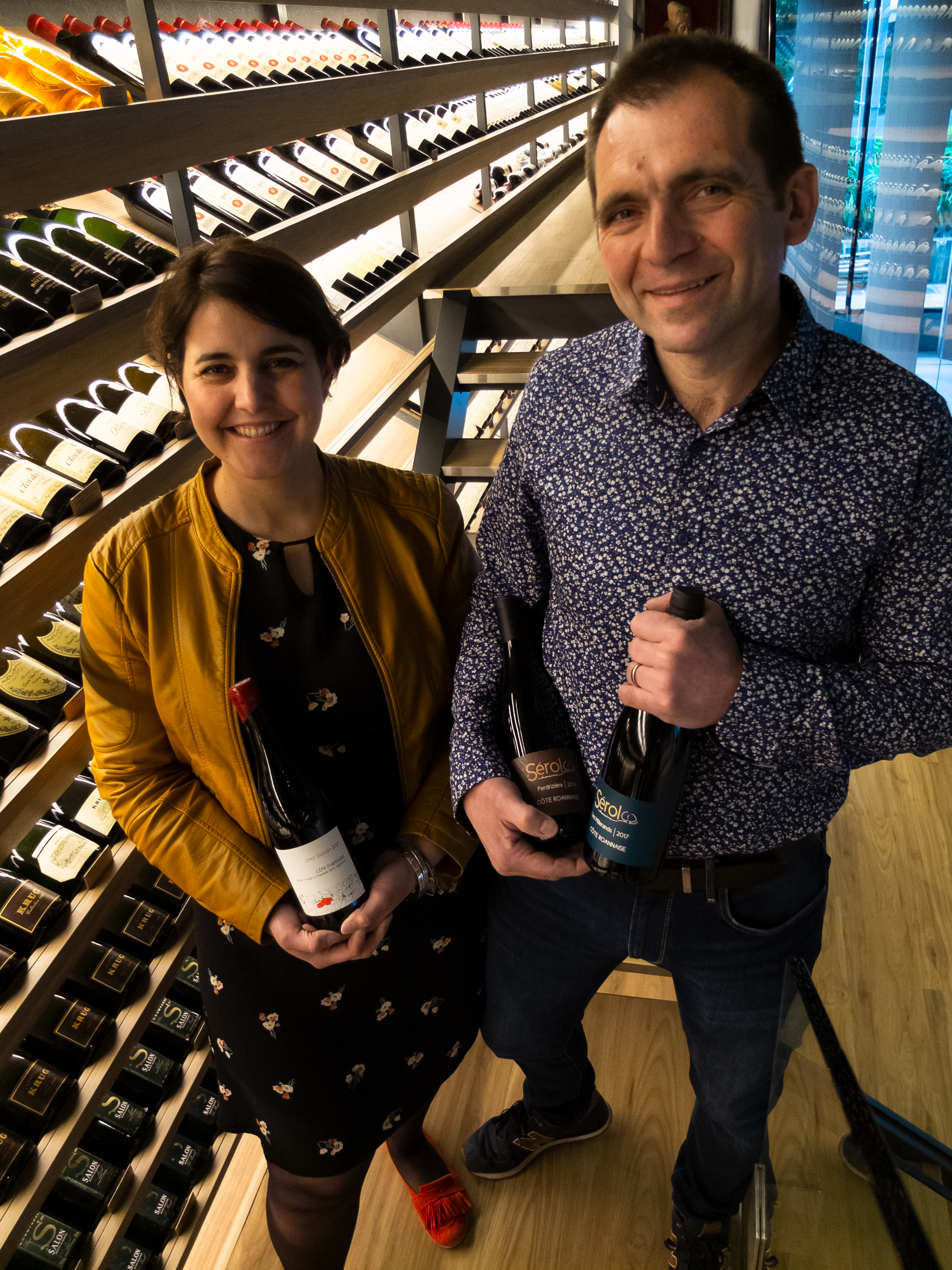 Back in the day I took wine exams and did my best looking at wine atlases. Few regions seemed more intimidating than the Loire Valley. That enormously long river running east to west with so many different coloured patches on the double-page spread representing different wine regions. And guess what? – the Côte Roannaise, where the Sérols farm, isn't even on some of those maps! A touch of central and west Loire chauvinism perhaps? When I mentioned recently to someone from a more famous Loire region that we had Côte Roannaise wines they dismissed the idea that they are Loire Valley at all. Hmmmm… sounds more like Rhône or Beaujolais…
I have to admit, that I knew of that gastronome's mecca – Troisgros in Roanne – long before I'd heard of the Côte Roannaise. (No surprise that the Sérols for 2 generations now have worked in partnership with Troisgros to make a special cuvée with them).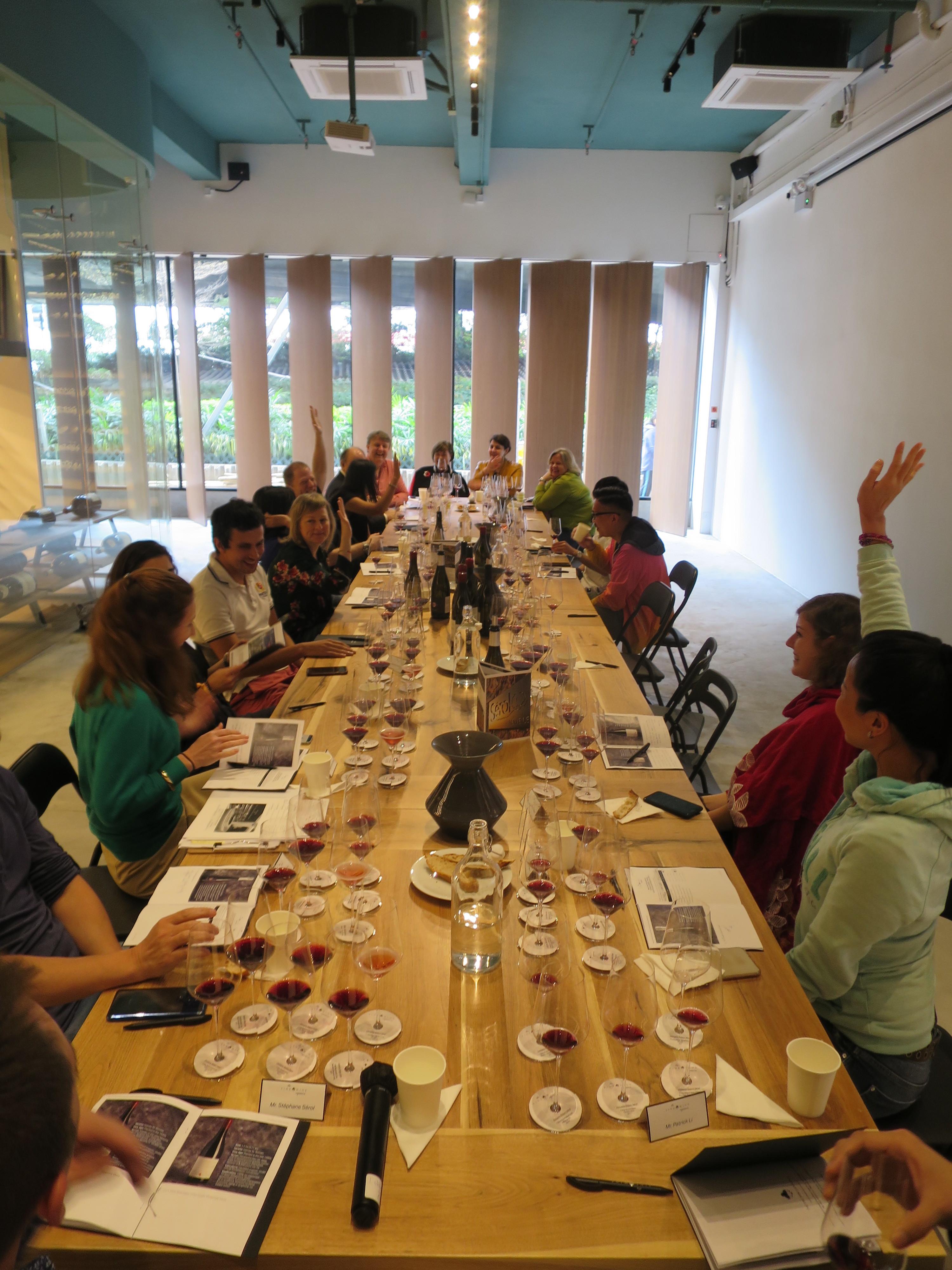 What did we uncover here then, and why might you want to pay attention?
Like Beaujolais, the Côte Roannaise reds are made from Gamay, but it is a local variety called Gamay St. Romain which is late ripening. Harvests here are typically well into October.
The Côte Roannaise vineyards are at a little more altitude than Beaujolais, so this late-ripening tendency is pushed further, with a lot of freshness and natural low alcohol (c.12.5%) coming naturally. These are aromatic, very juicy and digestible wines. Just great if you happen to enjoy eating food. ;-)
The Sérol's vineyards include some planted by Stéphane's grandfather some 90 years, and by his father in the '80s. Old vine depth comes through in the wines – this is not simple quaff, even though the low price might make you suspect it.
Vineyard work is intense and serious. The oldest plots are planted to 10,000 vines/ha – so competition is intense. They have converted to biodynamic viticulture. As Carine puts it "with organic work you have removed harmful chemicals from the soil, but with biodynamics you start to understand all of the environment in which the vine is growing. You work preventatively to help the vine become healthier and stronger."
Winemaking is first rate too. It's often the producers in less famous and constricted wine regions that are able to go further in developing their own best practice techniques. The regular cuvées are fermented in tank (6,000 litre wood or stainless steel) in a kind of sandwich of whole bunch and de-stemmed fruit. The amount varies, but overall these regular cuvées ("Les Millerands" and "Perdrizière") have an airy fresh, floral-edged and spicy character that is really morish. You'll have no problem finishing the bottle.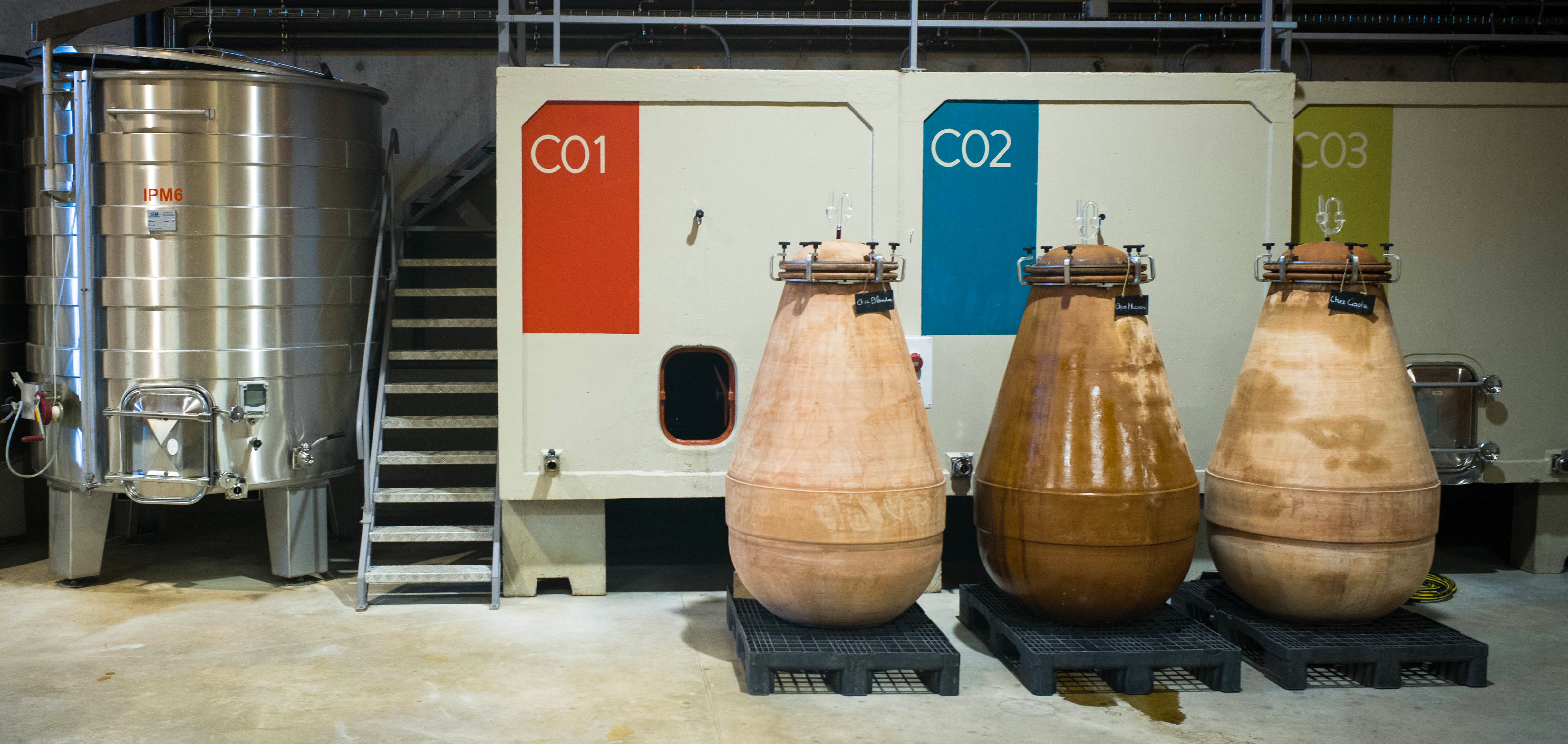 What is interesting with the winemaking is that their intellectual curiosity is not letting them sit still. A few years ago they discovered the use of modern clay amphoras while visiting the Fontodi estate in Tuscany. First, these vessels are unlined and very finely porous, so there is some interplay with oxygen. Secondly, the maceration lasts several months and without the use of any SO2 (just a little, later at bottling). The wine gets a kind of micro-oxygenation according to Stéphane, and in Carine's view the result with this technique is a purer expression of the terroir.
At our tasting we began with the two regular cuvées:
2017 Côte Roannaise 'Les Millerands'
This comes from the Sérols' oldest vines, at 500m elevation. The east facing site often has difficulty at flowering and reliably produces millerandais or 'shatter' berries – tiny, with very little juice, giving great intensity of flavour and naturally low yields. I found fresh, vibrant red fruit, some spiciness and an intense and open perfume on the nose, very pure, primary fruit; the palate is bright and juicy, piquant and mouth-watering without being sharp. Very juicy and delicious.
2017 Côte Roannaise Perdrizière
More granite, iron and manganese in the soil here and you feel it in the wine. Very fresh, floral and fruity on the nose, violets and roses – a real summer pudding fruitiness; juicy with a darker fruit profile on the palate and a bit more weight and grip toward the finish, and even a touch of saltiness. Carine Sérol always finds a little 'blood' like iron element here.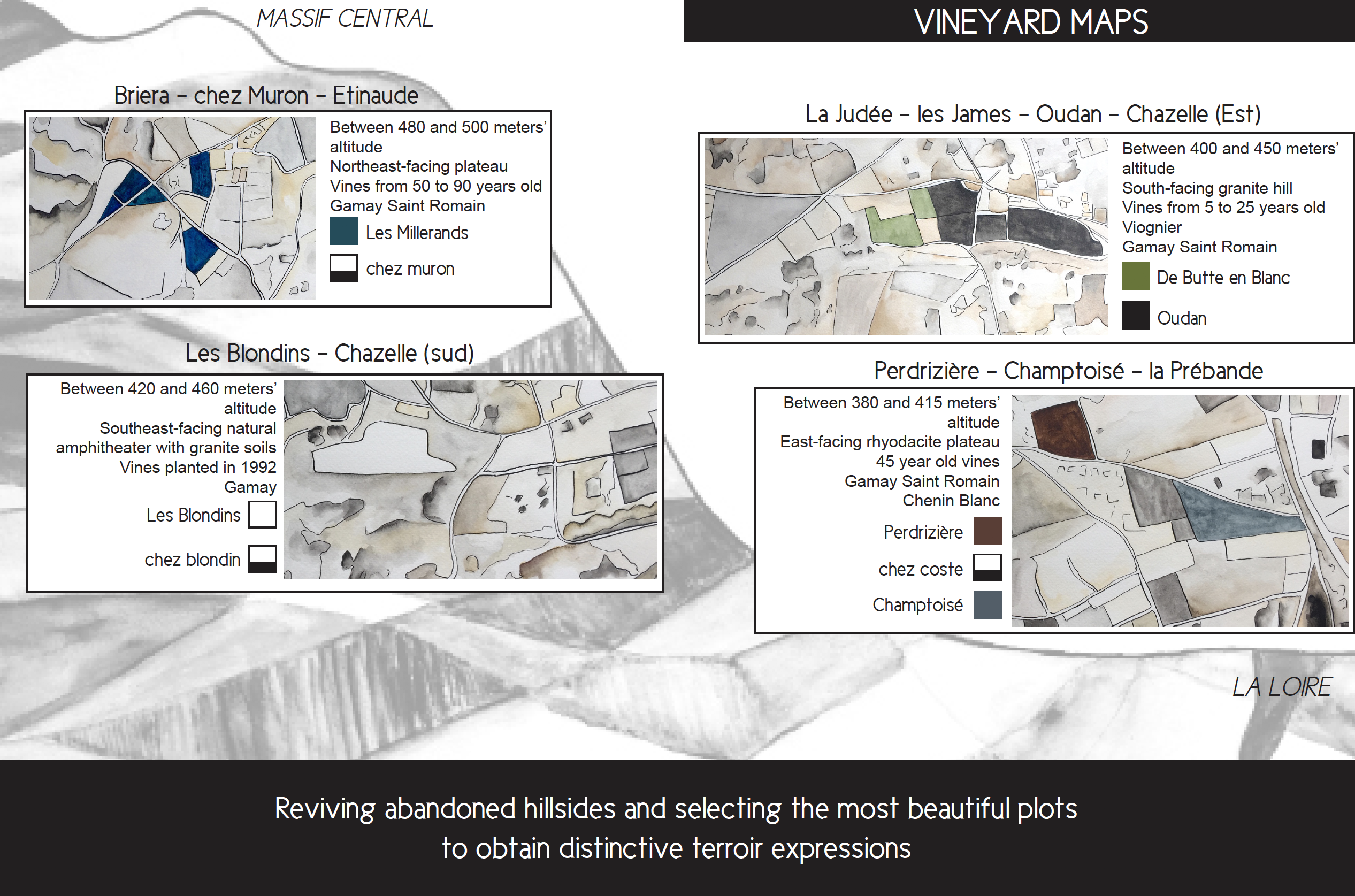 © Domaine Sérol
Following this were the three wines made in amphora, which I think had more in common with one another than with the first two. In other words I think the amphora approach makes a difference, but I was left wondering which difference made the biggest impact. First off, all three represent selections of the best fruit. Secondly, all are 100% de-stemmed, so the floral elements and bit of levity coming from the whole bunches is gone. But for the Sérols they think the amphoras and the different winemaking technique have made an impact here. For me the aromas were a touch more muted – quieter – but actually more complex with a bit of coaxing. And on the palate, aside from a step up in intensity, the wines felt more textured, a little more 3-dimensional. The Sérols only made one amphora of each – about 600 bottles total per cuvée. So naturally our allocation is tiny. But a few bottles remain in stock if you'd like to try.
2017 Côte Roannaise 'Chez Blondin' (Amphora Vinif.)
An earthy top note over the low key fruit on the nose; great texture here on the palate, complex with a meaty note, concentration and lots of velvet by the finish.
2017 Côte Roannaise 'Chez Muron' (Amphora Vinif.)
A complex, fruity nose, more subdued than the Millerands (same source vineyard) ; good up front intensity, more grip, I think the regular Millerands has more charm and florals than this cuvée. But, this wine has more intensity, depth and a bit more length. (My wife's favourite wine of the tasting).
2017 Côte Roannaise 'Chez Coste' (Amphora Vinif.)
A subdued nose; juicy, layered and long, this has real lift off, super energetic wine that made me sit up and exclaim 'wow'! out loud. A lieu-dit within Perdrizière. (My favourite of the tasting).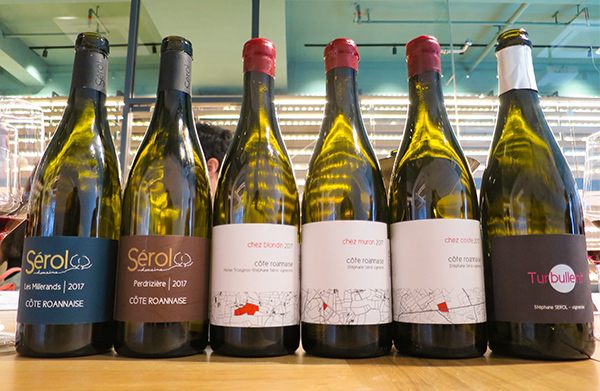 Well, if you've made it through all that you certainly deserve a drink. May I suggest you wet your whistle with a rather endearing and very refreshing wine the Sérols call Turbullent. When Carine met Stéphane she took him a local fizz and he said "too sweet, I could do better." He did, and this is the wine. It's made from Gamay St. Romain, bled off and made using the méthode ancestrale – fermentation finished in bottle retaining some residual sugar (just 14g/l). The alcohol is a wonderfully low 8% abv, so you can really use this as proper refreshment without the same intoxication as Champagne, etc. When I visited the Sérols in July they gave me a bottle and after the drive back up to Burgundy it was 35°C outside at 5 p.m. This wine was absolutely perfect. When the weather gets warmer (won't be long now), you really should try this as a weekend afternoon fizz.
As you can see, I'm quite enthused. I think you may be too once you try these wines. If you don't turn out to like them the price-of-entry is so low relatively, that no harm is done to your wallet. And if you are heading off to Roanne to partake in the wonders of Troisgros, do let us know if you'd like to stop off and visit the Sérols. We'd be happy to make the introduction.